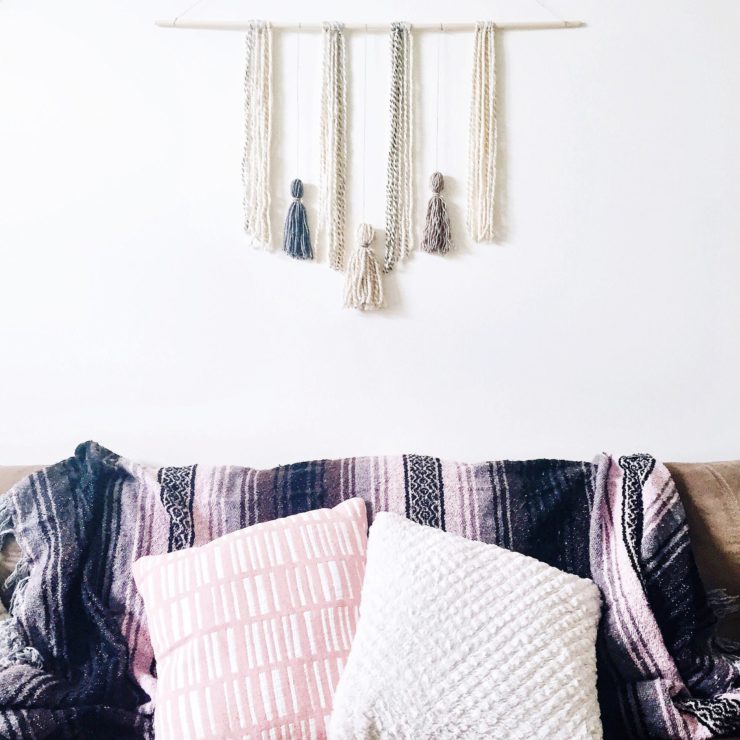 I've been dying to post this for what seems like forever, but I kept waiting until our apartment was "finished" — and then I realized that's never really going to happen because we'll continuously add little things here and there, which is one of the most fun parts about having your own place! After about a month and a half in our first place, here are some details of our Indianapolis apartment so far — inspired by Urban Outfitters home decor.
I decided to go with a mostly neutral, blush and copper color scheme in our apartment with tons of different textures and patterns. I made this wall hanging with some leftover yarn and I'm really happy with how it turned out. I didn't really have an idea in mind so I just started making something — and this is what I ended up with! If you'd like a tutorial on how I made it, let me know! :)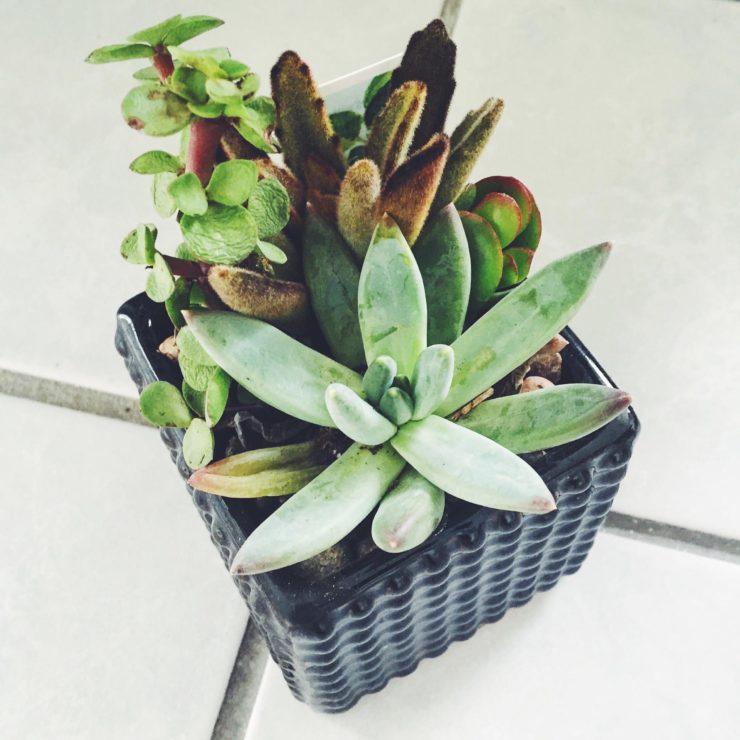 I 

LOVE

 succulents! They're easy to keep alive, and look healthy and green for months! My mom and I found this cute potted one at Home Depot for only $6! Plants can add life to your apartment, and I find them to be especially nice when you don't have a yard of your own.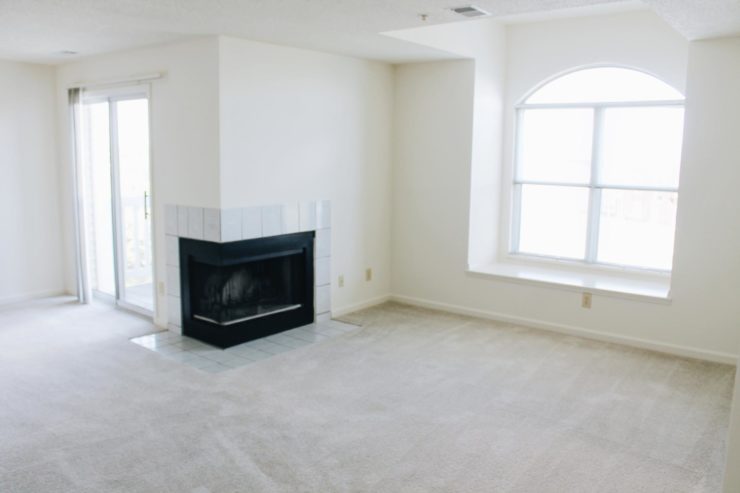 Our empty living room before we moved in!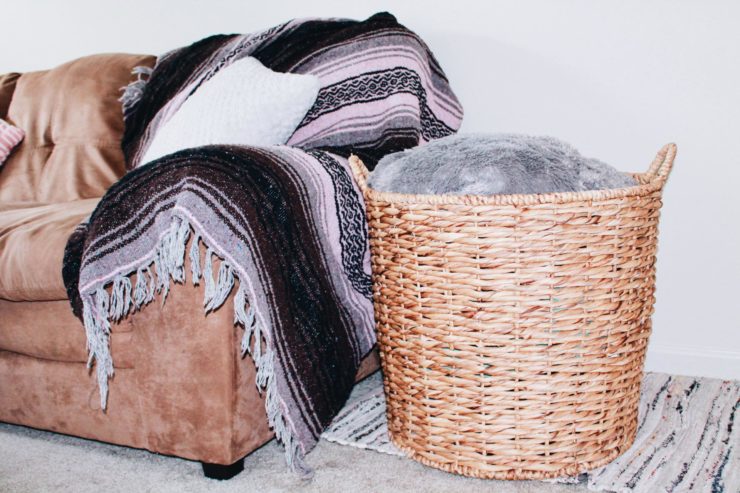 I got this suede couch a couple years ago at Big Lots for my college dorm, and it's still kicking!  I love decorating with baskets because they make storage CUTE!
TJ MAXX: white pillow, pink pillow, gray blanket, basket

Pigeon Forge Gem Mining: Mexican blanket (which just so happens to incorporate my entire color scheme — similar here)

Target: rug (where we put our shoes when we come home)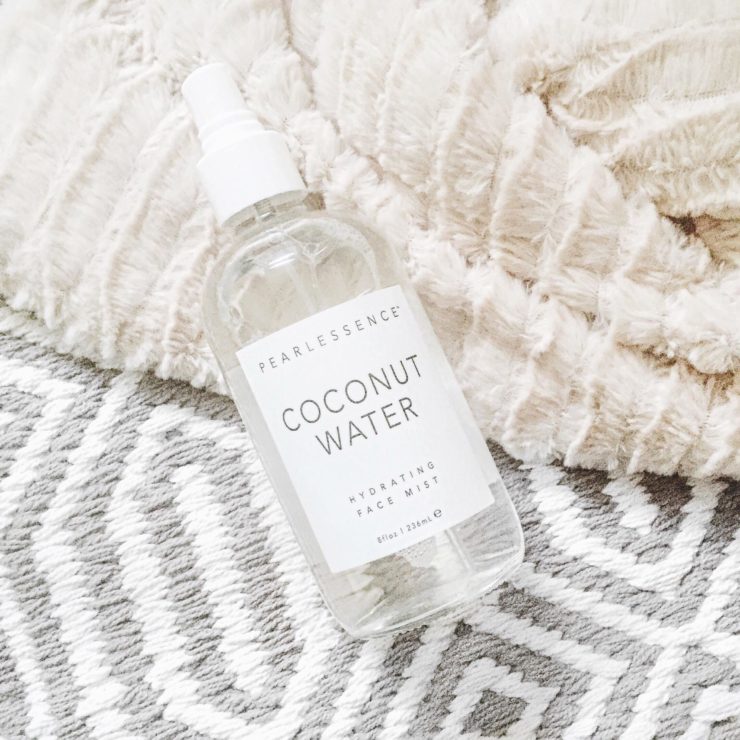 I love the neutral colors and textures this blanket and area rug adds to our living room — and what would details of my apartment be with a facial spray?! LOL, but really. This one from Pearlessence smells like summer. Everything in this photo is from TJ MAXX.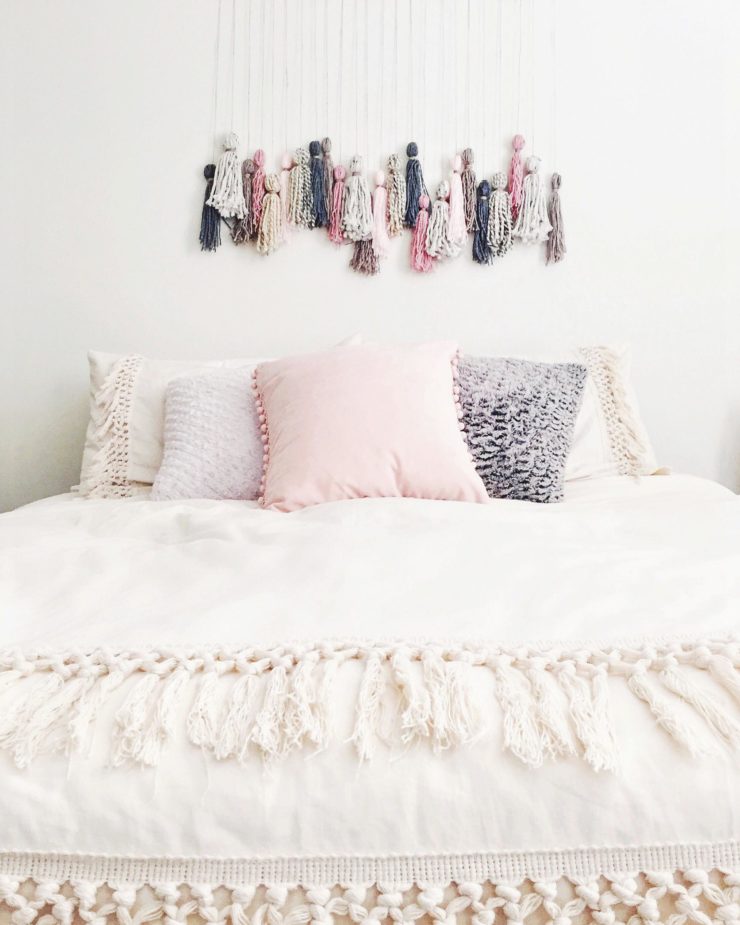 I picked out this bedding from Urban Outfitters last winter and I'm still just as in love with it as I was then! The knotted tassel along the bottom section of the duvet and the ends of the shams add such a cute touch. We switch back and forth between white and light gray sheets: the white ones are Max Studio and they are my fav!

Be sure to check out my blog post on how I made this tassel wall hanging!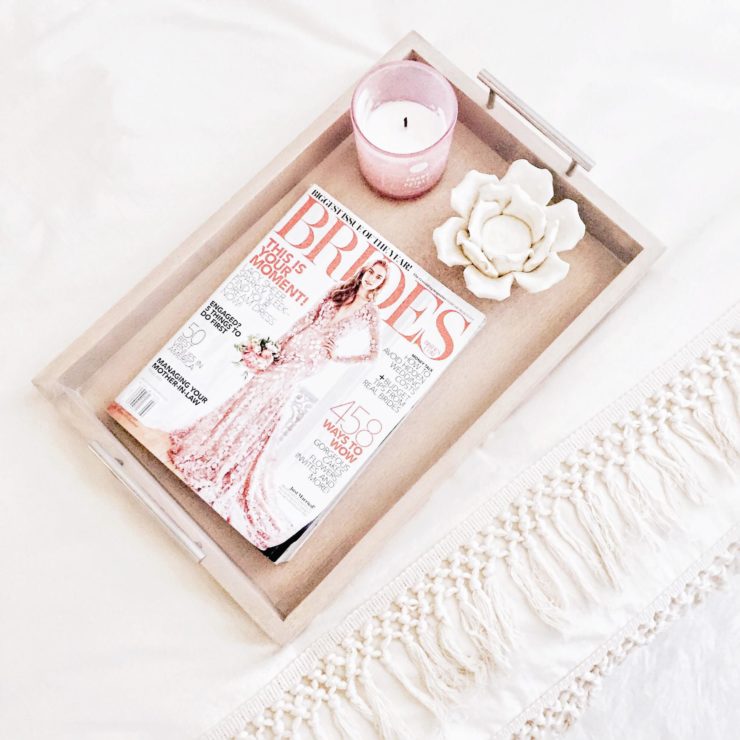 There's just something about trays... Trays make eating in bed or by the couch clean and spill-free! I like to use the tray as a surface to put my drink or candle on, or a general area to keep our remotes and things so they don't get misplaced.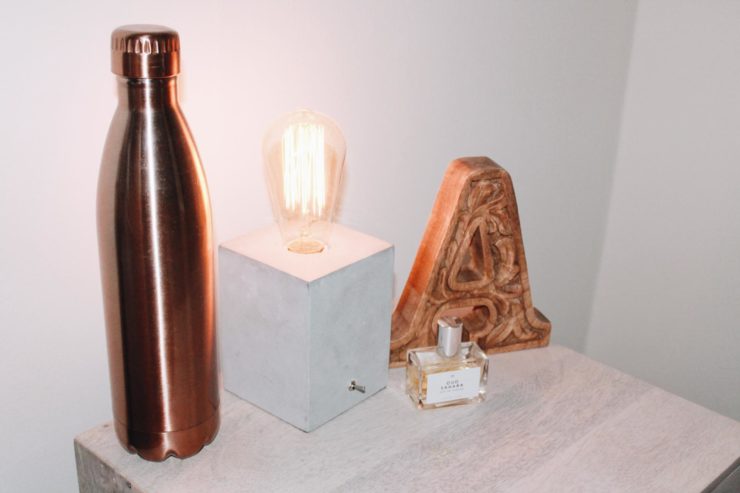 Justin and I have these matching whitewash, one drawer dressers from Target (full photo of them here) — I love them because they go with our decor perfectly and they're so functional. I find lamp shades to be bulky, so these concrete base Edison bulb lamps are perfect and add to the vibe I'm going for.
TJ MAXX: copper bottle, wooden "A" letter, lamp

Urban Outfitters: perfume "Oud Sahara"
Justin's parents got us this picture for Christmas a week or so after our engagement, and it's one of my favorite pieces! It fits perfectly on this wall between our closet and bathroom & I love seeing it when I wake up every morning — it's a reminder of my favorite day!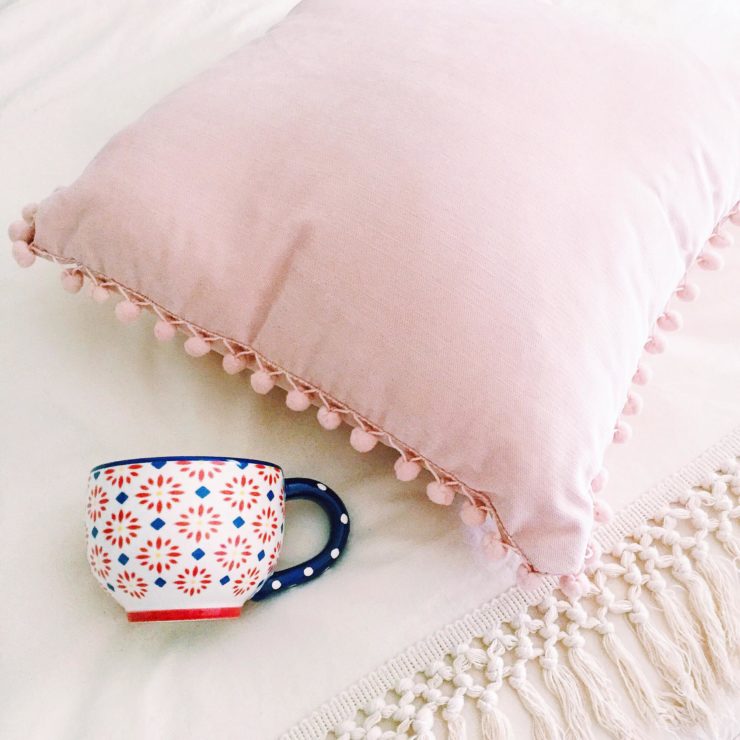 I was struggling to find blush pillows for months, and I got way too excited when I finally stumbled across this one at TJ MAXX. Not only is it the perfect color, but it incorporate the pom pom tassels that I love so much. This oversized Anthropologie-esque mug (similar here) is from TJ MAXX as well and I love eating my cereal out of it in the morning.

Baskets are the best way to store your dirty laundry! (it's killing me that the bottom drawer isn't pushed all the way in)


I added these mismatch knobs from Hobby Lobby to some old, plain white dressers I repainted that my brother and I used growing up. Justin and I each get our own dresser and in additional to our walk-in closet, it's the perfect amount of space for us!
 Justin's brother Matthew made us this cool wooden photo for Christmas, reminiscent of our engagement just a week before that!


I like to save my polaroid film for my most special moments. These ones, placed on our fridge where we can look at them everyday, represent our 

first Christmas as an engaged couple, our two year anniversary, our first Valentine's Day in the same state, our first vacation, and our first home!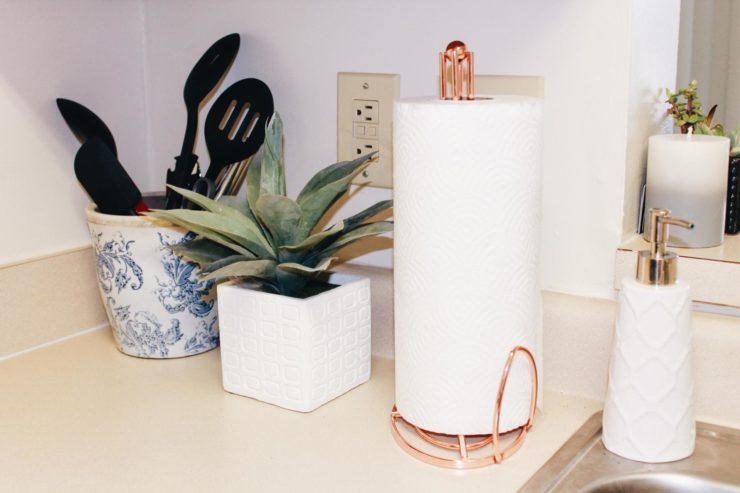 I love cute details in the kitchen! I like adding both fun and functional items to spice up my space. My kitchen color scheme is mostly light, subtle elements of color and lots of copper (i.e. all of our pots and pans)!
Hobby Lobby: blue and white pot for cooking utensils, ombre candle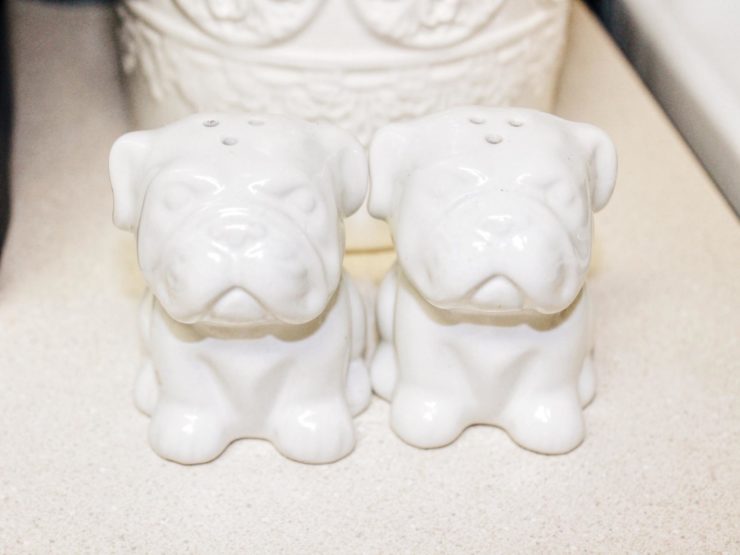 I believe these bulldog salt and pepper shakers from Target were the first ever items I purchased for my apartment last fall! (cute, inexpensive cactus ones here)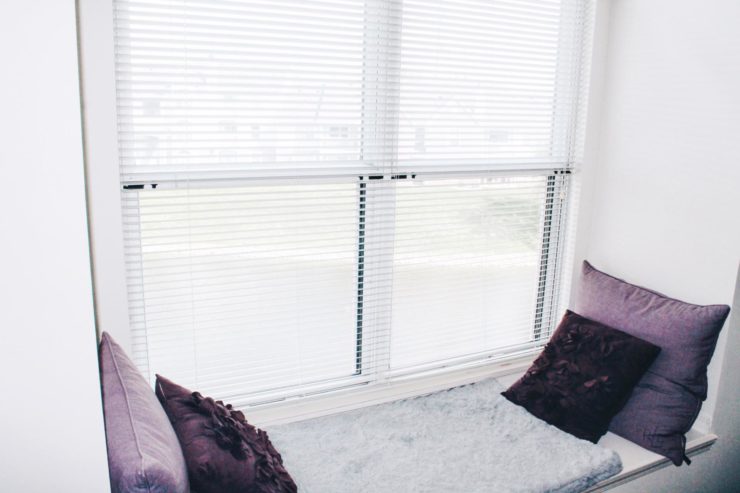 We weren't sure what to do with our window seat at first, but my mom and the idea of buying a soft, blanket-like dog mat to use as a seat cushion — which has worked great! I added some leftover purple pillows from my college dorm to make it more comfy.
__________
I love our apartment so much. It truly is our home. Of course decorating and collecting new pieces is going to be a continuous job and it's difficult to capture the full essence of the space in photos, but this is what we have so far and I'm so happy with it!
What's your home decor style? Leave me a comment and let me know. I'm always so interested in what people like and how they decorate their space.

As always, thank you for stopping by — Do you like what you see? Be sure to subscribe to my blog to receive notifications when I post new content! I also post my latest home decor finds on Snapchat, so be sure to follow me there for updates: abbysaylor

My other home-related posts: