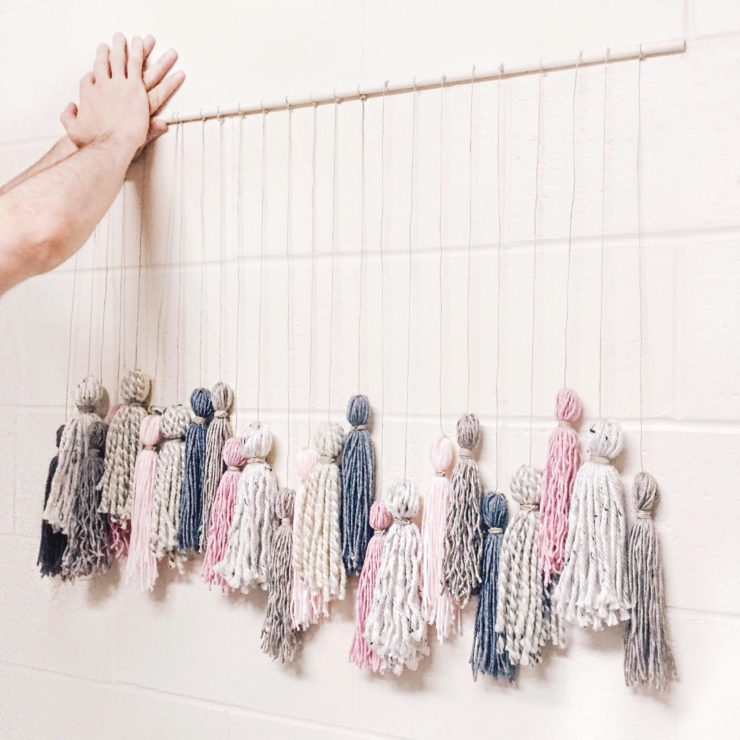 I've been seeing home decor like this all over Pinterest and I've been dying to try it out for months! This tassel wall hanging is perfect to hang over a couch or bed, or to simply add texture to a blank wall. Keep reading to learn how I made it!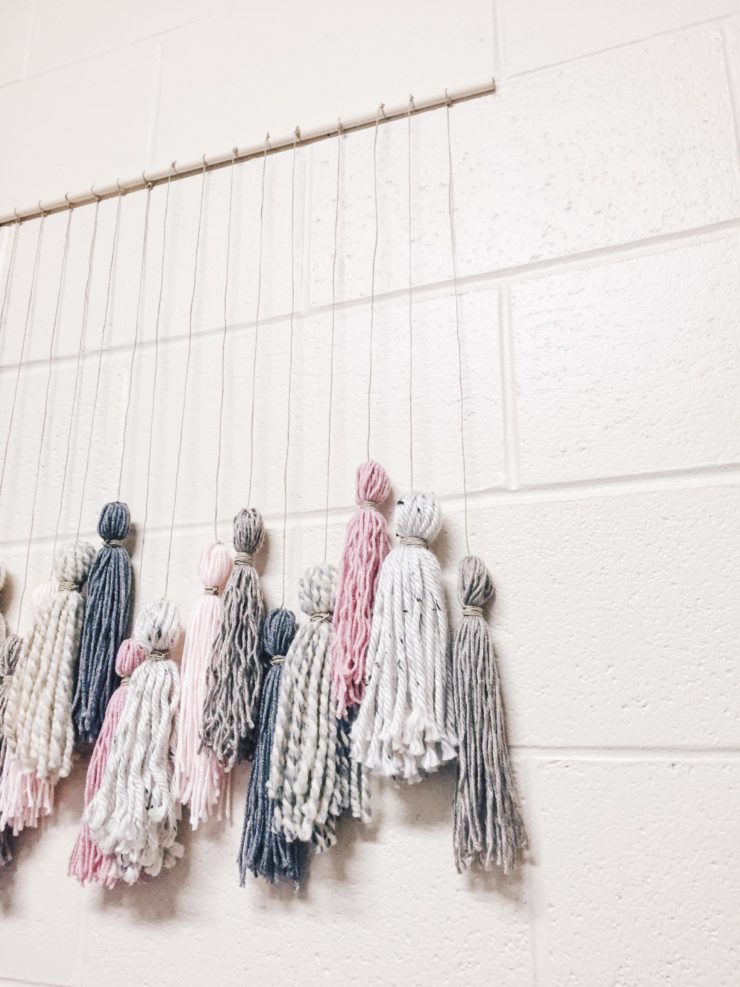 The specific reference I used to make this was from HonestlyWTF blog on Pinterest. Be sure to check out her blog post as well!
WHAT YOU NEED: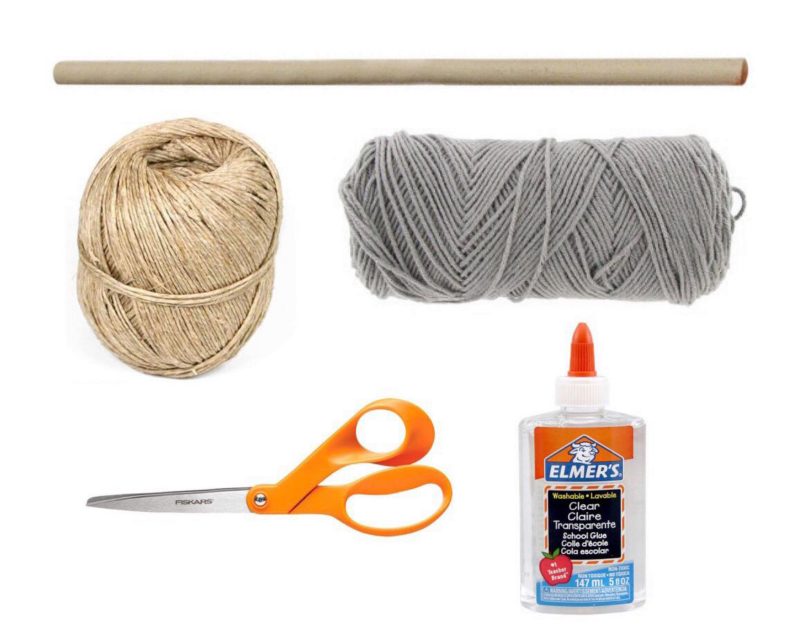 Yarn (a variety of thicknesses and textures)
Hemp twine (or any string of your choosing — one roll was plenty for me)
Wooden dowel (mine is about 3-4 feet long — only 99 cents at Hobby Lobby!)
Scissors
Glue (optional)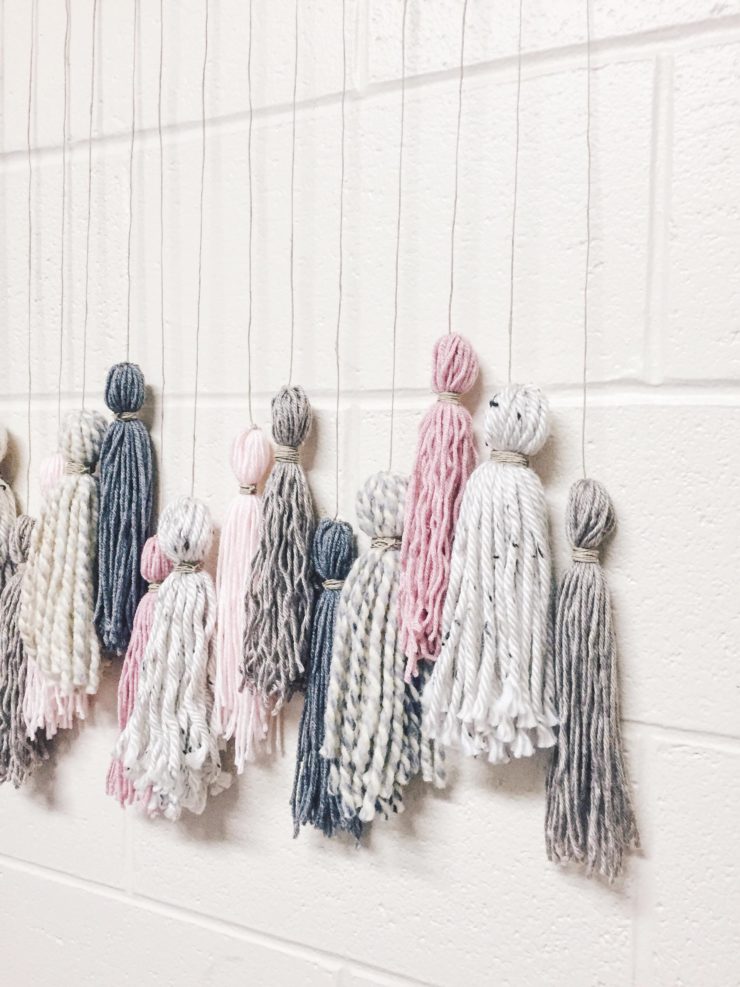 As you can see, I decided to go with mostly neutral colors (taupe, cream, gray, etc.) with a pop of rose and soft pink, since that is what matches my home decor. I think several shades of one color would look awesome as well — the possibilities are endless! I love this DIY so much because it's so easy to customize.
HOW TO MAKE IT:
To begin, decide how long you want your tassels to be and find an object around your house that is the same length. This will be used to wrap your yarn around to create the tassel. I used the width of a textbook. I wrapped my yarn 20-30 times per tassel (20 for thicker yarn, 30 for thinner).
After you've done this, cut one end of the wrapped yarn and secure it an inch or two down by wrapping the hemp twine around it as many times as you like.
Tie it off tightly with a double knot and cut off the extra twine.
After you've made each of your tassels, cut another piece of twine a couple feet long (however long you want your tassel to hang down), push it through the loop at the top of the tassel and double knot it to secure it. Then simply eyeball the height you want it to hang from the dowel, double knot it, and cut off the excess. I added a little drop of glue to the knots on the dowel when I was finished to make sure they were secure.
and you're done!
I can't wait to hang this up in our new apartment (we get our keys on Friday)! I couldn't be happier with how this turned out and it was so much fun to make. I watched about 2.5+ movies while working on this, if that gives you an idea of about how long it takes to make it. Let me know if you try out this DIY and be sure to tag me in your posts/photos if you do (@abbysaylor) — I'd love to see your take on it, especially what colors you choose! I hope you all are having a great weekend! More home decor DIYs coming soon!