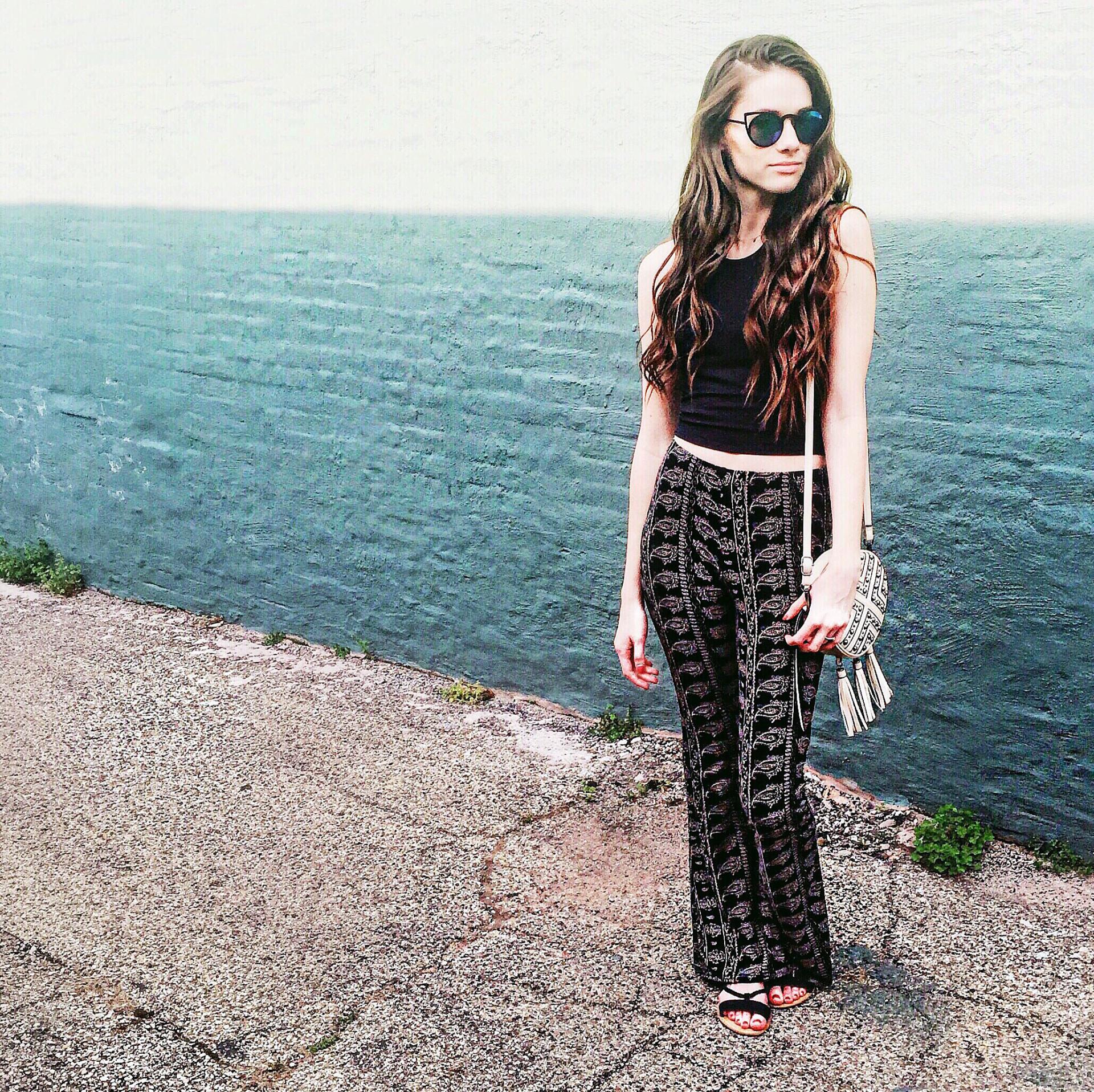 __________
TOP: Pacsun (similar here) //
PANTS: Kohl's (similar here) //
BAG: Target // SHOES: ASOS //
SUNGLASSES: Quay Australia
__________
First of all, I can't believe I'm wrapping up my final 3 weeks of college! The past 4 years have absolutely flown by and it's so crazy to think that my schooling is almost complete. There is so much more I want to say about my college experience coming to a close, but I'll save that for my graduation post in a few weeks!
Today I wanted to do an update on what has consumed my life the most lately: apartment hunting!

My stress level has been higher these past couple weeks than it's been in a very long time — but I think everything has worked out the way it's supposed to and I'm anxious to get past these next few weeks! Let's back up a bit:
I decided to go ahead and stay at my current PR agency job in Indianapolis a couple months ago, and we had been waiting to hear where Justin would get picked up for a teaching job so we could decide where we needed to live for each of us to have a reasonable commute. We've wanted to stick to the south side of Indy from the start, not only because we're more familiar with that area, but also because we genuinely like it. We were happy to find out that all of Justin's favorite job prospects allowed us to stick with our original plan.
We started googling apartments a couple months ago, but we couldn't realistically move forward until a couple weeks ago — and let me tell you, apartment hunting is stressful! Yes, it's fun to think about moving into our first place and no longer having to live in a dorm, but it's a tough process. There are so many deadlines you have to meet, fees to pay, and forms you have to fill out — not to mention forking some money out as well. Since we were late in the apartment hunting game, the past week and a half has been jam-packed with budgeting, calling apartment complexes non-stop, going on tours, and gathering application materials. After this crazy process, we were able to narrow down our options to two places.
We've finally decided on a bright, airy, 1 bedroom 1 bath apartment with some extra features that we really love. Now we're just waiting for the final steps of the process to go through before the apartment is officially ours. I'm really happy with our decision, even though it was a tough one to make! I've learned so much during this hectic process, so here are some tips for those of you who are also hunting for your next place.
Apartment Hunting Tips



1. Online information isn't always accurate. You really need to call and get your foot in the door to get a realistic idea of what the apartment entails.
Does it fall within your budget? Typically they suggest the monthly household income is 3 times the monthly rent price.
What does it really look like?
What type of neighborhood is it in?
Does it comes with the amenities you need/want?
Make a list of apartments in the area you plan to move to and start calling!
2. Get your materials together. There are several items you need before you can apply and get approved.
Most apartments have application fees, which each adult that lives in the apartment has to pay separately. There are often deadlines that have to be met in order to make sure the apartment you want remains reserved, so be sure to ask about that, even if they don't mention such a thing.
Many apartments also require a "proof of employment" letter from your employer that states your name, that you work there, and how much money you'll be making. If you're currently in a full-time position, sometimes your last two pay stubs will suffice. You can typically email it in. They will most likely be running a credit and background check on you as well.
It's likely you'll have to get renter's insurance, so look into that too.
3. Ask questions! I can't stress this enough.
What utilities are included in rent (trash, sewage, water, electric, etc.)?
Does the apartment you'll be renting have the same updates as the showroom (flooring, cabinets, etc.)?
Does it come with all the appliances (i.e. a microwave)?
Is there a community laundry room, full-size washer and dryer hookups, or can personal ones be rented from your facility?
Are there additional fees prior to moving into the apartment (i.e. a redecoration fee)? When is the first rent payment due?
4. Stay on top of it. Just because you went on a tour and told them you're interested, doesn't mean the apartment is yours.
You need to obtain a clear understanding from the leasing office/agent of what exactly you need to do to get approved and reserve the apartment you want.
You need to know what deadlines you need to meet, and when.
Make calls or stop in the office as often as you see fit to make sure everything is on track.
__________
It will definitely be an adjustment, but we're excited to begin this journey together and make our first place our own. I'm so happy that I got started on collecting things for our apartment super early, because now we have nearly everything we need before we move in! I'll definitely be sharing photos of our new place once we get settled, and I can't wait to do some inexpensive DIY decor projects (right now I'm doing a makeover on our dressers) — which I'm sure I'll blog about as well!
Thank you for reading and keeping up with my life! 🙂
Here are my previous apartment blog posts in case you missed them:
Home Decor Update | February 2016
First Home Shopping Checklist: What I Have + What I Need
Bedding: Help Me Choose!