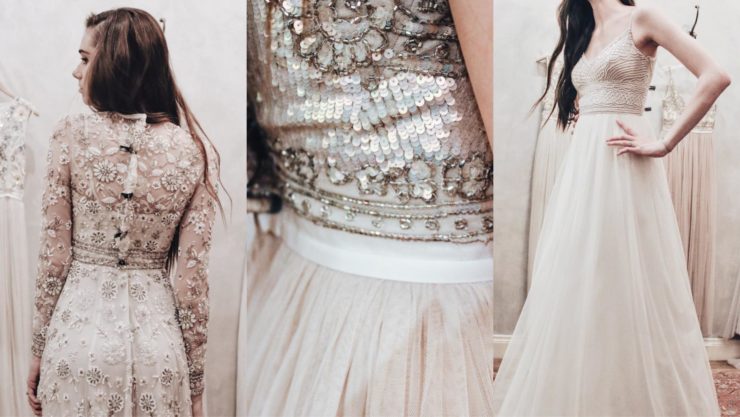 Happy Monday! Today I'm very excited to be talking all about my wedding dress shopping experience at BHLDN in Chicago last month — Let's get into it: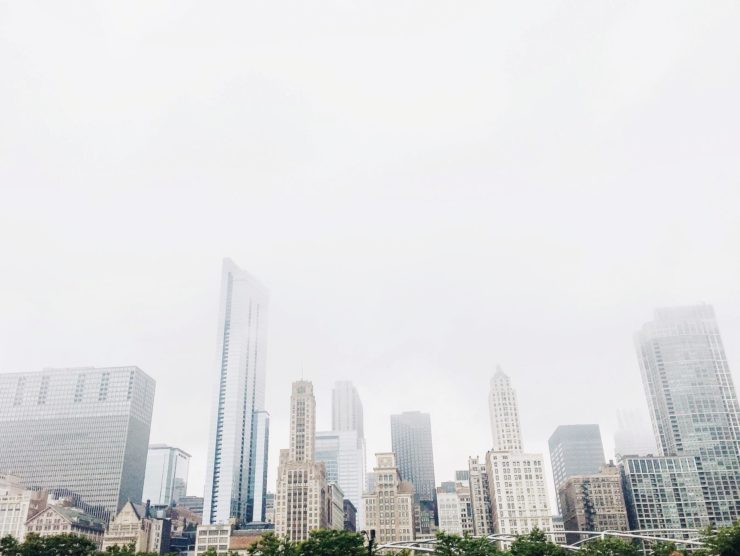 My mom and I planned a trip to visit their Chicago location on August 26 (only about a 4 hour drive for us so it's pretty reasonable), and she surprised me a couple weeks before the trip by telling me she arranged for my cousin/maid of honor, Caitlin, from Florida to come with us! My mom's sidekick/"Chicago expert," Angie, came along as well.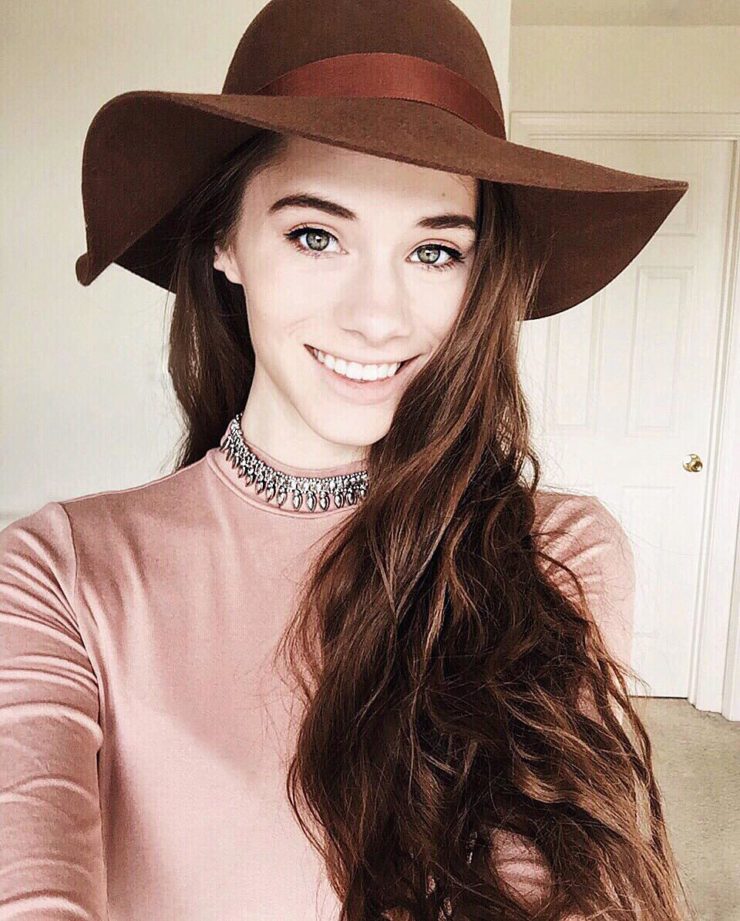 I wore a blush dress not only because it was my favorite dress at the moment, but also because it's one of my wedding colors. This allowed me to hold up my dress to the wedding dresses I was trying on to see what the color palette would look like. I would definitely suggest doing this or bringing a swatch for comparison!
My appointment was at 4:30 on Friday, August 26, and I couldn't have asked for a more beautiful day! The sun was shining and the temperature was perfect. We walked around the area and did some shopping before my appointment, and it just happened that Urban Outfitters and Sprinkles Cupcakes were only a short walk away (does it get any better than that?)!
I was in awe the moment I walked into the store because it was everything (and more) that I'd imagined it would be! This was such a surreal experience for me because I'd been dreaming of going to BHLDN since I got engaged in December (and maybe even before that...). I wasn't emotional trying on the dresses, but there's nothing like seeing yourself in a wedding dress for the first time. It was an amazing experience that I will always remember.
WHAT TO WEAR
I wore pasties and seamless nude underwear when I tried on dresses and had no issues! If you plan on wearing a bra on your wedding day, then I would recommend wearing one like it when you go dress shopping. I knew I wasn't going to be wearing a bra at my wedding, so I planned accordingly. Nude undergarments prevent any unwanted colors showing through the dresses you try on.
Below are the dresses I tried on, followed by their names. Shout-out to Caitlin for taking these gorgeous photos!




Nina gown

Brisa dress



Naya dress


Tabitha gown


Paulette dress

Adona dress


Penelope gown 


When choosing the right dress for you, you honestly just have to go with your gut. Try not to let others' opinions sway your decision. Think about which dress you feel most like yourself in, which dress is the most comfortable and makes you feel the most beautiful, and what style best fits the weather and theme for your wedding. If you haven't selected the theme or date for your wedding before you go dress shopping, choose the dress you want and then build everything else around it.

I liked every single dress I tried on, which I definitely wasn't expecting! Each dress was so unique and beautiful in its own way, I wish I could have multiple weddings and wear them all! ;) After some consideration, I was able to happily select my dream dress and I can't wait to share it with you all on my wedding day, June 10, 2017!
SHOP THE DRESSES:
OUTFIT DETAILS:
Dress: Forever 21 (similar here and here) // Hat: Forever 21 //
Shoes: Vans // Choker: Forever 21 (similar here)
__________
Remember my Bridal Spotlight collaboration I have going on with IndyBride2B? Head over to their site today to see a new post by me discussing why I picked BHLDN, what they offer, how to prepare for your appointment + more!

Be sure to share this post with anyone you know who is getting married! Thank you so much for reading and be sure to check back for more wedding-related posts soon.

My previous engagement/wedding posts: