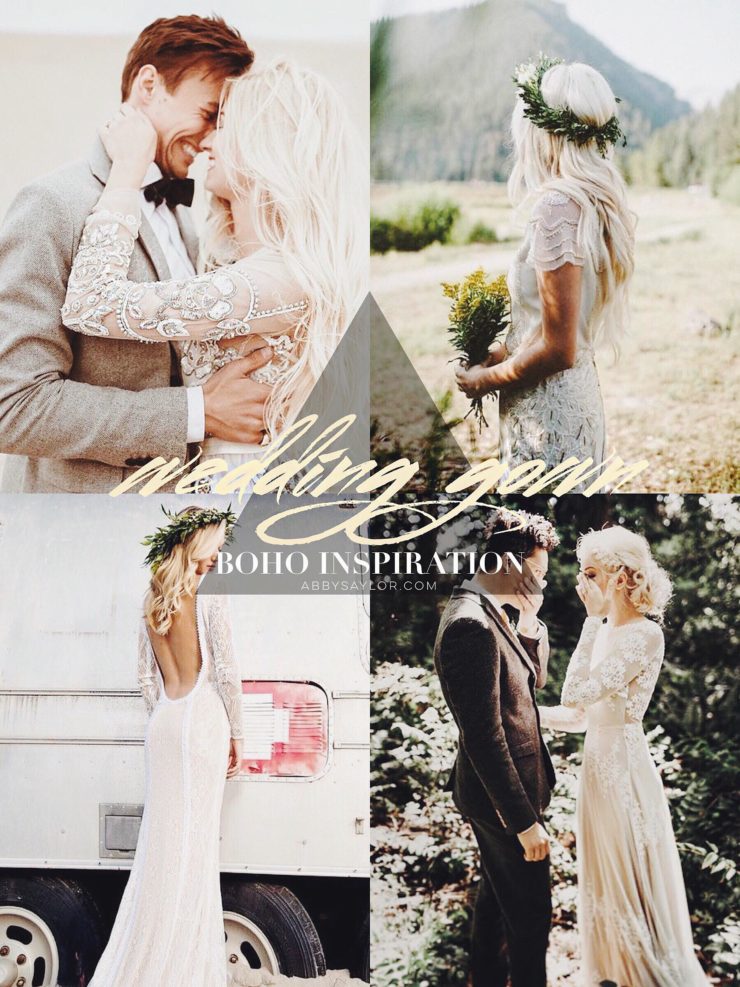 I have officially started the wedding planning process (way too excited about finally getting to type that), which means I'm scoping out everything from venues, to dresses, flowers, caterers, decor, and everything in between! It's no surprise to my blog readers, or anyone who knows me really, that I'm committing to my favorite "boho chic" theme with my wedding (and in life honestly). I'm in love with the earthy, effortless, feminine look of this style.

Bohemian wedding looks are often considered "low-key" in the sense that they typically don't incorporate large, billowing ball gowns. Boho brides typically wear their hair completely down, in a low up-do, or a braided style, accessoried with a flower crown, or comb/headpiece. 

This is a compilation of some of my favorite boho wedding gowns to serve as inspiration for those of you who are also planning a wedding that fits this style!

BACK DETAIL
If you've scrolled through my Pinterest wedding board, even for a second, this is no surprise to you! This trend is everywhere this wedding season, especially in the boho realm of gowns. Everything from completely backless, to sheer lace, or criss-cross detail is the highlighted feature of many dresses I've stumbled across. I love drawing attention to this area and dresses that fall into this category make for really pretty wedding photos!
EMBROIDERY
I did not expect to love this trend, but I'm absolutely drooling over it now. Embroidered dresses range from full to minimal, each offering something different to the overall look. Embroidery can add a lot of texture a personality to any dress — it's also an easy way to incorporate some color into your palette, while still achieving an overall white/ivory dress. Blush and ivory gowns are a huge boho wedding trend as well!
LACE
Lace has been around in wedding gowns for years and years, but styles evolve of course. Long sleeves, two-pieces, and all-over lace overlays have been featured in bridal shops everywhere for the past few seasons — so delicate, beautiful, and classic!
__________
What are your favorite wedding dress trends? I very well could end up wearing one of these exact dresses, so act surprised no matter what ;) I'll be keeping the secret of where I'm going dress shopping until after it happens, so stay tuned!

Thanks for reading! Be sure to check out my other engagement/wedding related blog posts: