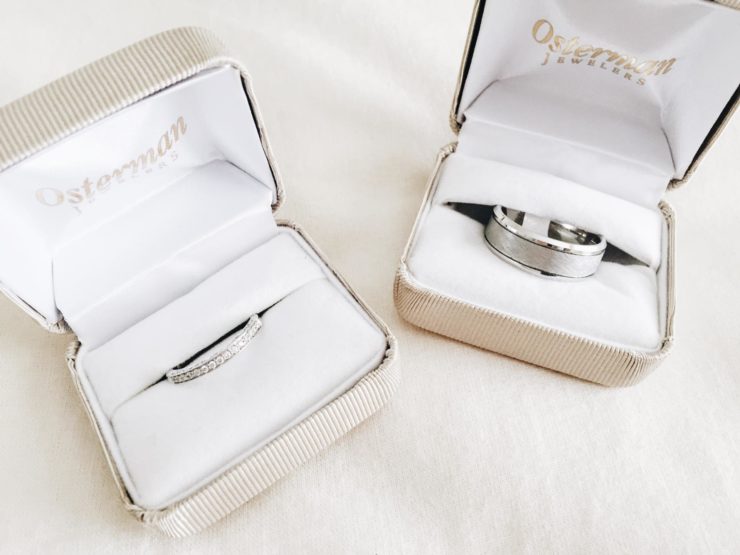 Friday, December 16th marked my one year engagement anniversary with Justin! This year has been absolutely amazing — In this post I'll be covering how we celebrated, my thoughts on engagement and what we've learned over the past year.
We went to the same restaurant we went to that night to celebrate. I brought the proposal book he had given me that night and we reread it together, which was the first time either of us had looked at it since that night (read my engagement announcement post here). I can't help but have butterflies in my stomach when I think back to that day a year ago, remembering how I felt in that moment, feeling so incredibly loved and in love while excitedly thinking about our life together and the adventures to come all at once.


In celebration of our engagement anniversary, we decided to purchase our wedding bands on Saturday. Funny story: I tried on the wedding band we were going to get for me and I COULDN'T GET IT OFF! With all the Christmas shoppers everywhere, it was so hot and stuffy that my finger swelled up (which always happens when I'm overheated). The salespeople kept spraying Windex on my finger to help me try to slide it off and nothing was working. The ring is actually too big for me, but I tried it on underneath my engagement ring, so I couldn't slide off my engagement ring to get to the wedding band. We literally purchased it with it 

still stuck on my finger

, so we're going to have to take it back to have it resized at some point. I thought this story was too funny not to share — it's actually still on my finger right now as I'm typing this (lol). 

We've experienced so many amazing milestones together over the past year.
We celebrated our two year anniversary back in February.

We 

finally

 got to spend Valentine's Day together for the first time (he's usually out of state every year competing at a swim meet).

We graduated from Franklin College.

We moved into our first apartment together in Indy, which we've thoroughly enjoyed making this first place of ours a true home.

We've started our careers: Justin as a teacher and me in the PR field. He has also started his coaching career, both in soccer and in swimming.

We've set up our first Christmas tree and are more than thrilled to celebrate our first holiday season together at a home of our own.
I had a conversation last week with one of my best friends, Kassie, about engagements and proposals. Regardless if you receive a diamond the size of your fist or the most modest of stones, it doesn't matter. Whether he proposes to you in front of thousands of people with a symphony playing or alone in your kitchen... That's just the background. The ring and where you're at are just details, representative of who you are right now and the place you're both at in life. No matter what the details are, the feeling is the same. If the right person proposes to you, you'll feel completely weightless.

What I've learned more than anything this past year is what Justin needs. To love even in those meaningless, petty little moments when you don't really feel like it (which we're lucky to have so few of), and always prioritizing my relationship and my partner's needs above anything else. Everything else is temporary, but love, if it's right, is forever. Our future marriage is our foundation in which everything else will be built on, so it's so important to nurture it. 

We've also learned to confide in each other when the stress of work or responsibilities seem to cave in. He's my rock and the first person I want to tell anything and everything to every day. My favorite part of each day is the second he walks in the door, and I've been blessed to have that small, perfect moment to look forward to every single day.

Although my days as a "Saylor" are numbered and calling my fiancé "my fiancé" will soon only be a memory, I can't wait for our lives to continue to grow together as we create new memories and create an even stronger bond every single day.