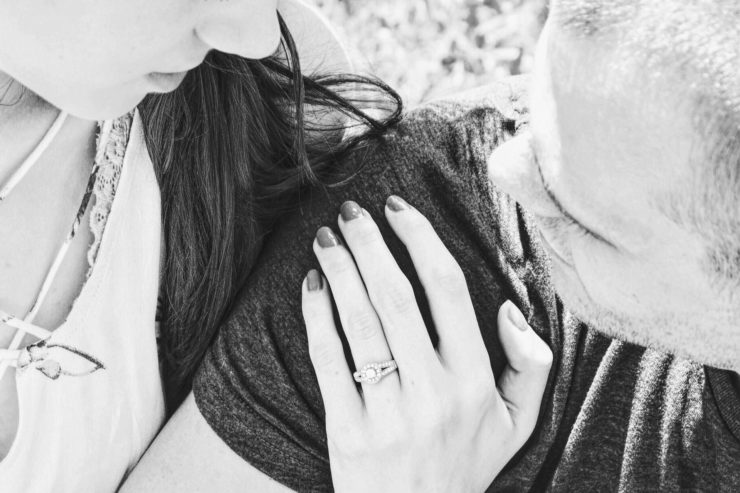 The six-month countdown to your wedding is what I call a transition period: the time to finalize all of your bigger items and begin checking off the smaller items. In this post I'm giving you an update on my wedding planning checklist, the vendors I've secured so far, my tips and the challenges I'm facing. Click the linked items to see the posts I've done on each category here on my blog and on IndyBride2B.com.
As of this past Saturday, December 10th, our wedding is officially six months away! Justin and I will have been engaged for one year this Friday on the 16th, and I can honestly say time has flown by even faster than I could have ever imagined. I started wedding planning back in June, and I'd say we've crossed half the items off our list. Now that we're at the six-month countdown, we're prioritizing what needs to come next and setting deadlines.

When it comes to wedding planning, It's important to make a list of absolutely everything you need to collect, schedule and reserve, and place each item into groups of importance. For instance, your venue and caterer are more important than your wedding favors and guest book. I try to set deadlines for myself in order to stay motivated and maintain focus. Here's where I'm at right now.

ITEMS COMPLETED:
Dress — I got my dream dress at BHLDN in Chicago back in August.
Venue — A garden wedding fits Justin and I perfectly.
Date — An early-summer wedding on June 10 compliments our boho theme.
Photographer — I've been eyeing my photographer since last spring and this was one of the first things I nailed down as soon as we knew our wedding date.
Bridesmaids + groomsmen — It was so fun to ask our friends and family to be apart of our big day! See how I asked my bridesmaids here.
Save the dates — It took me a while to find the perfect design, but I knew it was the one I wanted the second I saw it. Minted makes the whole process super simple!
Hair stylist — My personal hair dresser who's been doing my hair basically my whole life will be styling me and my girls. I'm leaning toward incorporating low + loose up-do's, but we'll see!
DJ — I didn't really know of any Indy DJs, so I took my venue's recommendation on this one. I've compiled a ceremony playlist that I've continued adding to here and there, which I may share soon!
Cake — I'm SO excited about this one. I love the baker we've chosen and I can't wait to eat the multi-flavor cake and cupcakes we've ordered for the reception.
Wedding favors — It took me a little while to research what I wanted, but I like the concept we've chosen. We wanted something personalized and practical, so you'll have to wait until our wedding day to see what it's going to be. 😉
Bride bouquet + flower crown — These took priority over the bridesmaid's, so I secured a florist for mine while I figure out what exactly I want to do for theirs. I've chosen big garden roses in white and pink hues, along with other assorted flowers and greenery — I can't wait to see how they turn out!
Passports for our honeymoon — Though we're not sure where we're going yet, we knew it was important to be prepared and get out passports.
Wedding dress hanger — Of course this isn't necessary, but it's such a special keepsake that I'll always cherish.
IN PROCESS:
Decor — Ideas have been saved, I've purchased some things and I'm in the process of DIYing a few decorations.
Bridesmaid dresses — I believe I've selected the dresses I want online, but I'm going to have one of my bridesmaids order her's first so I can see it on in-person and go from there.
Bridesmaid gifts — I've purchased one item for everyone so far, but I have a few more in mind that I need to get.
Pastor — We've reached out to a pastor and are scheduling a meeting within the next month.
Invitations — A design has been selected, but I need to finish putting together our RSVP site, secure an official time (likely 6:30 p.m. for the ceremony) and order the invites.
WHAT'S NEXT:
Catering — I've been

the worst

at narrowing down options for this, but all caterers just seem too expensive to me for some reason! Indy readers: do you have any recommendations?
Makeup artist — I've spoken to a few makeup artists, but I'm trying to figure out our budget and decide what price-point fits best.
Boutonnieres — Since I want something incredibly simple, we're leaning toward having a wholesaler like Kroger make these. They have beautiful and affordable options to choose from, so I'm excited about that!
Honeymoon — I've haven't made any progress on this since the last time I talked about it here on my blog. A family friend has given us a travel agent to reach out to, so I think that is going to help us speed up the process and ensure we're getting the best trip for our money as possible!
Book hotel rooms for wedding day prep — We'll only be allowed to get into the venue 2.5 hours before the ceremony, so we've decided to reserve hotel rooms to cut wedding-day stress and to stay the night with my bridesmaids the night before the wedding! 🙂
Guest book — I haven't decided how I want to do this yet, but I'd like a book and/or a creative way for guests to sign-in at our wedding. Let me know if you have any fun ideas!
Cake topper — I've saved a few that I like on Etsy, so now I just need to choose one and order it!
Wedding party's table decor — I'll be crossing this off soon because I know exactly what I want.
Bridesmaid shoes — Now that I think I've selected the dresses, I'm searching for cute, nude, low chunky heel shoes that would be cute for summer.
Bridesmaid bouquets — We

may

DIY these ourselves!
Videographer — I never really thought about getting a videographer, but my mom presented that idea to me a month or so ago. If you know anyone who is just starting out or would like to collaborate for advertisement via my blog and IndyBride2B, let me know!
Groomsmen suits — I think we've chosen grey suits. I haven't decided yet what other colors to go with, but I'm leaning toward a blush, nude and white palette.
Groomsmen gifts — I'll leave this up to Justin of course, but I don't think he's started looking into ideas yet.
Bridal shower — I need to begin thinking about a location and date to set aside for this, likely in late April or early May. I want to have a fun theme and color scheme, so I'll be putting a Pinterest inspiration board together!
Bachelorette party — I need some ideas for this one! I think it would be fun to have a cute brunch at a place like Cake Bake Shop and go get our nails done for the wedding. I also think it would be so awesome to go on a little getaway trip. Any ideas?
Bachelor party — Nothing has been scheduled yet, but I think Justin wants to go camping with the guys — Sounds like the ultimate guy trip to me!
What strategy did you use for efficient and effective wedding planning? Thank you for reading and I hope all of my other bride-to-be's out there find this checklist to be helpful! Catch up on my wedding planning journey by reading all of my wedding-related blog posts here and subscribe to my newsletter to receive updates on when I post new content.