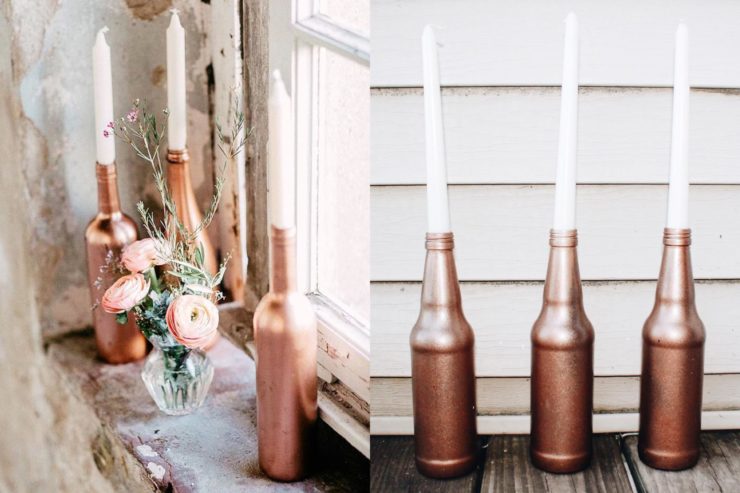 In preparation for our June 10th wedding that is officially just under 8 months away, I wanted to share with you my most recent DIY project! I want to make our decor as custom (I'm all about that DIY and making everything our own), affordable, and reusable as possible. I stumbled across the photos below on Pinterest of copper bottles used as candle holders and instantly fell in love!
Justin and I went to Michael's over the weekend and picked up glass soda bottles ($1.99 each), white taper candles ($7.99 for a pack of 15), and metallic aged copper spray paint ($6.76) from Home Depot. We sprayed the bottles on our deck and let them air dry for about 15-20 minutes, rotating them three times. I recommend letting the bottles dry for an extended period of time so they don't peel up the paint if they happen to stick to the surface you're painting them on like mine did at first.
The bottom of the candles I purchased are slightly too large to fit directly into the bottle, but they will go right in by shaving or cutting some of the bottom off. I plan to fill the bottles with a little bit of sand so they don't tip over at our outdoor wedding. I'm going to head back to Michael's soon and pick up some more bottles in a couple different shapes and styles as well, most likely placing 2-3 on each table along with other decor pieces (stay tuned for those!), including tons of greenery and flowers for a boho vibe!
In addition to the bottles, I also ordered wedding favors, a dress hanger, and these two large gold "A" and "J" letters to display on a table at our wedding — probably the dessert table. I love these letters because we can use them as decor after (and up until) our big day, making them both functional and reusable! :)
__________
Let me know if you try this DIY out! Read up on my other engagement/wedding posts as well as my Bridal Spotlight collaboration with IndyBride2B — a new post by me went up on their site today featuring my photographer, Arianna Marie Photography, + a free couple session GIVEAWAY! Be sure to check it out to learn how to enter — You won't want to pass this up!