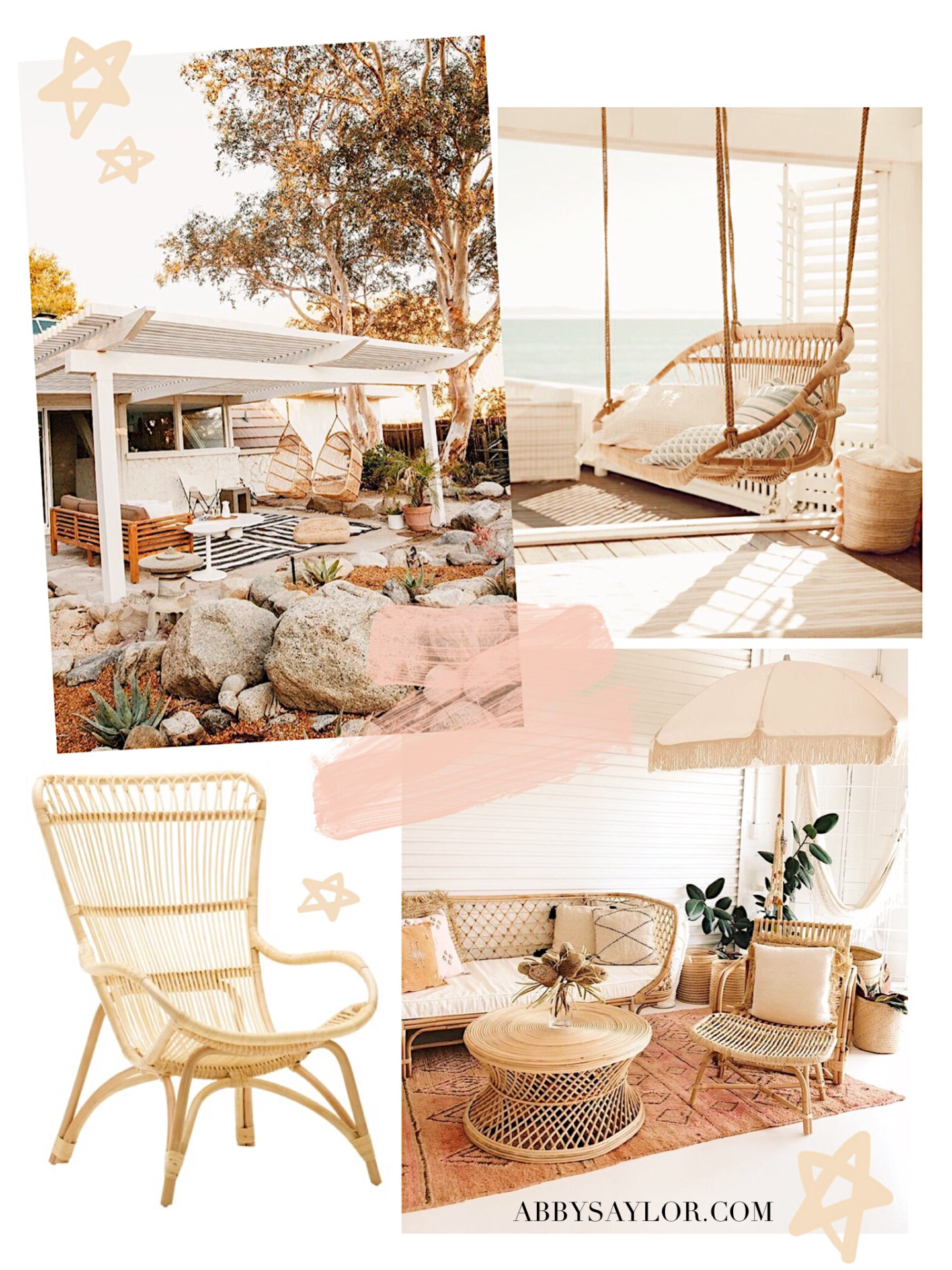 Hey everyone! I'm skipping washing my hair tonight so I can stay up and write this post, so I hope you enjoy it! 🤣 Anyway, with warmer temps rolling in here in Indy, I'm excited about having our own house in the summertime and getting to spend time in our outdoor space. We initially didn't have too many plans for our yard, but the sunny days we've been having recently have us daydreaming about what we can turn our area into. Keep reading for our backyard inspiration for our first house including photos of spaces I love, some of my favorite pieces I've found and the overall vibe we hope to create!
We haven't really looked into prices for this yet or have made any kind of definite decision on what we're doing, but we are starting to consider it and I wanted to take you guys along in the passenger seat of the brainstorming process. I'm always so flattered when people compliment our house and how we've made it all together, and the two key elements of that are pinpointing your style (and sticking to it!) and pre-planning. Having an idea of how you want the space to look, feel and be used for is the most important part of decorating — and then budgeting for it, of course!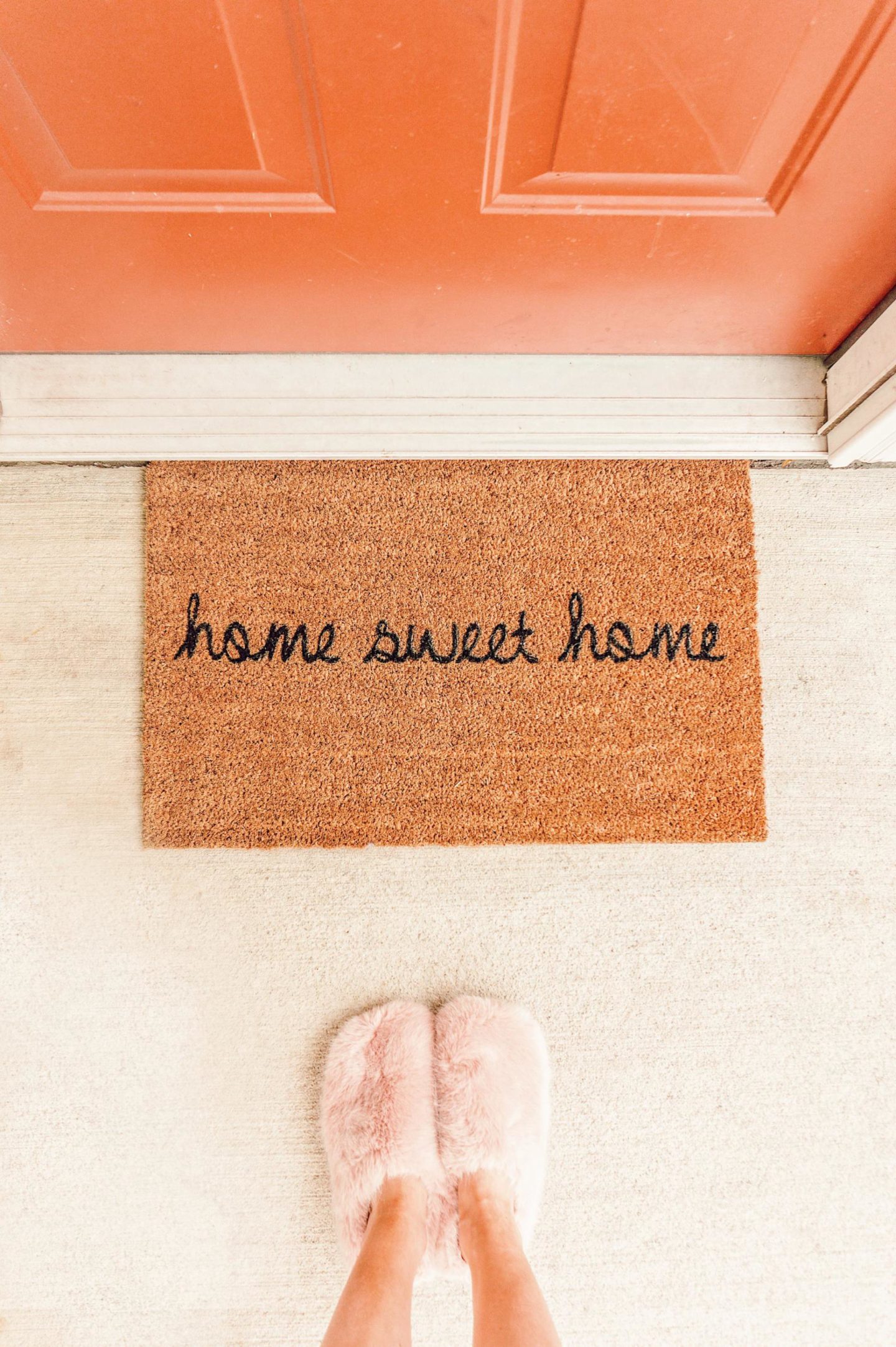 HERE'S WHAT WE'RE THINKING
Our backyard is on the smaller side, but definitely big enough to have an outdoor setup with free space to spare. The tricky thing is that our yard is on a little bit of a slope (nothing crazy, but it's not completely flat), so I'm not sure how much work we will or will not need to put into leveling it out. Our yard has a privacy fence, but with neighbors behind us and on both sides, we'd love to establish a bit more privacy, which I'll talk about how we'd plan to do that in a sec.
Here are the elements we're planning to incorporate:
Pergola
Rattan and/or wicker furniture
Greenery/plants
Firepit
Natural, soft tones
Durable structure/setup

Pergola
I've always loved these, and in my eyes, this is the perfect framework for an amazing backyard. We stumbled upon one at Home Depot that had a privacy drape/screen on one side, which is exactly what we want! I'd love to have some privacy from our neighbors without losing light or cutting off our space too much, and this would be the ideal way to achieve that.

Furniture
Since it's only the two of us, I'm thinking two small loveseats or four chairs (or a combo of both) will do the trick. It's also important to me that we get furniture that's going to wear well and not break when the summer storms roll through. I'd hate to invest in pieces that would get damaged easily, so durability is key. Walmart had some really cute chairs in their garden section when I was there last weekend!

Firepit
Bonfires were a constant part of my life growing up and I have so many great memories of roasting marshmallows and prank calling people while sitting around one with friends (lol), so naturally, this is something we'd love to implement in our first home. Living in a dorm and then an apartment for a total of six years straight didn't allow for any type of fire pits of our own, so finally being able to do that is so exciting to me!

Lighting
I'd love to drape some cute, outdoor string lights on a pergola for summer nights. Target has a TON of cute ones from their Opalhouse line and I'm loving all the unique ones most!
Plants
I like plenty of greenery inside and outside our house, and I'm wondering if it would be best to invest in real plants or fake ones. Obviously real ones would thrive outdoors, but will I be able to keep up with watering it and not kill it like I somehow always manage to do? Who knows! 😂
Wreath
This is more for the front of our house, but definitely something I want to get to spruce up our exterior. I love the super leafy ones with flowers, metal framing or other little details. Pier 1 has some cute ones right now!
That's our backyard inspiration! If you have any recommendations on where to buy outdoor furniture, I'd love your suggestions. Thanks so much for reading & I hope you have a great weekend! If you want to read the rest of the posts in this series, check out my other ones below: