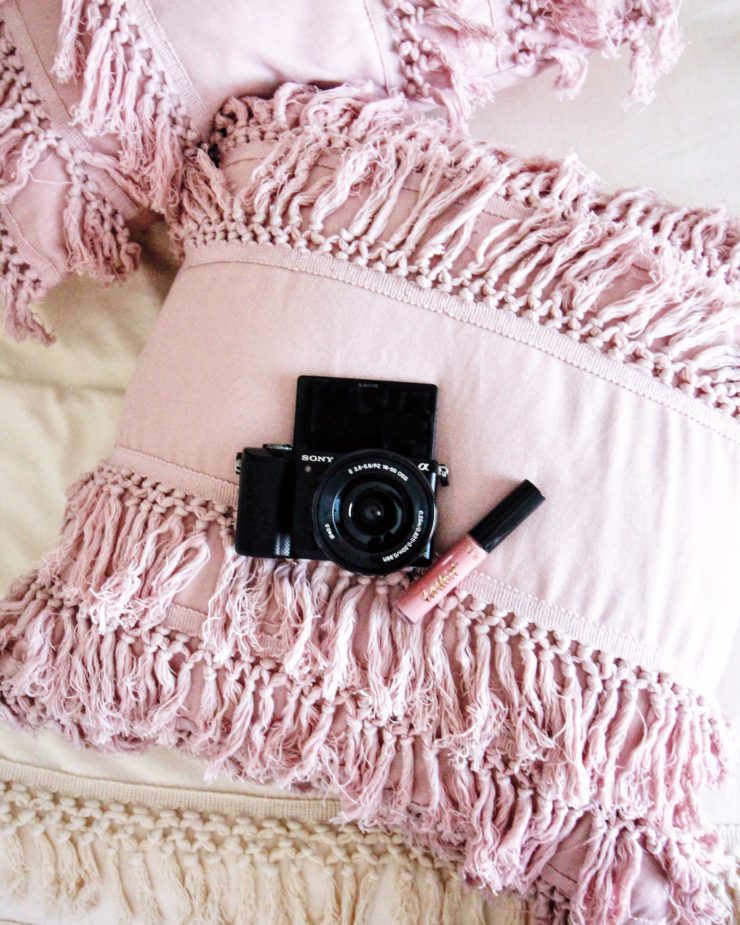 Welcome back to the blog — or hello if you never leave, like me. 😉 It's been a hot minute since I've done a favorites post, so here's a wrap-up of what I've been loving in the month of February!

CREATE
Vlogging
This is something I've wanted to do for years and I'm so glad I finally started. I really want to utilize my YouTube channel to be more interactive with you guys, so please feel free to leave comments and ask questions whenever you see fit! I'm completely open to video requests as well. What I'm looking forward to most is documenting our honeymoon and sharing our memories not only with our family, but with you guys too! It will be so special for us to look back on years from now.
Business cards
These have FINALLY been in the works this month. Though I already have my own business cards for my full-time job, there's just something so exciting to me about having some for my blog, too. I'll be sharing these here on my site once they're complete, as well as some tips for designing and ordering your own if you'd be interested in that!
LISTEN
Spotify
I'm always listening to Spotify and my various playlists on there, but the song I've been listening to the most this month is "3 Strikes" by Terror Jr on my "Killing It" playlist that I previously shared in my "Stepping Out of Our Comfort Zones" post a couple weeks back. I seriously listen to this song on repeat and I can't stop. Sometimes I just get really addicted to a song because it motivates me and this one certainly does that, along with the rest of this playlist! I love listening to it when I'm cleaning, cooking or doing blog stuff because it keeps me moving. You can follow me on Spotify here for more of my music.
WEAR
Tarte Lip Paint
I've finally found a liquid lipstick that works for me and isn't super drying! The Namaste shade is perfect because it's a nude-mauve color that suits my skin tone well and is fairly low-key, while still giving a pop of extra color to my lips.
Backpack
I can't put this thing down. I've used this black Fiorelli backpack (linked below) as my purse every single day since I bought it a month or so ago. It's so convienient to toss everything in that I may need throughout the work day (let's just say I'm an over-packer), along with my vlog camera for whenever I get a quick second to film a clip. It's such great quality and matches literally every outfit!
Tarte Brazilliance Plus+ Self-Tanner
The lack of sunlight this winter has me craving tan skin. I dug this product out of my cabinet a couple times this month to give my skin a bit of a healthy glow so I can pretend that it's not 40 degrees and cloudy outside. This is my absolute favorite self-tanner because it's so incredibly easy to use, it lasts for several days and the scent is great. You can read my full review on it here.
WATCH
Friends
Justin and I finally finished the entire Friends series this month and I'm so sad about it! Of course we can go back and watch it again at any point, but there's just something so great about watching it from beginning to end.
Documentaries
I've been really into these for the past few weeks and I talked about some of my favorites in this vlog. I'm a total crime nerd, so if there are any you recommend within that realm, let me know!
Vlogs
My favorite vloggers to watch lately have been Hayley Paige (this never changes because I love her) and Sierra & Alex. Sierra and Alex just bought a new house, so I'm always into following along with that kind of stuff. My blogger friend Carrie also posted her first vlog this week, so go check her out if you haven't already! Who have you been watching?
READ
Blog: Cait Shares
My cute cousin and maid-of-honor, Caitlin, published her blog this month! She's just getting started, but she has a few posts up on dating, relationships, breakups and Tinder, so go check her out and give her some love. 🙂
__________
What have you been loving lately? Is there anything I need to try? If you enjoyed this post, check out all of my previous
Favorites
here
.