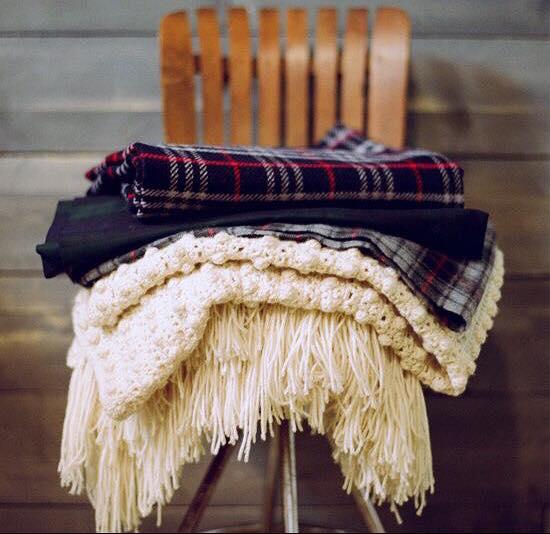 Happy Friday! Fall is approaching and in order to help you embrace it, I'm going to be sharing with you a few simple ways you can prepare for the season.

Switch out your current home decor for cozy textures and warm colors. 
Consider replacing your bright colored pillows, blankets, and table decor for ones that represent fall. Look for colors like maroon, navy, army green, and neutral shades to warm up your space and make it more representative of the season. Sticking to a neutral or dark palette and incorporating a lot of texture is a chic, classic way to decorate for the season.
Revamp your wardrobe and beauty routine.
A change of season is the perfect excuse to pick up a few staple wardrobe pieces. Be sure to have oversized cardigans, comfy v-necks and tank tops, ankle boots, and distressed denim this fall. For more information on what's trending in fashion this season, click here to check out my post all about it. As for your beauty routine, I suggest sticking to a contoured face and neutral eyeshadow. Instead of a summery bright pink lip, go for a burgundy color or a warm nude.
Change up your scents. 
Trade out your fruity, beachy scented perfumes and candles for musky autumn scents. I typically switch over to Burberry Brit perfume during this time of year and I pack away my summer scented candles and replace them with warmer scents. As I'm sure you all know, Bath & Body Works has the best fall candles to choose from! My personal favorite is Marshmallow Fireside, but the wide array of pumpkin scented candles are also great options.
Enjoy fall-related treats.
This one is definitely a fun one – Hit up Starbucks for your favorite fall drink and try out fun dishes such as pumpkin donuts, cinnamon roll waffles, caramel apples, and so much more! Yes these delicious foods certainly aren't the healthiest, but it's a nice festive way to treat yourself every once in a while during these months. Curl up with a salted caramel hot chocolate (my favorite) and watch a Halloween movie on a chilly night.
What are you most excited about for fall?