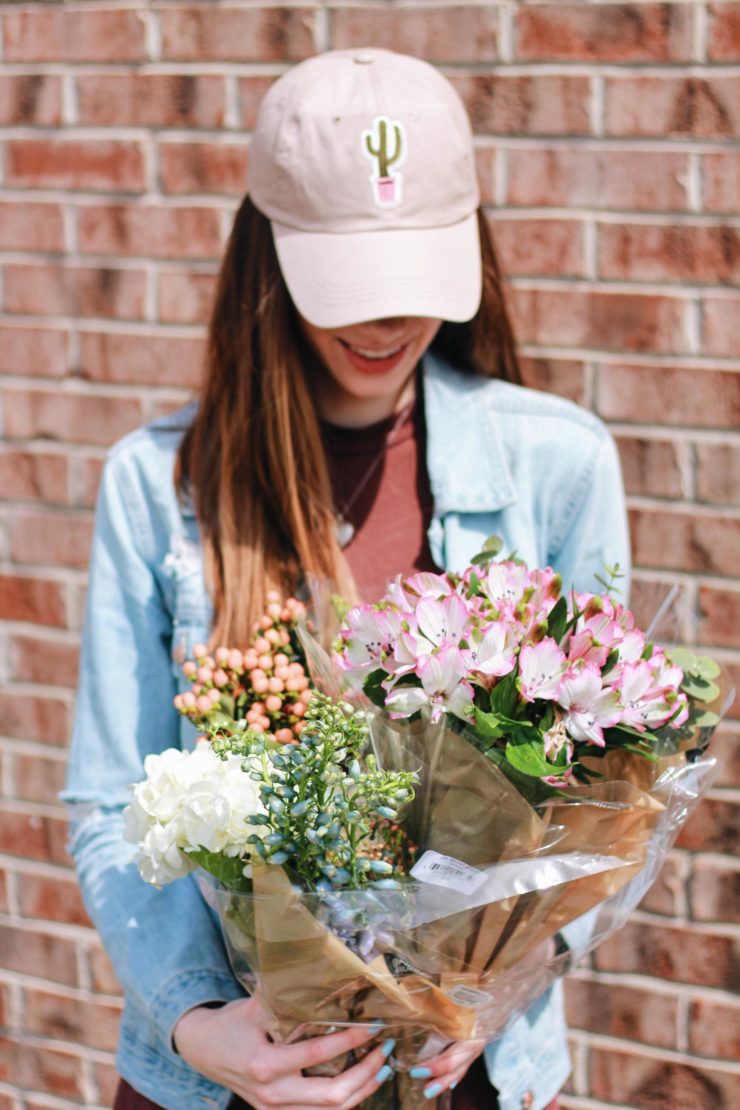 Hello everyone! As you may know, I've decided to make my own bridesmaid bouquets for my wedding this June. Making your own bouquets is a great way to save money while also getting to have a hands-on experience in developing your ideal flower arrangements. Here are my tips for bundling your perfect wedding bouquet, the best places to buy flowers from + how to cut costs.
Select your style and color palette.
Gather inspiration online and figure out the kind of bouquets you want to make. My boho wedding style is natural and effortless, so I'm choosing to go for a wildflower look that isn't structured whatsoever. I chose a couple soft colors in a variety of flower types, including greenery and berries as well. This helps me to create the eclectic arrangement I'm striving for.
Scout local stores for the best flower selection and price.
I've found that Kroger tends to have a large selection ranging from $2-7 per bouquet if you pick up lots of small arrangements like I did. You can also check out local flower shops or farmer's markets for fresh blooms. I suggest choosing at least a 2-3 different flower types (I like to use 6+!) of various sizes in at least 3-4 different hues.
It's better to buy too much than not enough. 
If you're not sure how many flowers to buy, I suggest buying a few more than you expect to use. You can also throw your leftover ones in a vase like I ended up doing with this arrangement so nothing goes to waste.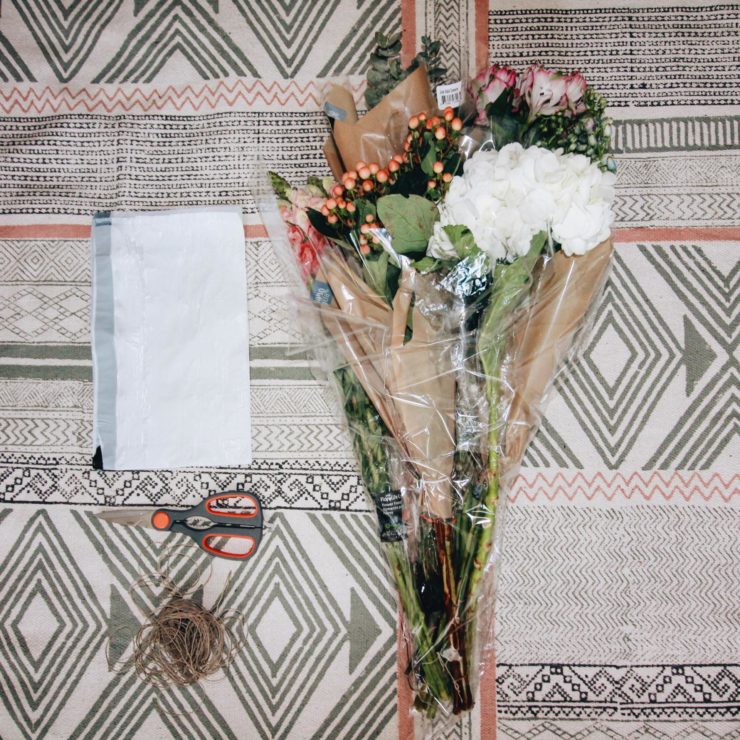 Materials you need:
Flowers
A trash bag or other easy clean up surface to work on
Scissors or trimmers for stem cutting
Masking or duct tape
Ribbon or twine
Remove the plastic wrap and rubber bands from each bunch, then lay out all of your flowers. Begin arranging them in a bunch with each color and flower type spread out among the group. Consider which flowers you want in the middle, and which one you want on the edges. You'll likely find yourself placing your flowers in certain places, then moving them somewhere else instead — this is part of the process. I suggest putting the flowers at slightly different heights if you're going for a boho bouquet like me so it doesn't end up looking too structured.
When you've finished your bouquet, wrap it in masking/duct tape (green tape works great and is easy to cover up) to secure it, then cover the tape with ribbon or twine. I used ribbon on my last bouquet and didn't have any more of it left, so I used twine this time instead. You can secure the ribbon/twine with a dab of hot glue to keep it in place. You'll also want to trim down your stems a bit to make them all even. I left mine pretty long for this demonstration to further showcase the boho vibe.
…and there's your final product! I love how this one turned out and I can't wait to make the bridesmaid bouquets for real for our wedding day. You can check out the previous bouquet I made a few months ago here. What are your favorite flowers and what is your bouquet style? Leave me a comment and let me know! 🙂 Peach roses have always been my favorite, which I plan to have plenty of in my bouquet.
I hope you find these tips to be helpful & that you all have a great Monday! I'm back to work today after being off on spring break vacation last week, and I'd be lying if I said I'm not dragging my feet a bit as I head back into the office — however, I had an amazing week off and enjoyed my time with Justin and my family so much!
Thank you for reading and look out for my next post on Wednesday!