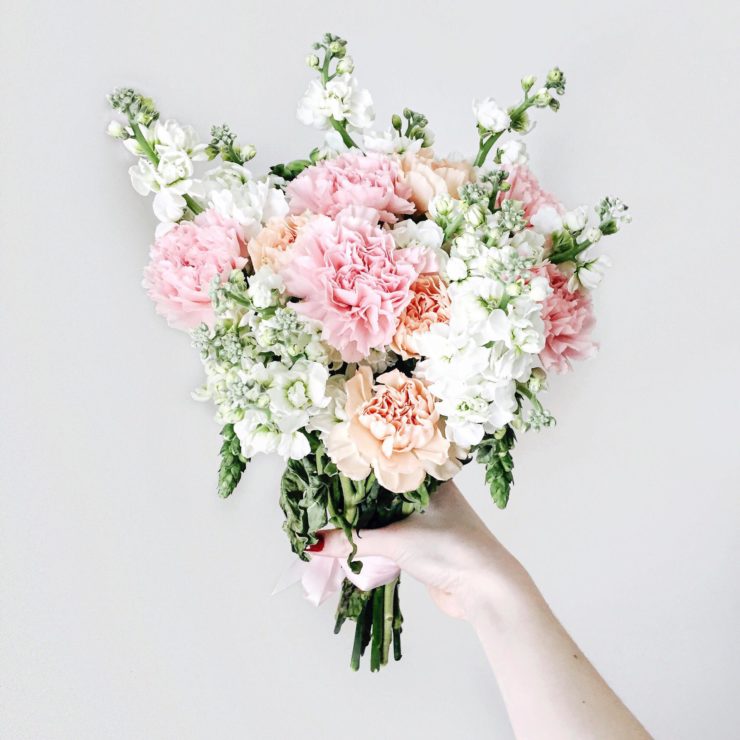 Yes everyone, it's finally FRIDAY! After a long week, I'm excited to wind down and do a casual post sharing some of my favorite things as of late.
CREATE: I'm practicing making my own bridesmaid bouquets for our wedding and the one above is my first attempt! I'm really happy with it and it was so fun to do. More on this in tomorrow's email newsletter (enter your email at the bottom of my site to subscribe).
WEAR: I've been loving my new oversized camel coat I showed in my winter fashion haul post this week, as well as ankle boots. This is a combo I've been reaching for everyday when getting dressed in the morning and I'm loving the contrast between the camel coat and black leather ankle boots — both are super comfortable (which is what I'm always wanting for long work days) while still looking put together.
WATCH: Justin and I have been hooked on Friends this week! We watch a few episodes every night together when we get home from work and we're always laughing, which is nice to do after full days at work. Which Friends character are you the most like? I'm Monica, spot on.
EAT: Sherbet, sherbet and more sherbet! Justin and I decided to pick up some ice cream to eat during our movie night while we were out grocery shopping over the weekend, and I randomly decided to get sherbet when I came across it. You know, the super good kind with all three flavors in it. I'm not proud to say that I've eaten three tubs of it this week and I'm currently on my fourth as I'm typing this. I haven't had it in years and I forgot how much I LOVE it! I looked like a psycho walking through Kroger by myself the other day with three additional tubs in my arms, but it's fine.
PLAN: Would it be a post on abbysaylor.com if I didn't mention wedding planning?! To update you guys, my bridesmaids have their dresses! Ahhh! I haven't decided if I'm going to share the dresses here on my blog or IndyBride2B.com before our wedding day, but I will share that each of my five bridesmaids will be wearing a different style in the same color — and I'm sure it's no surprise to you that the gowns are flowy and bohemian!
__________
What have you been loving this week? As I mentioned, I have my third newsletter going out this weekend, so be sure you're subscribed if you want to receive it! I'll be talking about rebranding my blog a bit (have you noticed a few small changes?), my weekend plans, some fun things I have coming up + more! Have a great weekend!