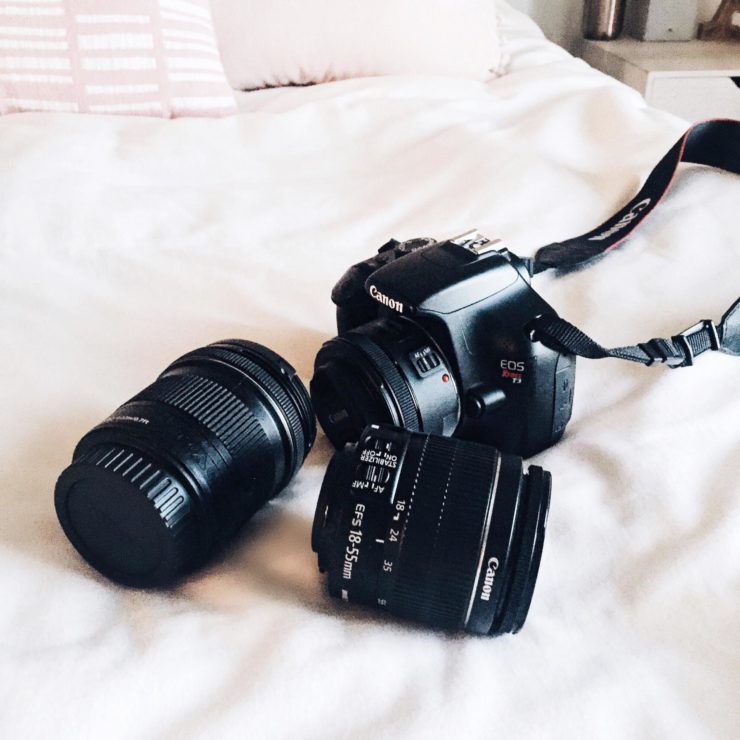 Whether you're a blogger or are beginning to explore photography as a hobby or a career, there are a few tools you need in your belt — or camera bag, rather. Here are the beginner camera lenses every blogger needs (Canon Portrait & Travel 2 Lens Kit) that I've found to be essential for capturing those picture-perfect shots of gorgeous landscapes, as well as outfit and product images. First and foremost, it's important to have a good beginner camera body to star out with. Though I haven't explored many camera bodies myself yet, my research has proven that the Canon Rebel is one of the best cameras to start out with. This camera is perfect to begin learning on because it sits at a reasonable price point and provides great photos. The camera will come with a standard kit lens, which will allow you to take a variety of shots and gain basic camera skills. There are two additional Canon lenses I suggest upgrading to next for travel, fashion and beauty bloggers: the EF 50mm f/1.8 STM lens and the EF-S10-18mm F4.5-5.6 IS STM.
TRAVEL PHOTOGRAPHY
According to Canon, the EF-S10-18mm F4.5-5.6 IS STM is an EF-S ultra-wide zoom lens with an impressive starting focal length (16mm in 35mm equivalence). I'm drooling over this wide-angle lens because it's so perfect for capturing landscapes! This is essential for a travel blogger who loves taking full frame photos of the places you visit, capturing as much of the scenery in one photo as possible. I can't wait to take this lens along with us on our honeymoon, which we finish planning this month! 🙂 I'm excited to try it out with video as well.
FASHION + BEAUTY PHOTOGRAPHY
Canon says the EF 50mm f/1.8 STM is a compact, lightweight fixed focal length lens ideal for everyday photos, and with a large f/1.8 aperture, a perfect lens for low-light photography and creative background blur. I did tons of research before deciding on the next lens I wanted to purchase for outfit and product photography and so many people referred me to this lens. This lens produces great boca (blurry background) while providing clarity on the object you want to focus on. This is a fixed lens, meaning it doesn't zoom in and out. This means that you are the zoom and you must move closer or farther away from the object you are taking a picture of. This may take a little while to get used to if you've never used a fixed lens before, but it's so fun once you get the hang of it!
LENS COMPARISON
Here are three unedited photos of our bedroom (check out our full apartment tour here) taken with my kit lens, wide angle lens, and fixed lens. You can purchase the wide angle lens and fixed lens in a bundle deal here.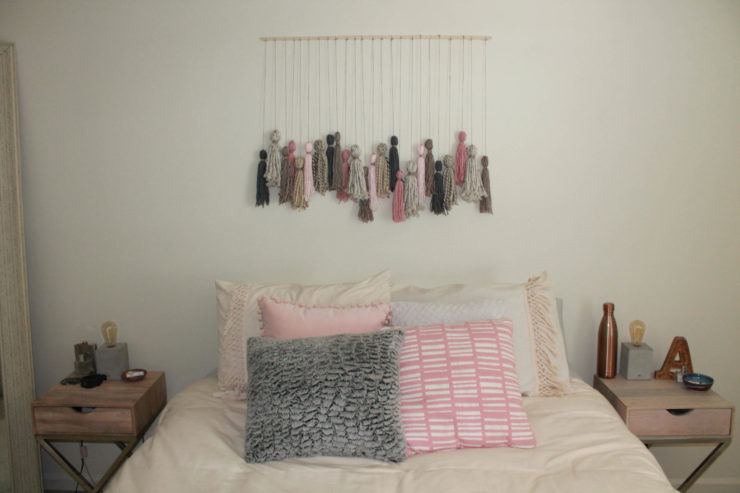 Kit lens
Wide angle: EF-S10-18mm F4.5-5.6 IS STM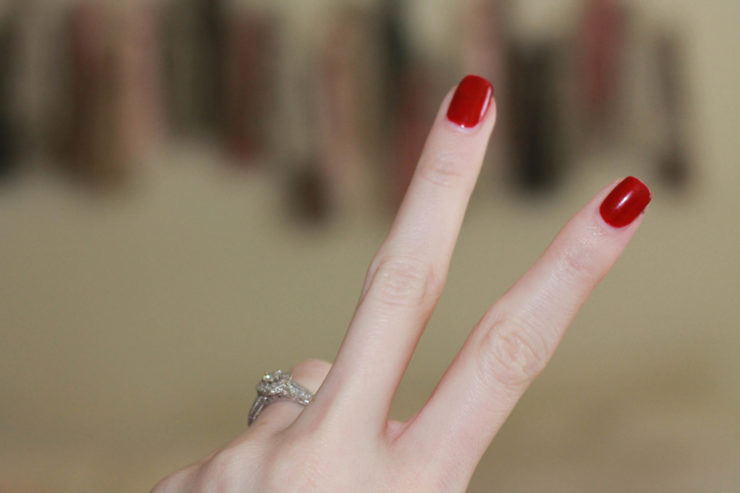 Fixed: EF 50mm f/1.8 STM
__________
Thank you Justin for the new lenses! 🙂 What cameras and lenses do you use and which ones would you recommend? The next item on our camera list is a drone, which we hope to be getting within the next few months. Also, I'm curious to know if you're a Canon or Nikon user and if there are any cute camera bags you recommend — let me know!
My newsletter is going out today, so be sure you're subscribed to my email list if you want to receive it! Sign up for my email list via the side bar if you're on a computer, or towards the bottom of the page if you're on a mobile device. I also have a new post going up on IndyBride2B.com tomorrow discussing the florist I've chosen for our wedding, so be on the lookout for that! I hope you all have had a happy new year and HELLO 2017!