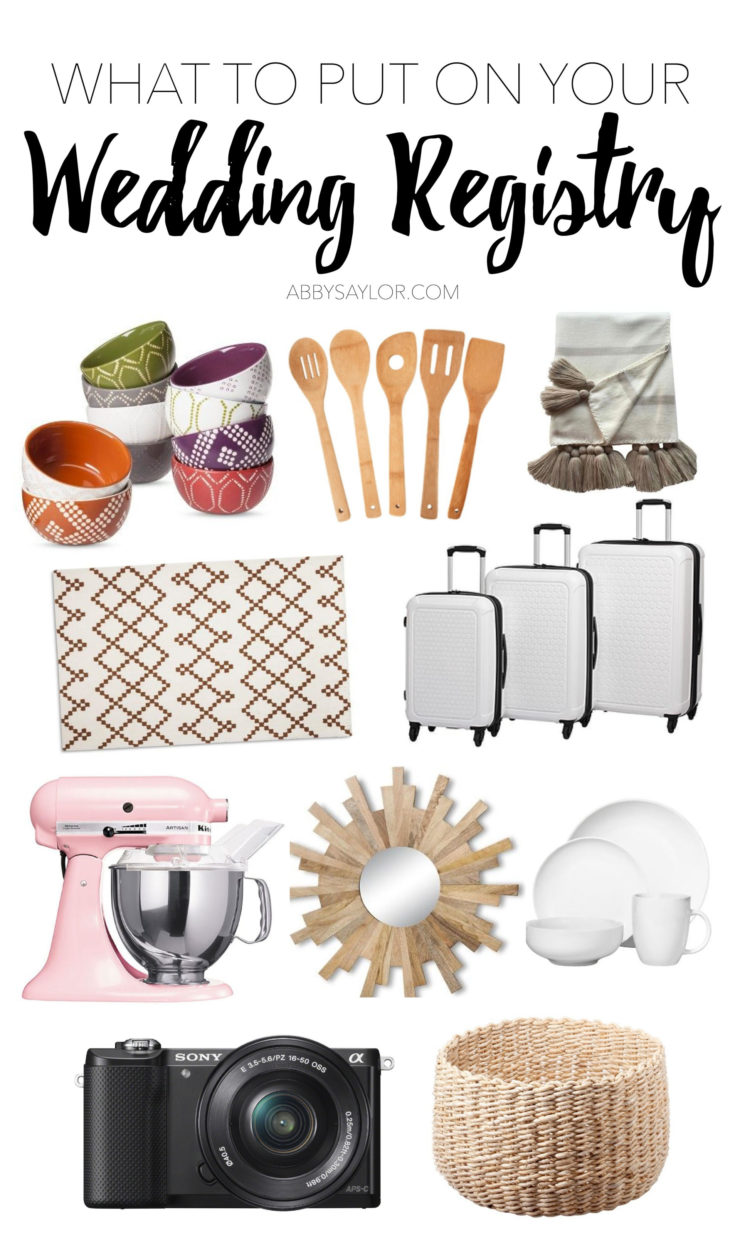 Deciding where to register and what to put on your wedding registry can be tricky. Keep reading to see my recommendations on the best places to register, what items are and aren't okay to register for + a full checklist to take with you when putting together your list!
Justin and I will be completing our registry within the next month or so, so I have a few tips and suggestions to share with you for creating the perfect one. A common rule of thumb when registering is to add essential home and lifestyle items needed to start your life with your new spouse. Put items on your list that fall within a wide price range so each of your friends and family members can find something that lies within their budget. Try to add enough items for each guest to be able to purchase something for you if they choose to, but don't go overboard and add items you don't really want in order to try to reach that number.
Justin and I will have been living together for a year by the time we get married, and we asked for a bunch of home-related items for the past two Christmas seasons — so we have a majority of these items already. I hope you find this helpful and be sure to bookmark this post on your computer/phone or print this off to take with you when registering to make sure you don't miss a thing!
WHERE TO BEGIN
Scope out stores and make a selection.
Go walk around a couple stores and scroll through their websites to see what they have to determine where you'd like to register. I suggest checking out Target, Bed Bath & Beyond, Kohl's and Amazon. Click each of the linked sites to shop their wedding registry recommendations and get started.
Come prepared.
Have a list of items with you so can don't miss any of the essentials.
Keep price in mind.
You'll want to select items at a variety of prices so each of your guests can find something in their budget.
Don't go overboard.
There's no need to register for unnecessary items like clothes, etc.
Publish.
Include your registry on your invitation and/or wedding site for easy access for your guests.
WHAT TO REGISTER FOR
Here are a few of my recommendations to put on your list, ranging from the essentials to items you may not have thought about.
Kitchen

Dishes
Dish drying mat
Cups
Towels
Cooking utensils
Silverware
Pots & pans
Blender
Toaster
Mixer
Mixing bowls
Salt & pepper shakers
Crock-pot
Food processor
Measuring cups
Baking pans
Tupperware
Can opener
Dish soap, sponges, dishwasher detergent
Reusable water bottles
Thermos
Cooler
Lunch box — great for taking to work!
Placemats
Coasters
Special occasions items

Gravy boat, butter dish, cloth napkins, table runner, turkey fryer, casserole dish, serving plates and utensils, wine glasses, etc.

Bedroom

Bedding
Pillows
Sheets
Bed skirt
Mattress cover

Bathroom

Towels
Bath mats
Sink-top items

Toothbrush holder, soap dispenser, soap dish, etc.

Home office

Desk supplies

Stapler, file folders, file organizers, paper clips, push pins, binders, notebooks, pens, pencils, Sharpies, highlighters, scissors, sticky notes, envelopes, tape, stamps, etc.

Other

Vacuum
Picture frames
Laundry detergent, dryer sheets, fabric softener
Laundry bins
Broom, dust pan
Mop
Duster
House cleaning supplies
Blankets
Vases
Hangers
Rugs
Lamps
Luggage
Camera — perfect to take on your honeymoon!
Storage containers
Baskets
Tools
Yard maintenance items
Decorative mirror, wall art & other decor
Car-related items: cleaning supplies, air fresheners, jumper cables, etc.
What other items do you suggest putting on your wedding registry? I hope you all had a great weekend!