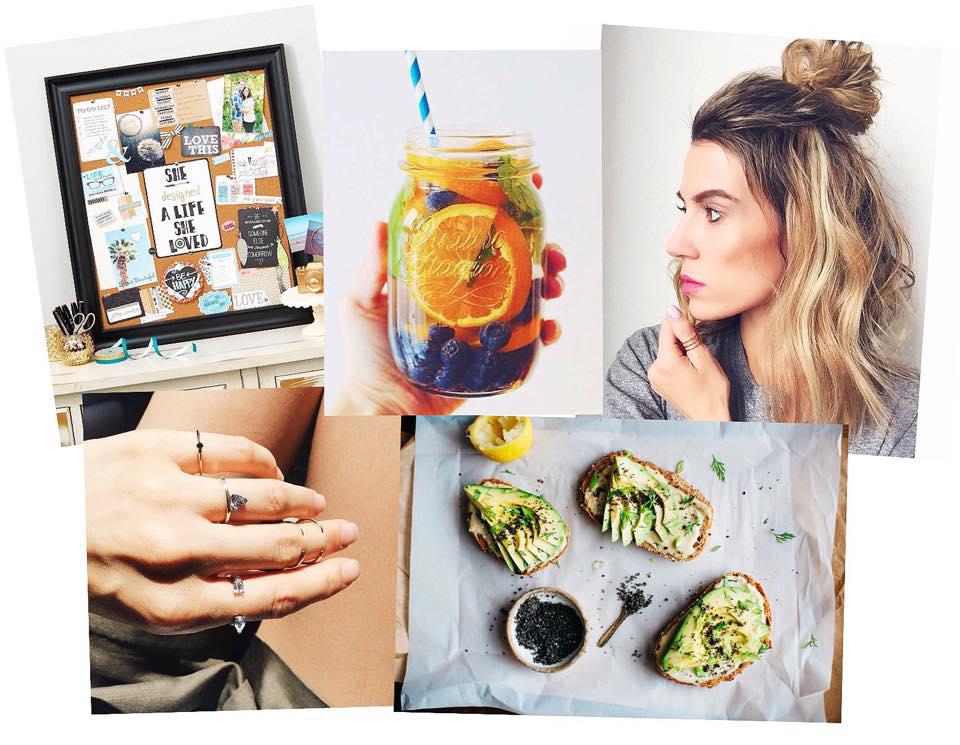 We all get stuck doing our same-old/same-old routine sometimes, so here's the creative inspiration you've been needing to mix up your daily schedule and try some new ideas and trends – not only is it fun, but it can get your creative juices flowing as well! This "Things to Try" series is something new that I've come up with and will probably post every Monday, so let me know your thoughts on the idea.

It's already mid-September (seriously, when did that happen?!), so here are some end-of-summer inspired ideas to try out this week.

Make a vision board.
We all need a little inspiration sometimes. This visual representation of a goal list serves not only as a great motivation piece, but also as cute and unique room decor! Cut out your favorite quotes and images from magazines or print them off and attach them to a board of your choosing – cork, poster, framed, cardboard… the possibilities are endless! Customize it and make it you with your favorite color scheme and desired aesthetic so it can match not only your personality, but also the decor of the room you're choosing to put it in. Add washy tape, stickers, and additional textures to make your board pop. The best part is that as your goals and favorite things change, so can your board – so be sure to make it interchangeable! Mapping your goals and desires will help you regain focus on what you truly want and will help you stay confident and motivated. This all applies to the Law of Attraction – which I'll get into in another post on another day.
Drink detox water.
This is a sweet treat to incorporate into your meals or all-day water sipping this week. You'll receive a variety of benefits depending on what you choose to add to your drink. Raspberries + sage are great for relaxation, strawberry + lemon boost your immune system, citrus + ginger help with nausea, lemon + mint + cucumber works to clear your skin – and the list goes on! Find a recipe that works for you. Cut up your favorite fruit, put it in a clear jar or cup, and add a cute straw. Add a lid and this drink is perfect for those on-the-go.
Rock the half bun.
I'm IN LOVE with this hairstyle for so many reasons right now. Not only is it trendy, but it's an awesome way to get your hair out of your face while still getting to wear your hair down – which is a favorite for me. It's simple to dress up and dress down depending on where you're going. Click here to watch a tutorial on how to create this look if you're unsure of where to start.
Stack your rings.
This is a simple fashion idea to try out this week. Instead of wearing just one or two rings (or none in my case, usually), wear four or five and stack them accordingly. Pick out simple, dainty ones that all appear to have come in a set. I typically stick to one type of metal, but there's no reason you can't mix them up! Figure out what style works for you and change it up each day to try out different looks.
Make avocado toast.
As we all know, this is the trendiest snack right now. If you're a guacamole fan like myself, this is definitely a meal you'll enjoy. This dish is perfect for breakfast or a light mid-day treat – and it's healthy, so that's a big plus! There are plenty of recipes out there that include different flavorful elements you can add to your dish, so be sure to try those out as well.
Which of these ideas are you going to try out this week? I hope this has inspired you and be sure to check back next week for new ideas!