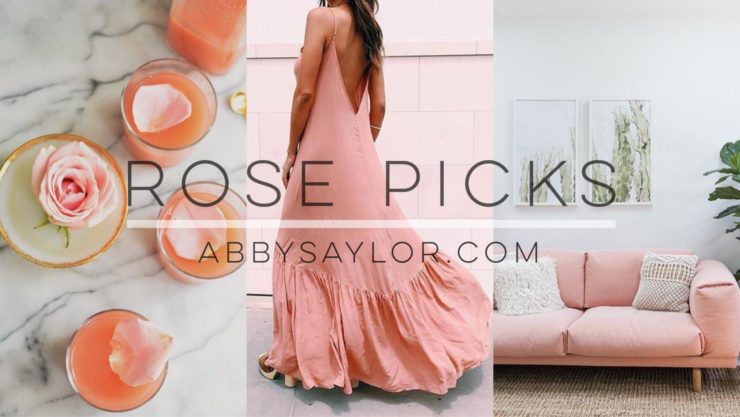 It's no secret that I'm ALL about the rose trend, as are many of us out there. From bedspreads and throw pillows to bohemian dresses and facial sprays, I'm loving anything and everything in rose hues. Here are some of my favorite rose picks!


INTERIORS
I'm DYING for this couch — not only does it look crazy comfy, but the textured pillows + greenery accent combo make this the perfect aesthetic!
Rose AND cacti — enough said. Need to find this and put it on my wedding registry ASAP. 
I went with ivory fringe for my current bedspread and I definitely don't regret it, but you best believe my next guest room will look something like this. 🙂
It's easy to incorporate rose into your home with simple pieces like throw blankets and poufs. These are items that can be easily packed away if you're ever over the look.
This nursery couldn't be cuter — rose adds such a soft, yet warm touch to any room, which is especially sweet for a little girl!
If you've already got a great couch, incorporate rose hues with a cool chair or wall art. I hope you all have laid-back fiancés/husbands/boyfriends like me who are okay with pink everywhere! 😉
How comfy does this bed look?! Also, it's always a good idea to invest in quality art pieces — they tie the room together and you'll have them for years and years!
FOOD + DRINK
White Peach and Rose Lemonade (via Heart of Gold) // This drink is almost too pretty to drink! Combine the ingredients below for a sweet + refreshing treat!
3 cups white peaches, chopped into pieces

1 1/2 cups water

1 cup fresh-squeezed lemon juice (from about 7 lemons)

3/4 cup sugar

4 tablespoons rose water
Homemade Rosewater Marshmallows (via The Pretty Blog) // I'm a sucker for pink and marshmallows, so I'm loving this idea. This would be so perfect for a little hot chocolate movie night with friends!
Rose, Strawberry, & Pistachio White Chocolate Bark (via Now, Forager) // This looks so yummy, yet at the same time it looks like I sprinkled the content of my backyard on to it — but I'm so into it. This would be such a cool and unexpected dessert to take to a potluck, right?!
Wild Rose Petal Sangria (via Feating at Home) // For those of you out there who like alcohol (not me, though sangria would definitely have to be my drink of choice), this would be a fun beverage to serve for parties or even your wedding!


1 bottle Rosé Wine

¼- ⅓ cup Rose petal simple syrup (see below)

¼ -⅓ cup Elder Flower Liqueur (like St. Germaine)

1-2 tablespoons fresh wild rose petals (washed)

handfull fresh mint leaves for garnish ( optional)

Rose Petal Simple Syrup

1 cup washed fresh rose petals ( or ⅓ cup dried petals, food grade - available in bulk section of gourmet markets)

1 cup Sugar

1 cup water

1 teaspoon lemon juice


FASHION
Maxi dresses are perfect for days that you don't have time to shave and you don't feel like having your legs stick to every surface you sit on. ;)
Slip-ons: the go-to shoe for running errands.
This ribbed material is always so comfy, while still being light and breathable for warm days!
You know the outfit is cute when just looking at it makes you want to immediately order it and start working out.
I'd like one of these in every color, please.
I'm loving the one piece trend! I'm tall and often have issues finding one pieces that are long enough, so where do my fellow tall girls out there get their one piece suits? Let me know!
NEED! Need, need, need, need. 
__________
What color trends are you loving right now? Have you tried any of these recipes? Leave me a comment and let me know! As always, thank you so much for reading — more posts coming this week!