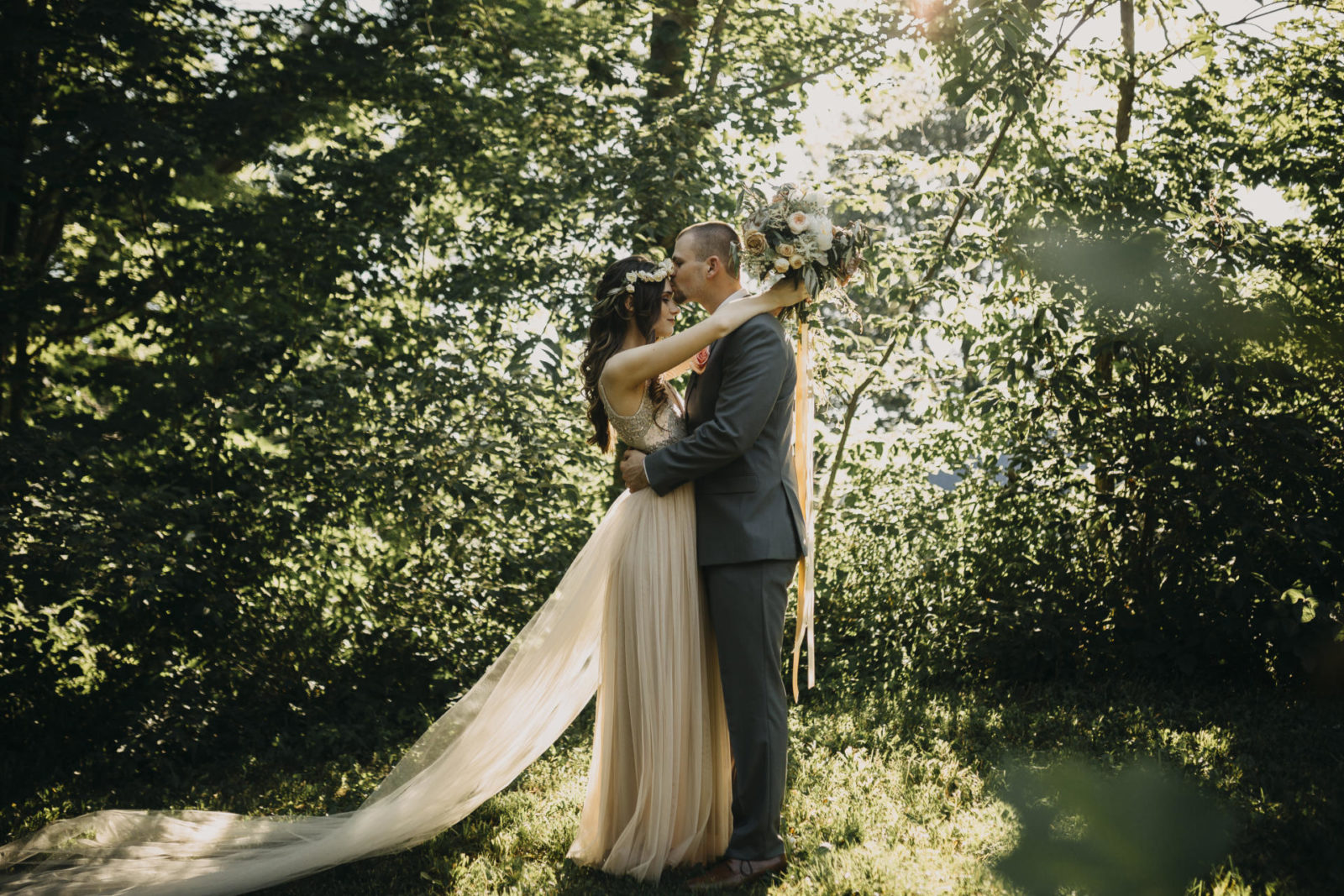 It's the moment we've all been waiting for (well, at least I have been) — I'm finally sharing our wedding photos with you! Ahhh! Prepare to step into our bohemian, whimsical, summer garden wedding through your computer screen, where I'll be sharing tons of details from our day + links to our vendors!
It was SO difficult for me to not include every single photo in this post because I love them all so much. Huge thanks to Arianna Torres (Arianna Marie Photography) for doing such an amazing job! Now let's take a look at our wedding day, start to finish.
For the full effect, click play to listen to the song I walked down the aisle to as you scroll through the photos.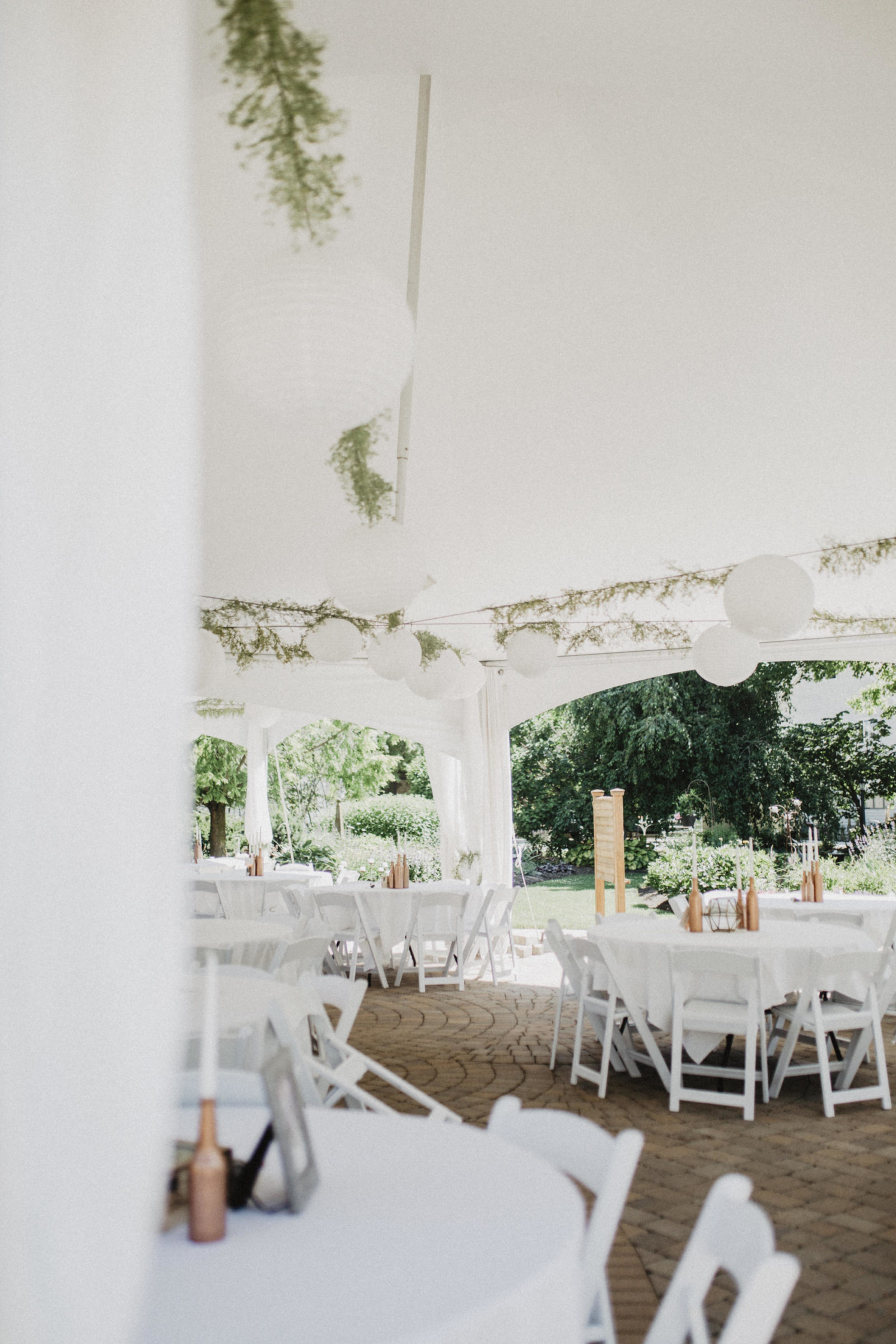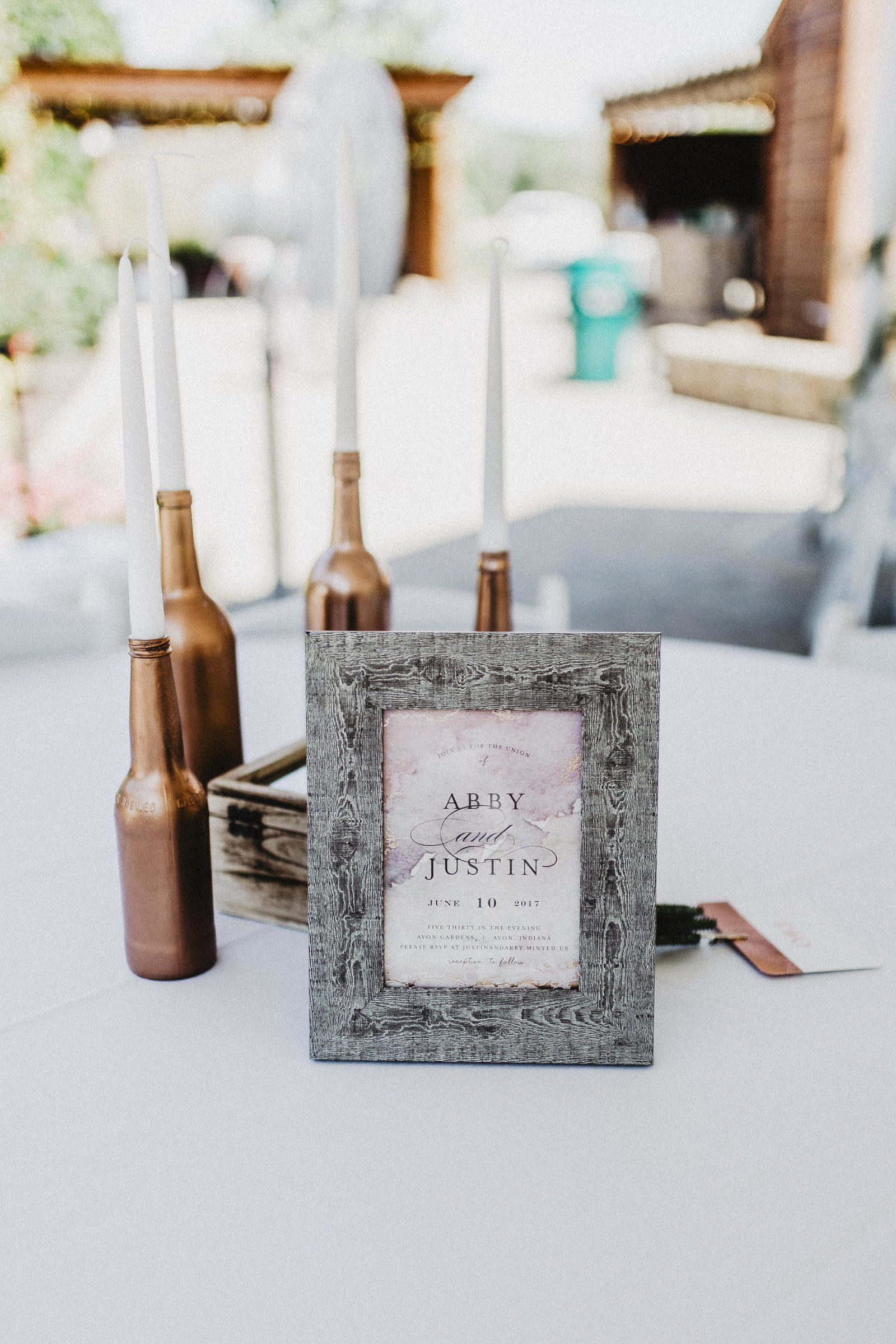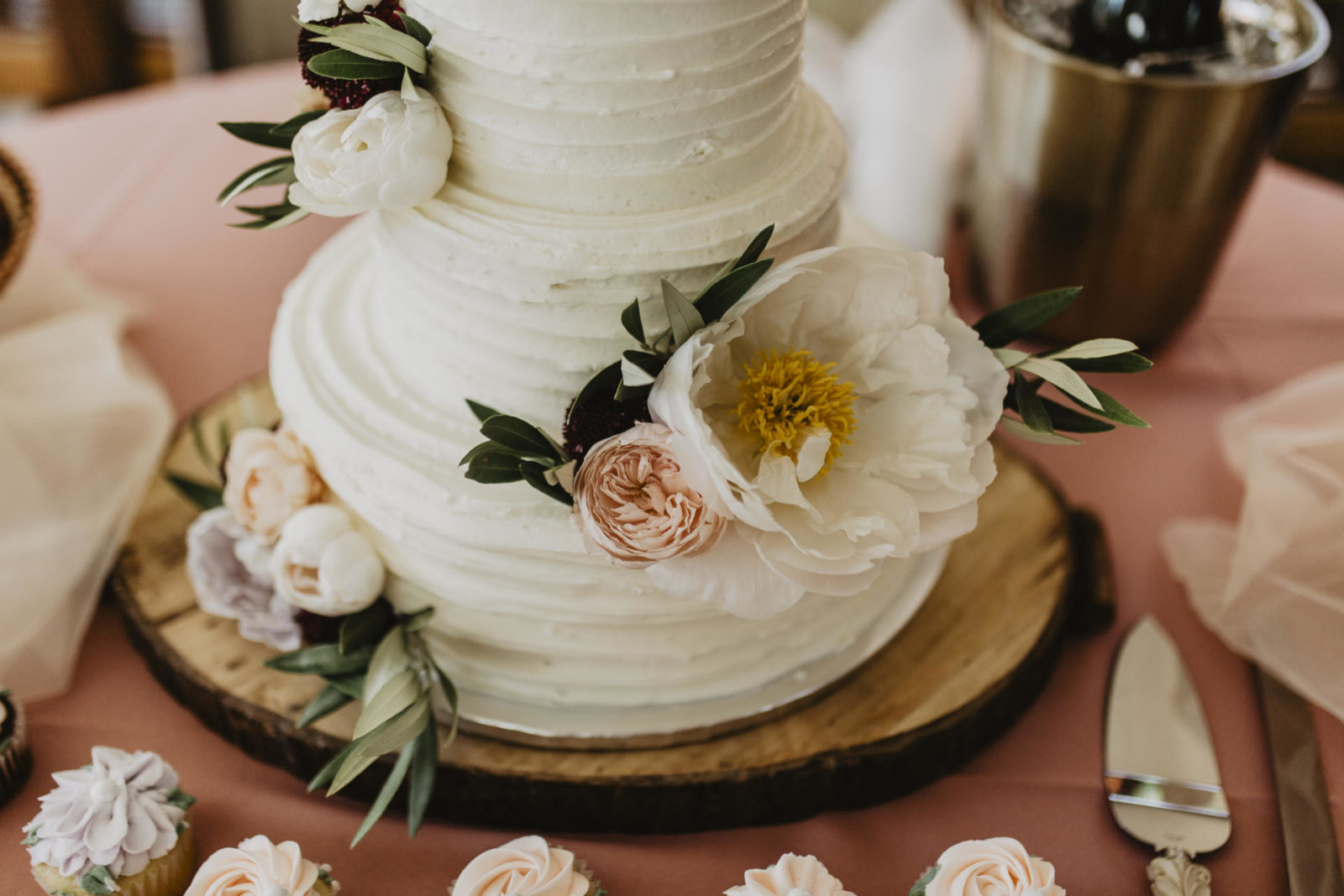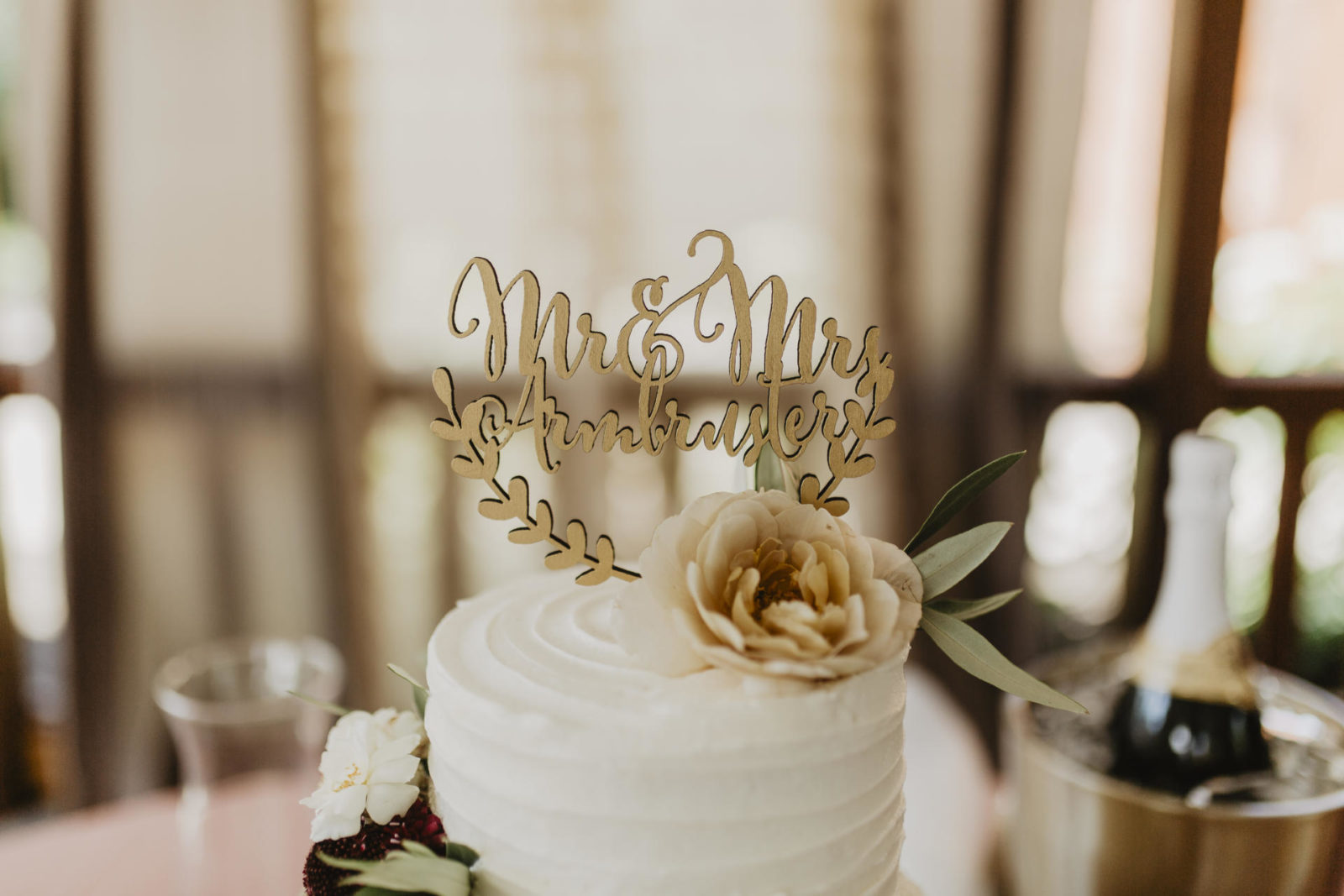 Guys, this was the most delicious cake! Almost too beautiful to eat… almost.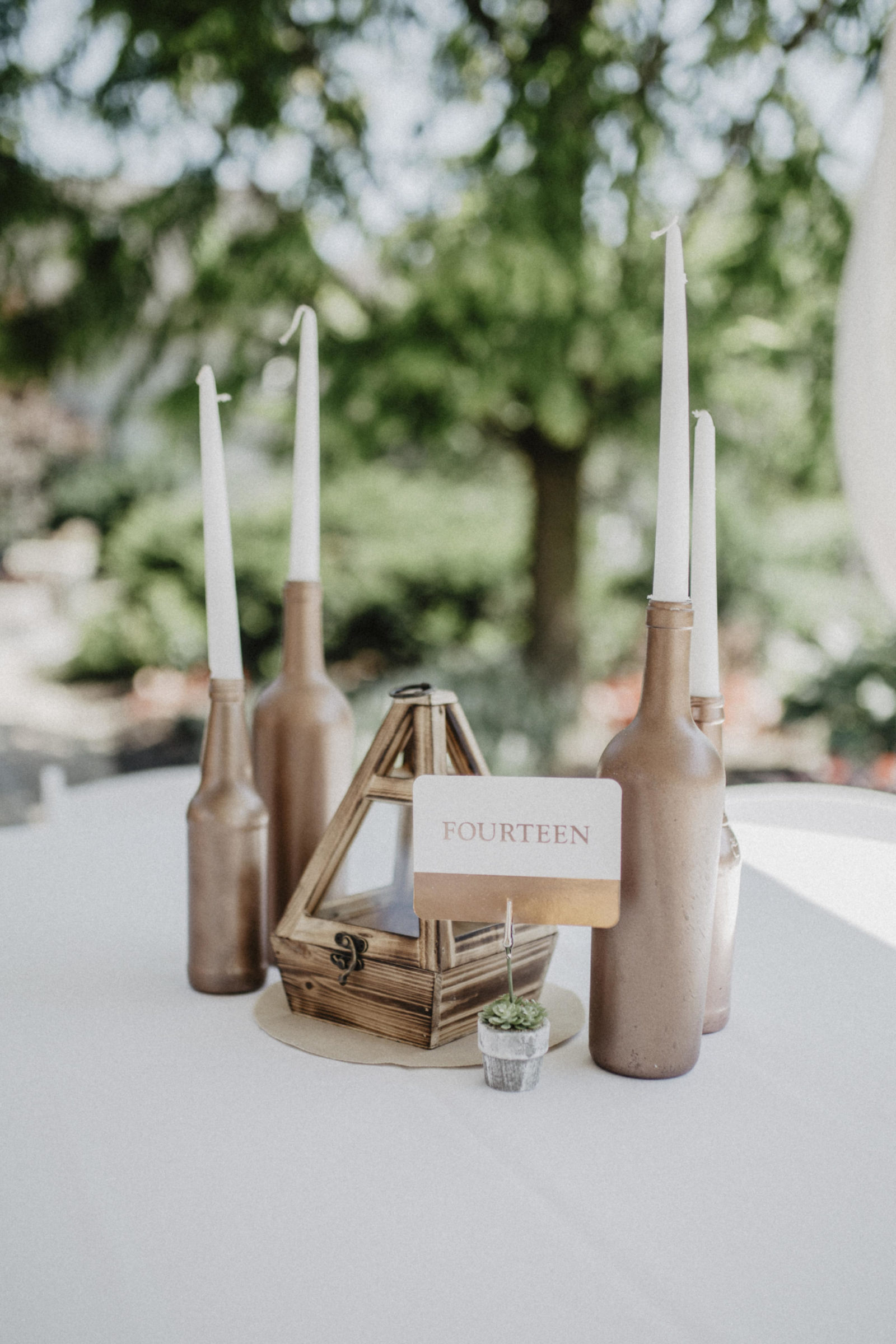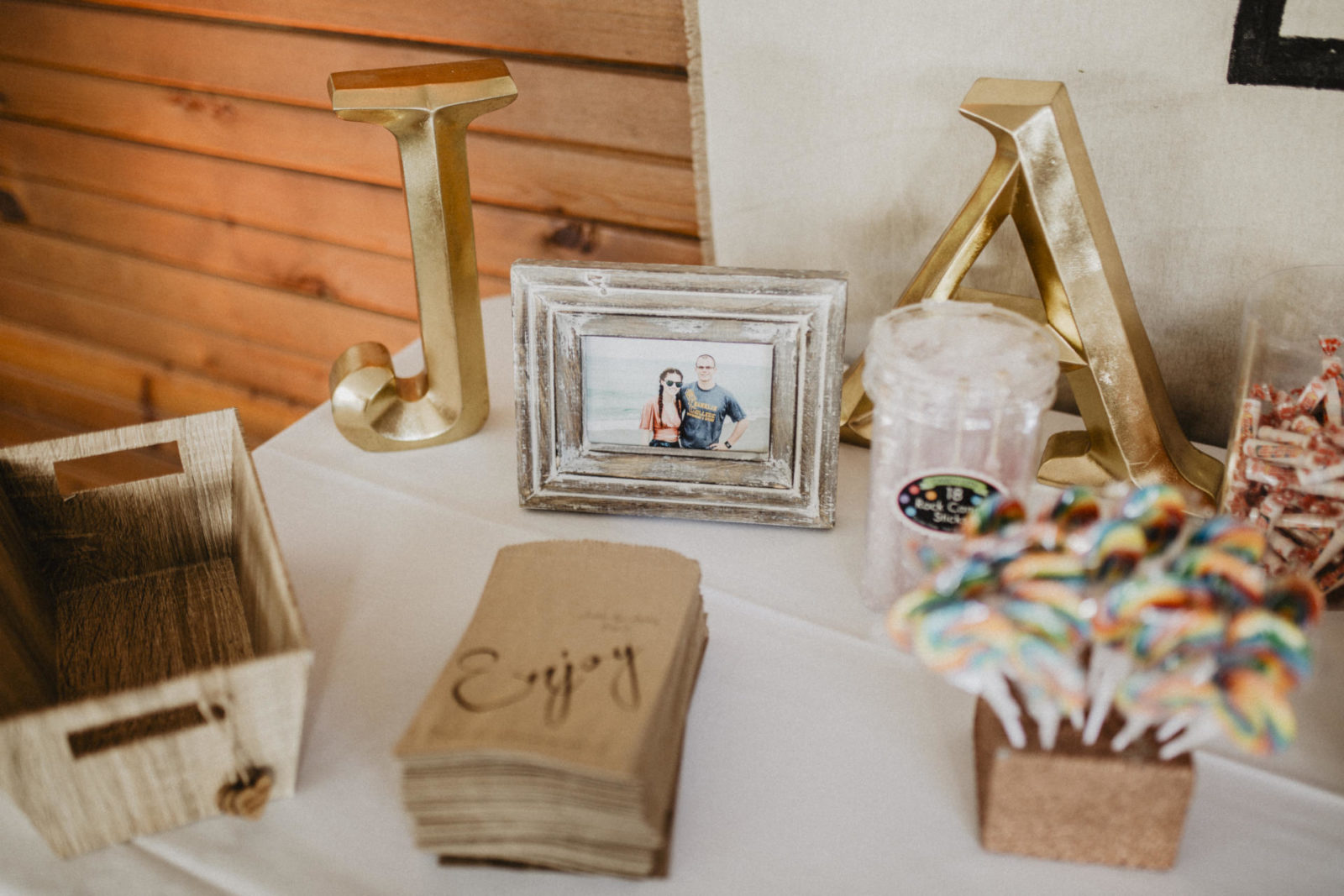 The candy bar was a hit! The custom baggies are from Etsy.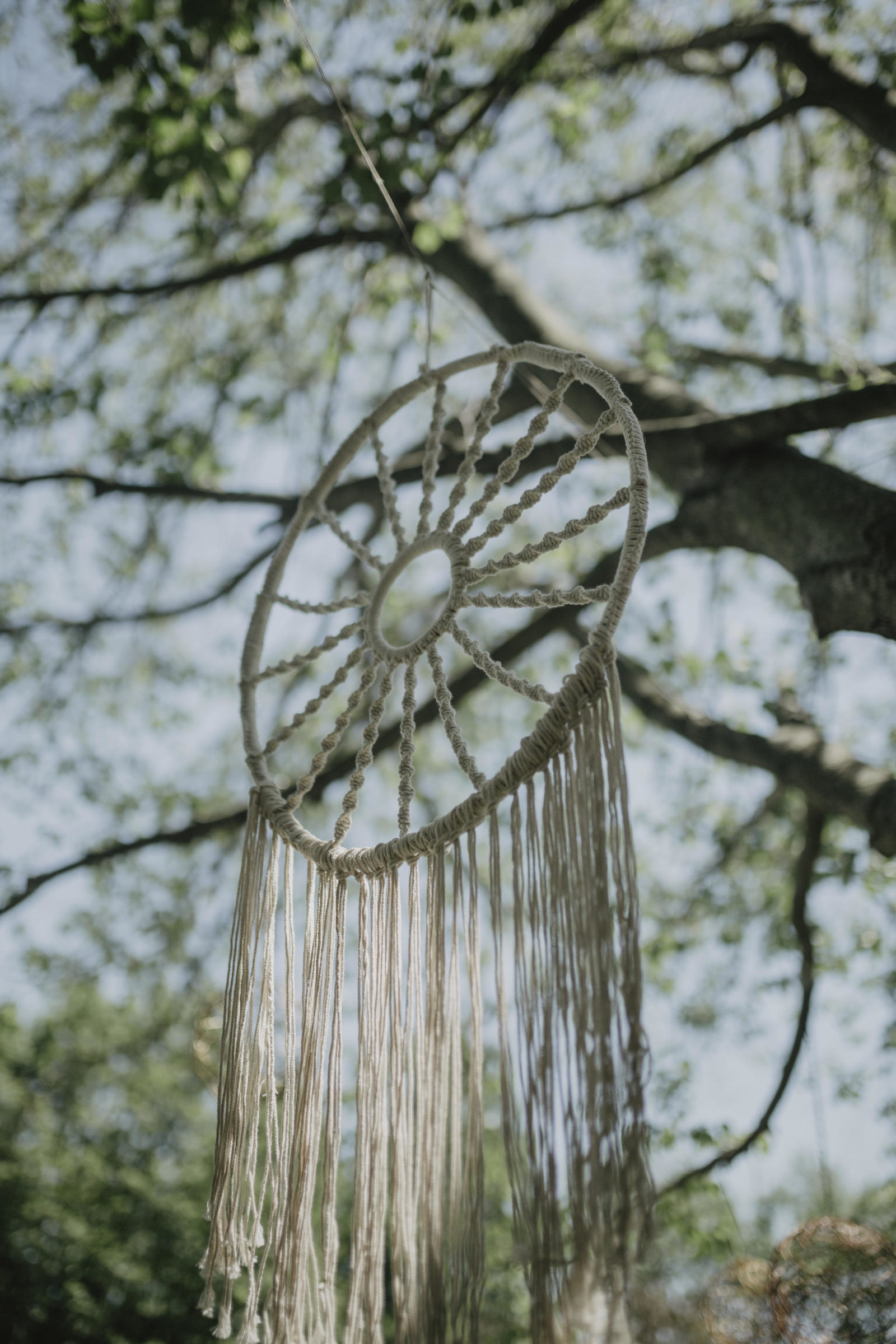 We got married under this dreamcatcher, so it will always be a special memento for us. It now hangs in our bedroom.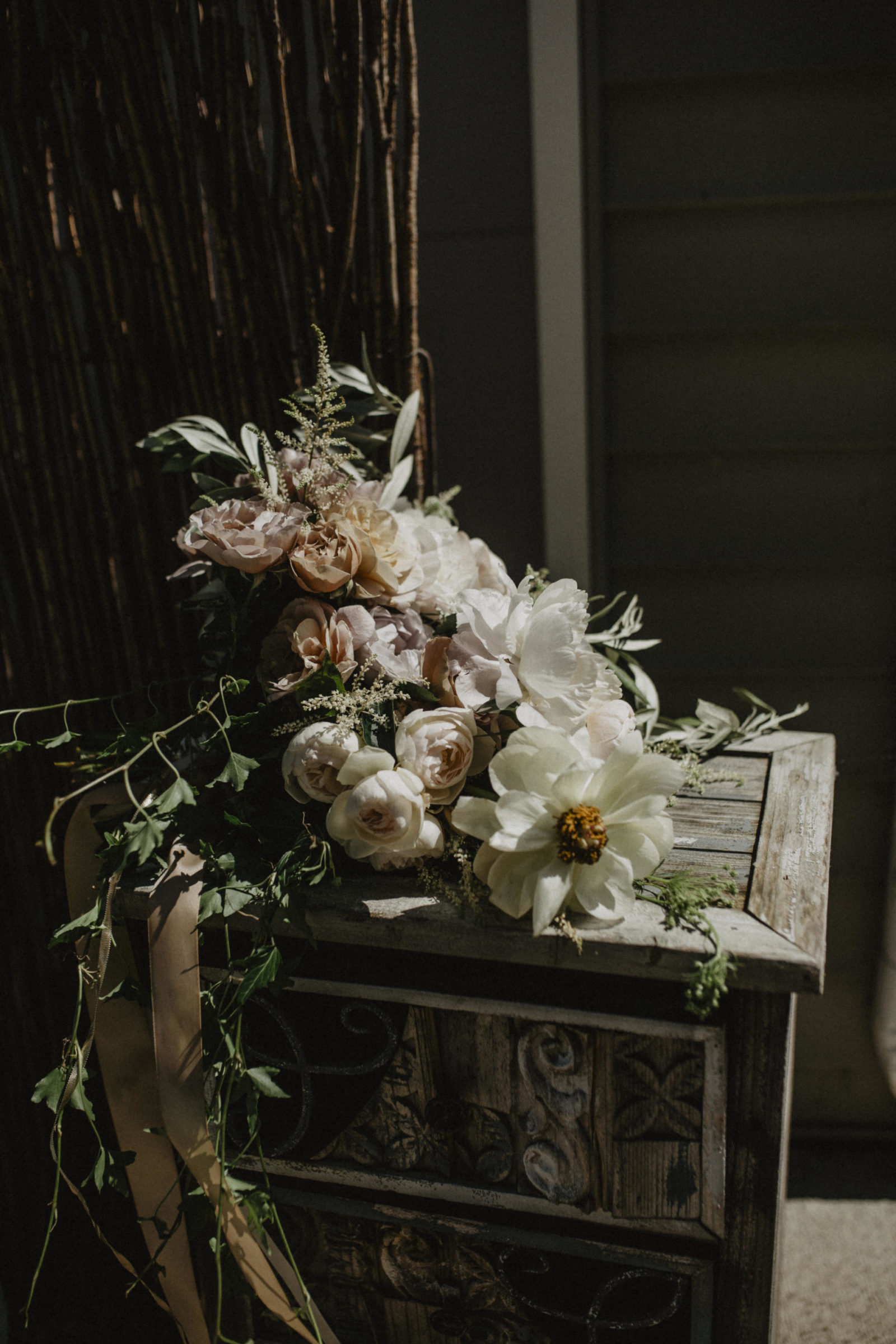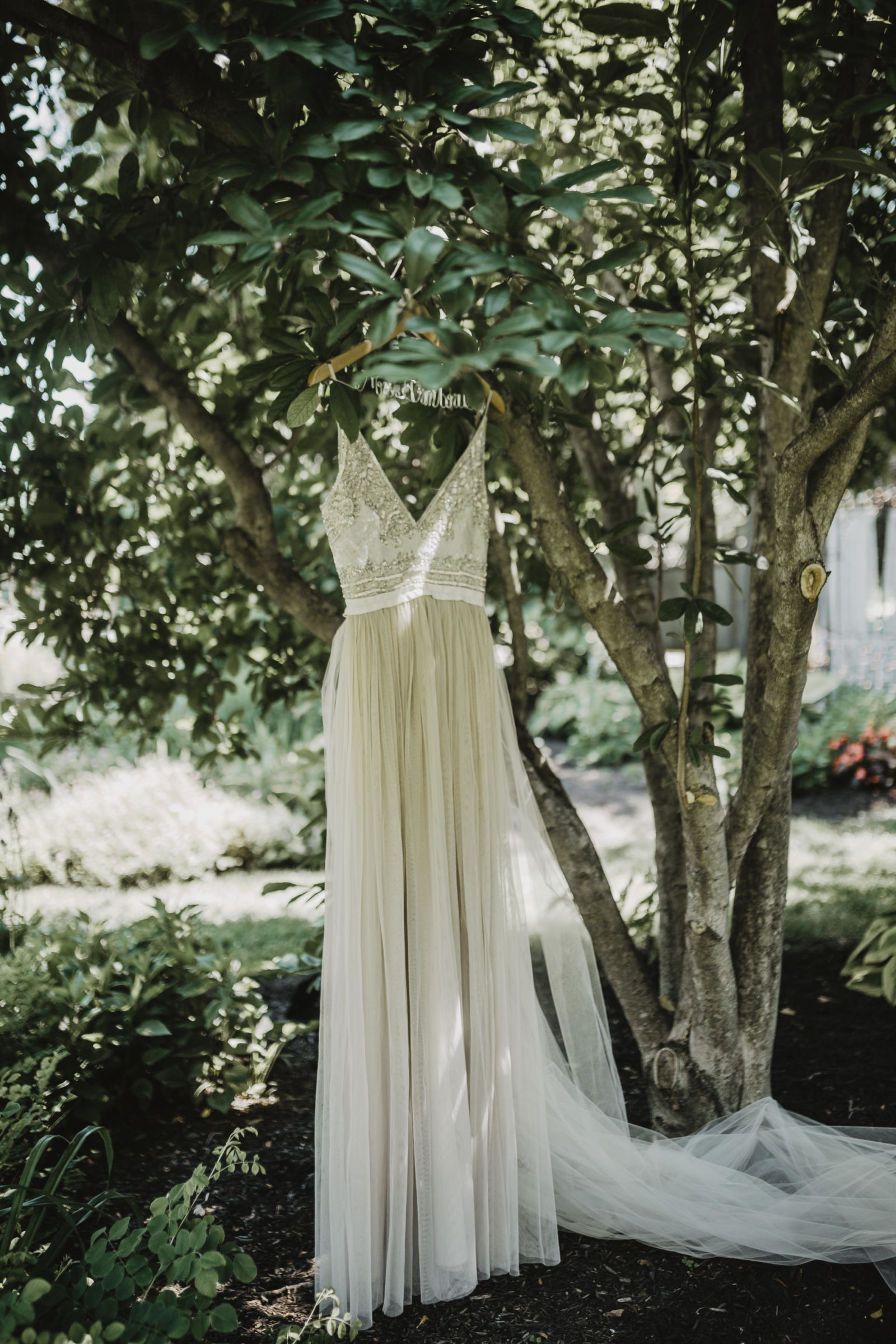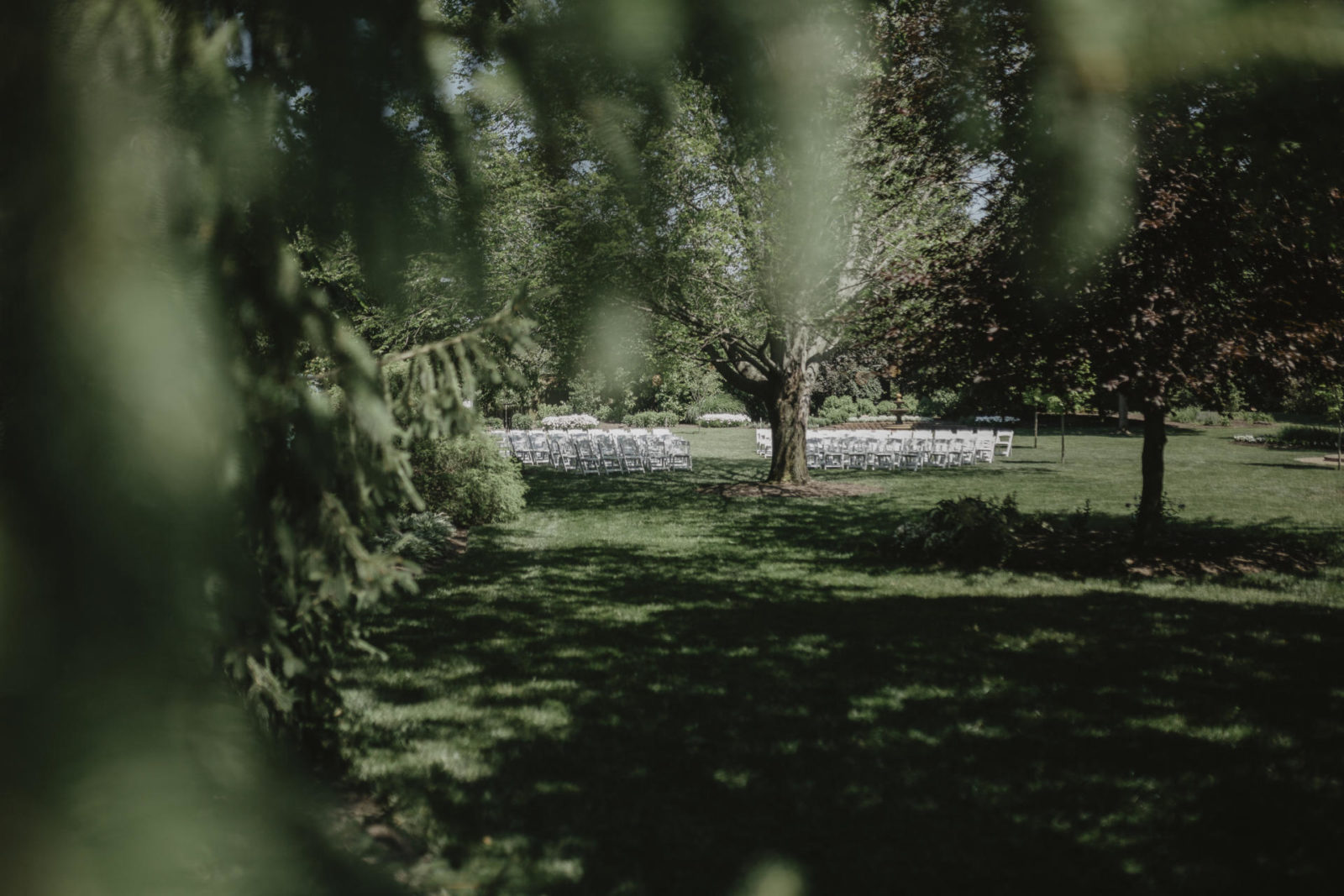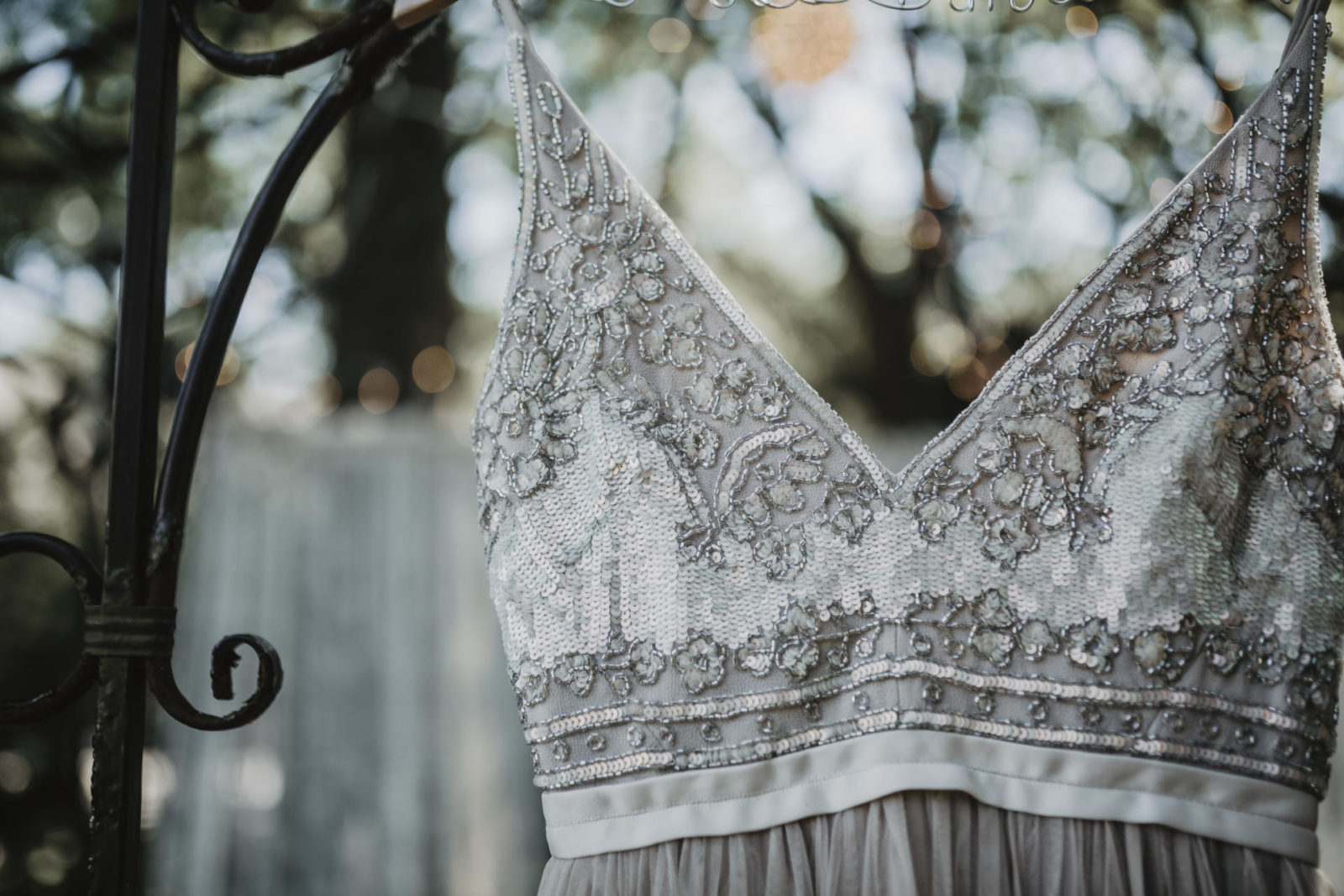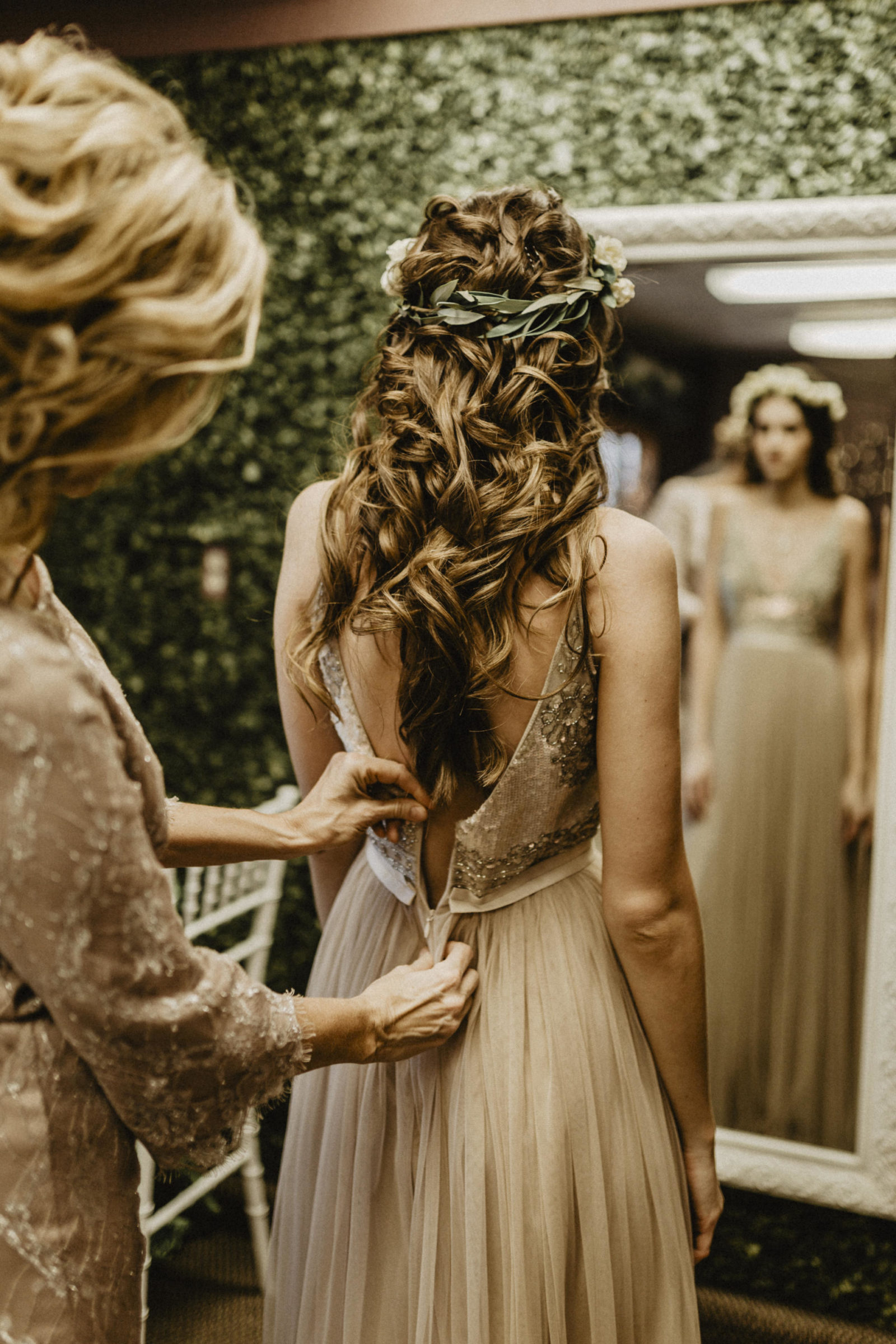 How gorgeous is this hair?! Kecia did such an amazing job!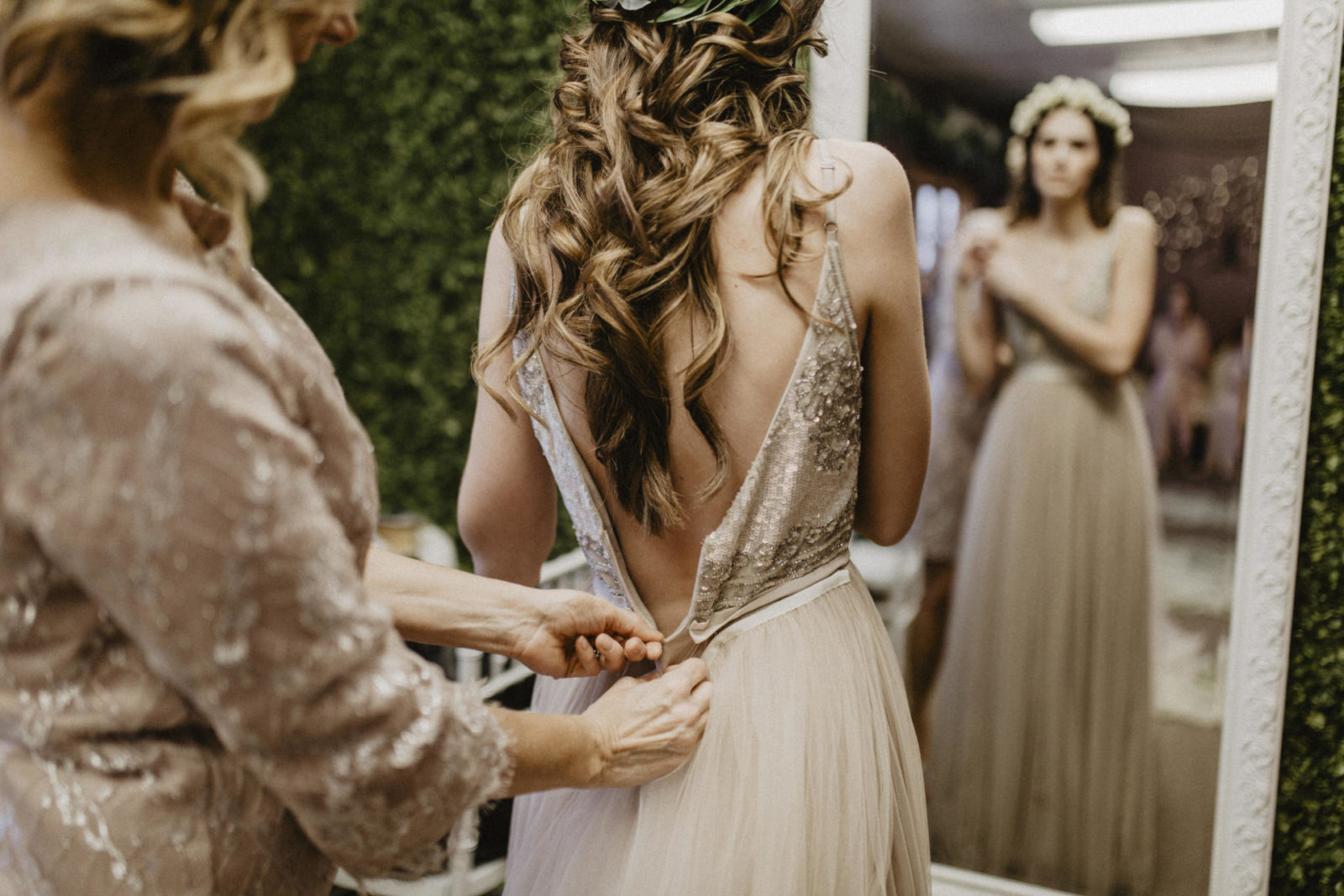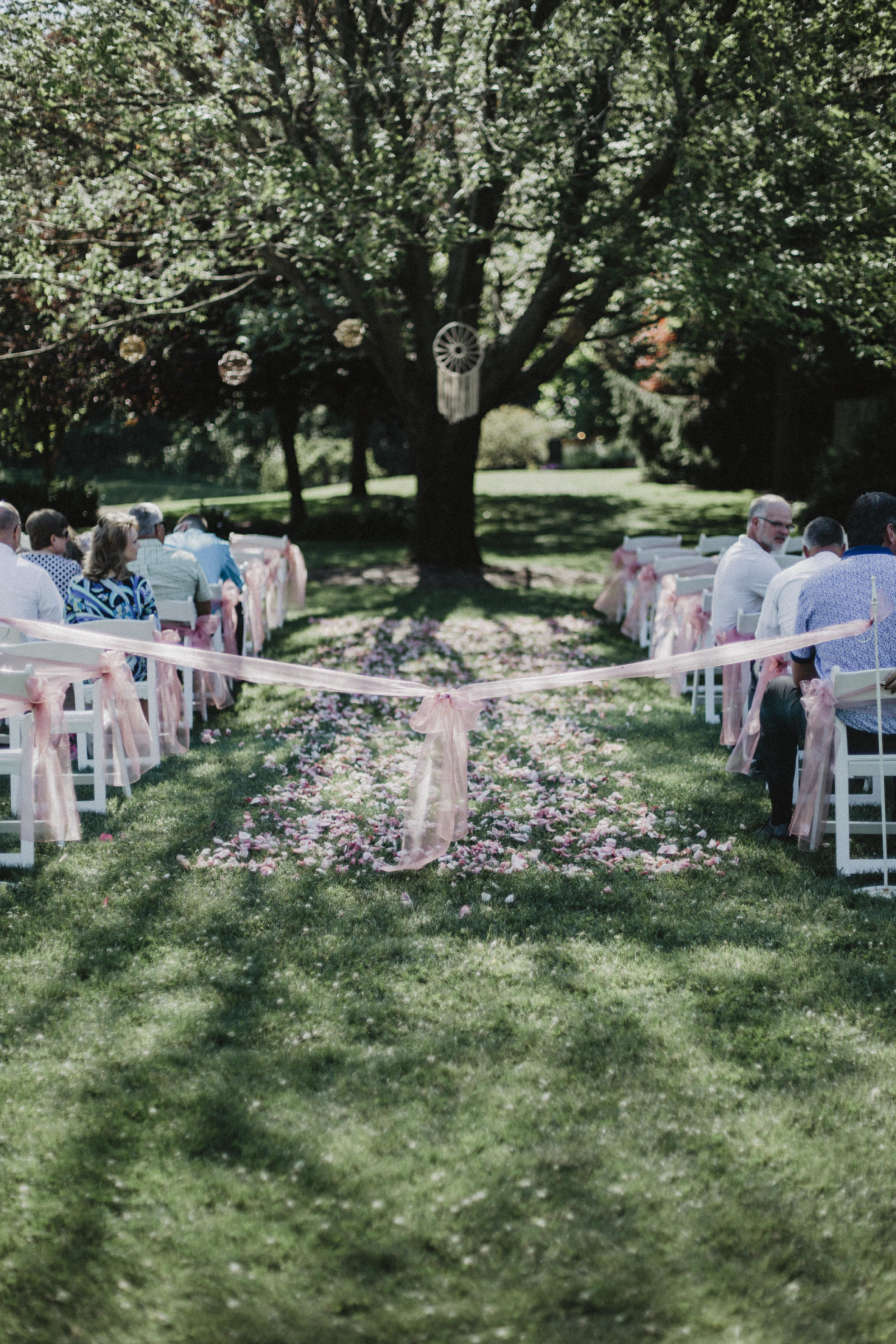 Huge props to my bridesmaid Stacy and her mom Kelly for making this sign! So cute!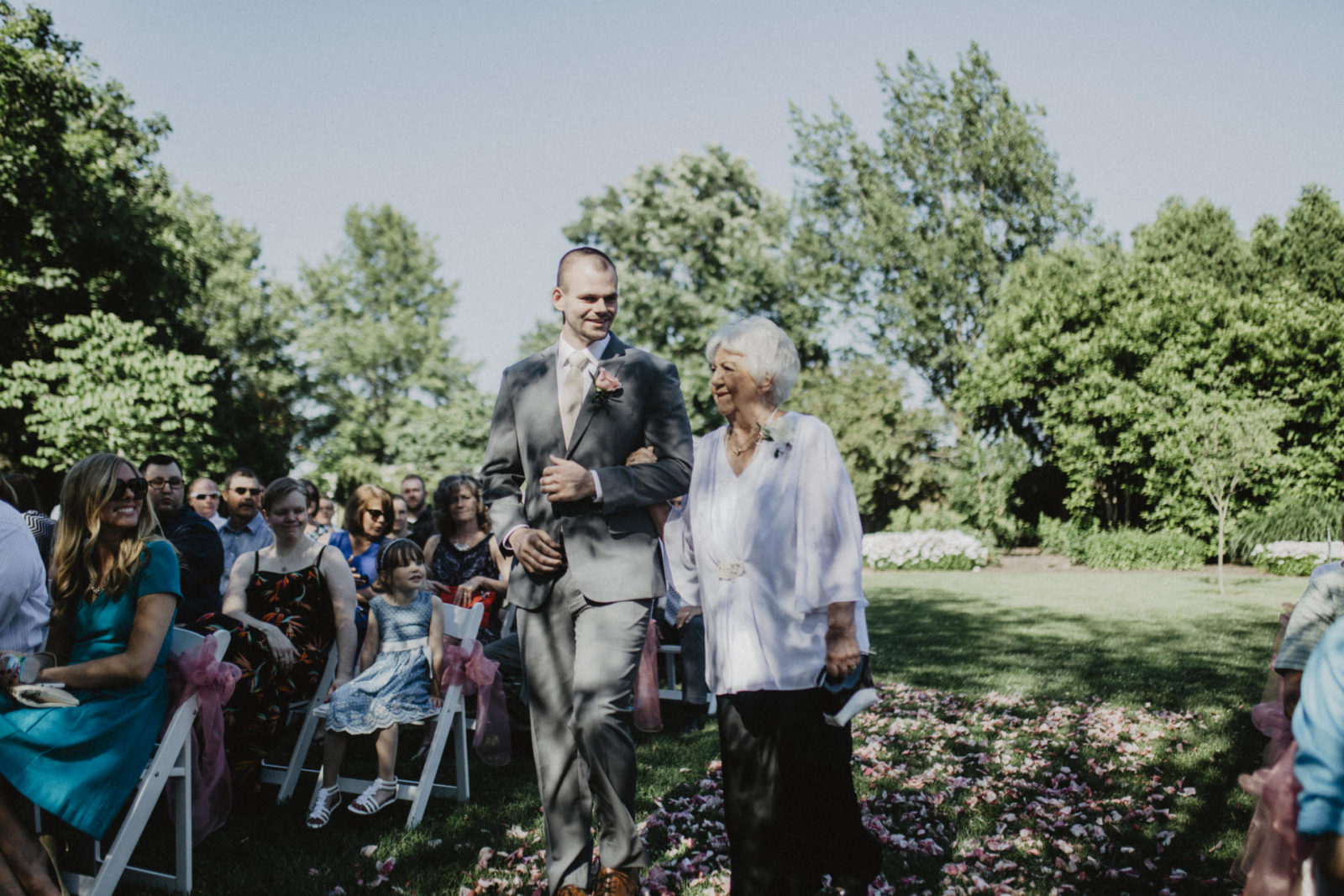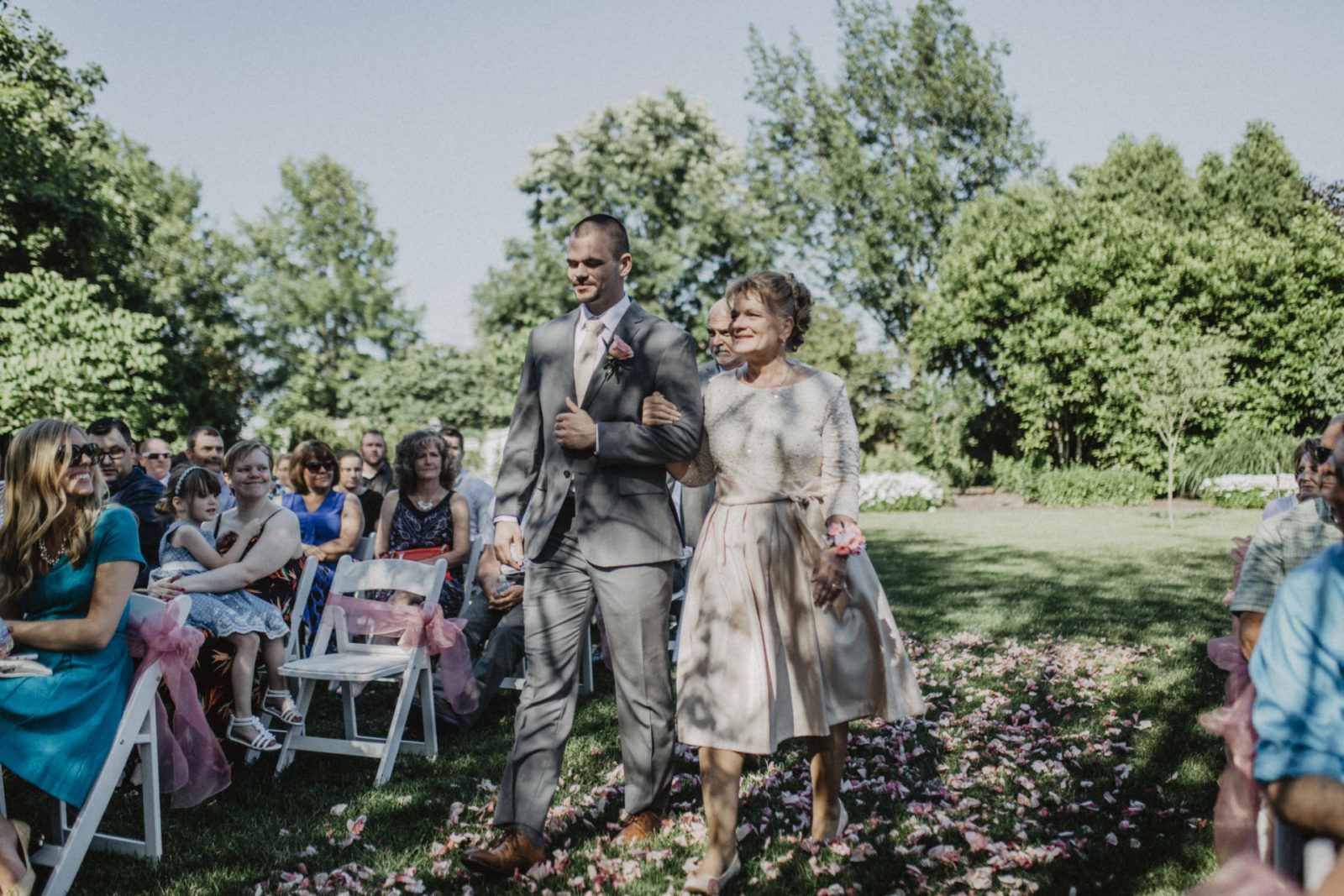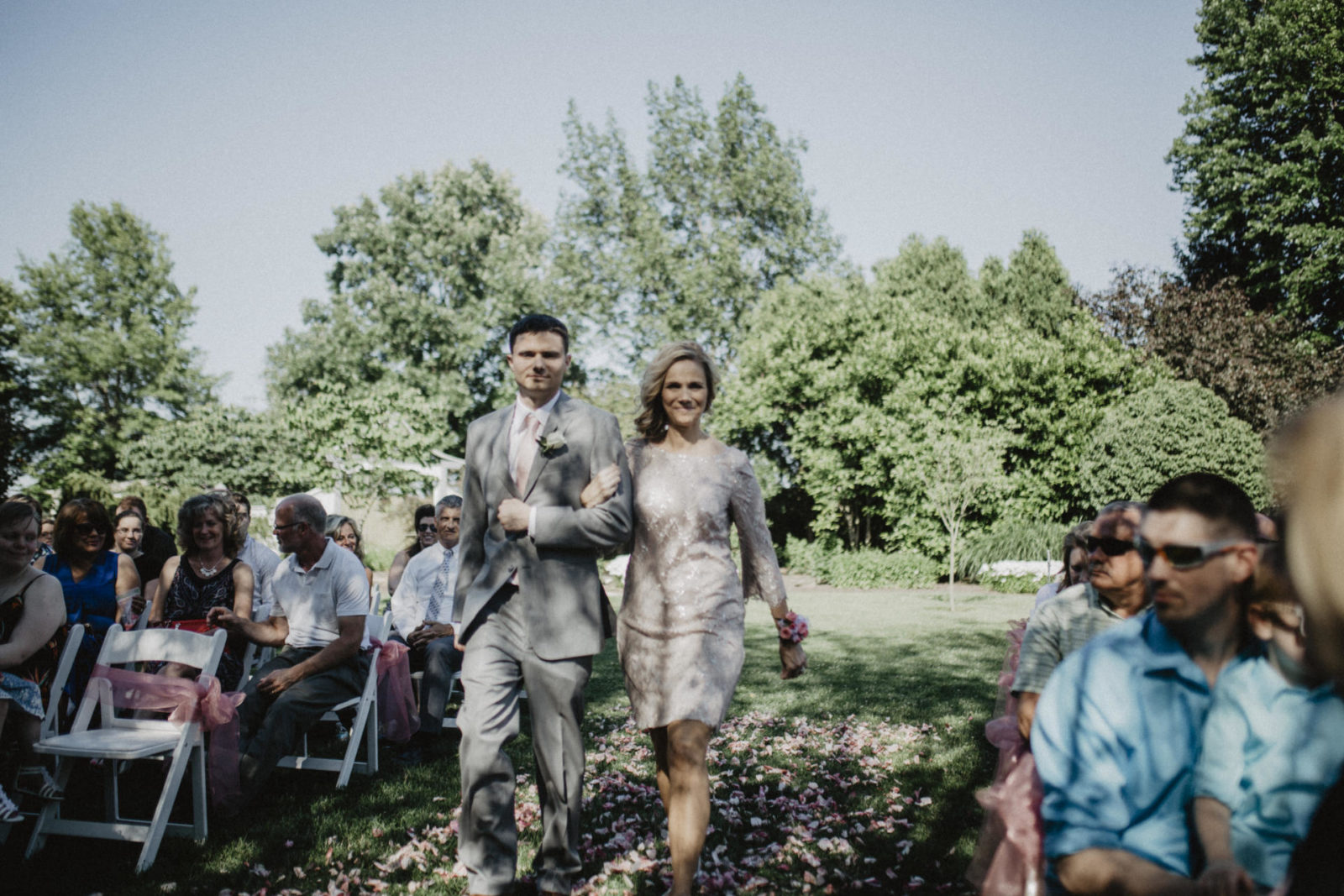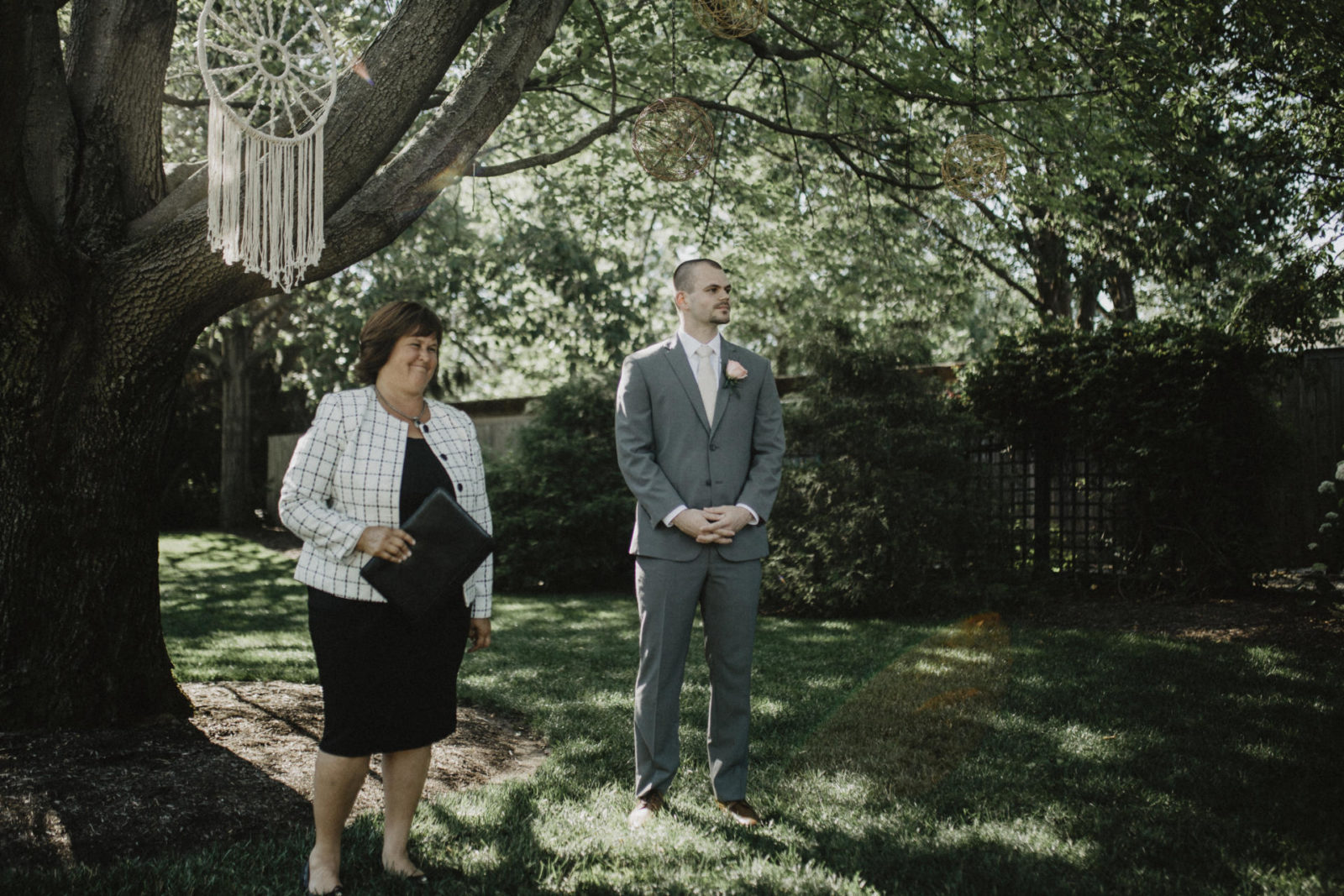 We LOVED our officiant! We knew she was the one as soon as we met her.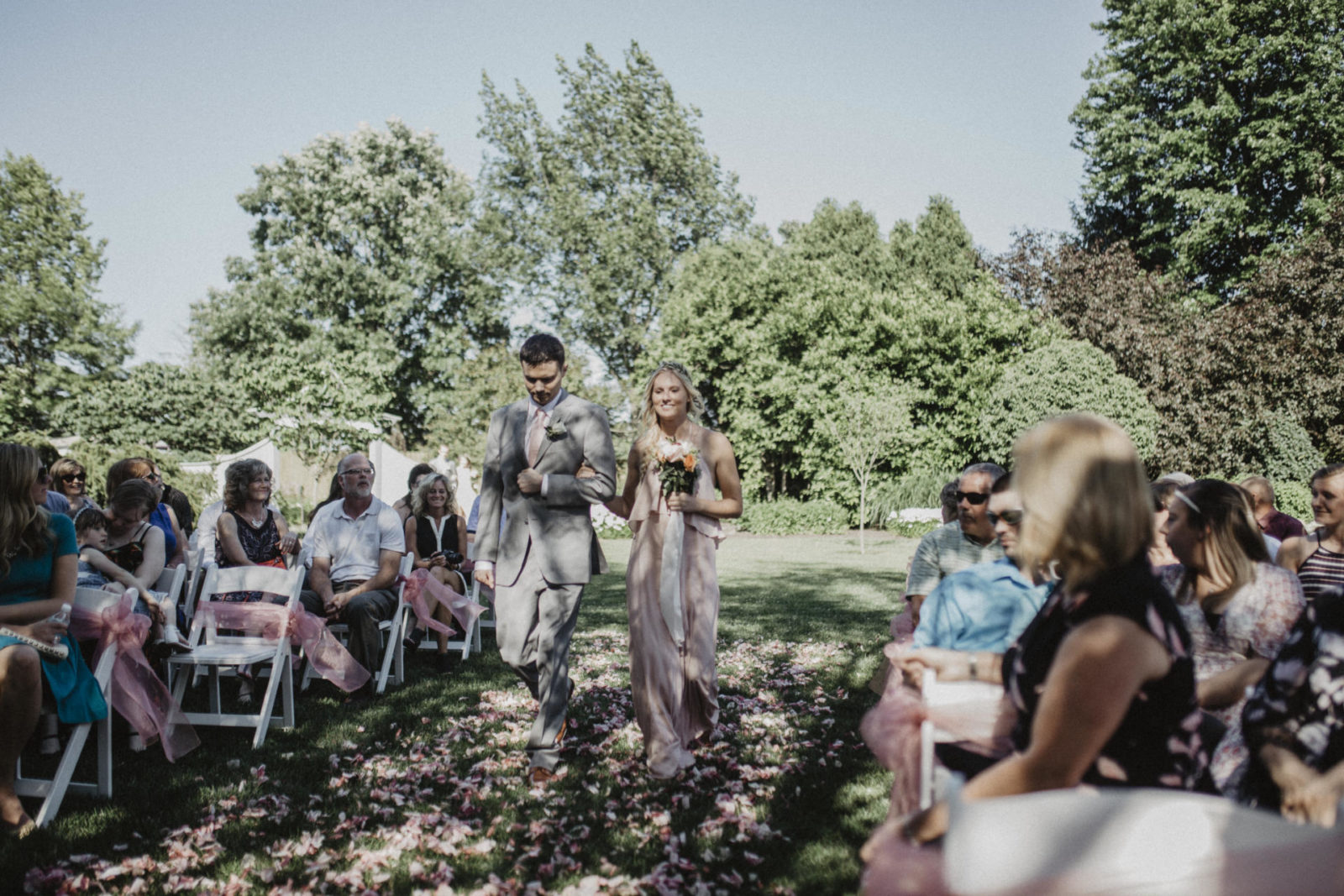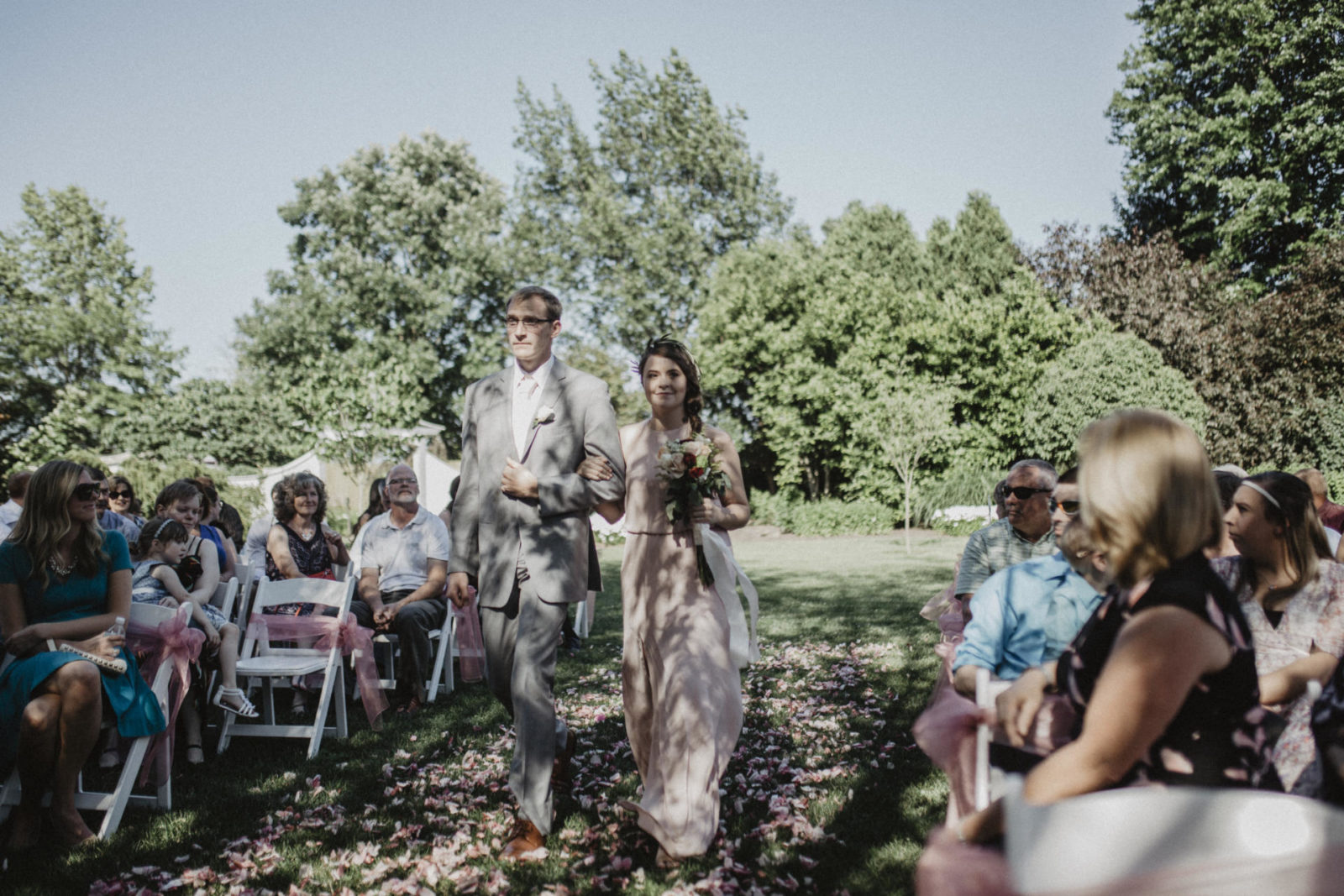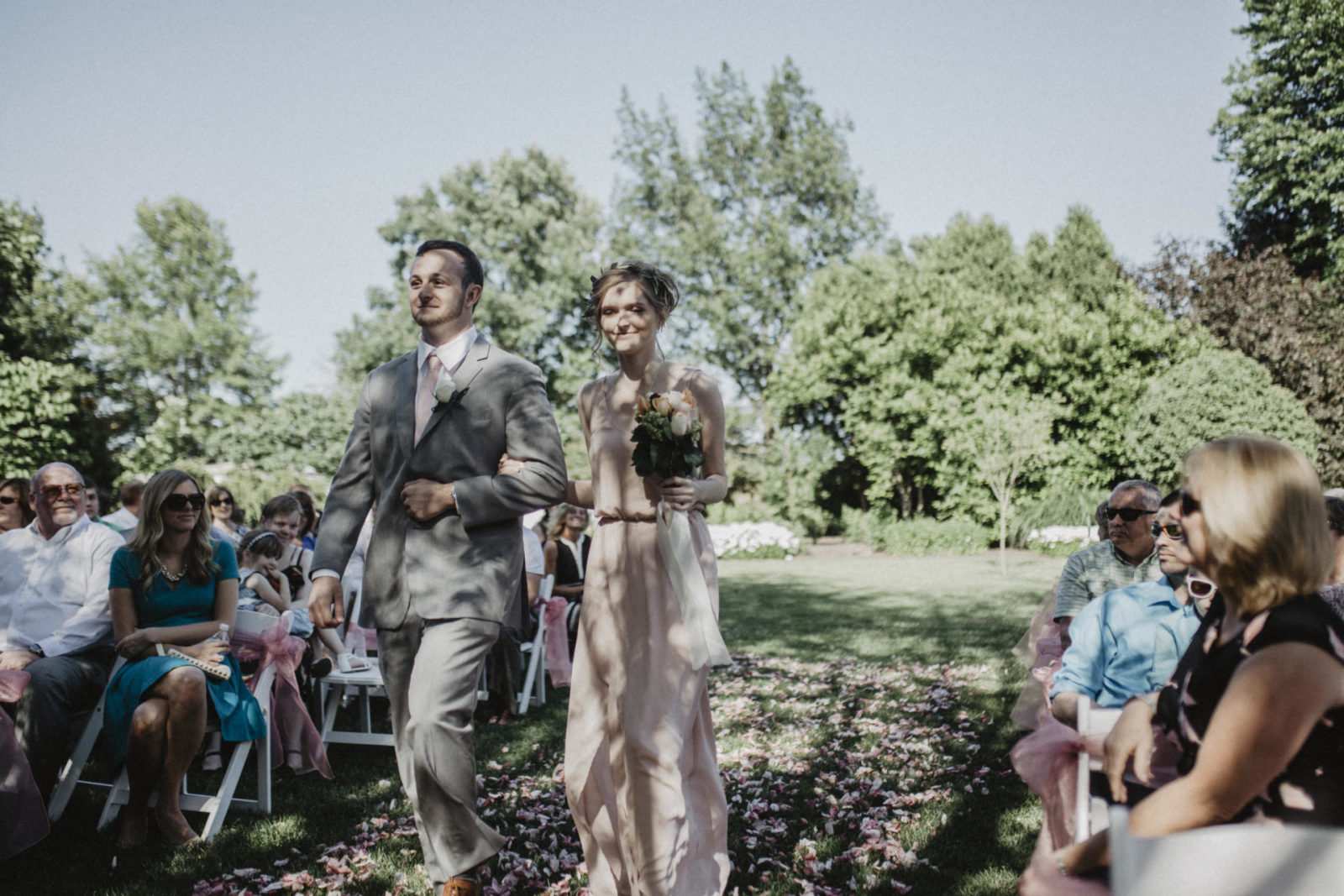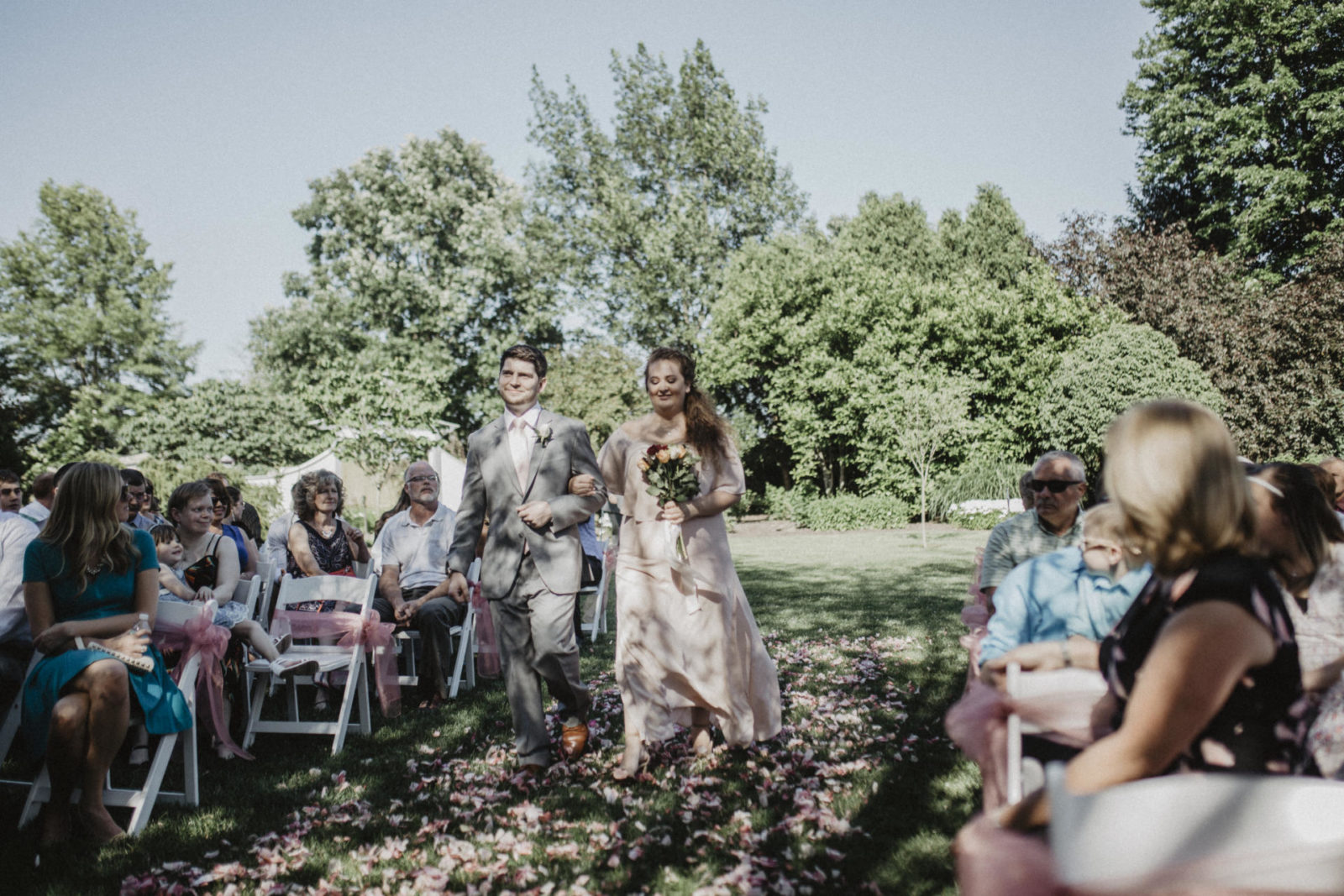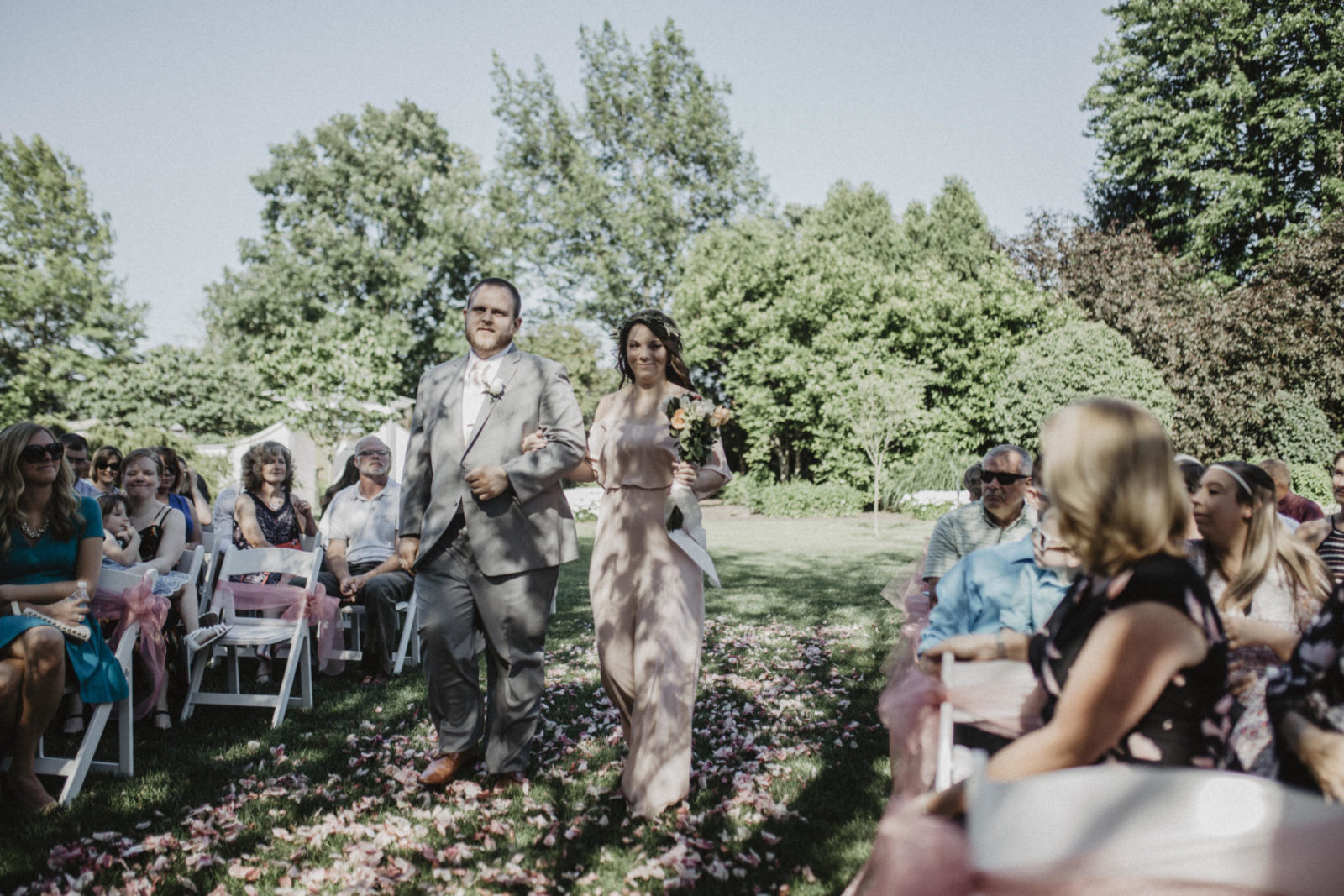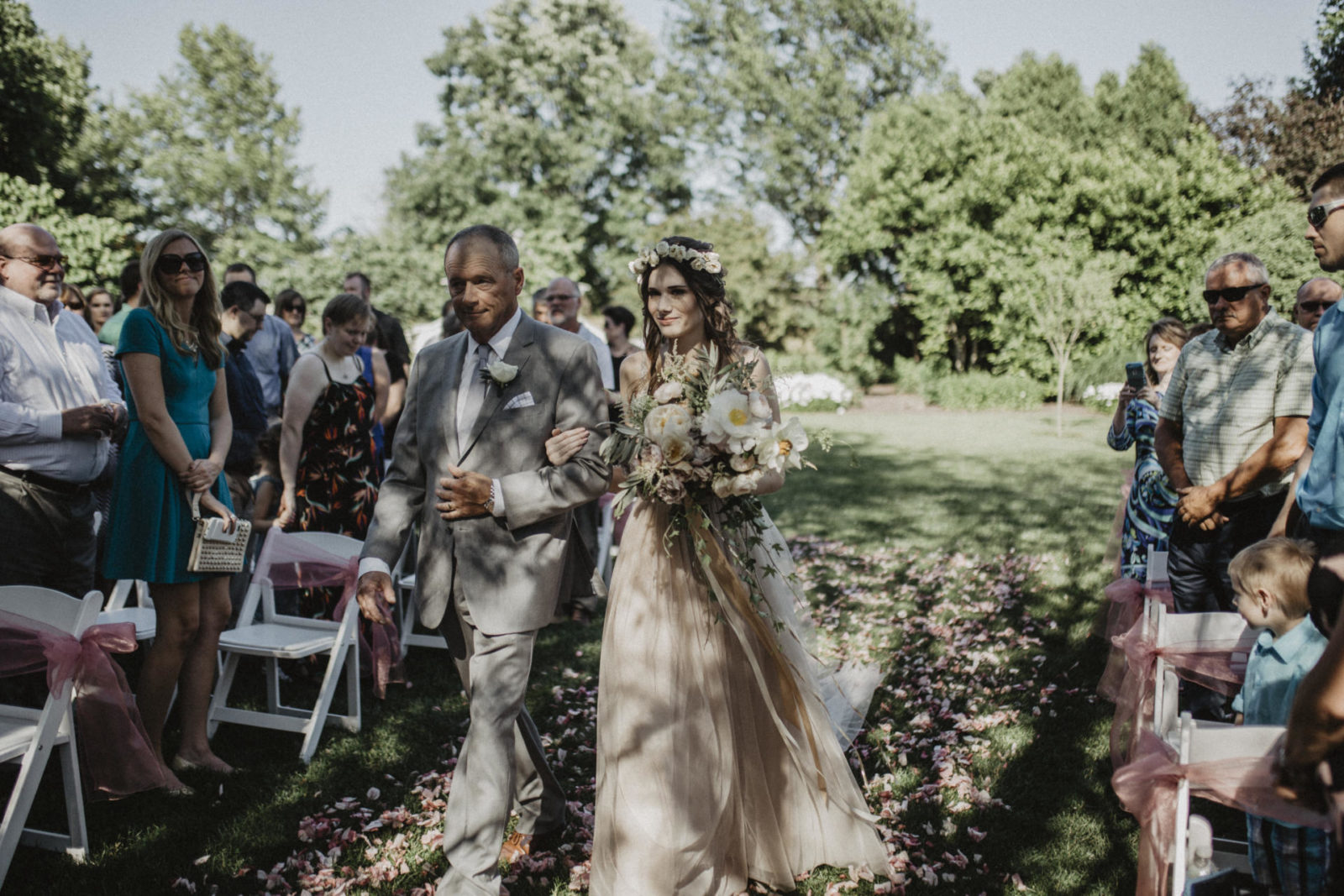 We walked down the aisle to "Always Remember Me" by Ry Cuming — a song that will always be close to our hearts.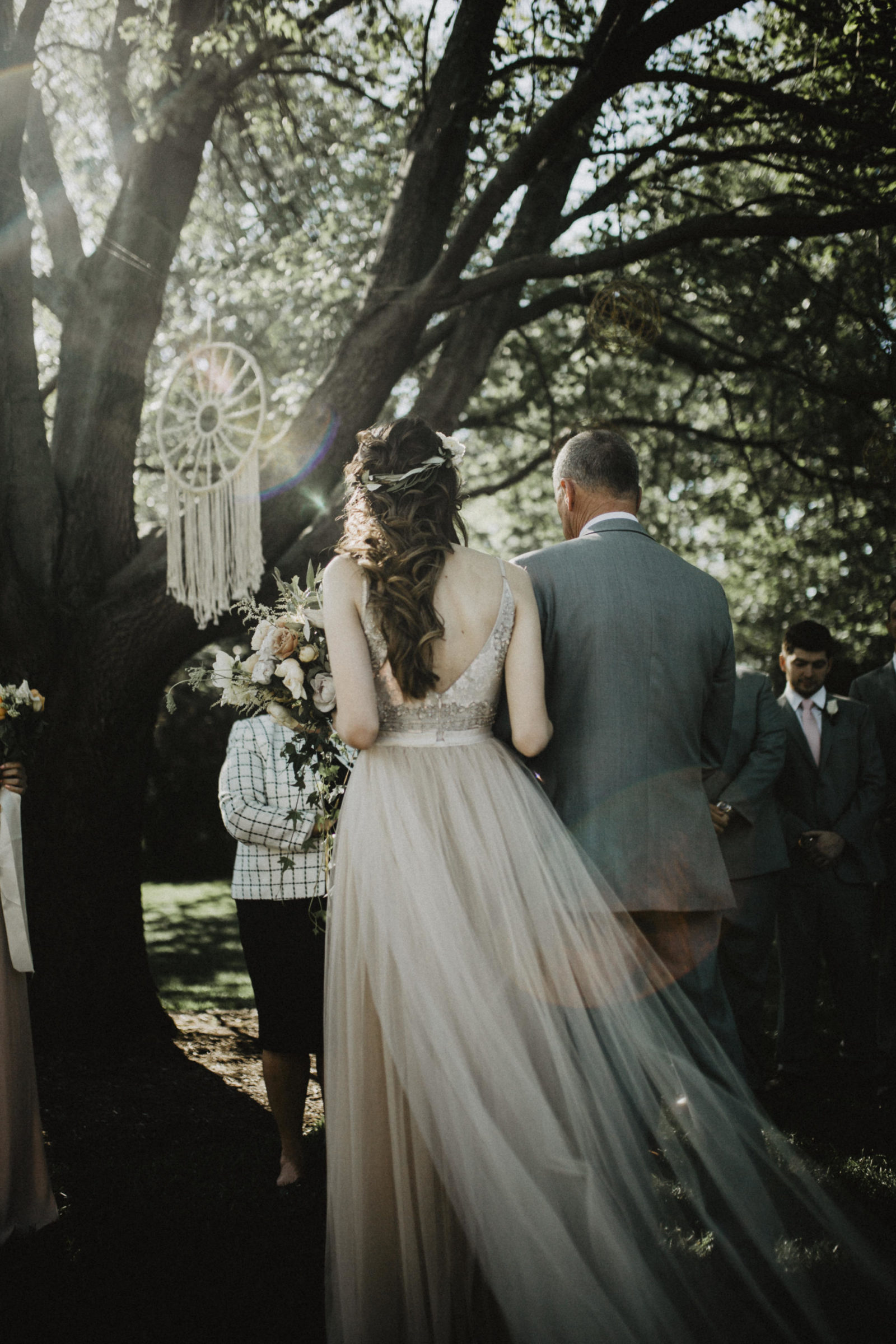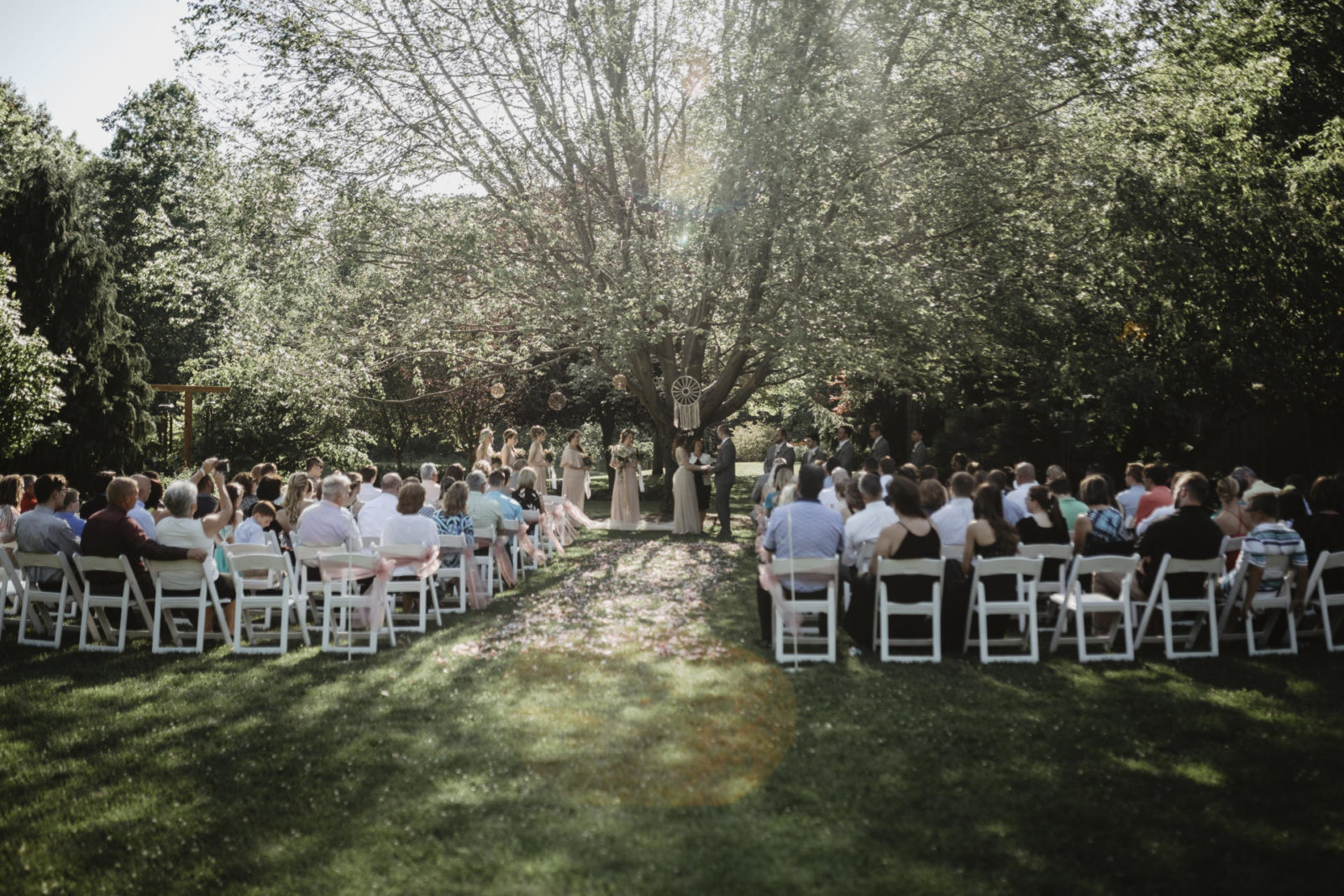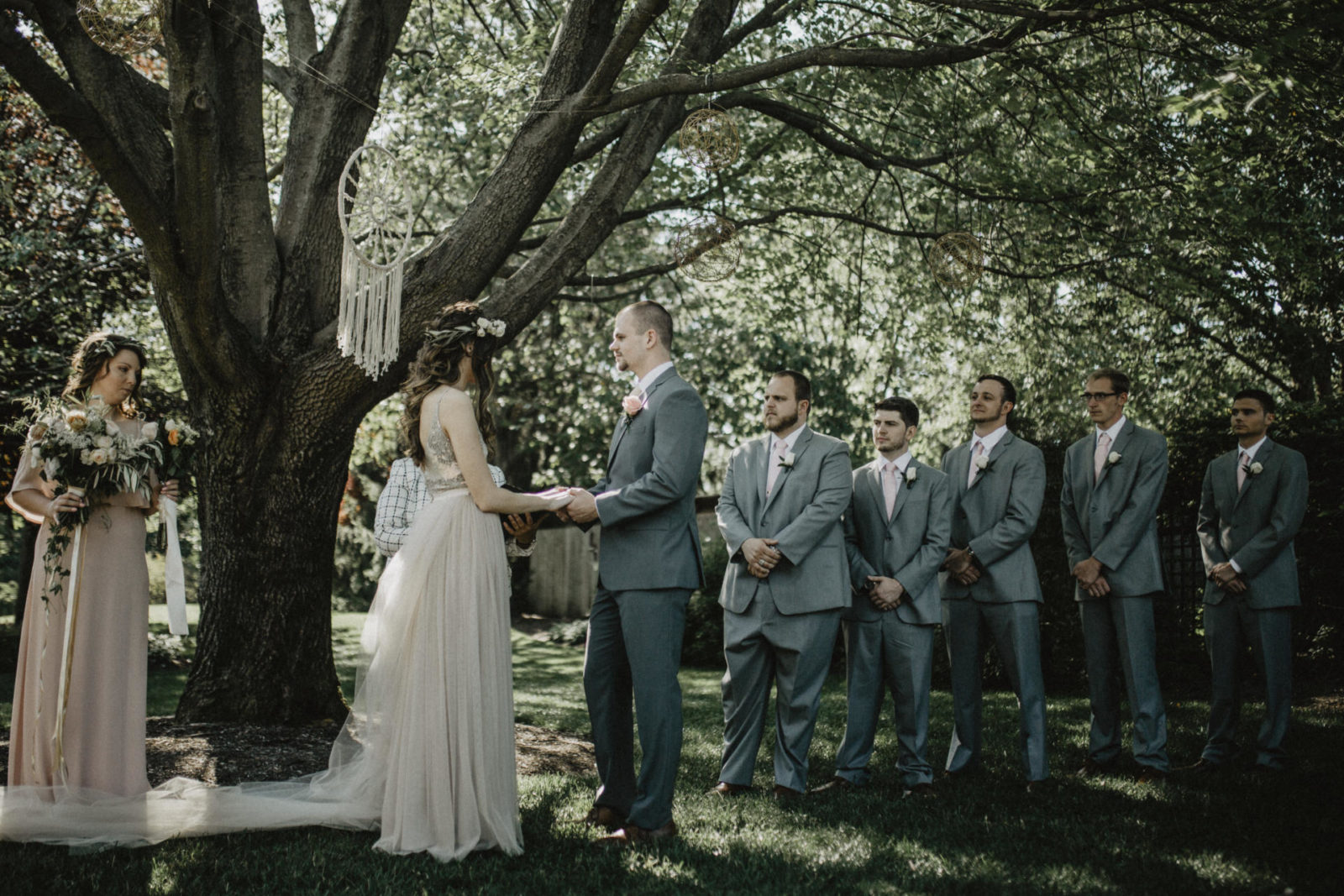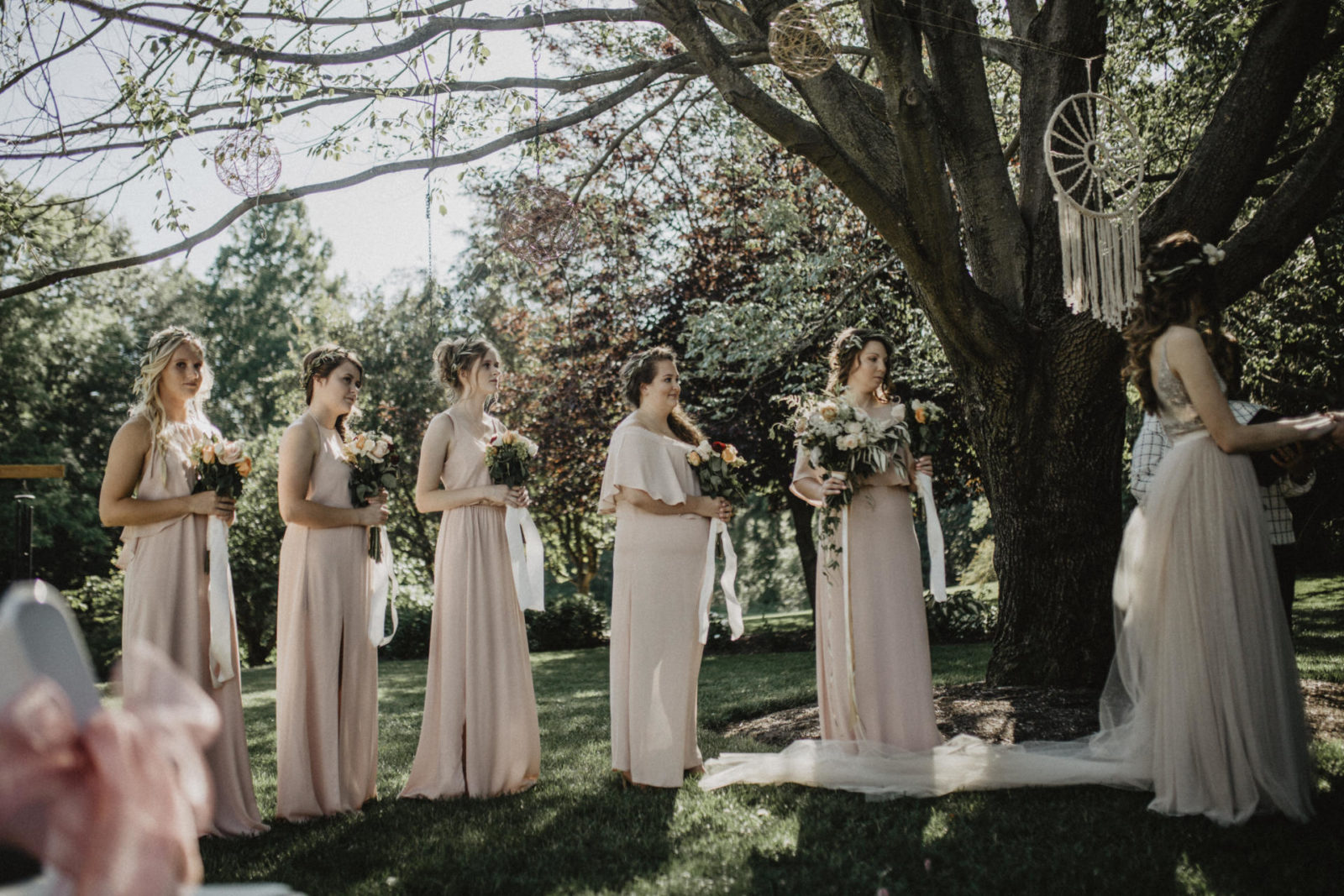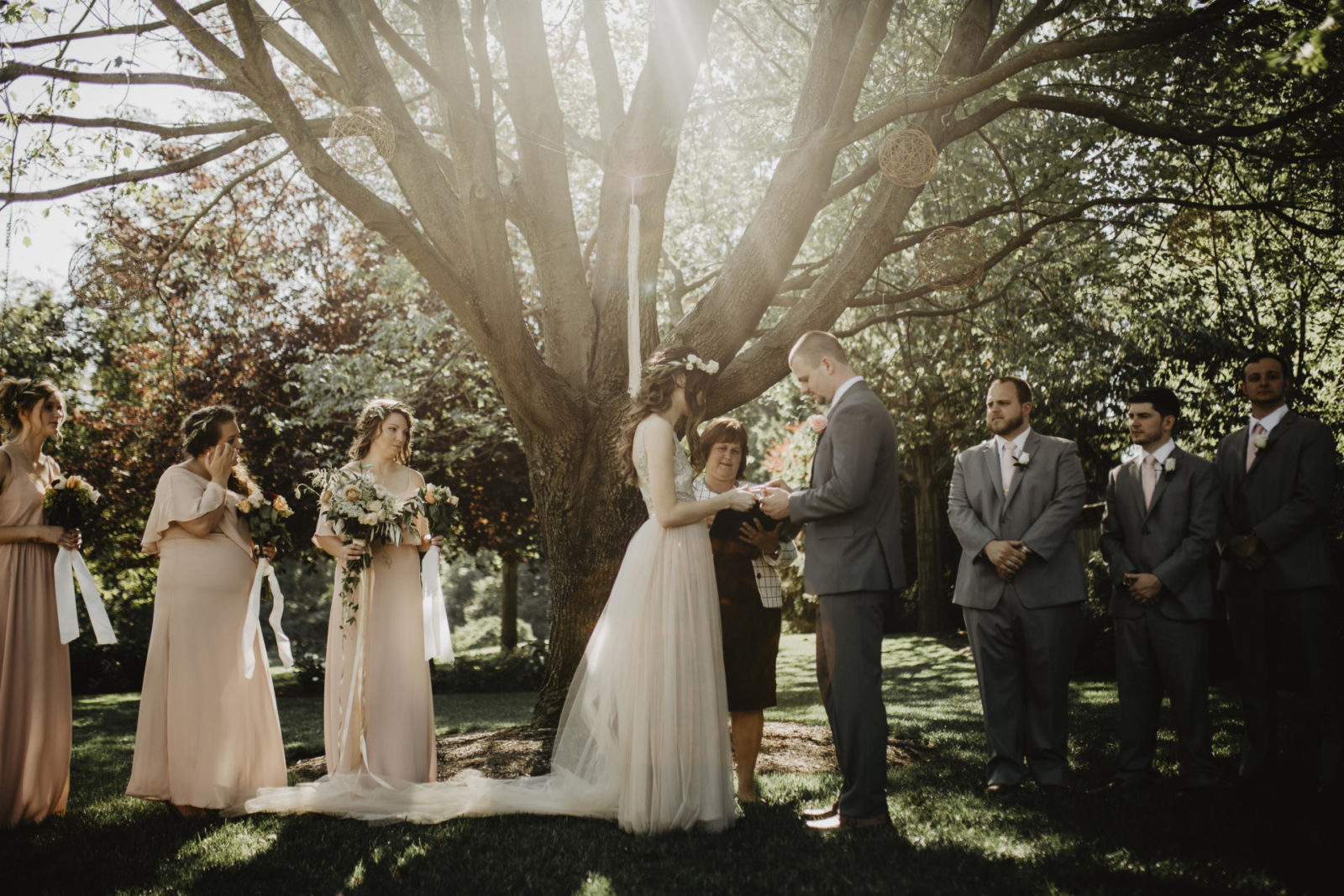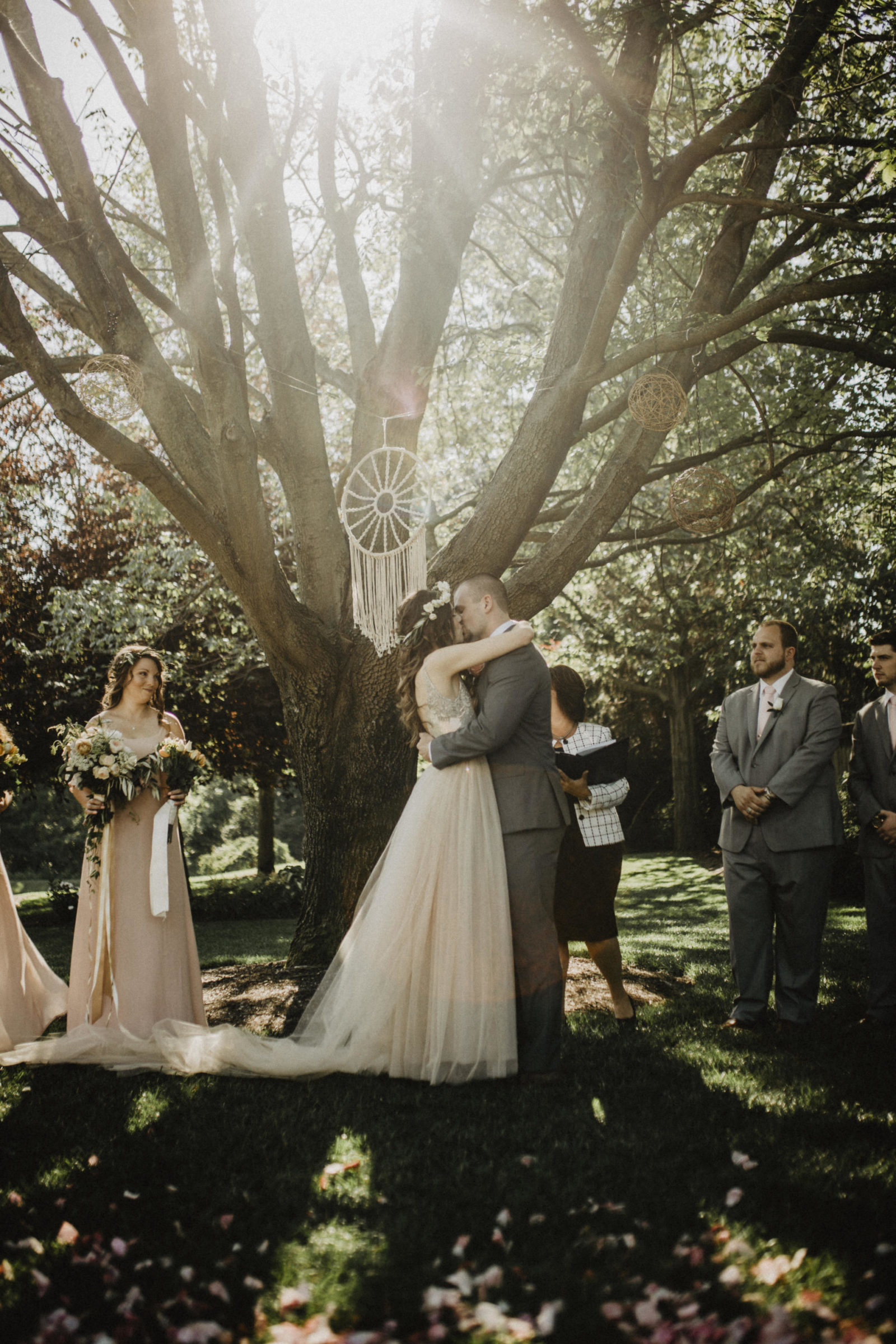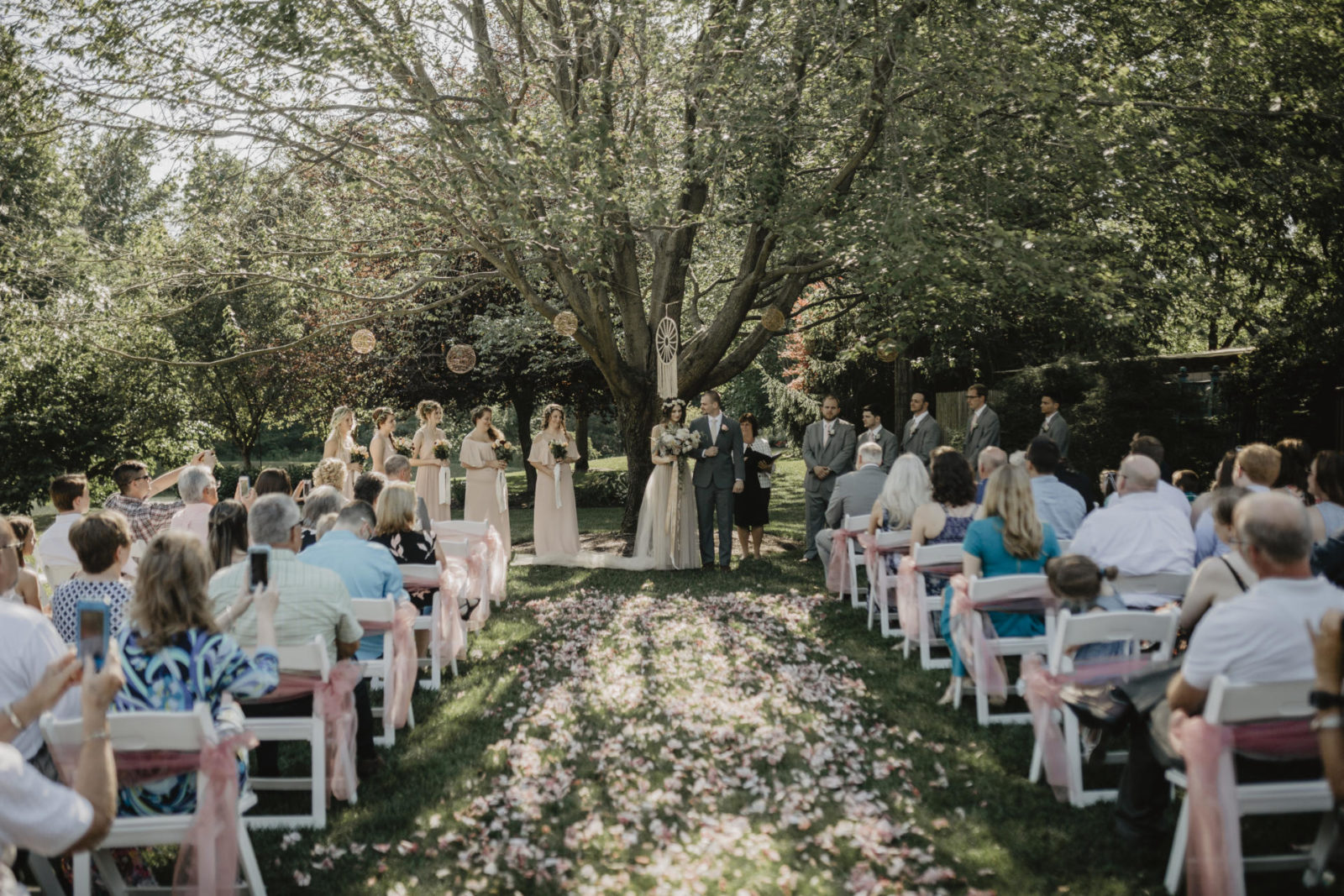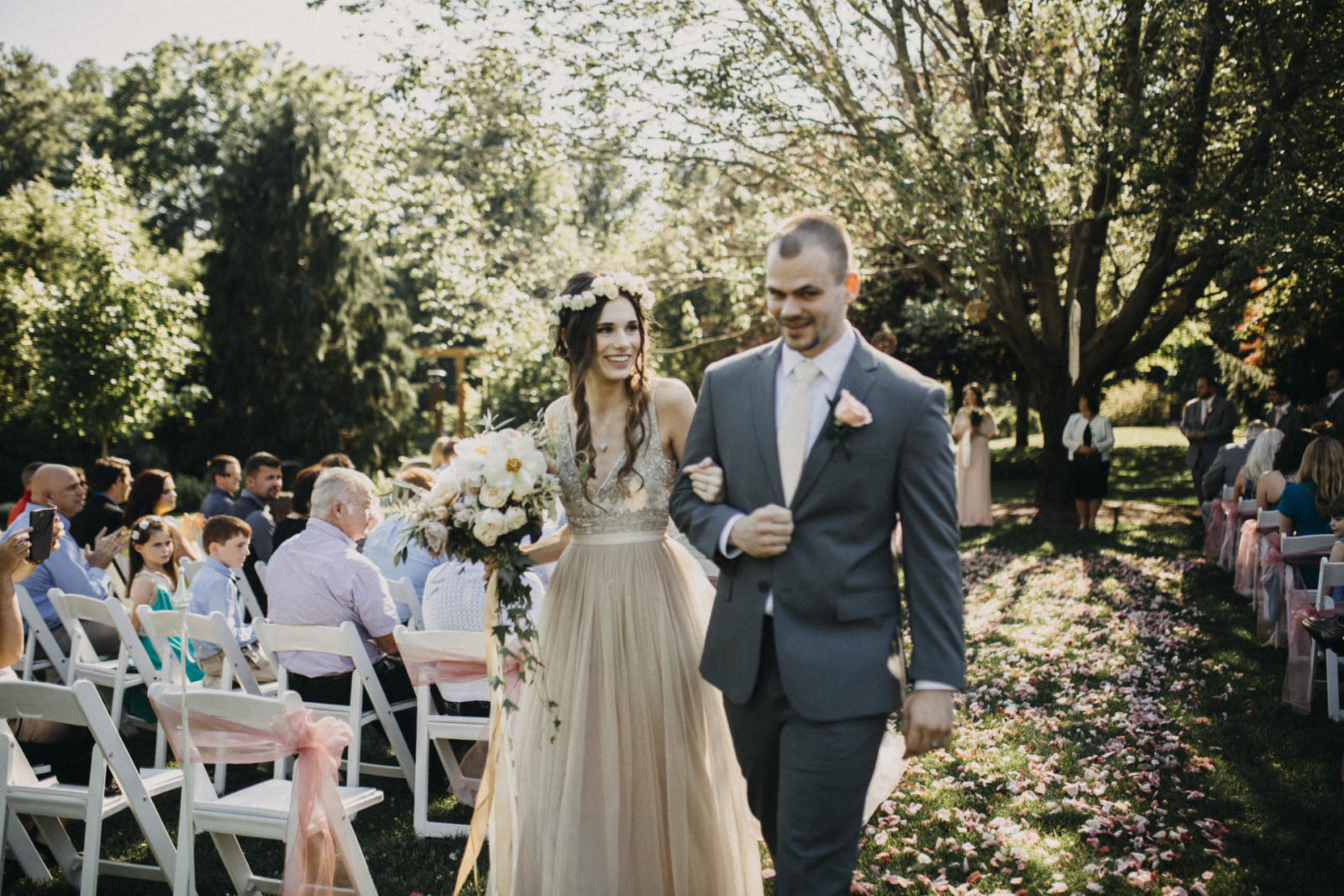 WE DID IT! We exited to "Tell Her You Love Her" by Echosmith.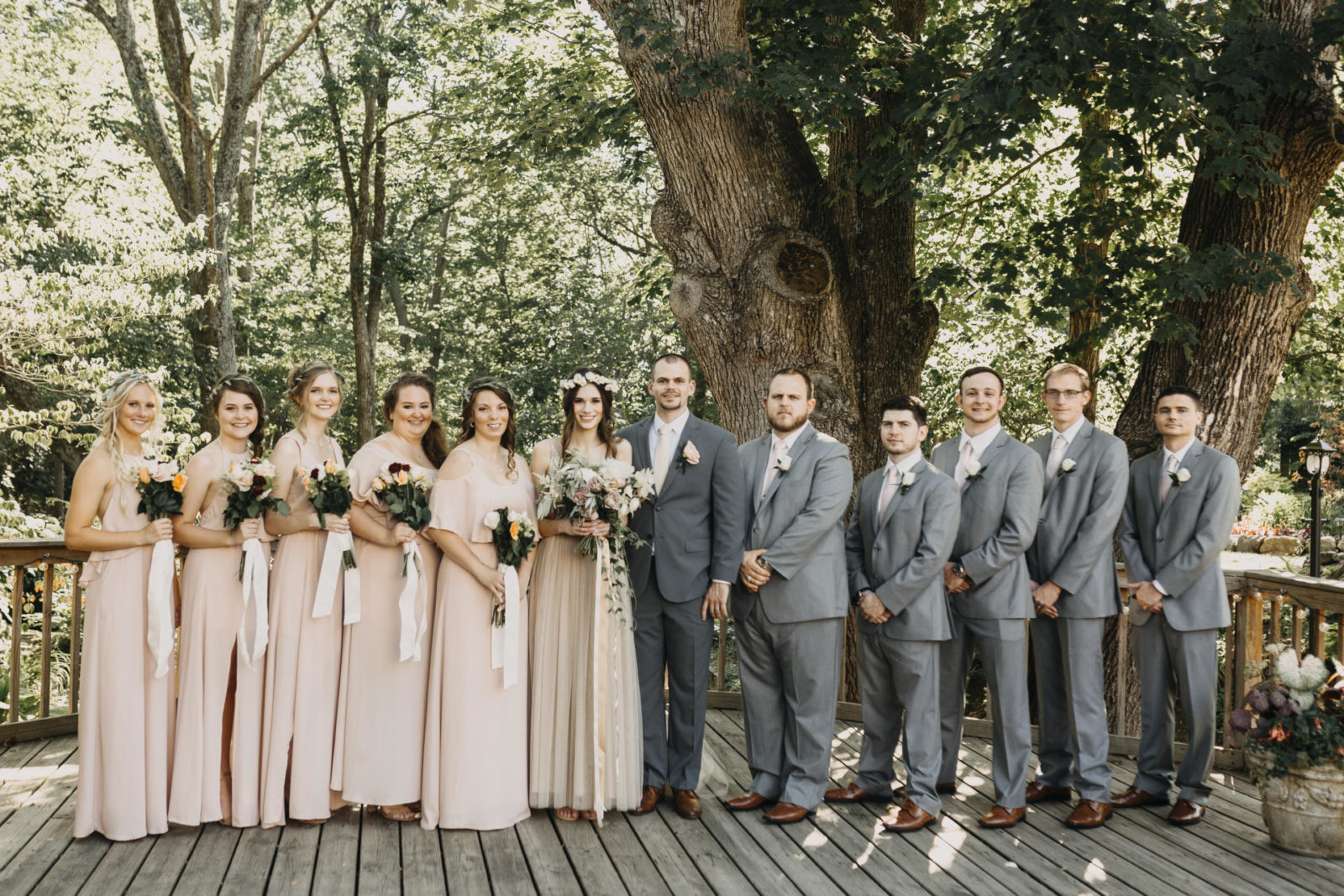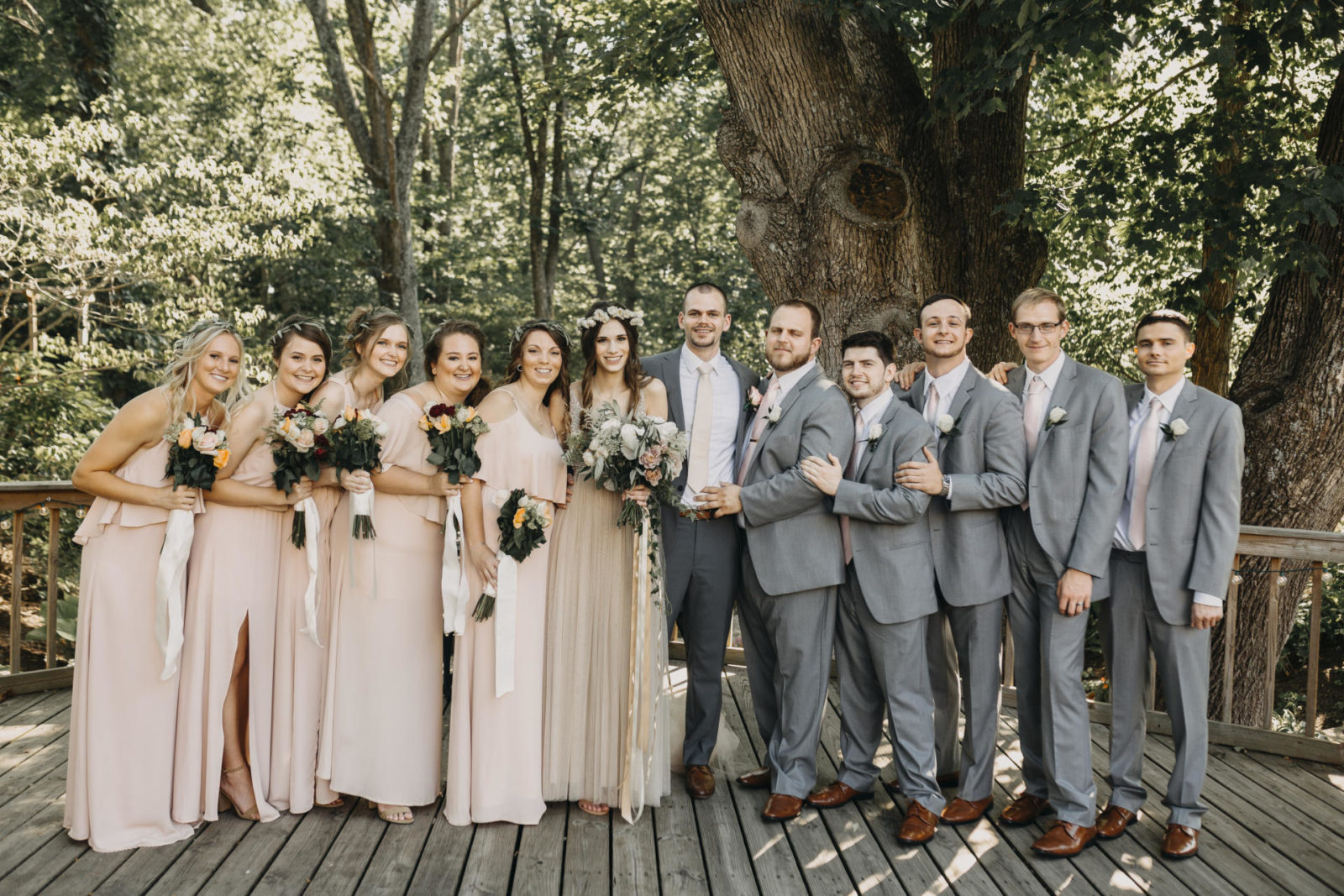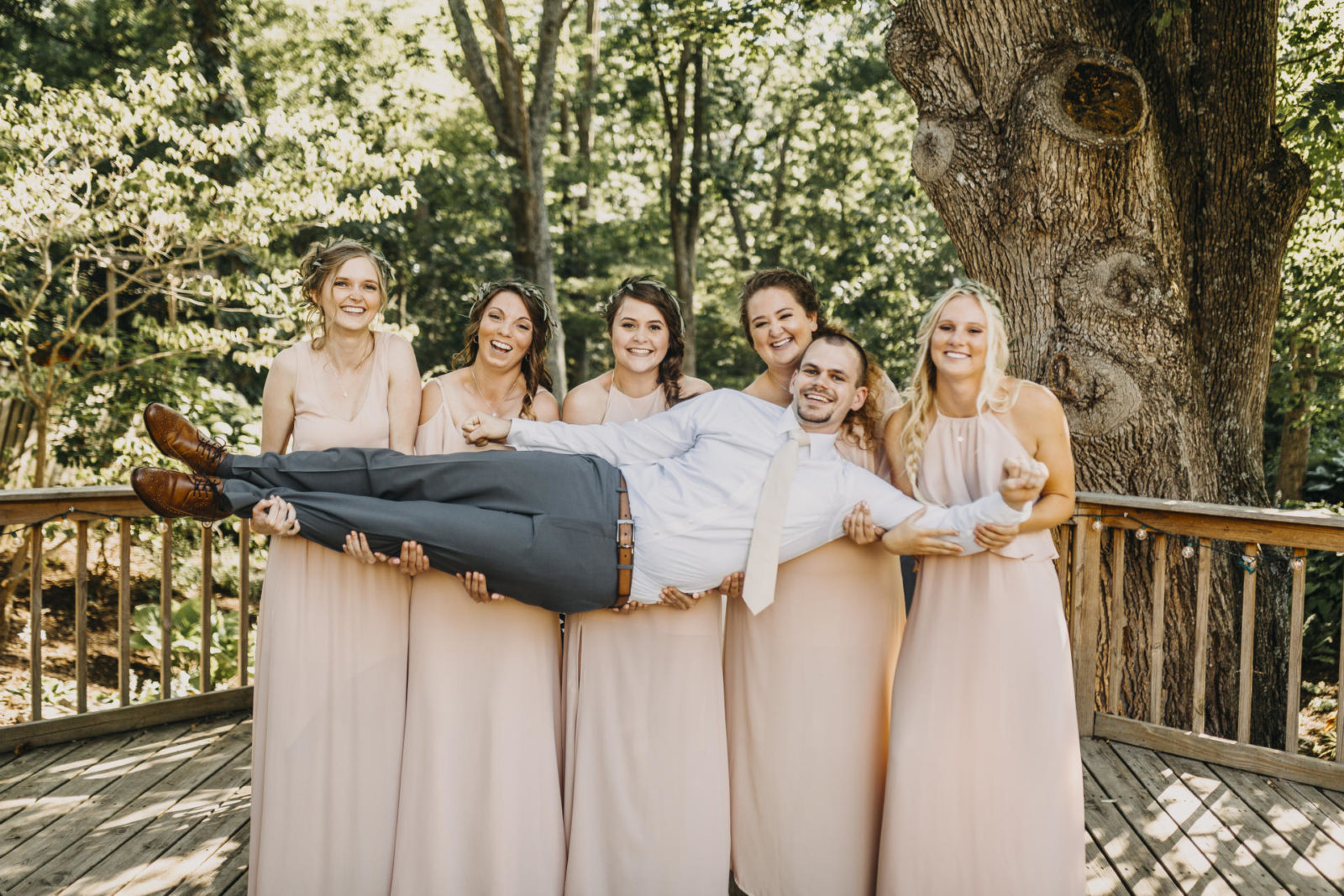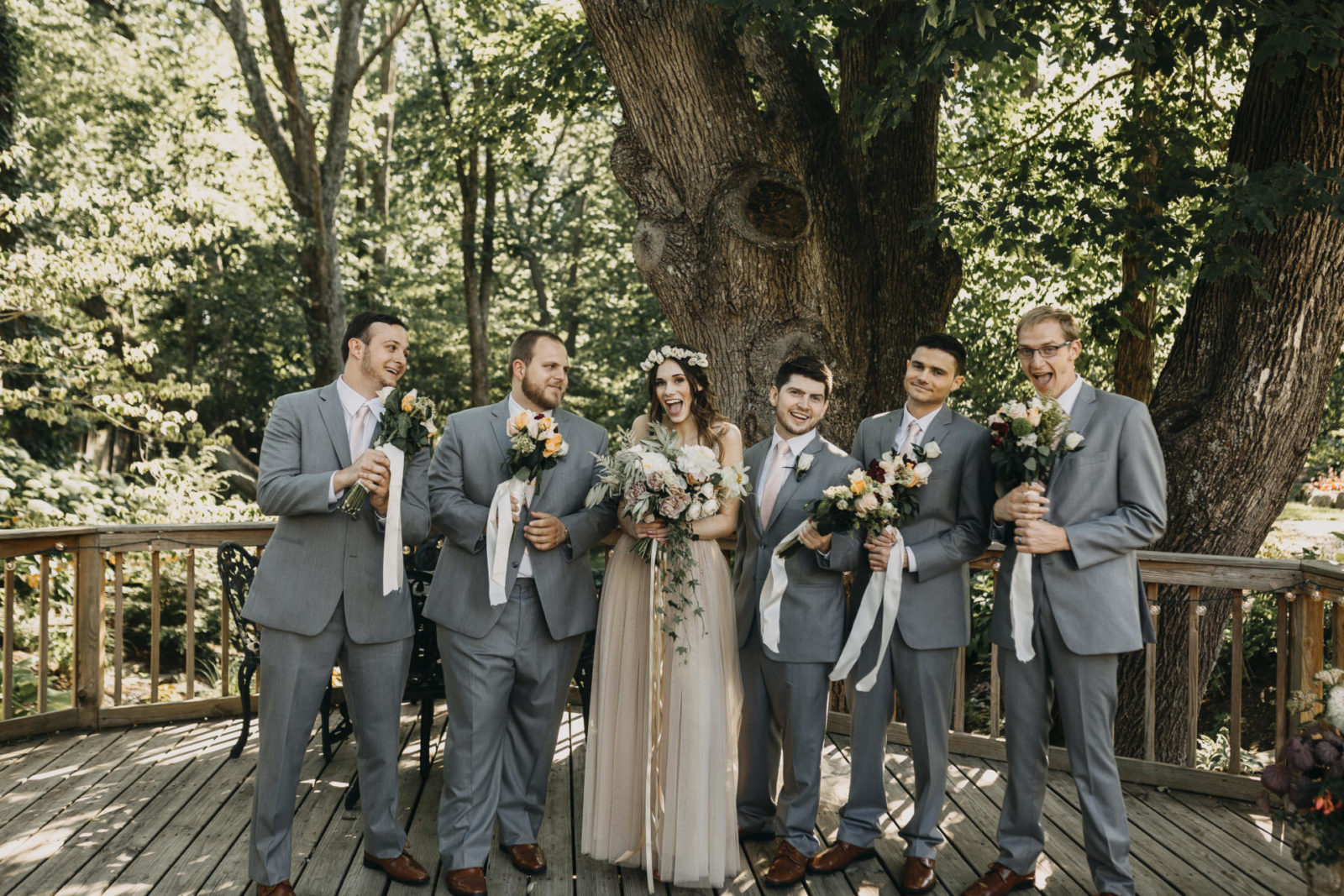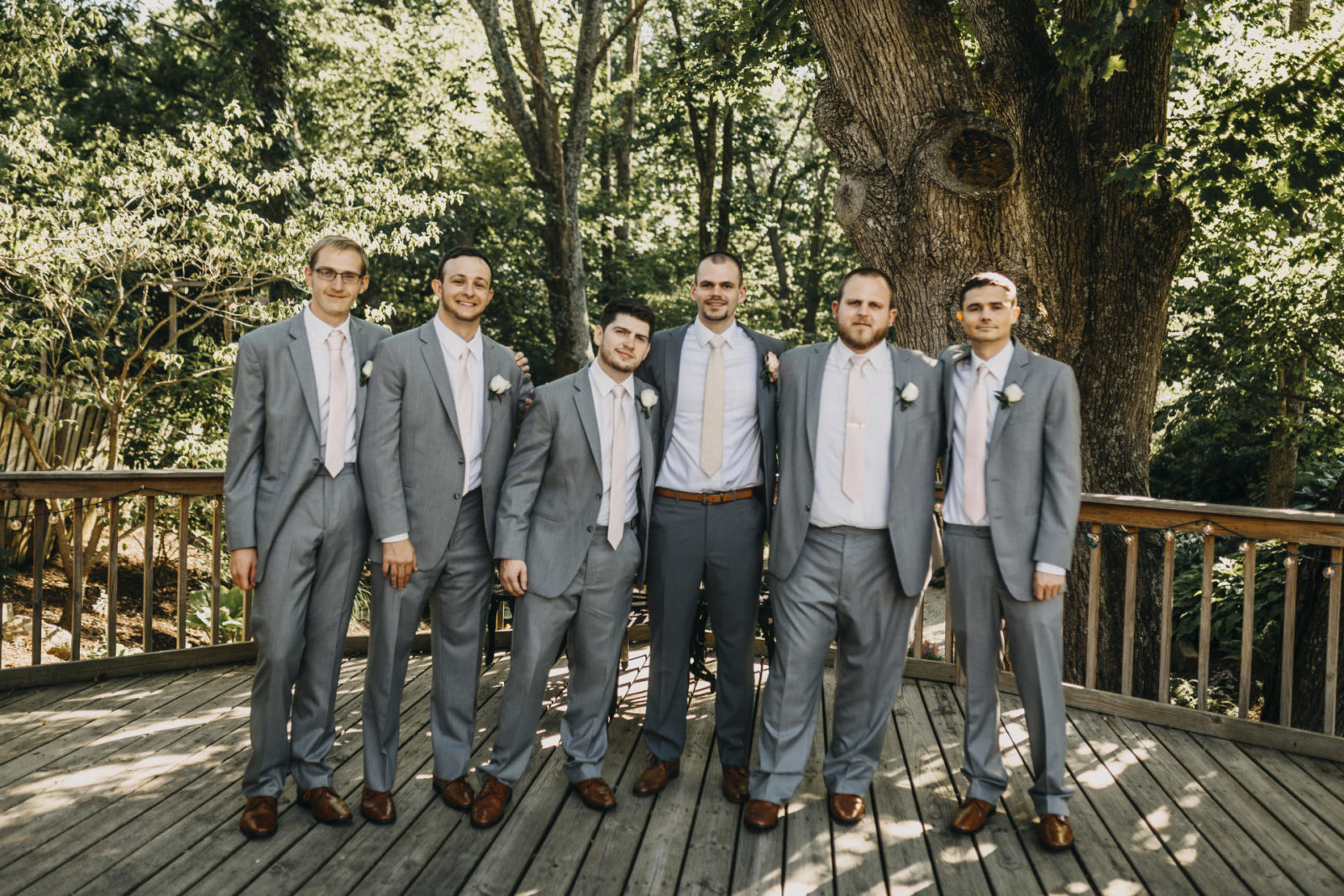 Jos A. Bank suits are the best way to go — I highly recommend them!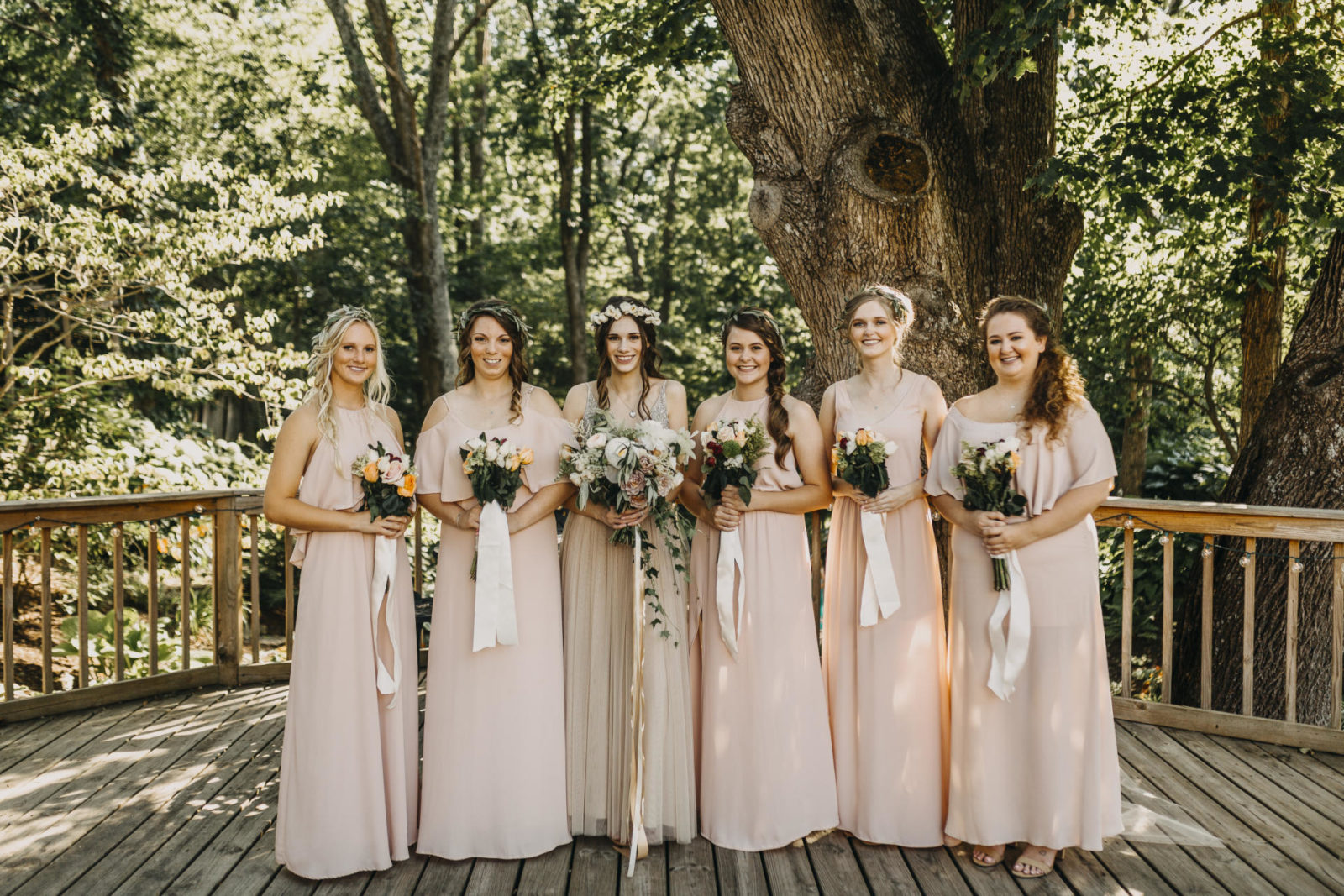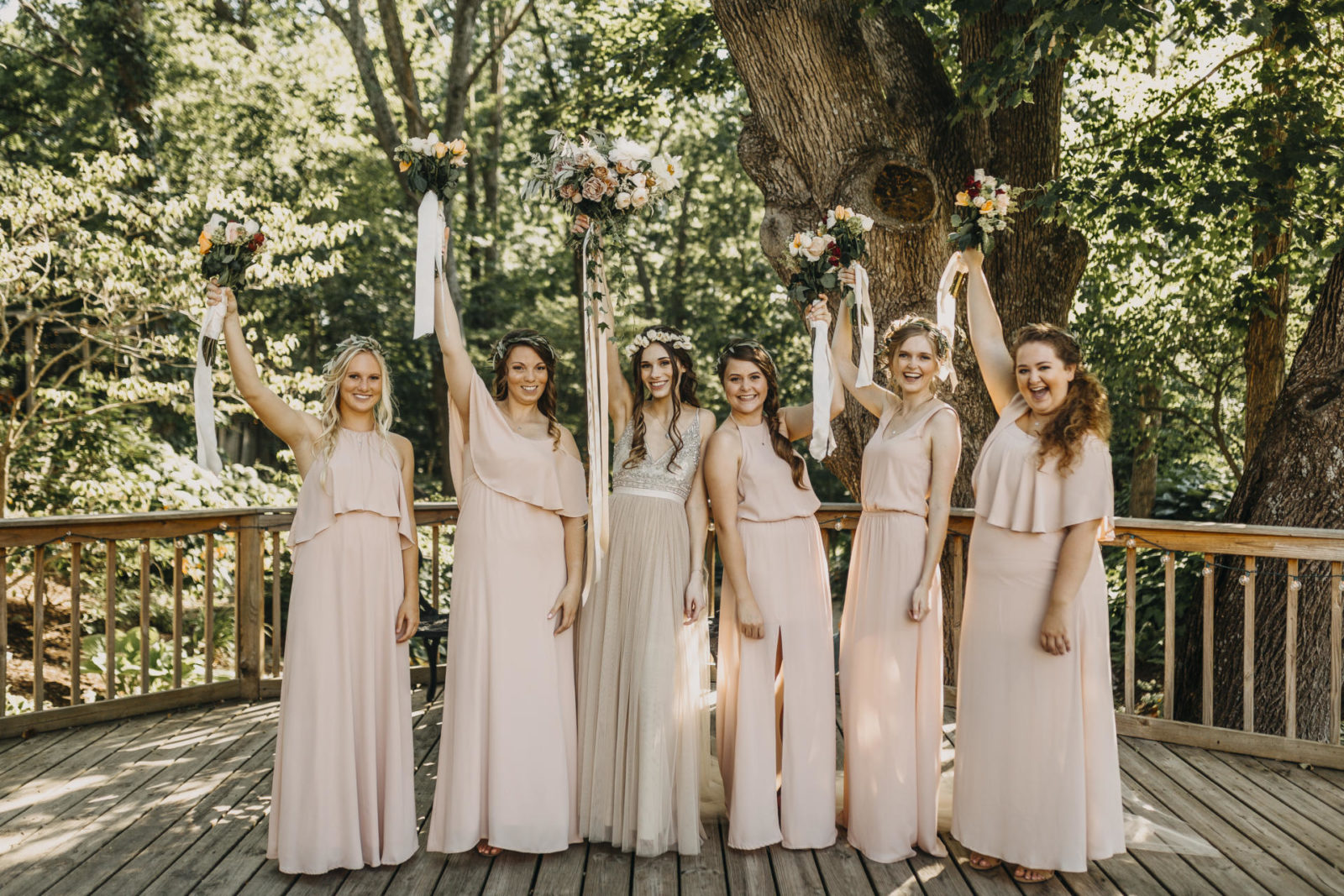 I LOVED the girls' Show Me Your MuMu dresses in different styles! They all felt so beautiful with their hair and makeup done, which I loved so much.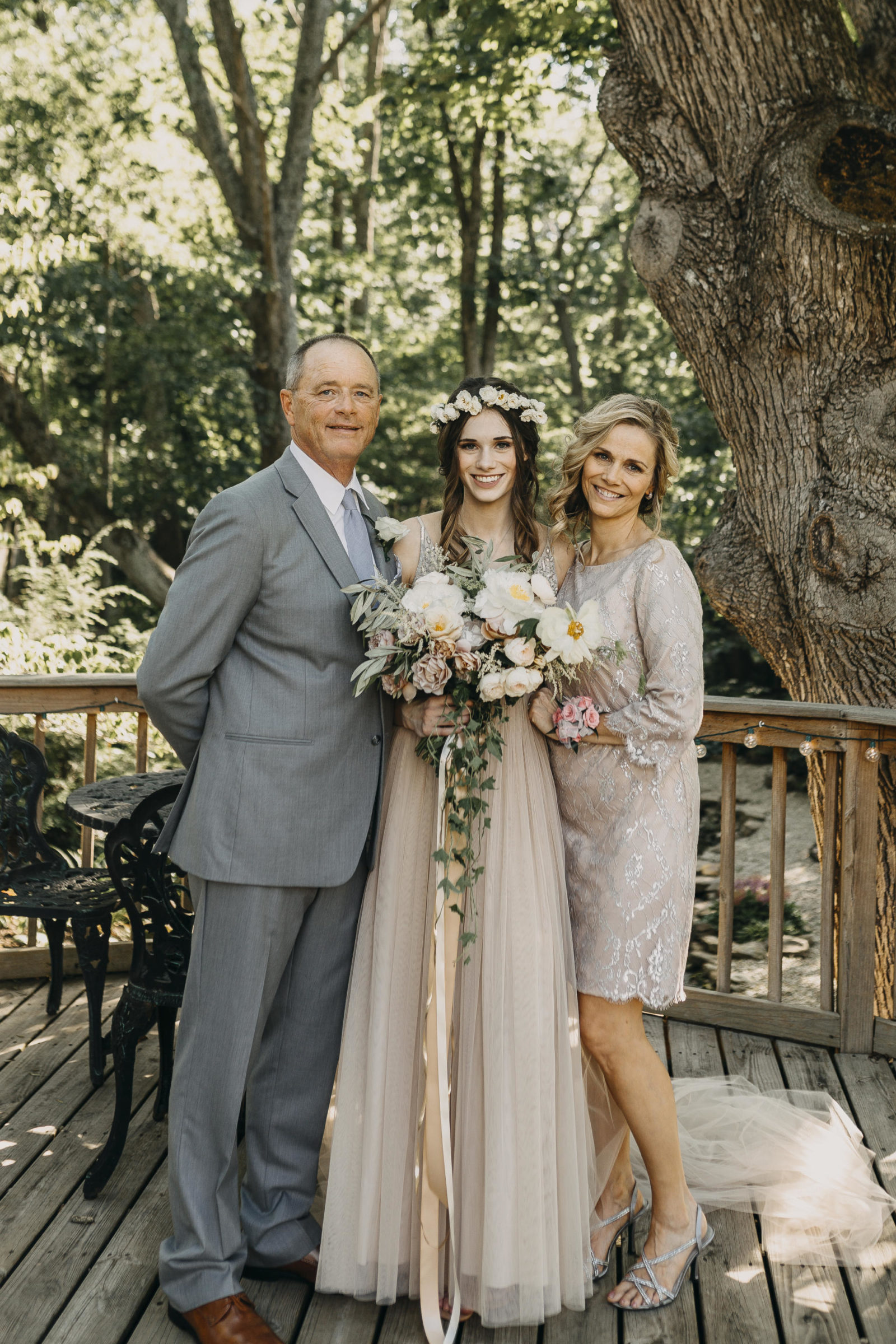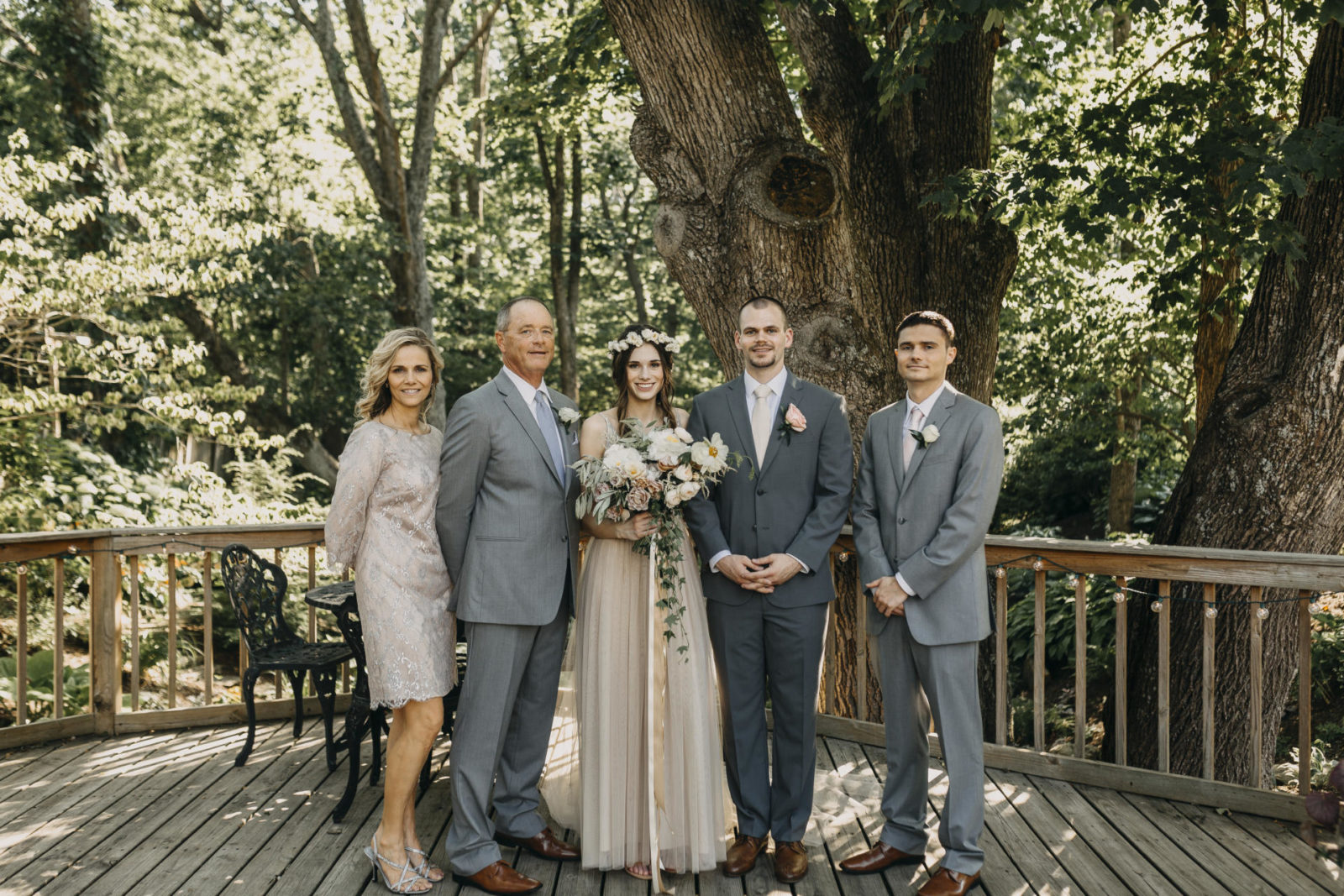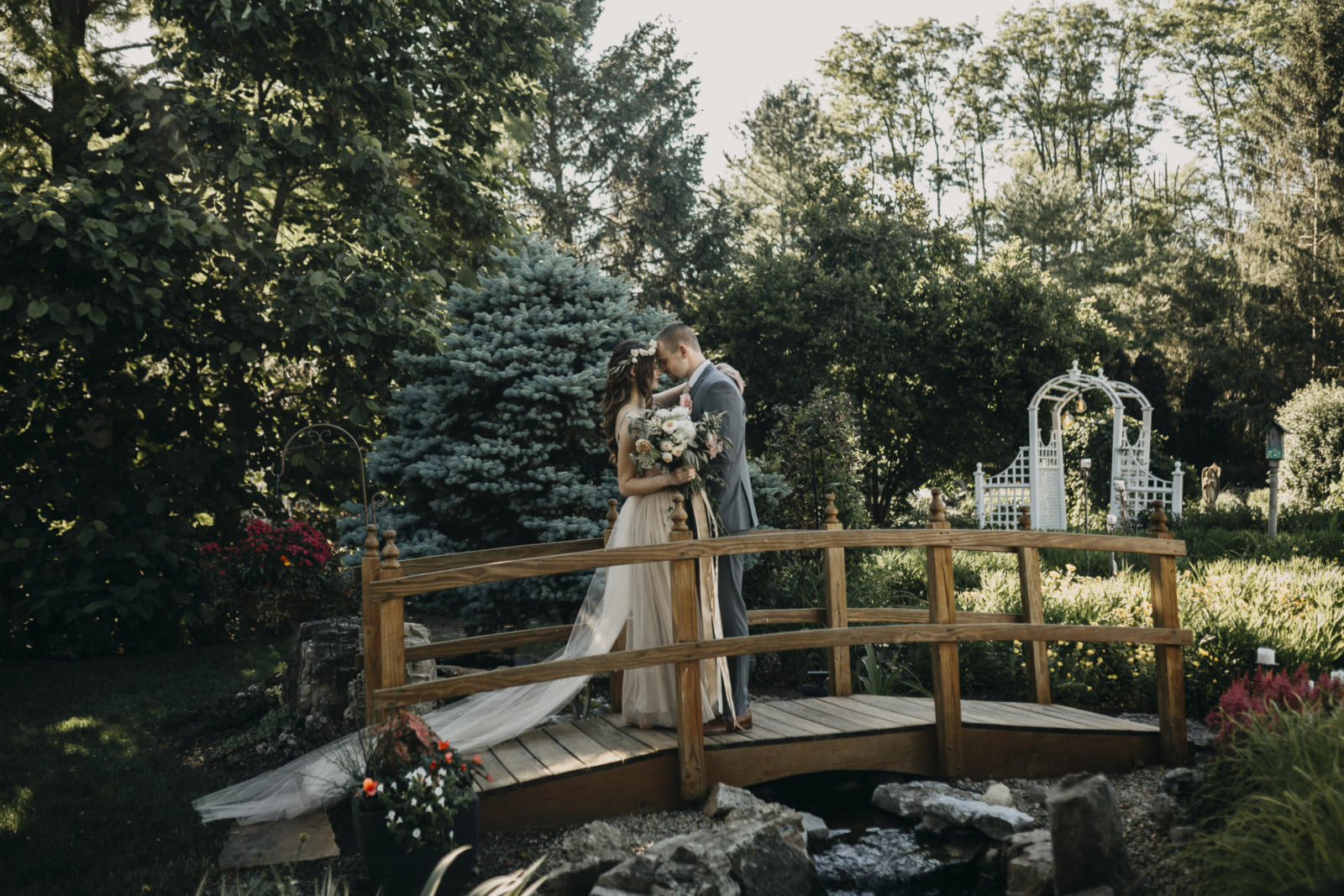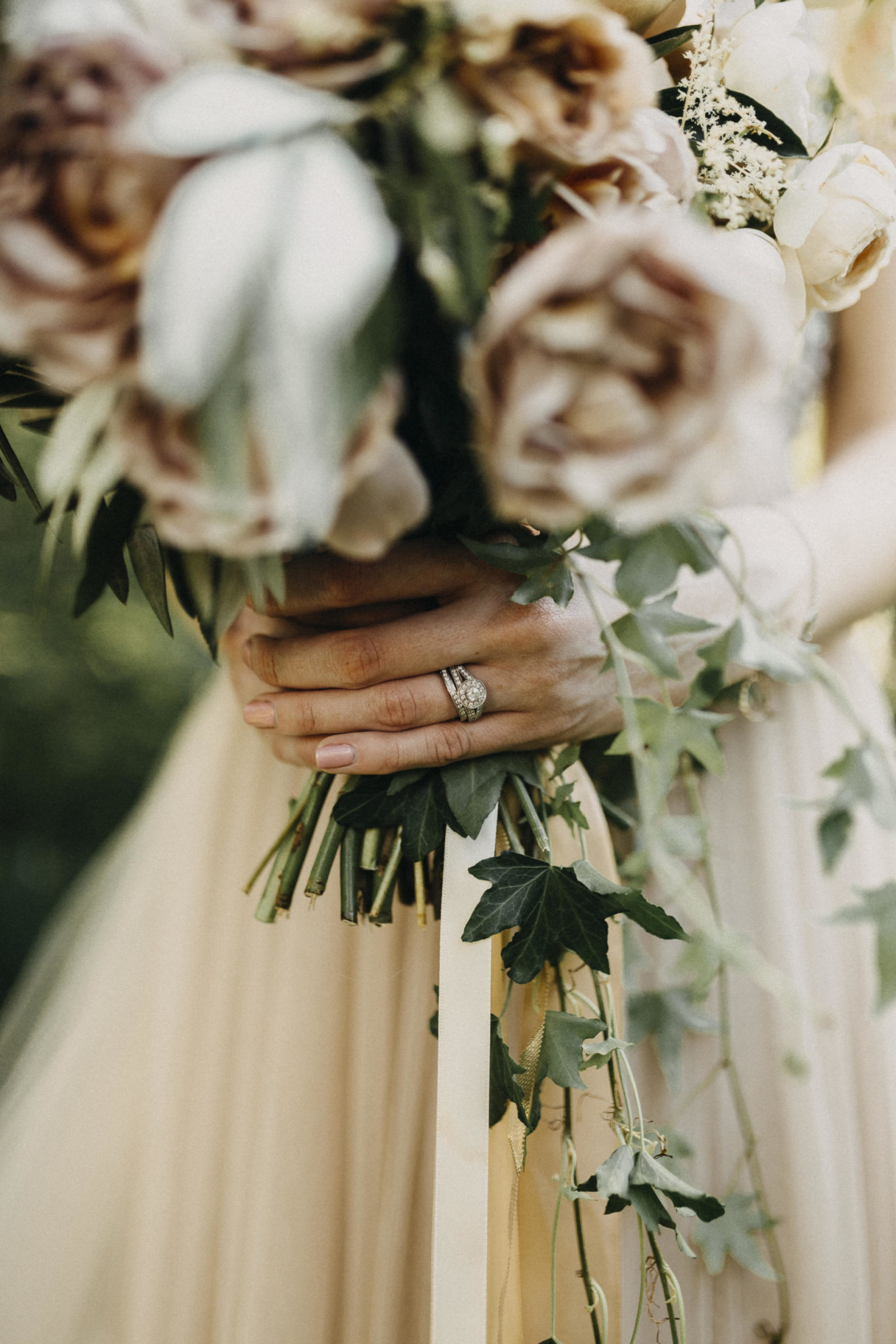 My soft pink nails were the perfect finishing touch to my bridal look.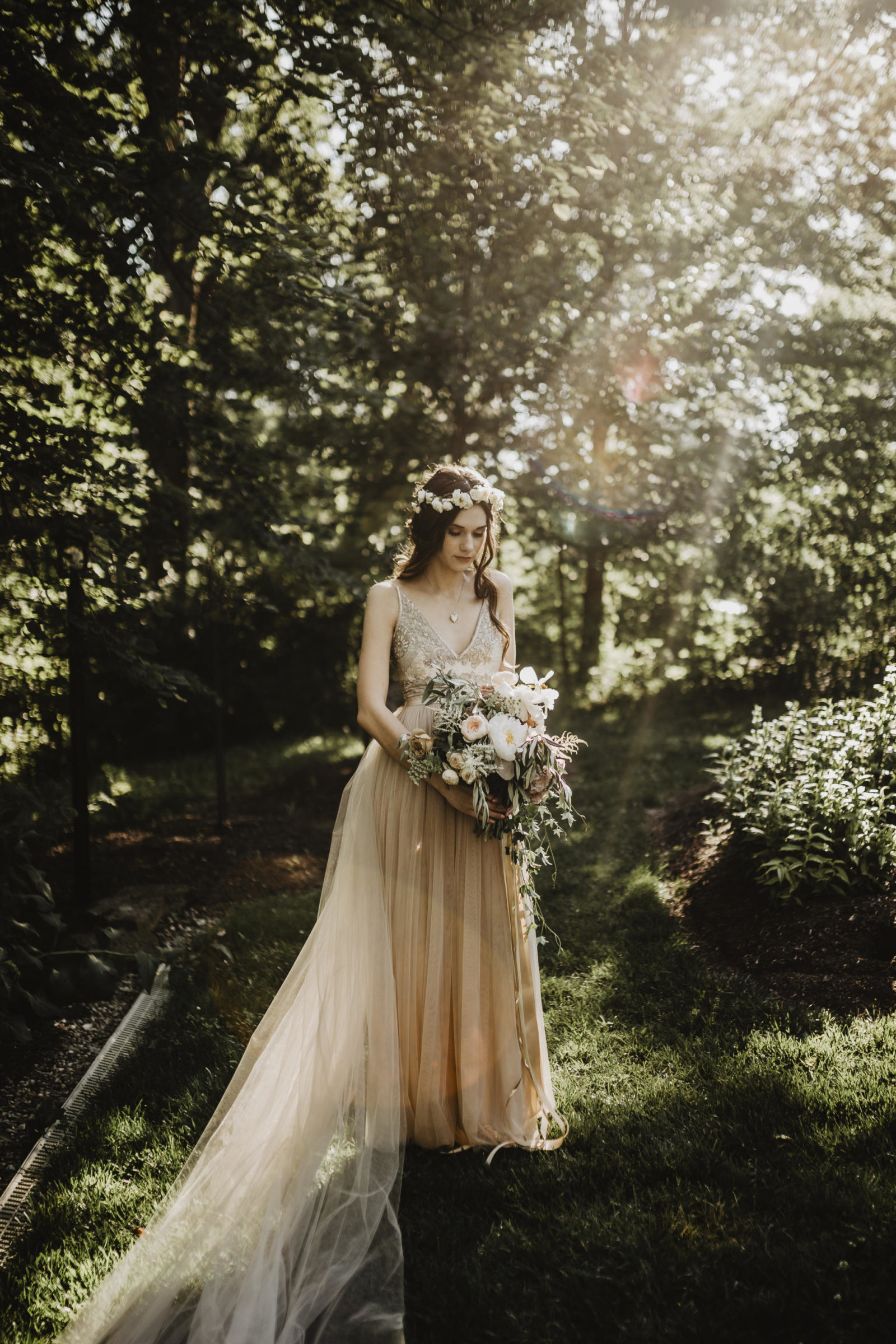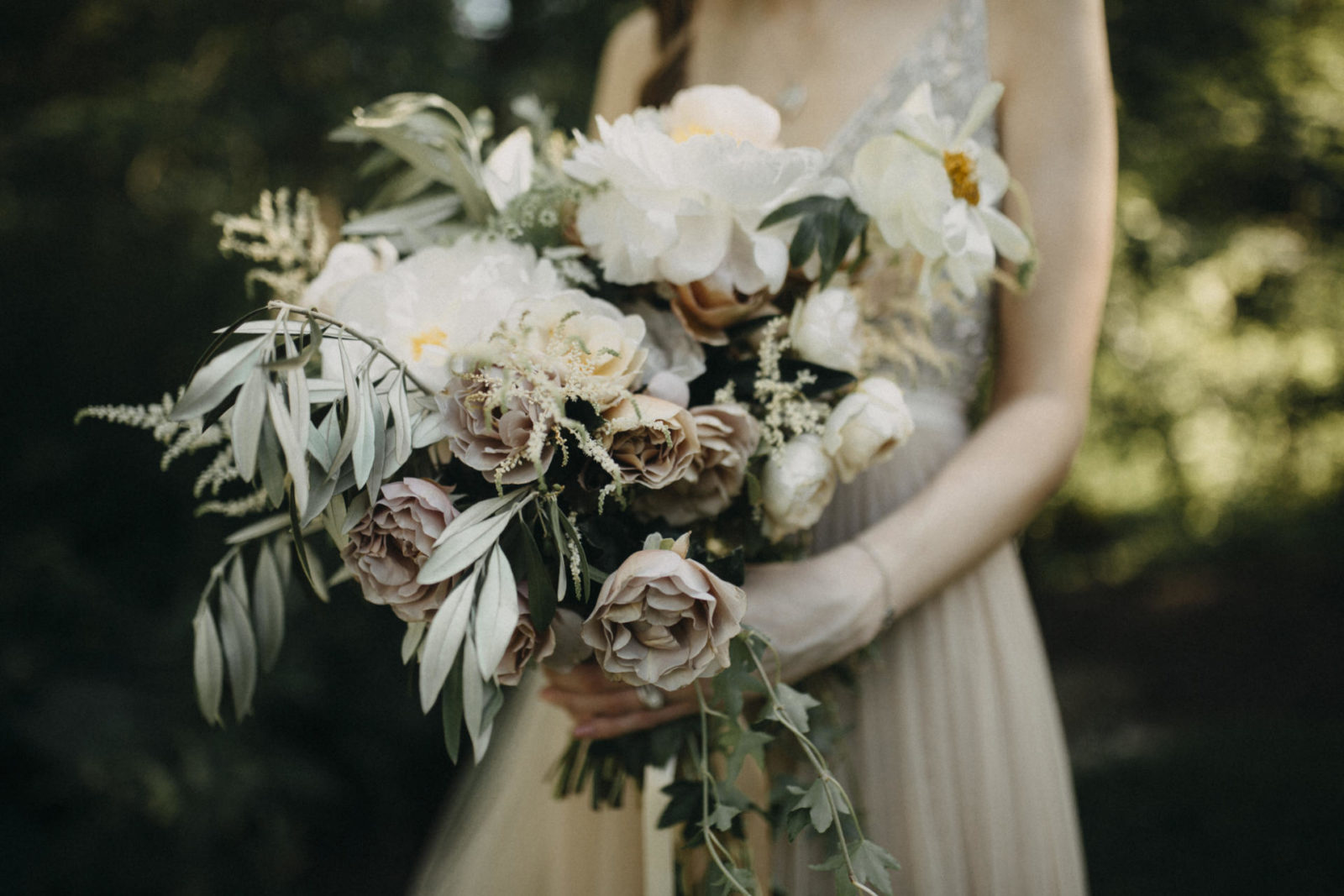 My florist made the bouquet of my dreams — I seriously wish I could keep it forever.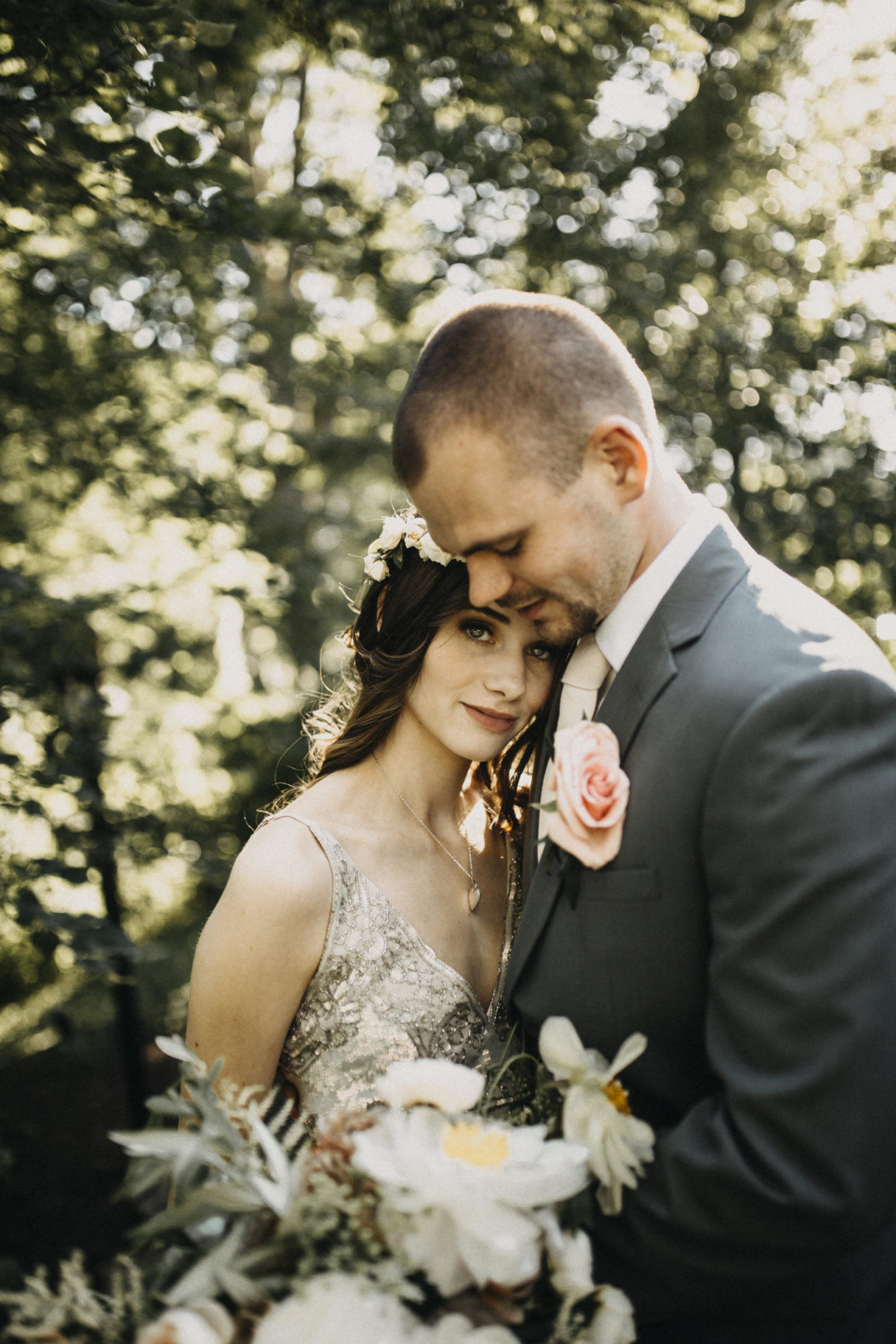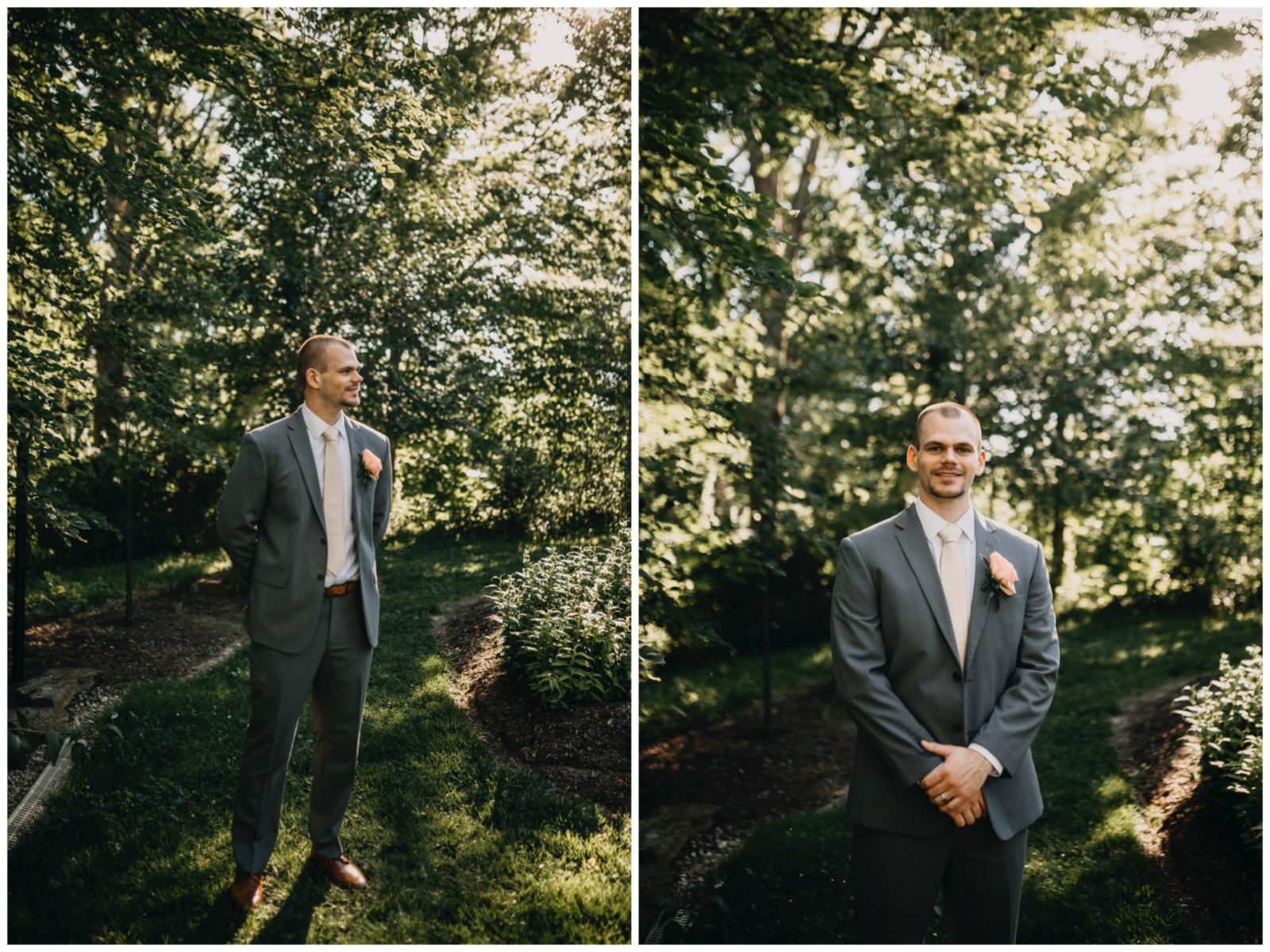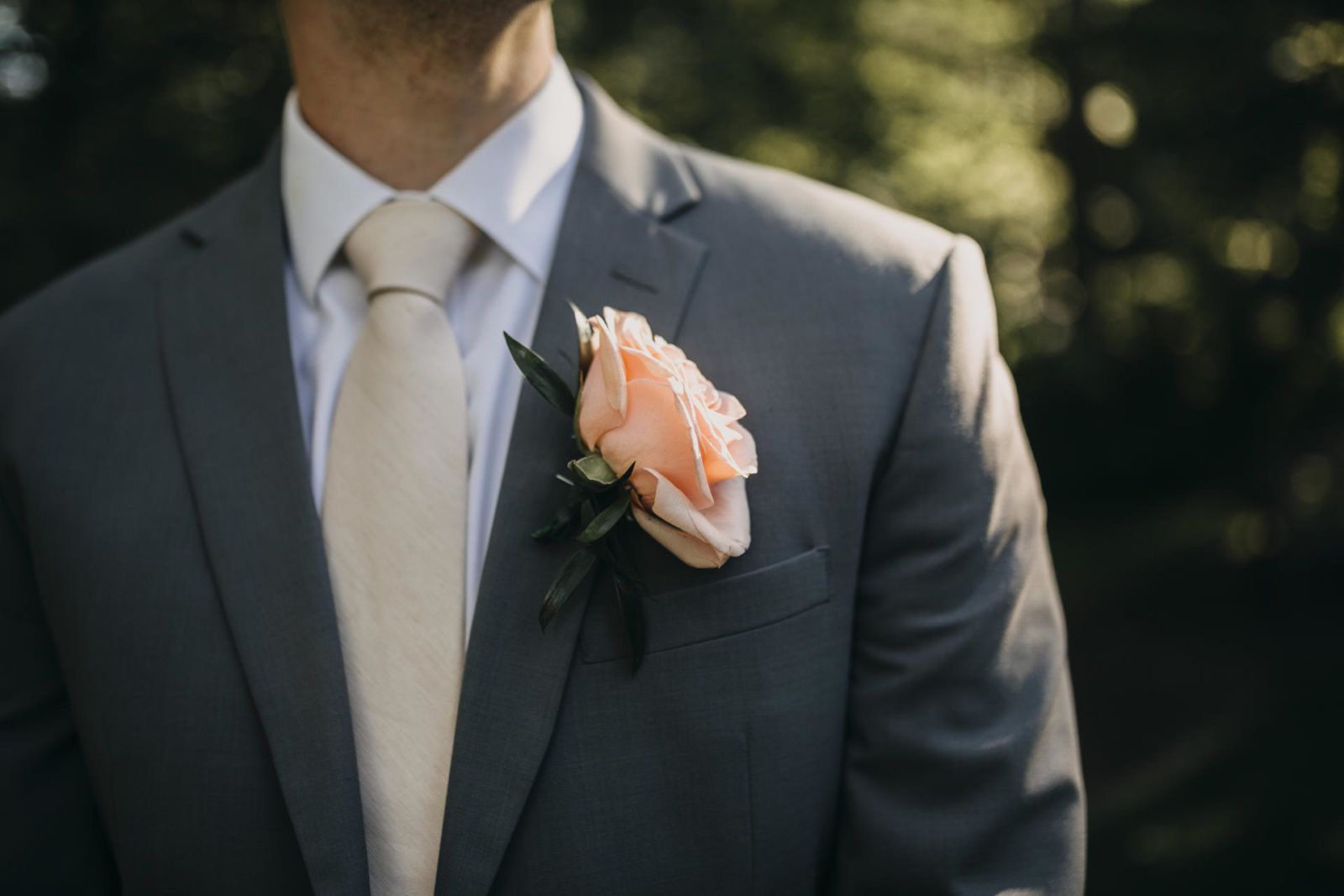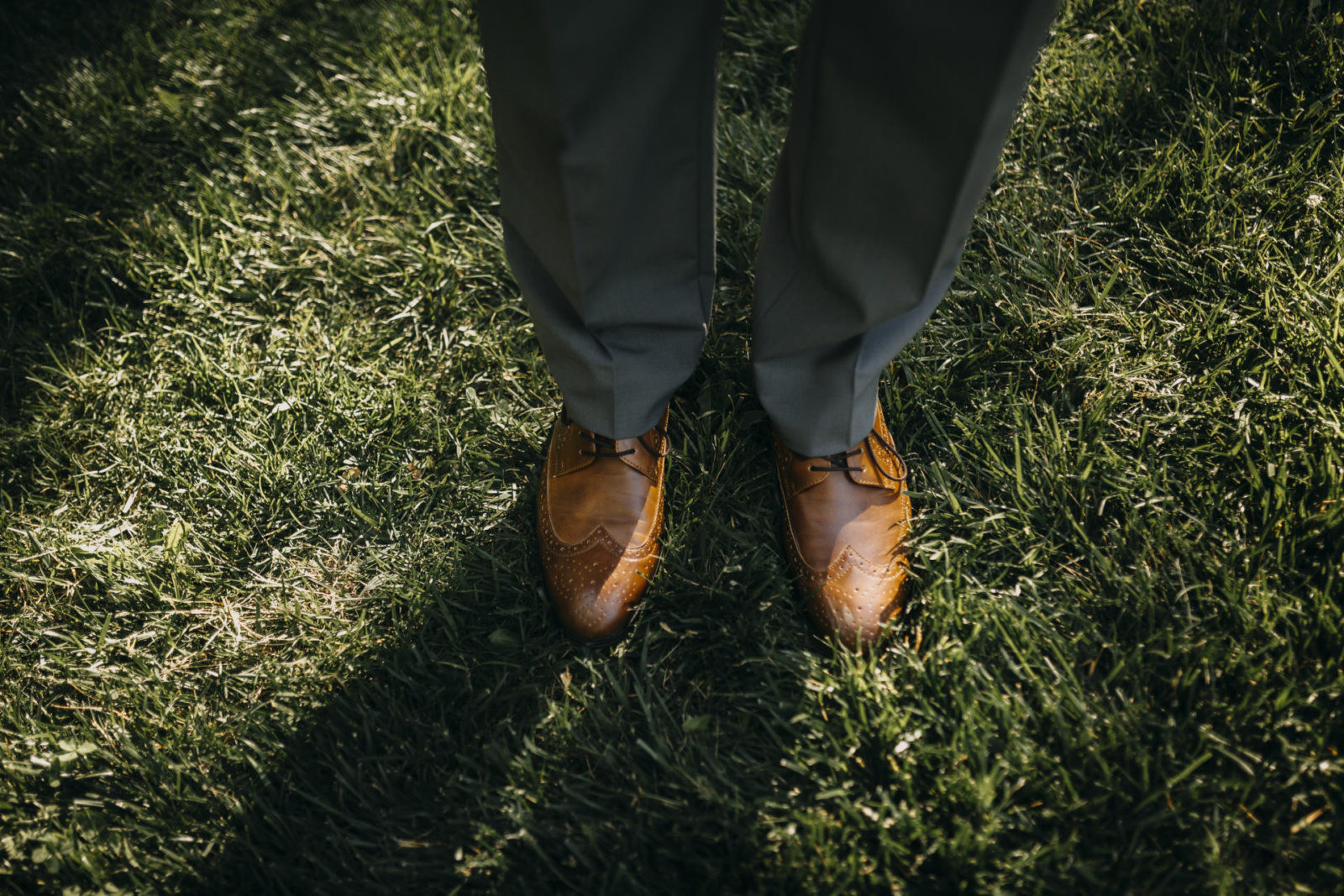 Getting boutonnieres from Kroger is such a great way to save some money and they were beautiful!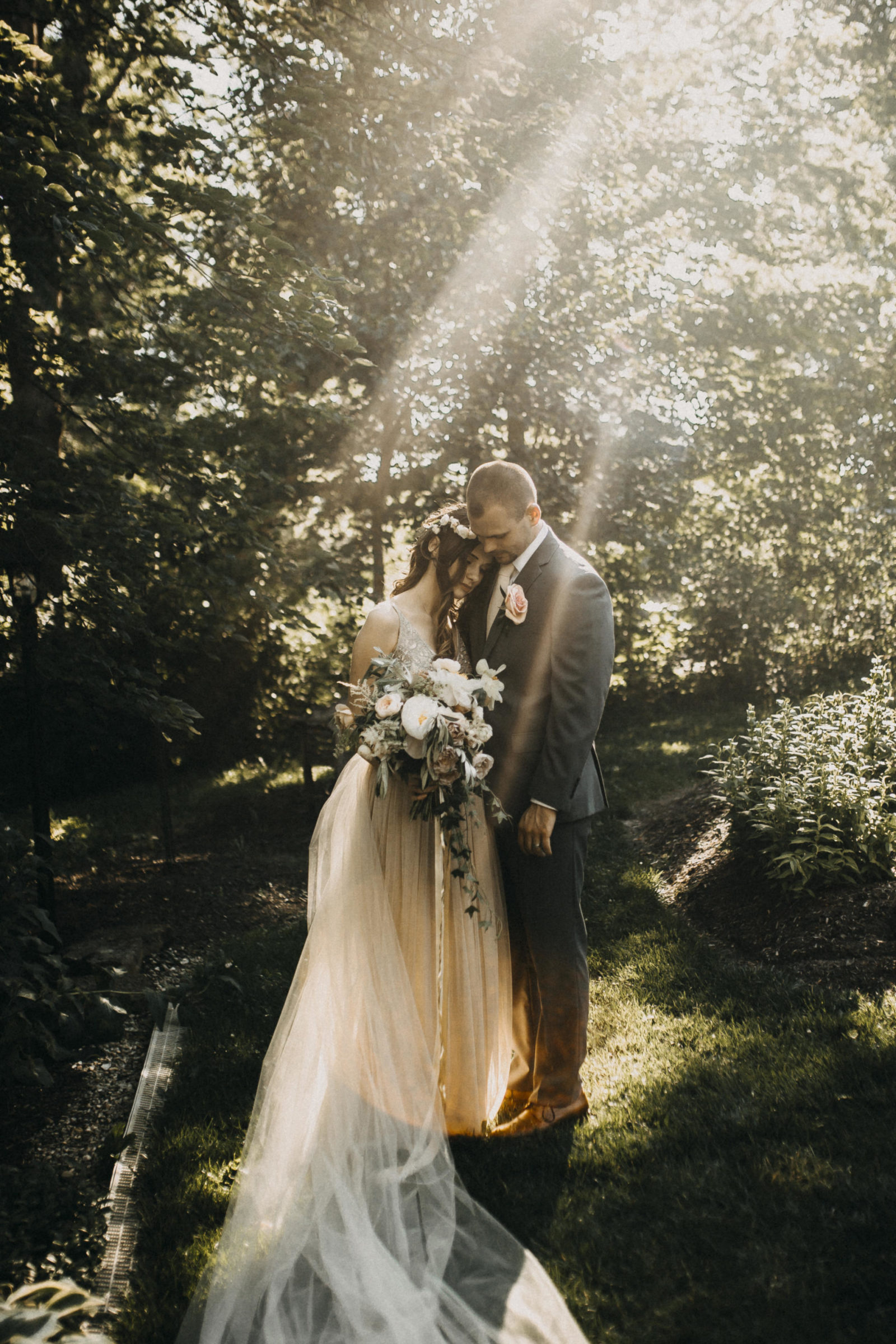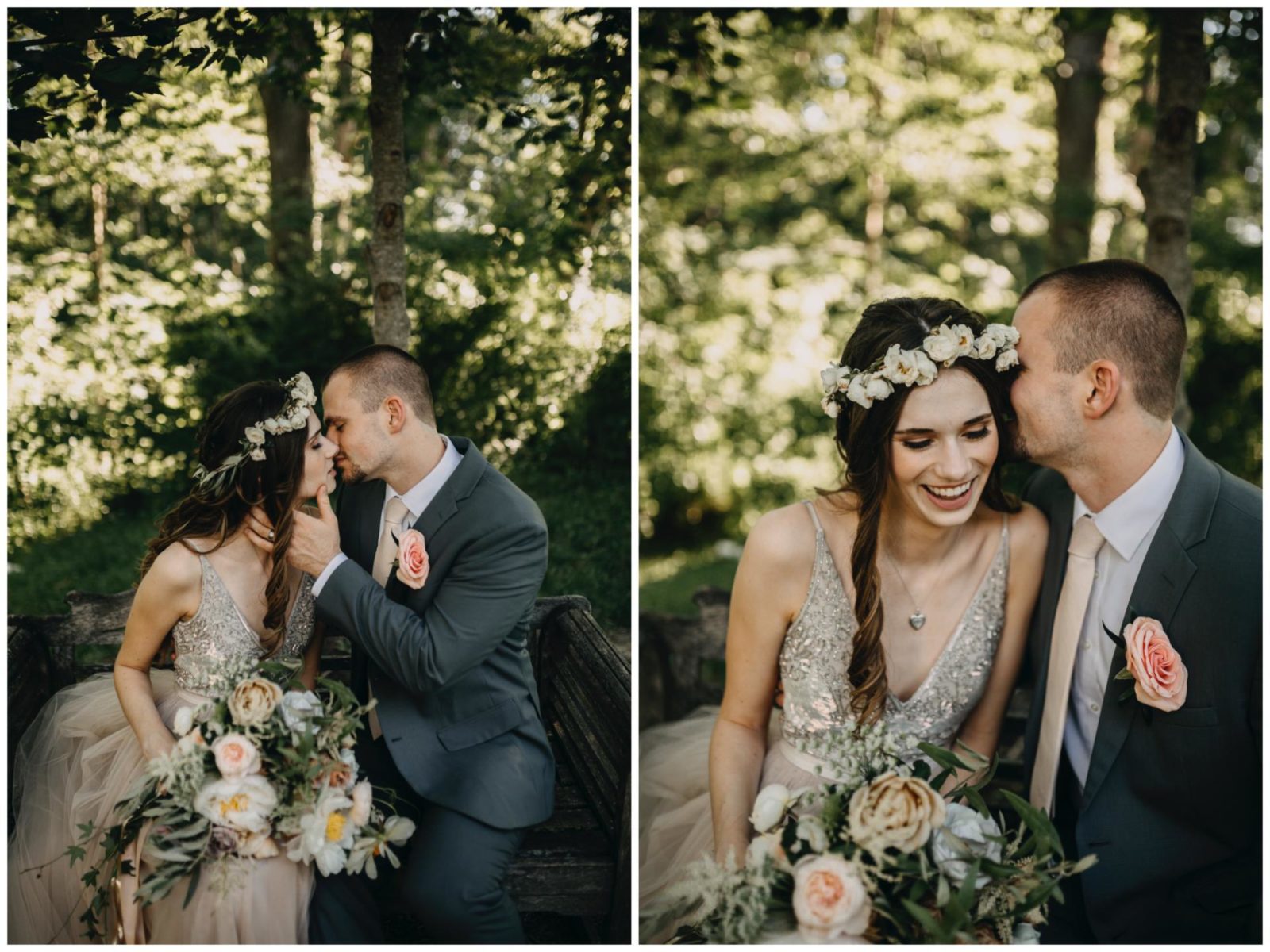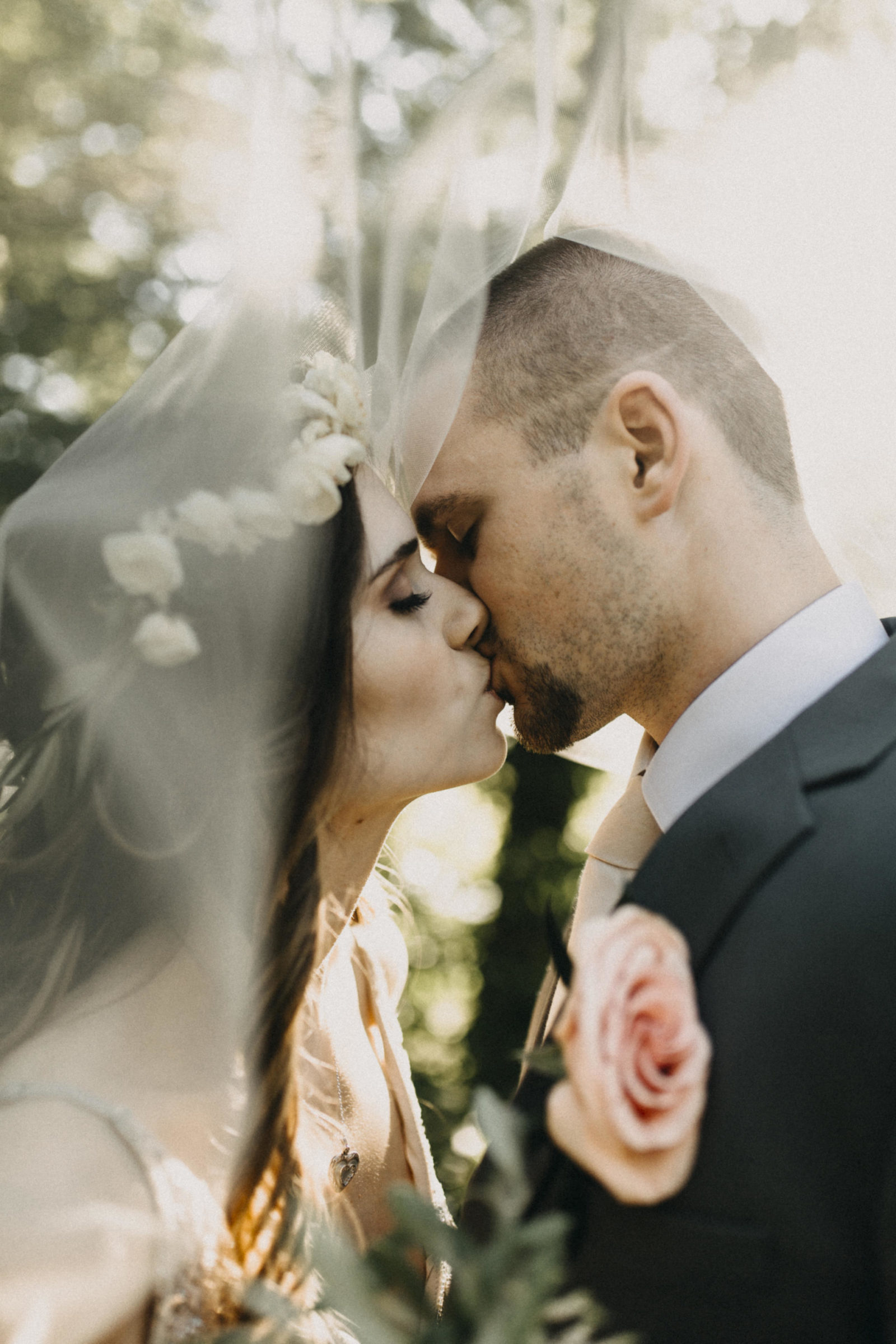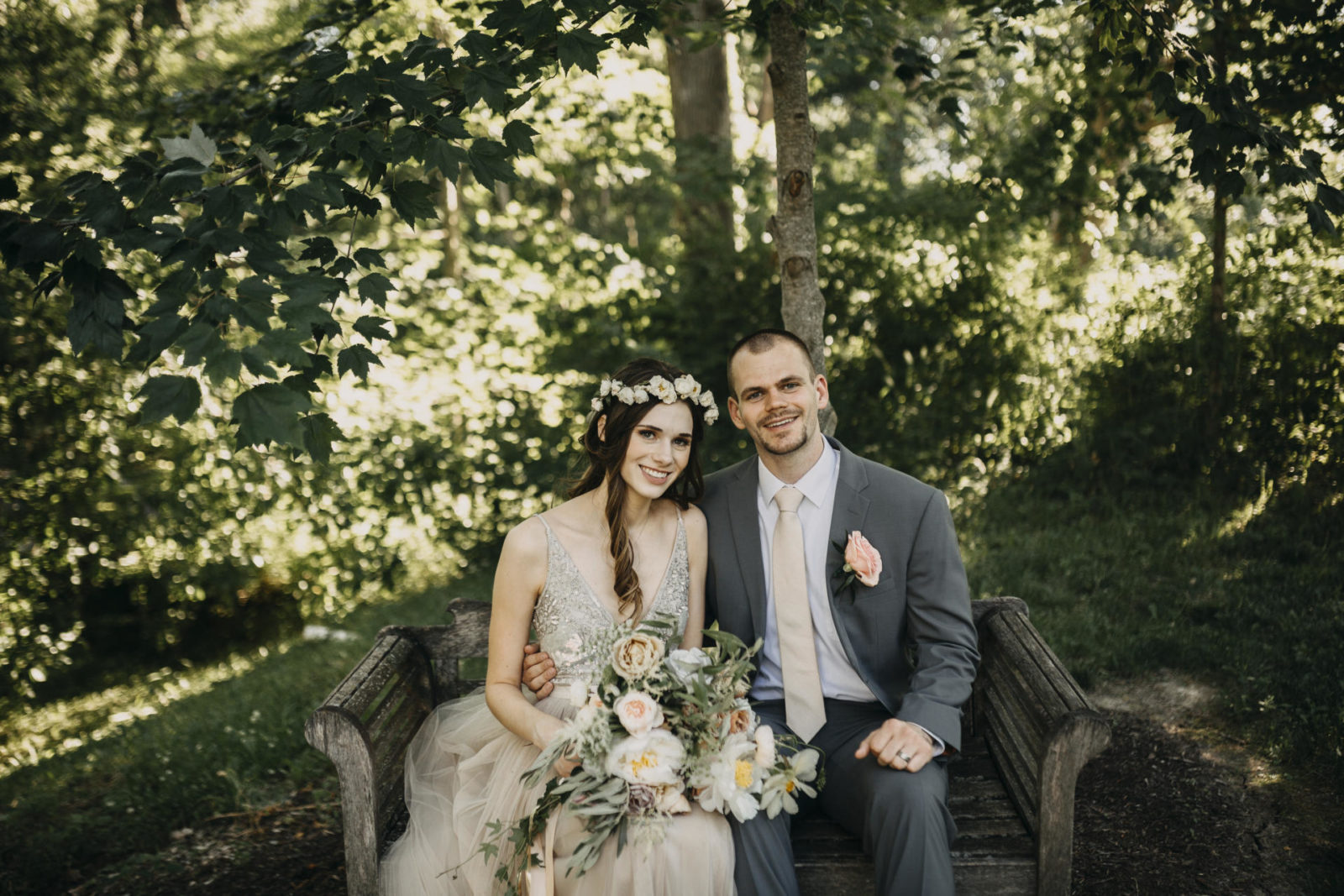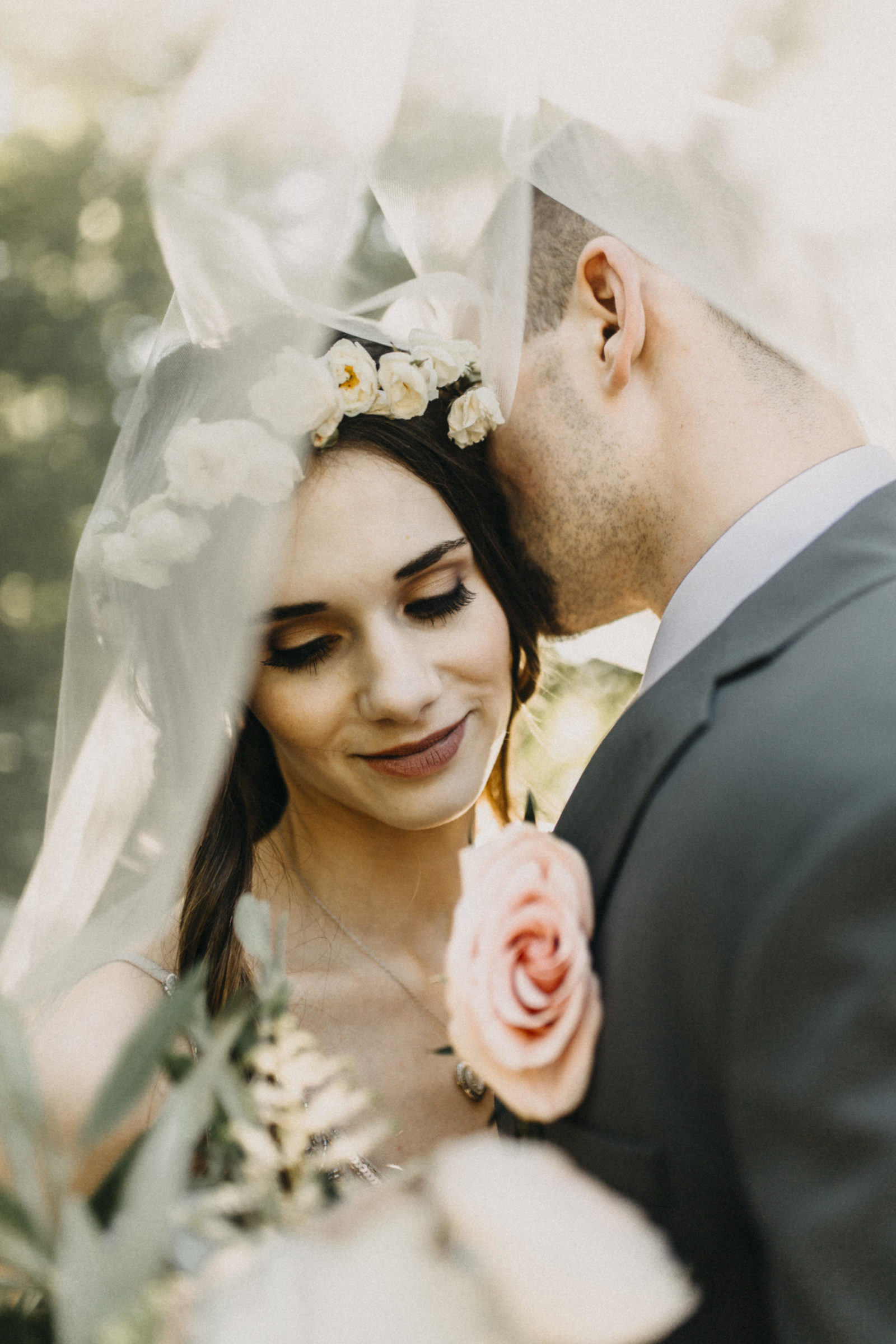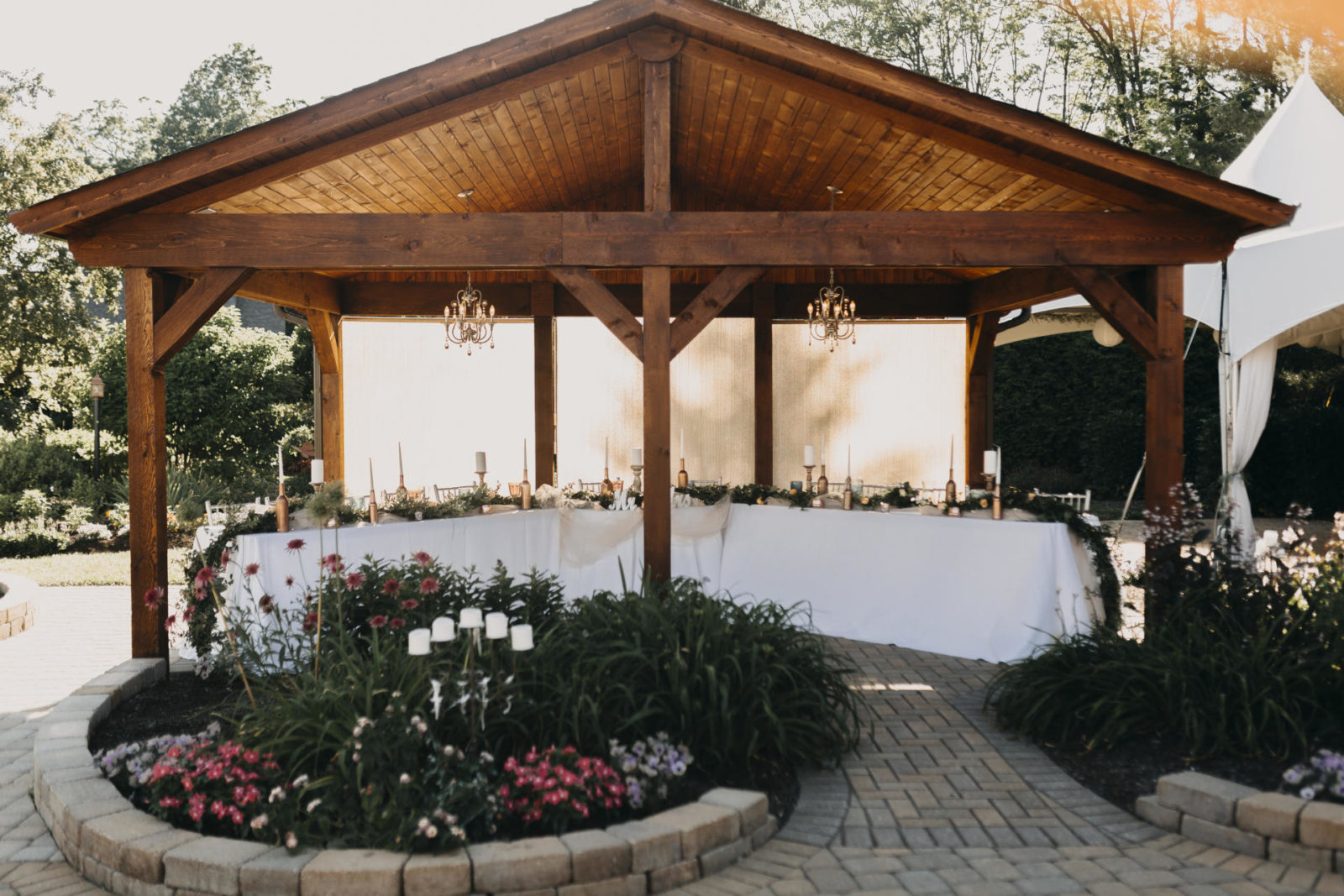 I thought out every detail of this table and it turned out perfect.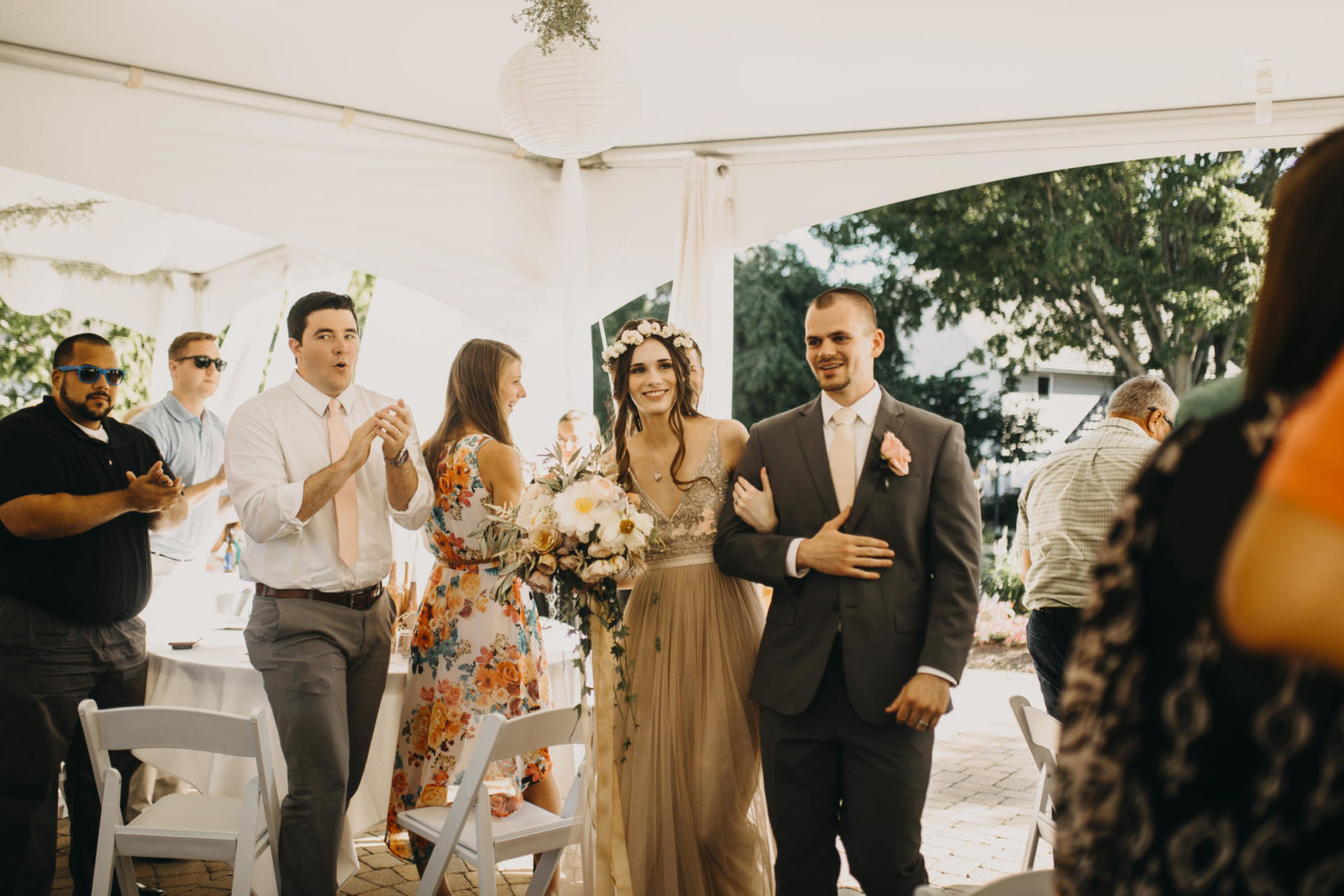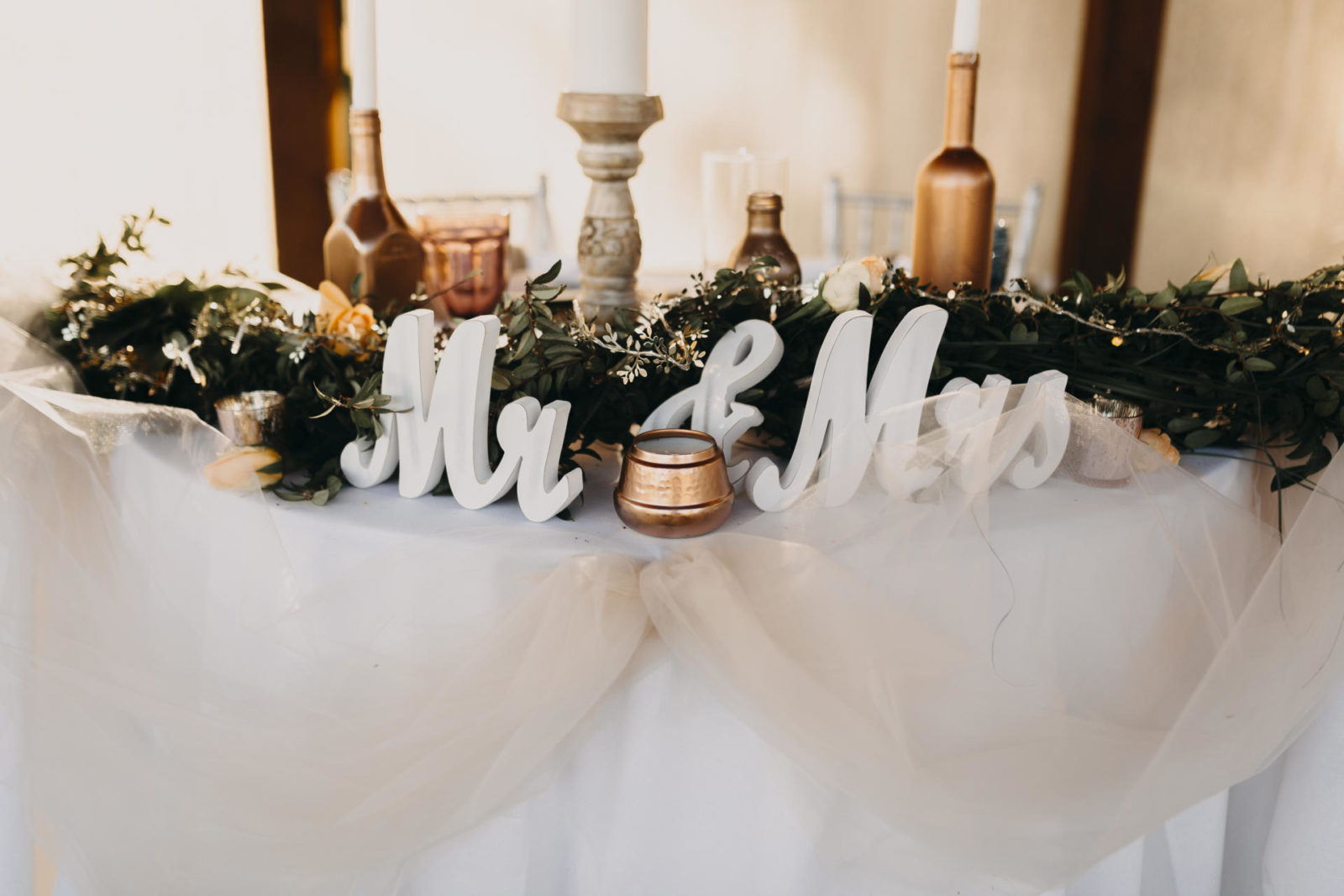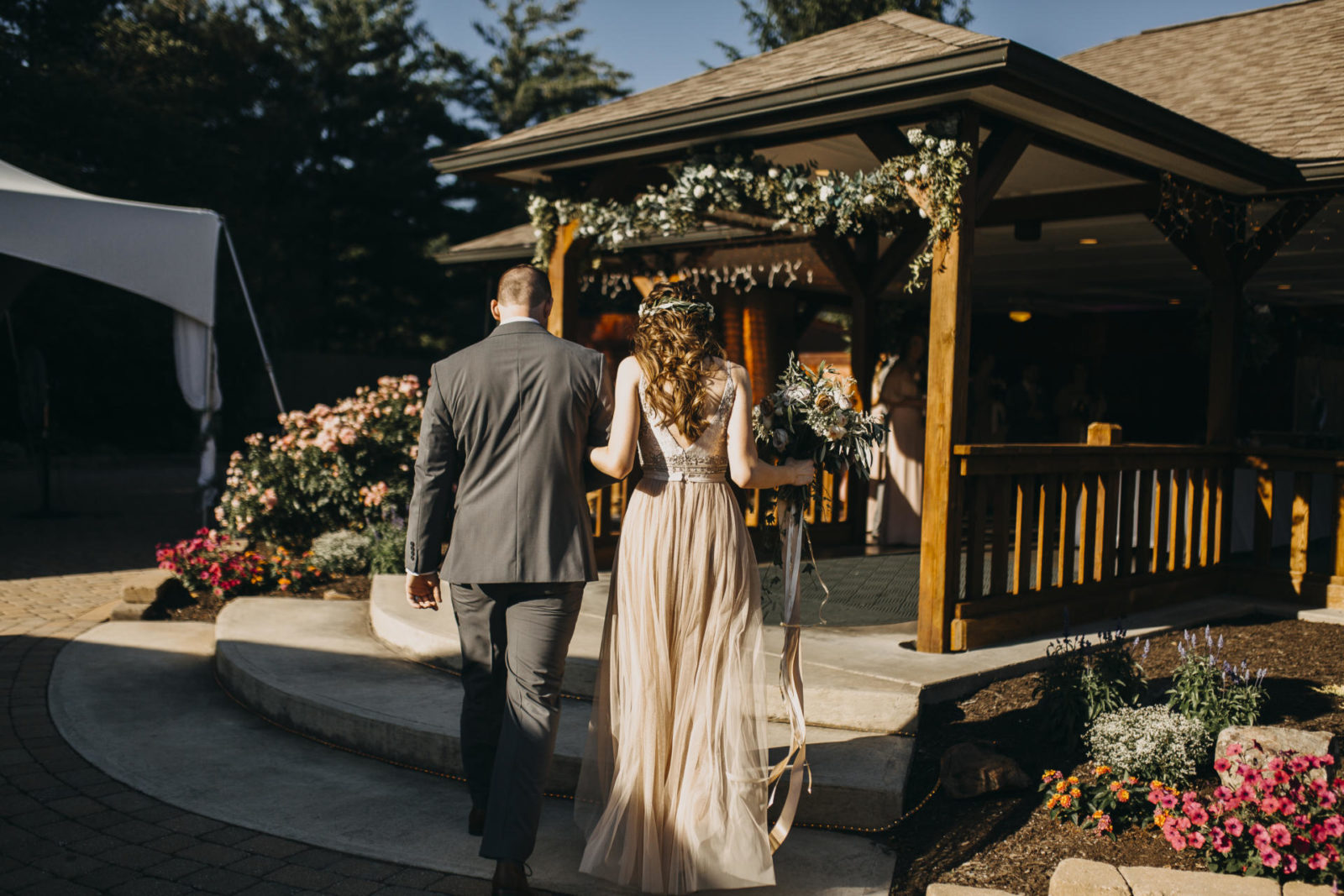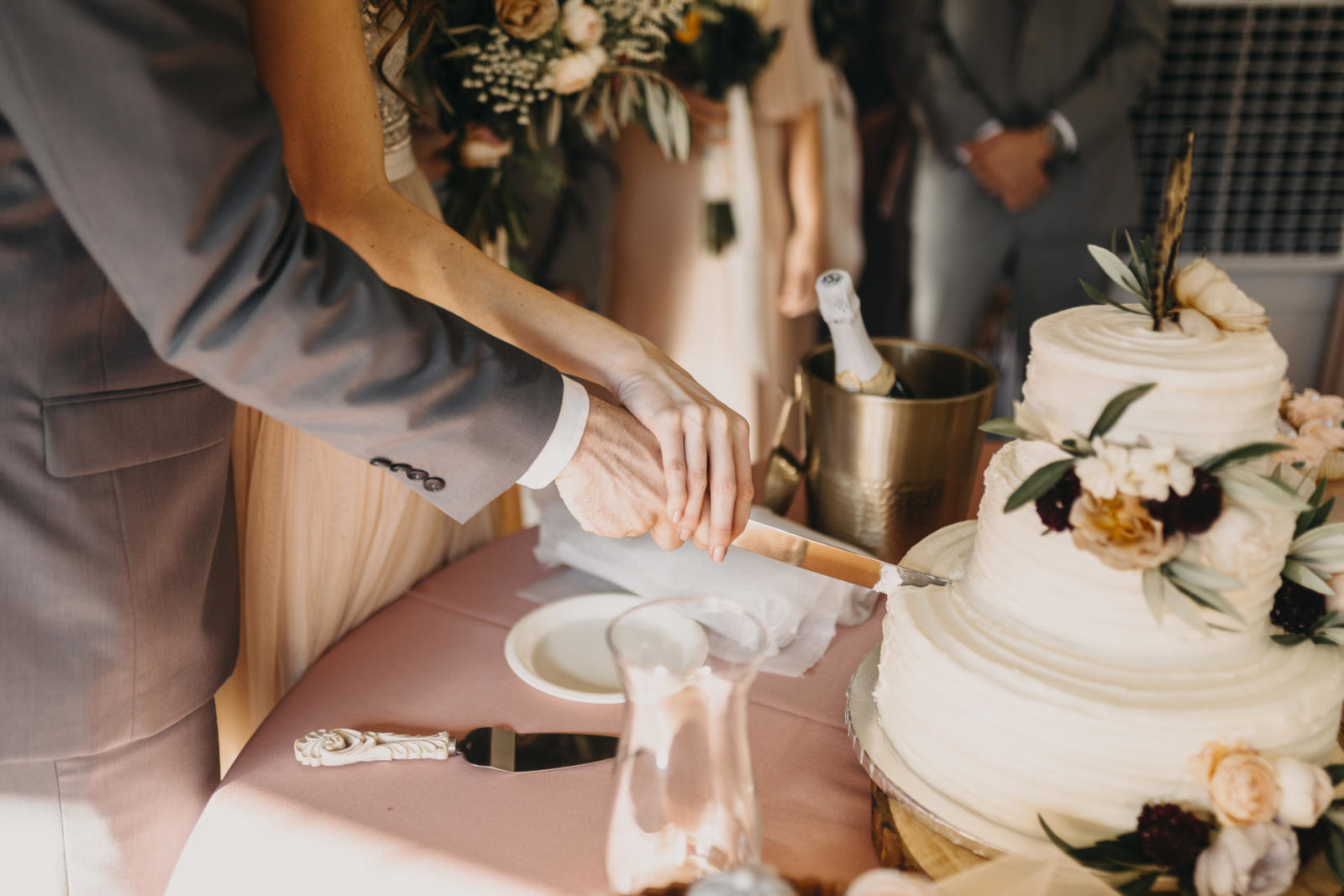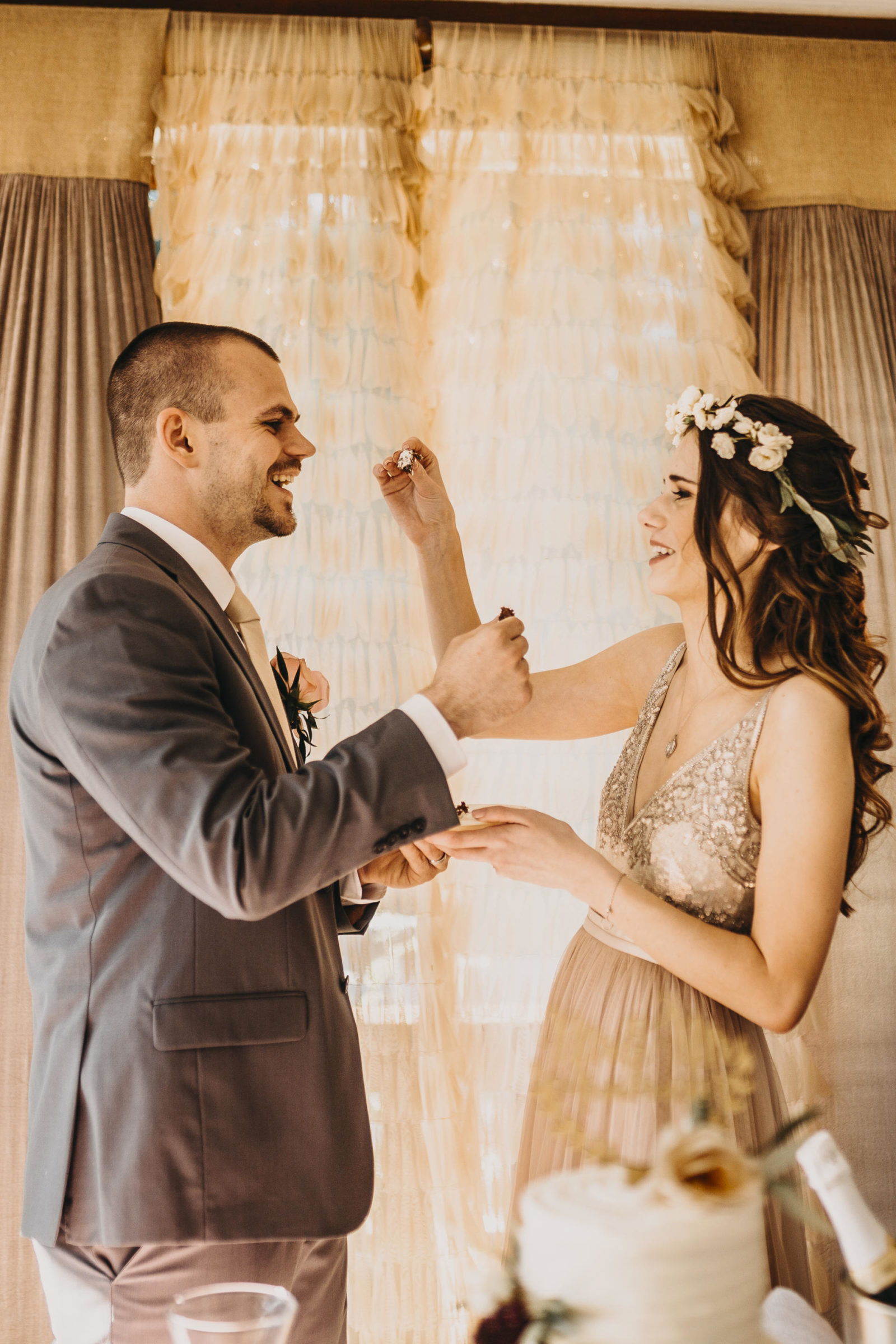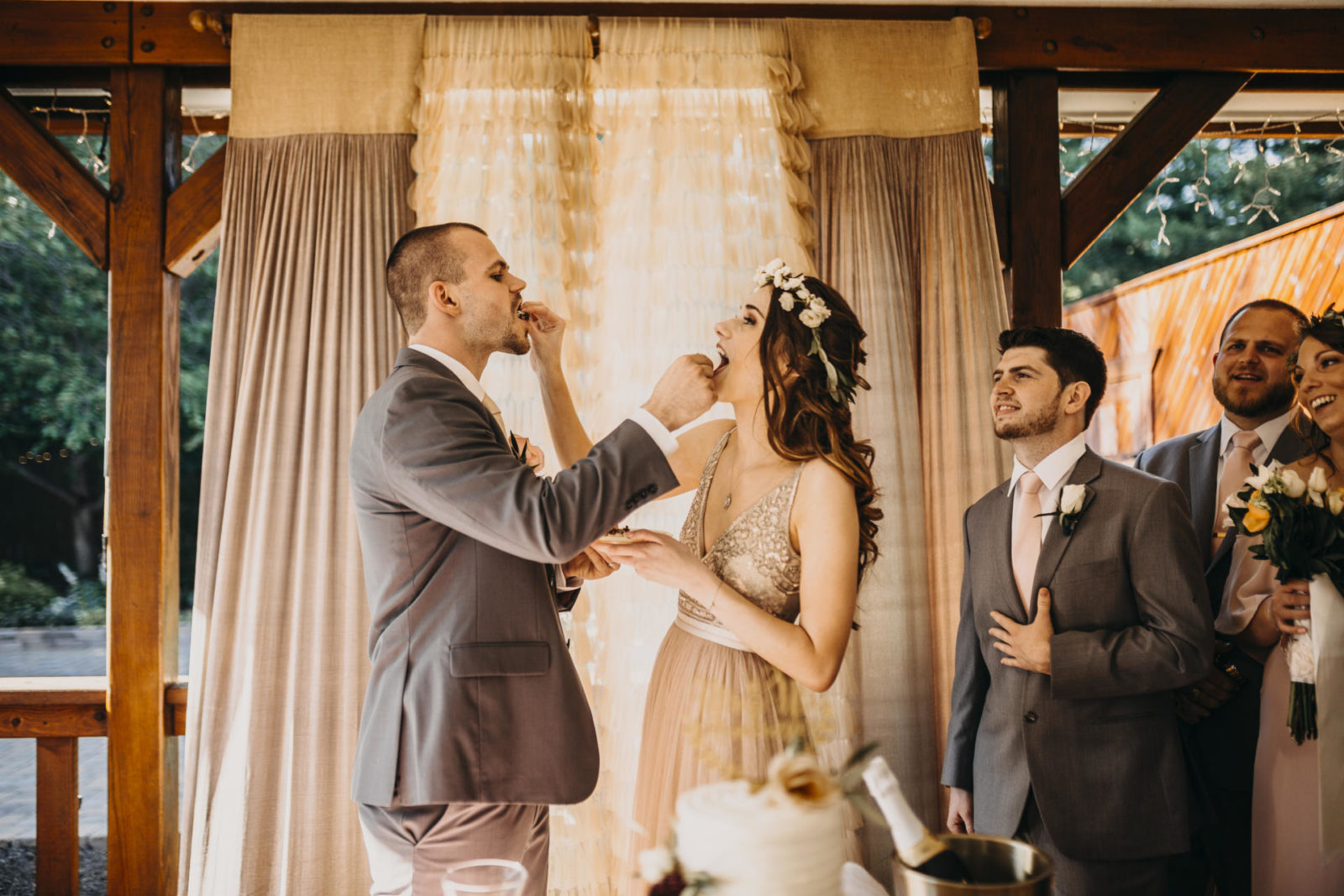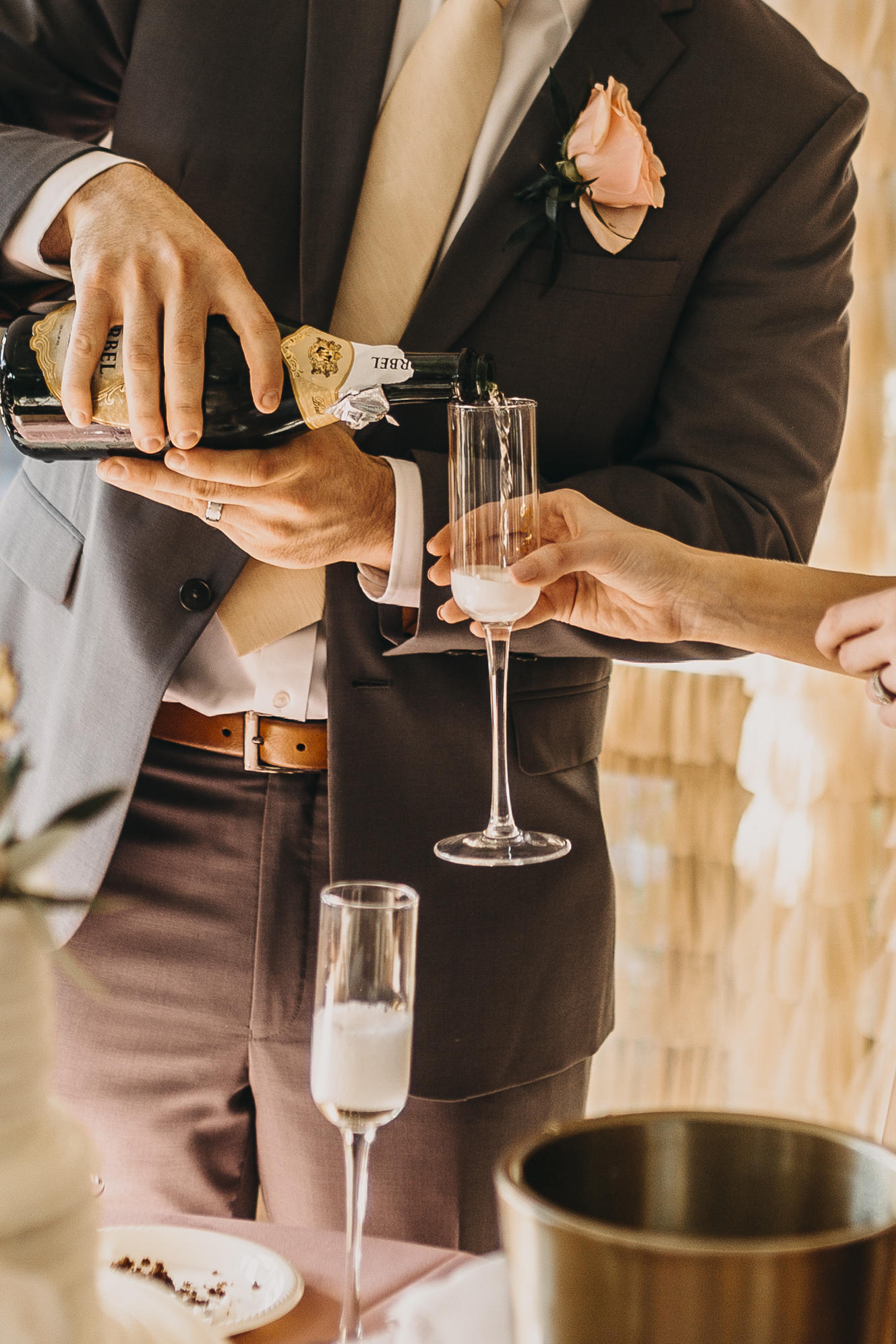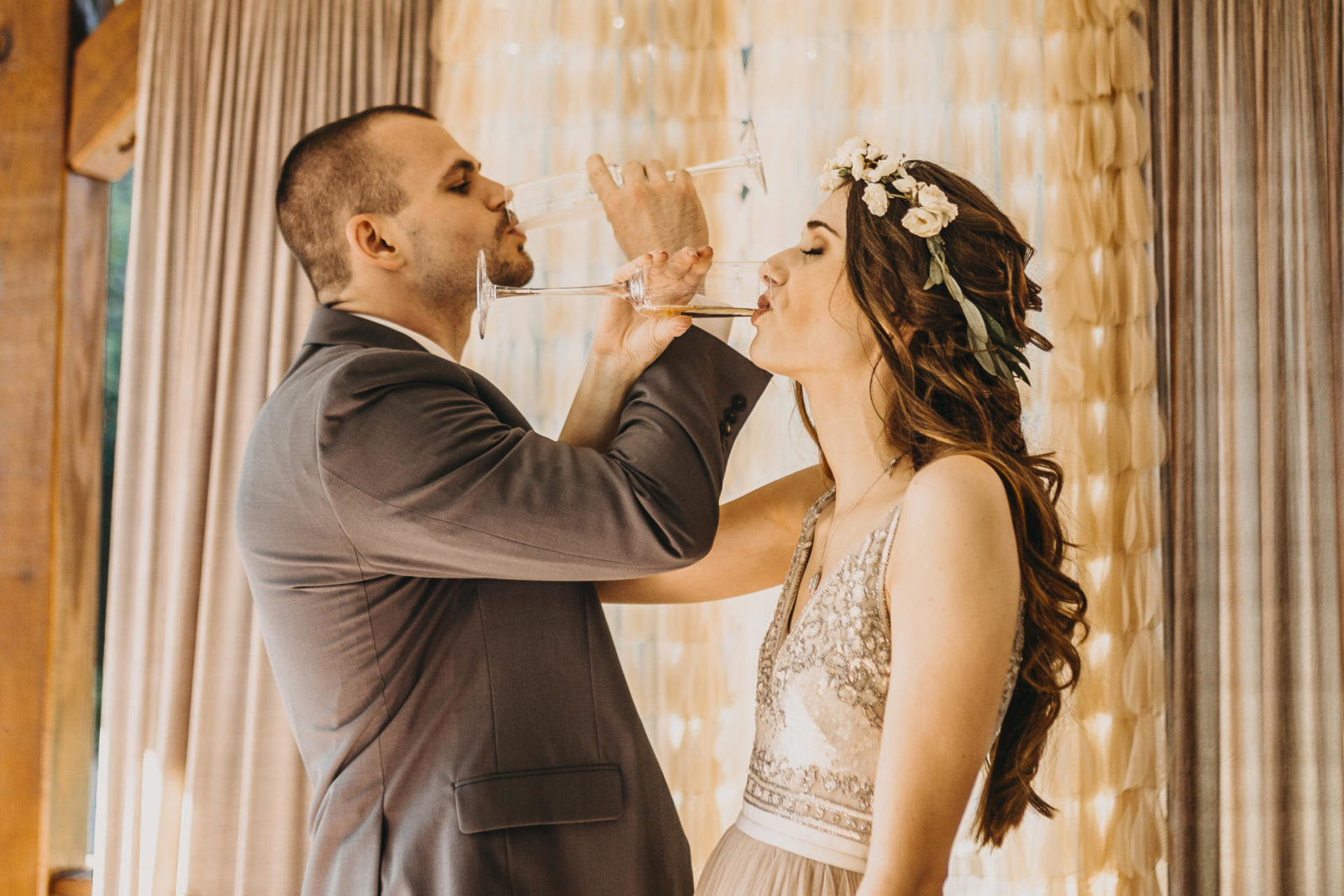 I hate champagne — can you tell?!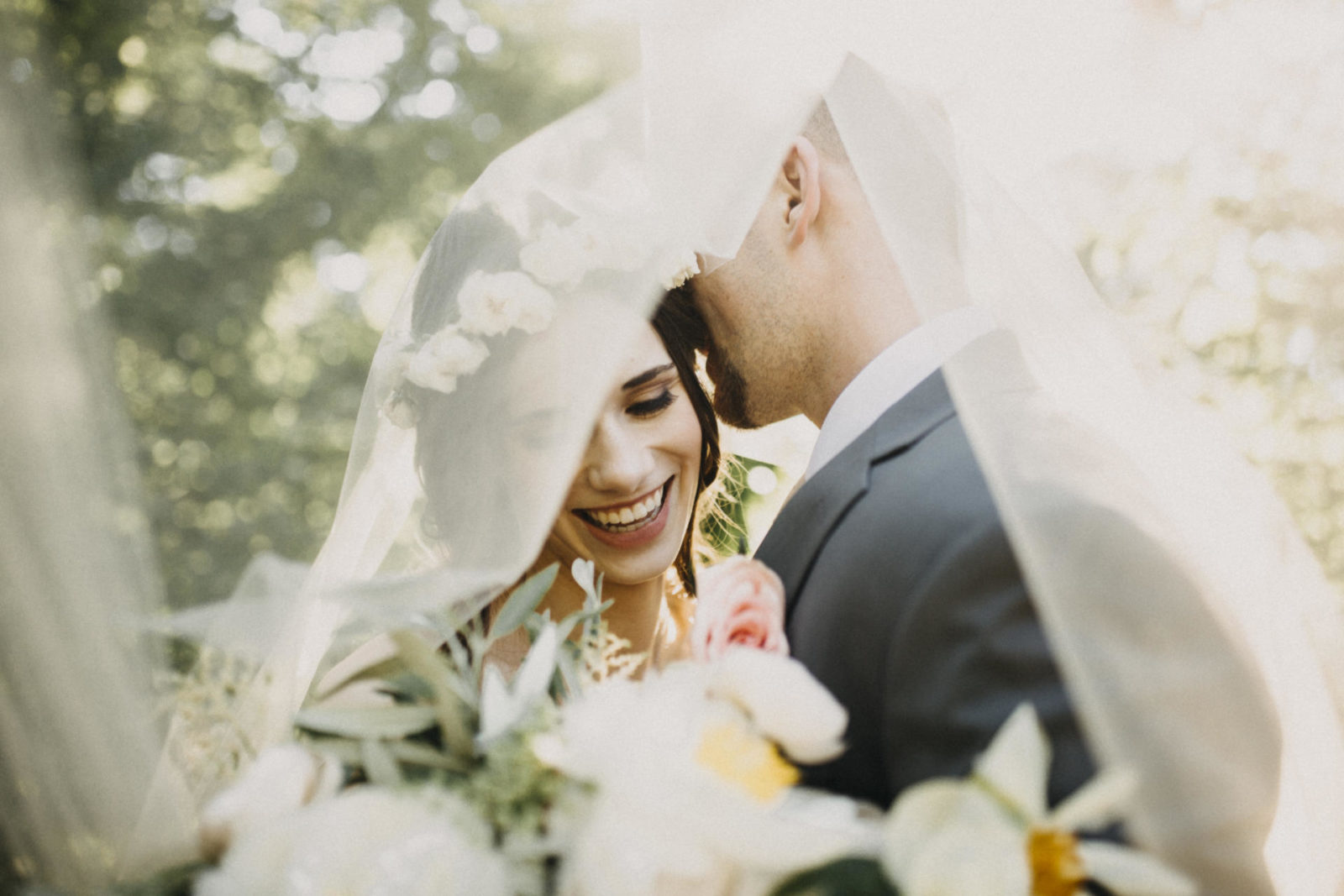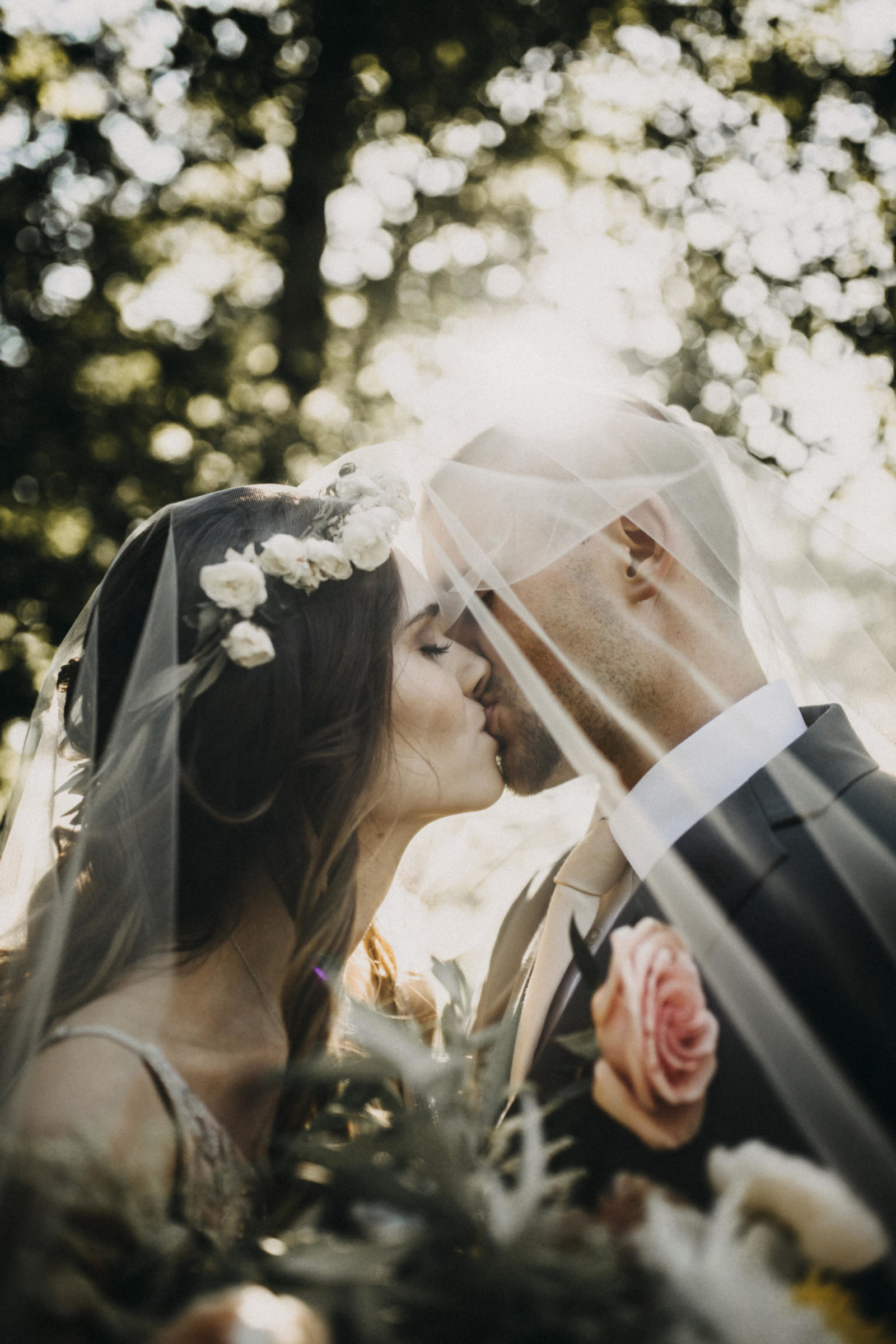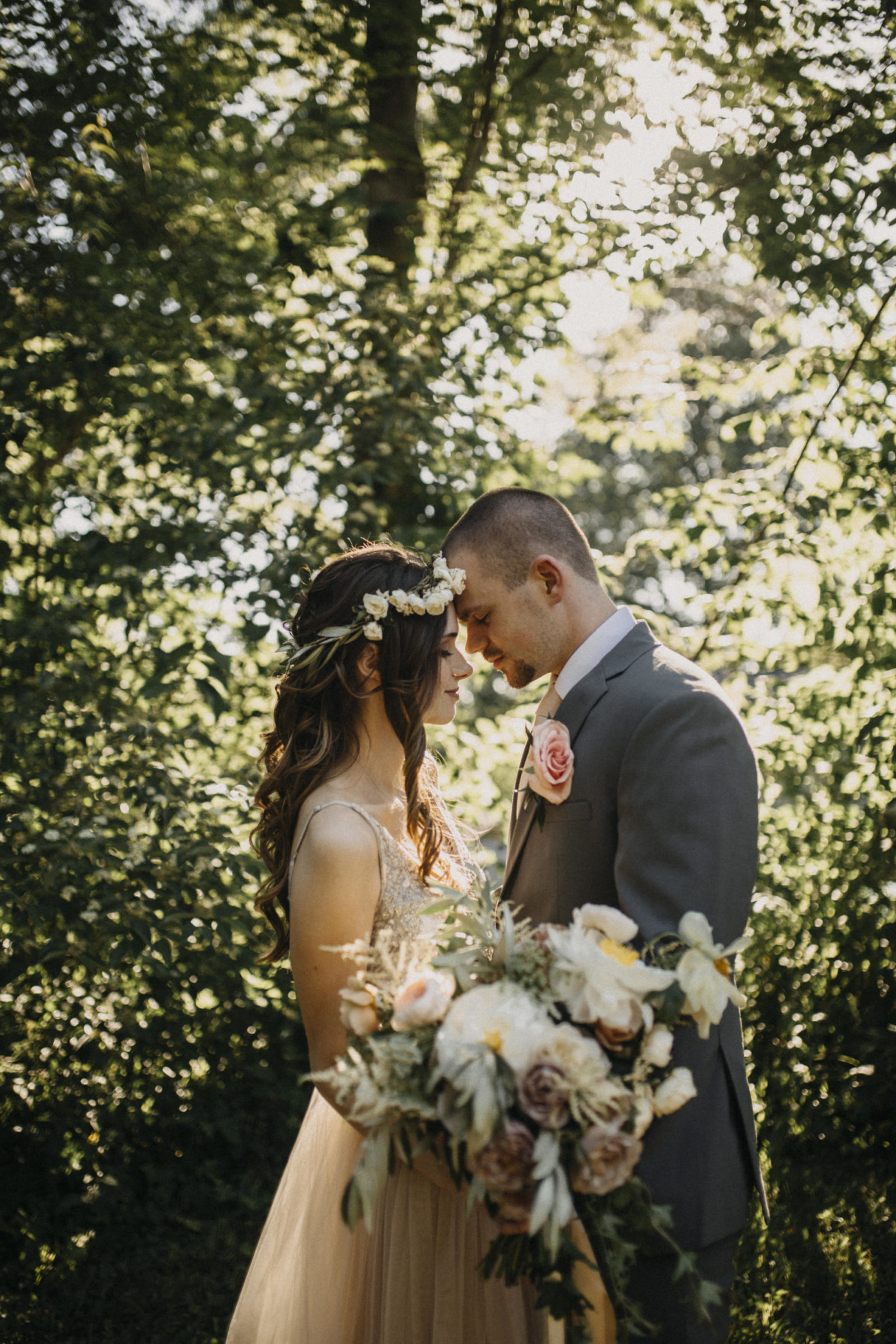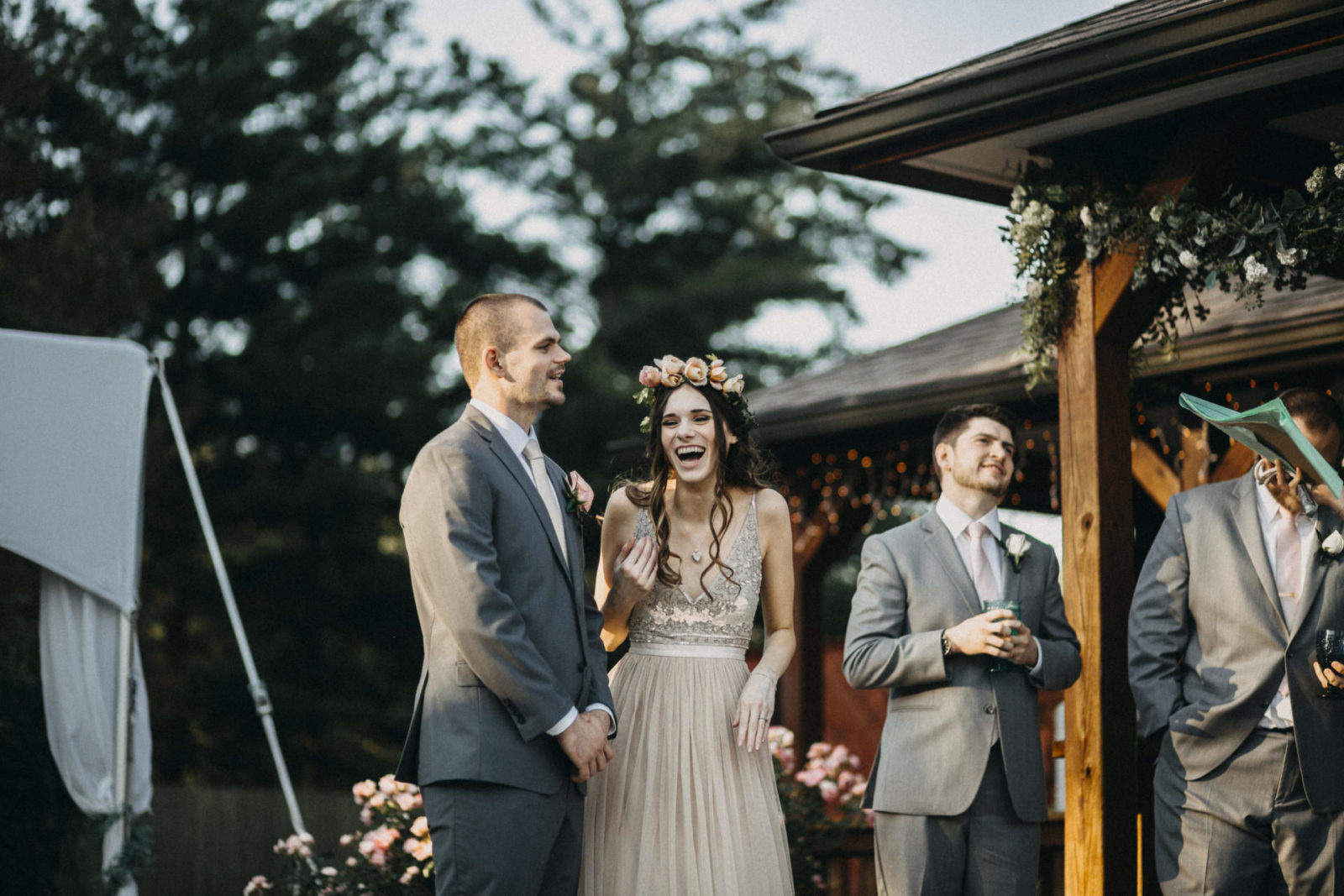 Flower crown #2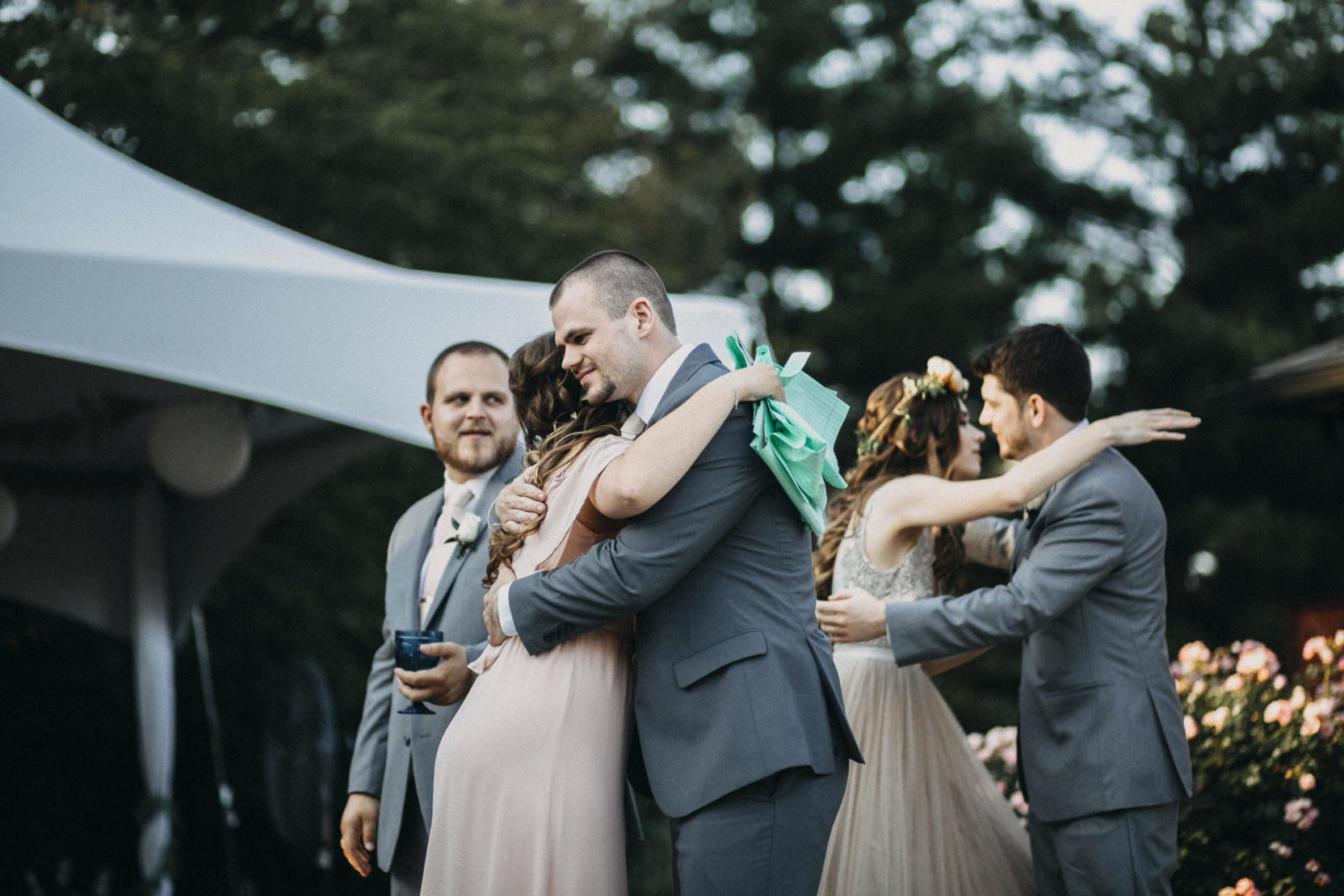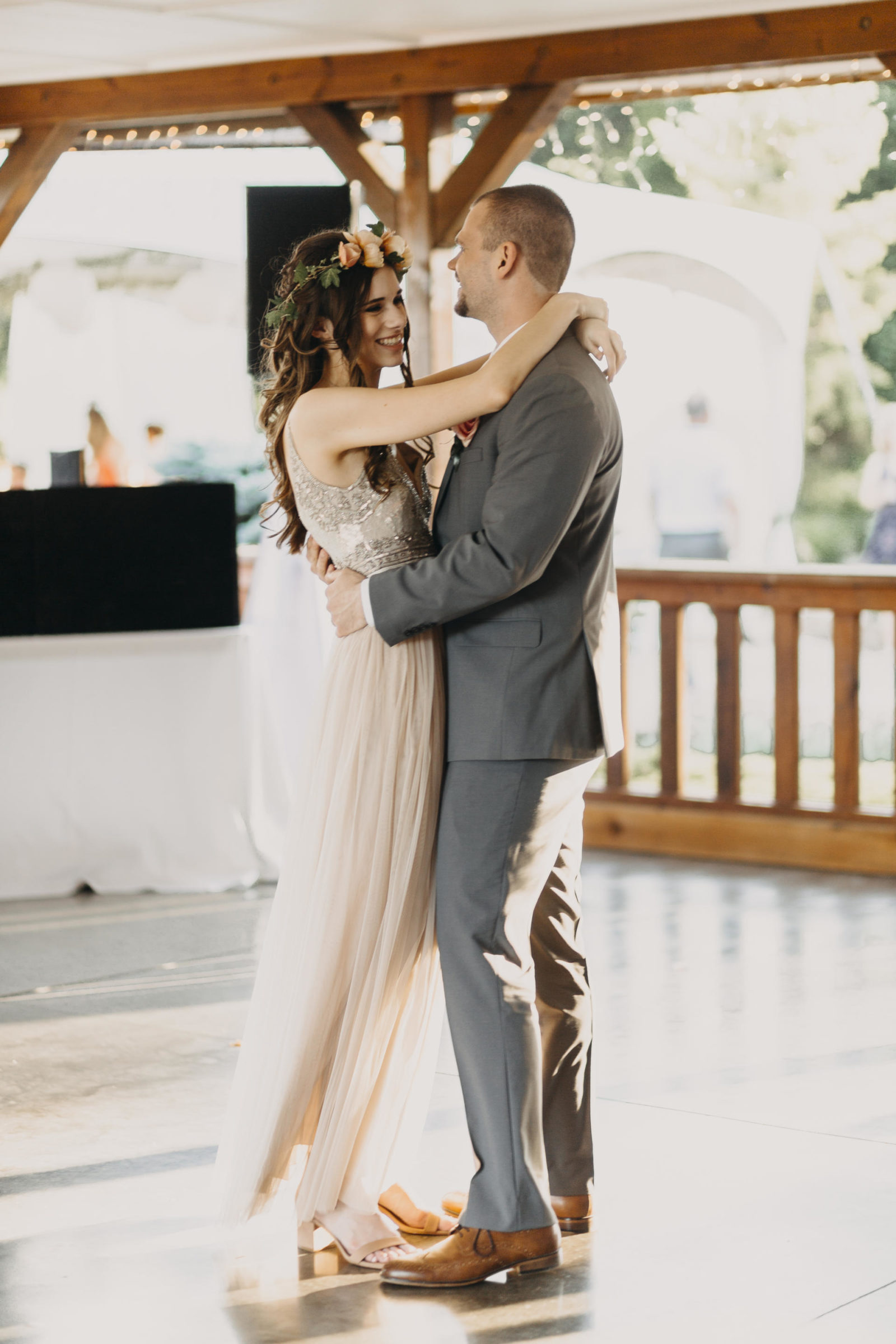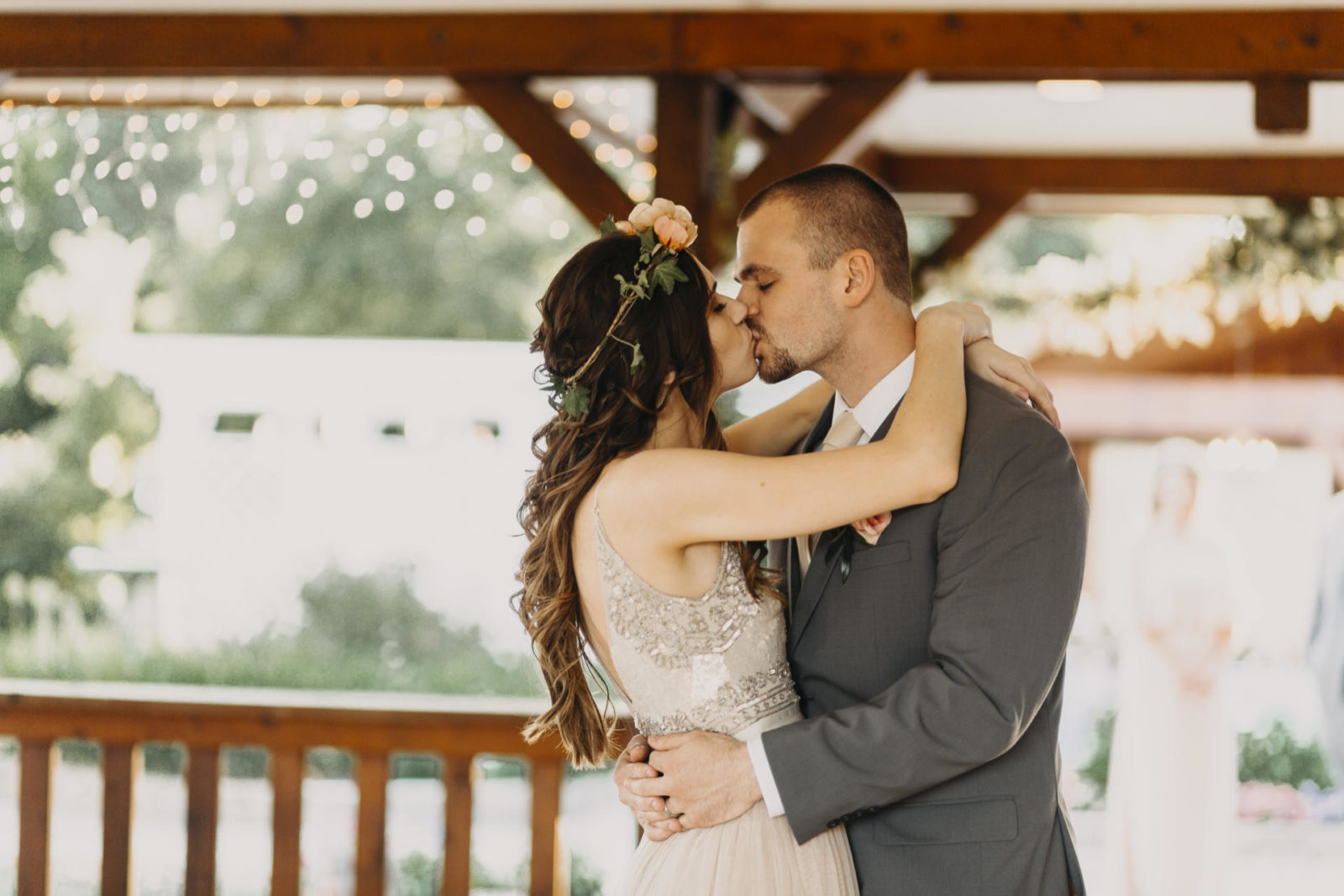 Our first dance was to "Higher Love" by James Vincent McMorrow.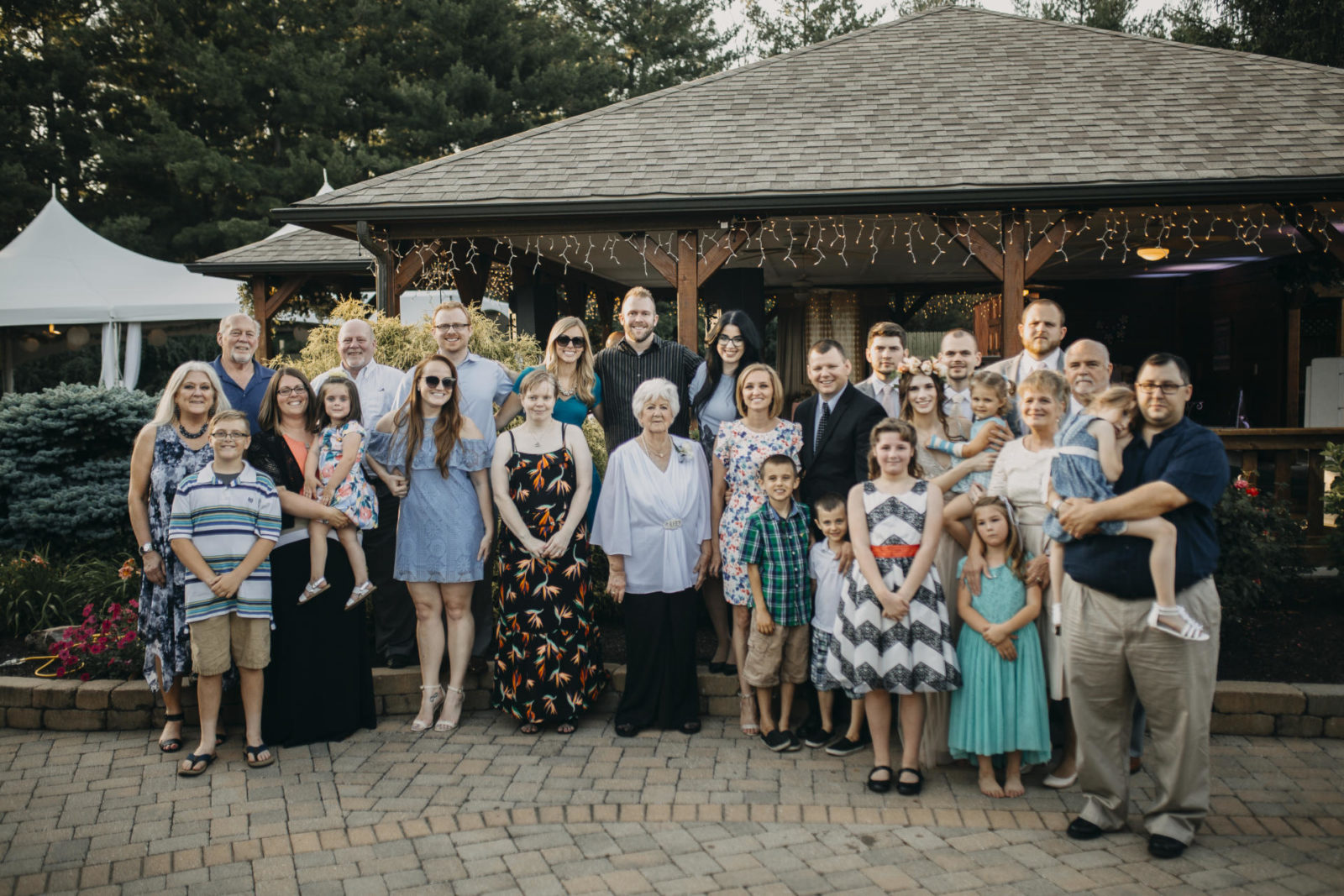 Justin's side of the family


My side of the family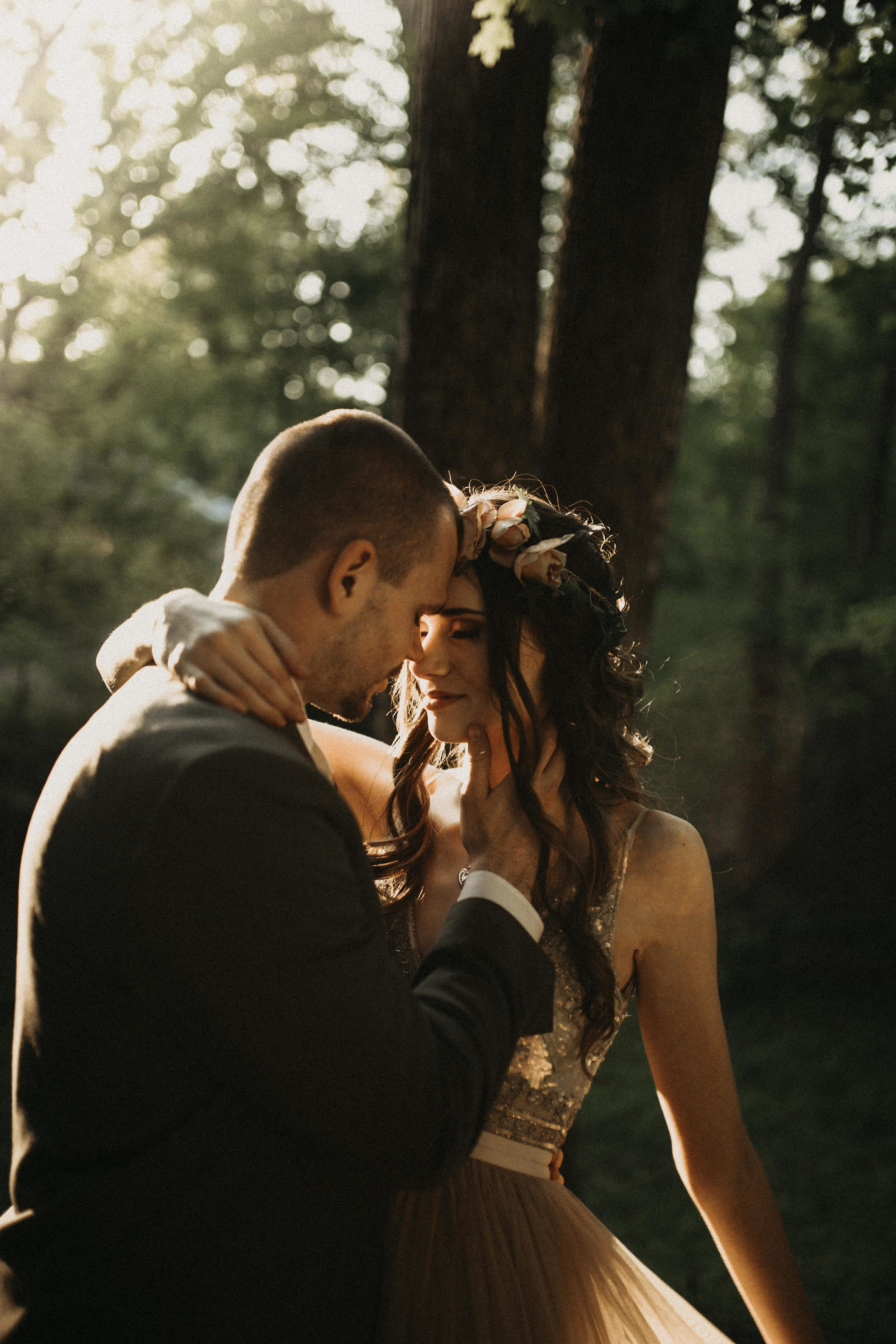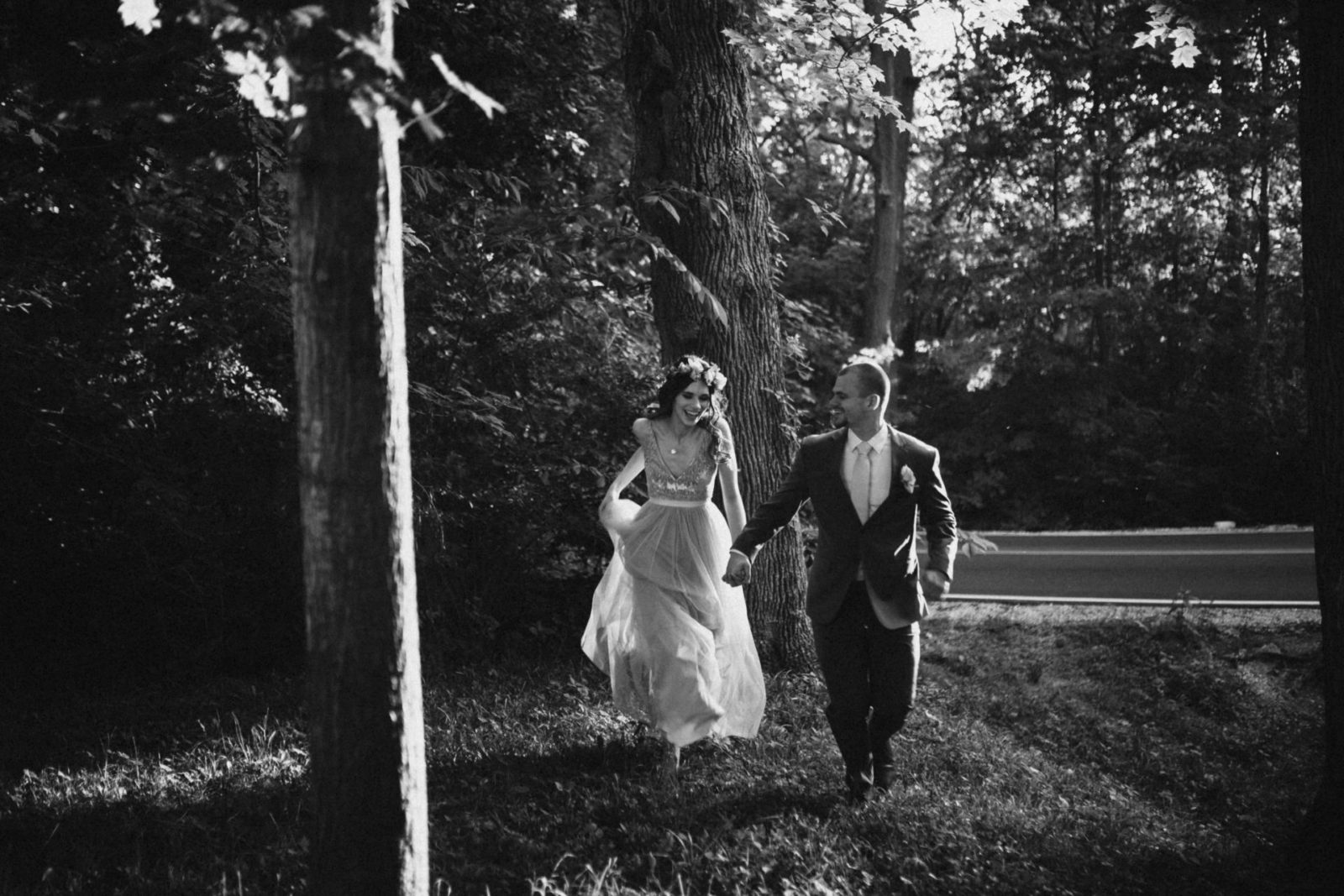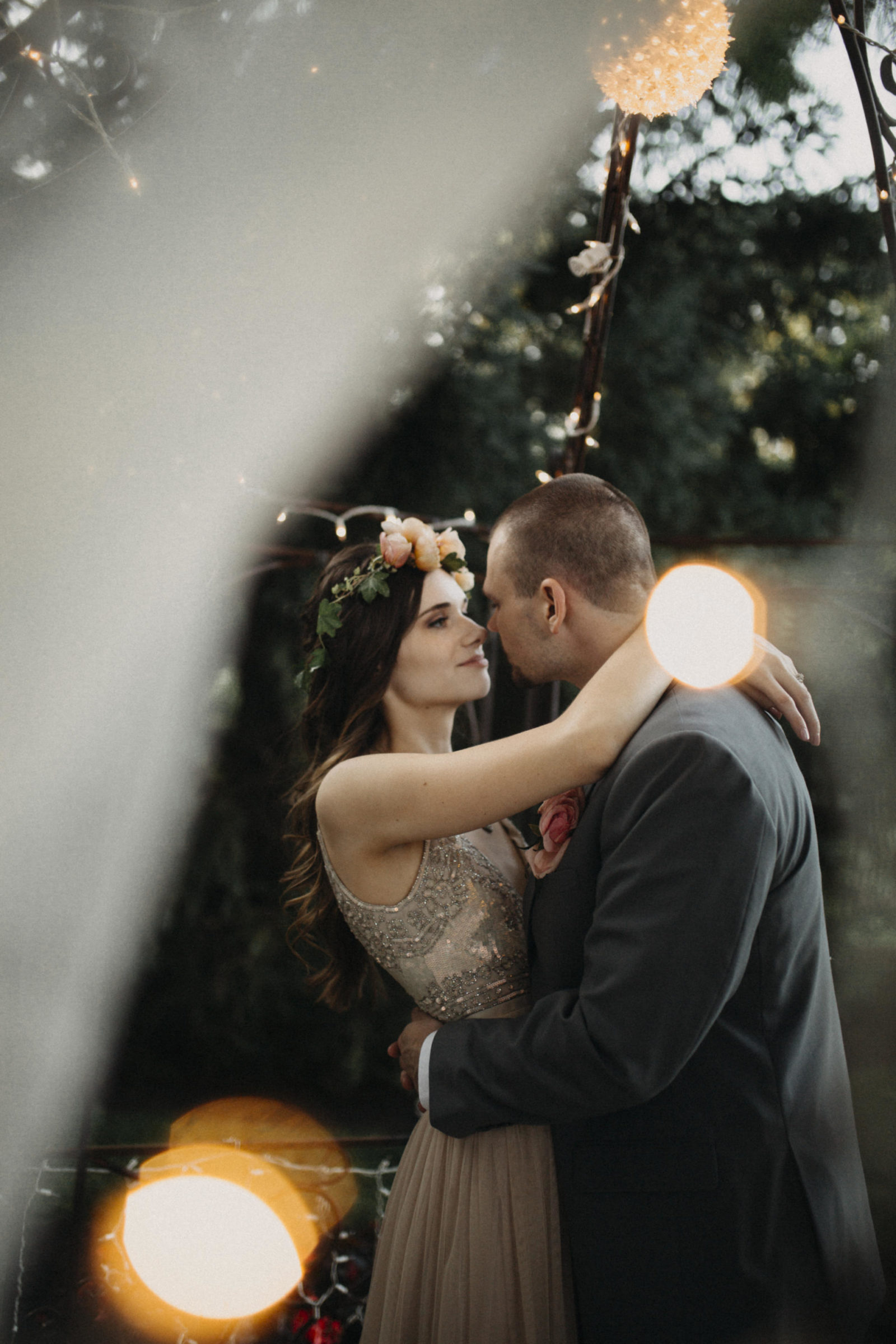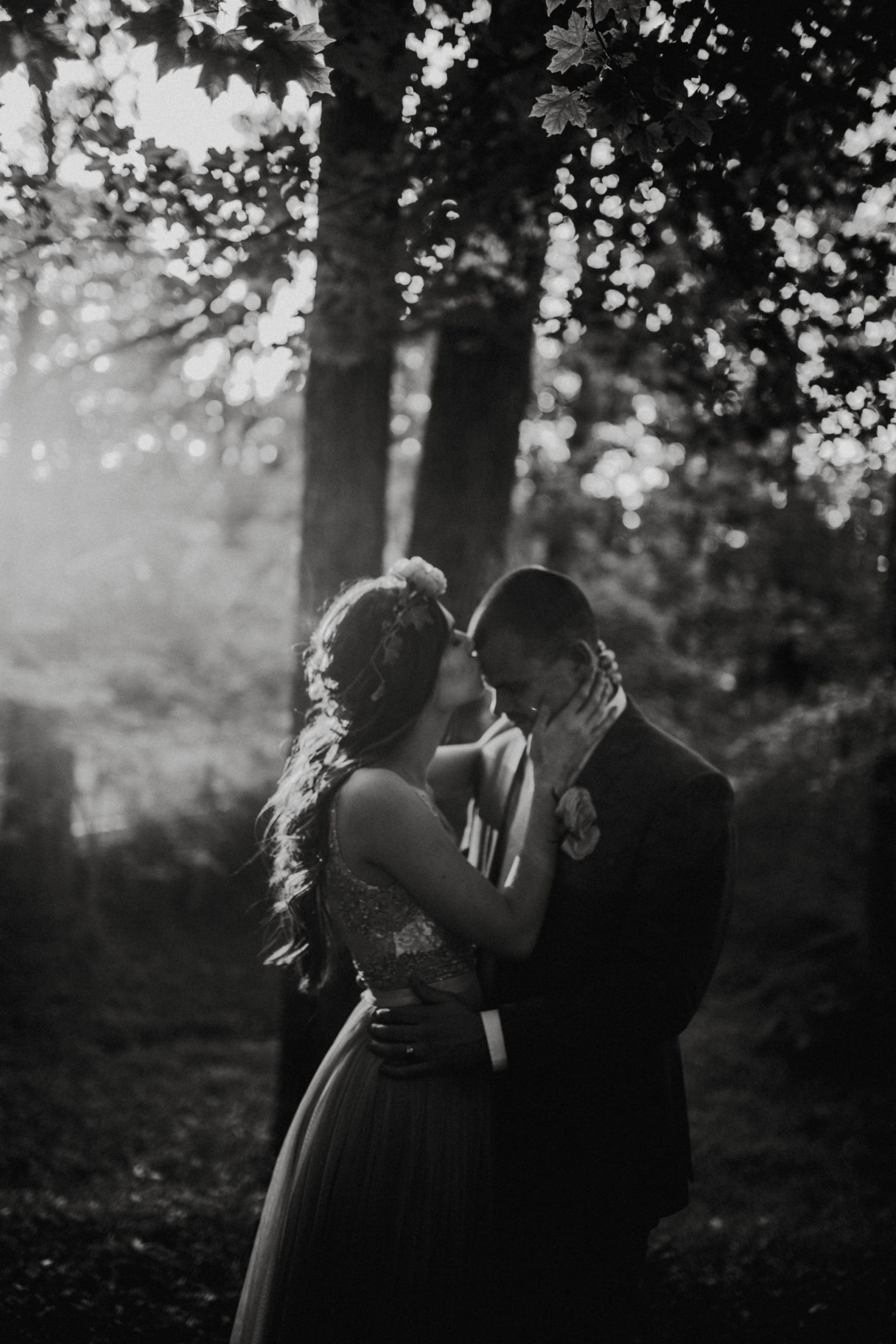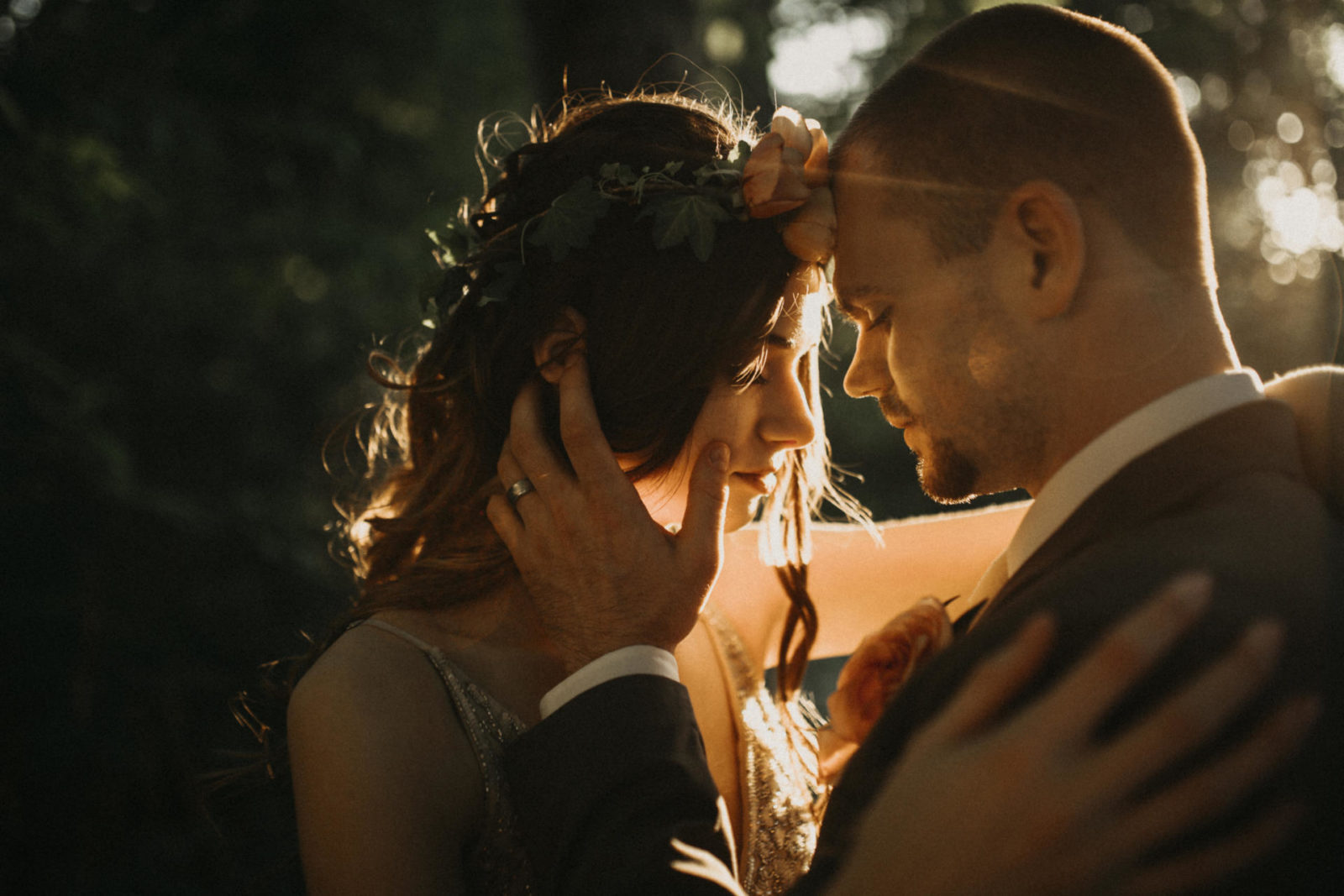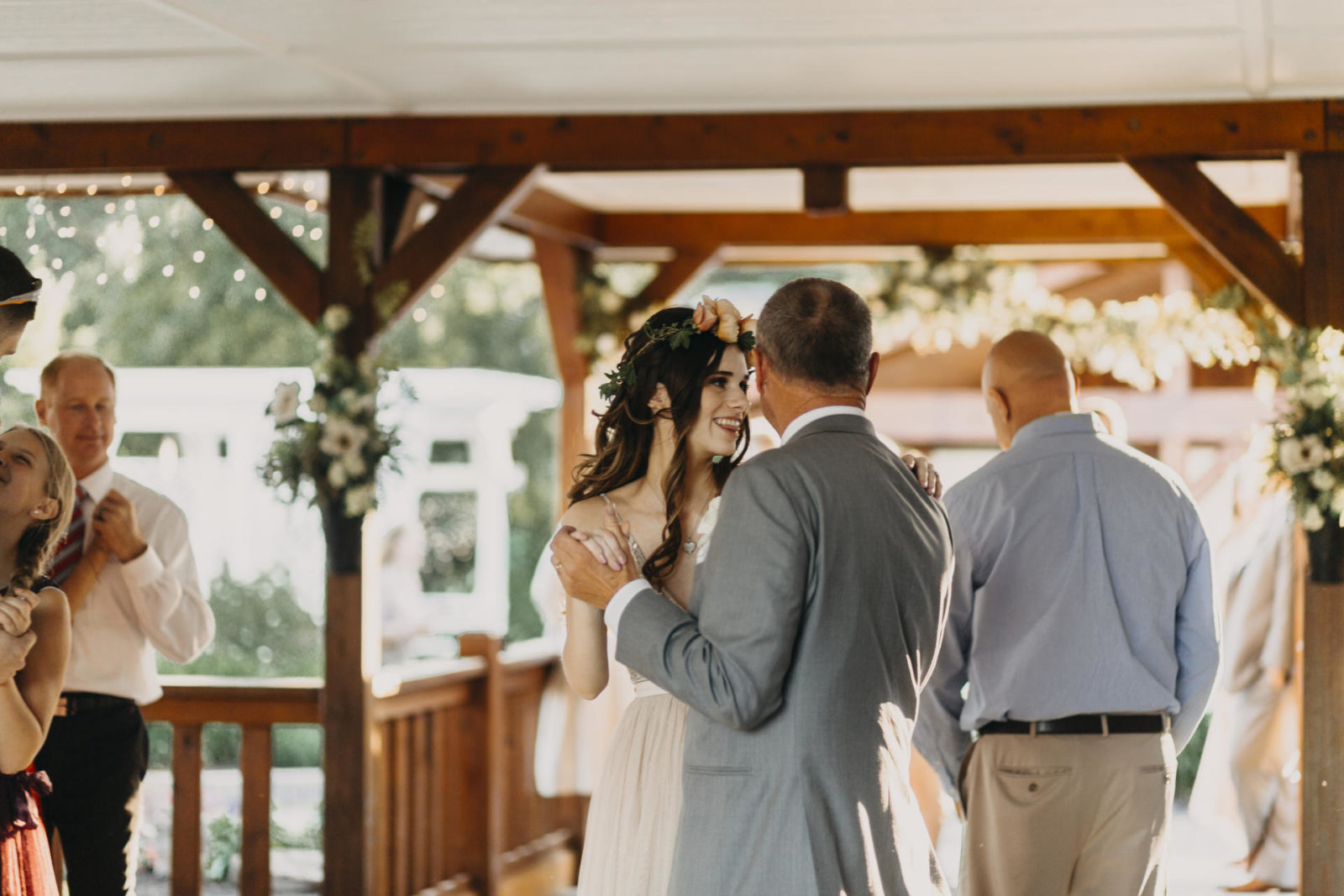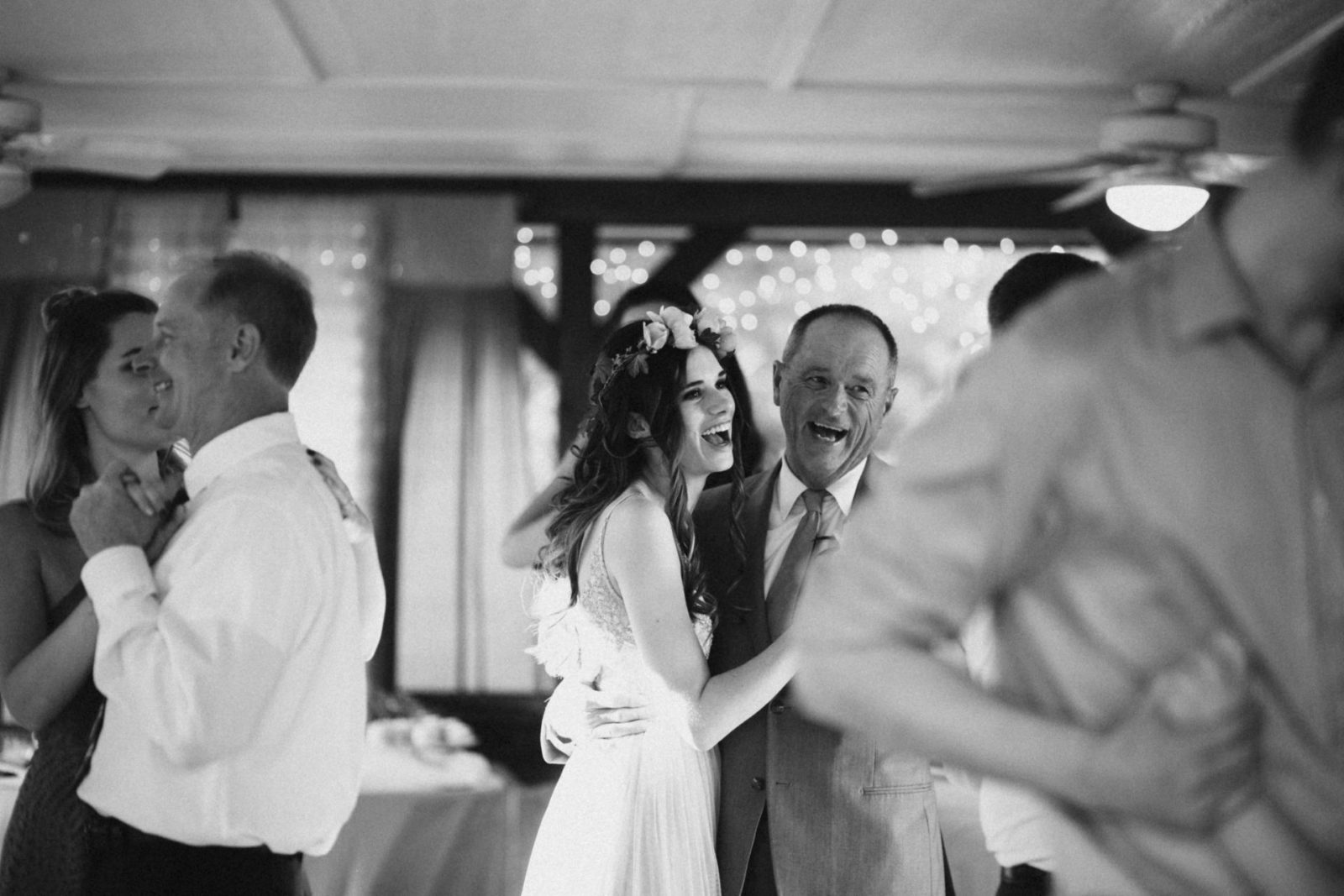 We invited the rest of the fathers and daughters to join us during the father/daughter dance — it was my dad's idea and I loved it! So special.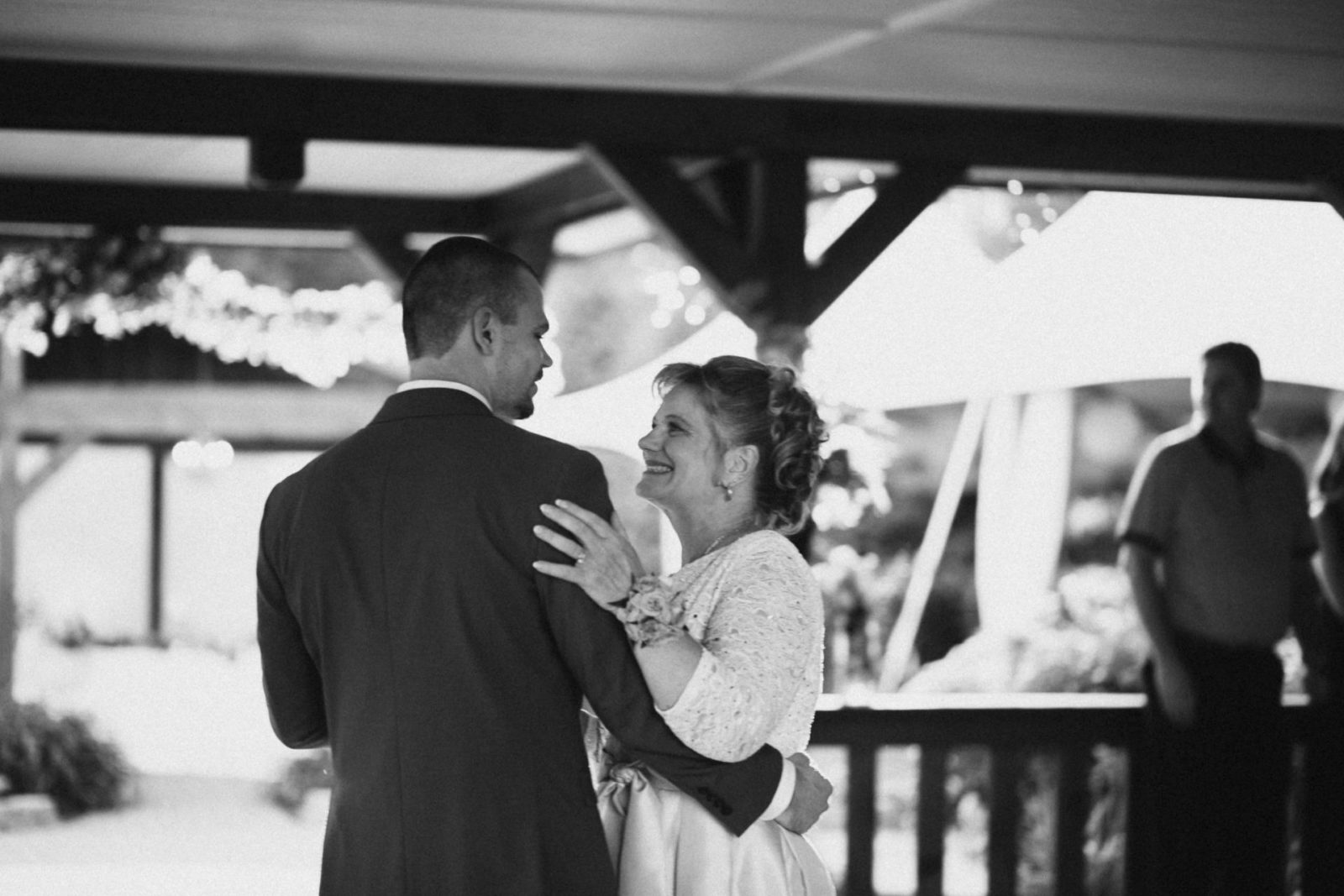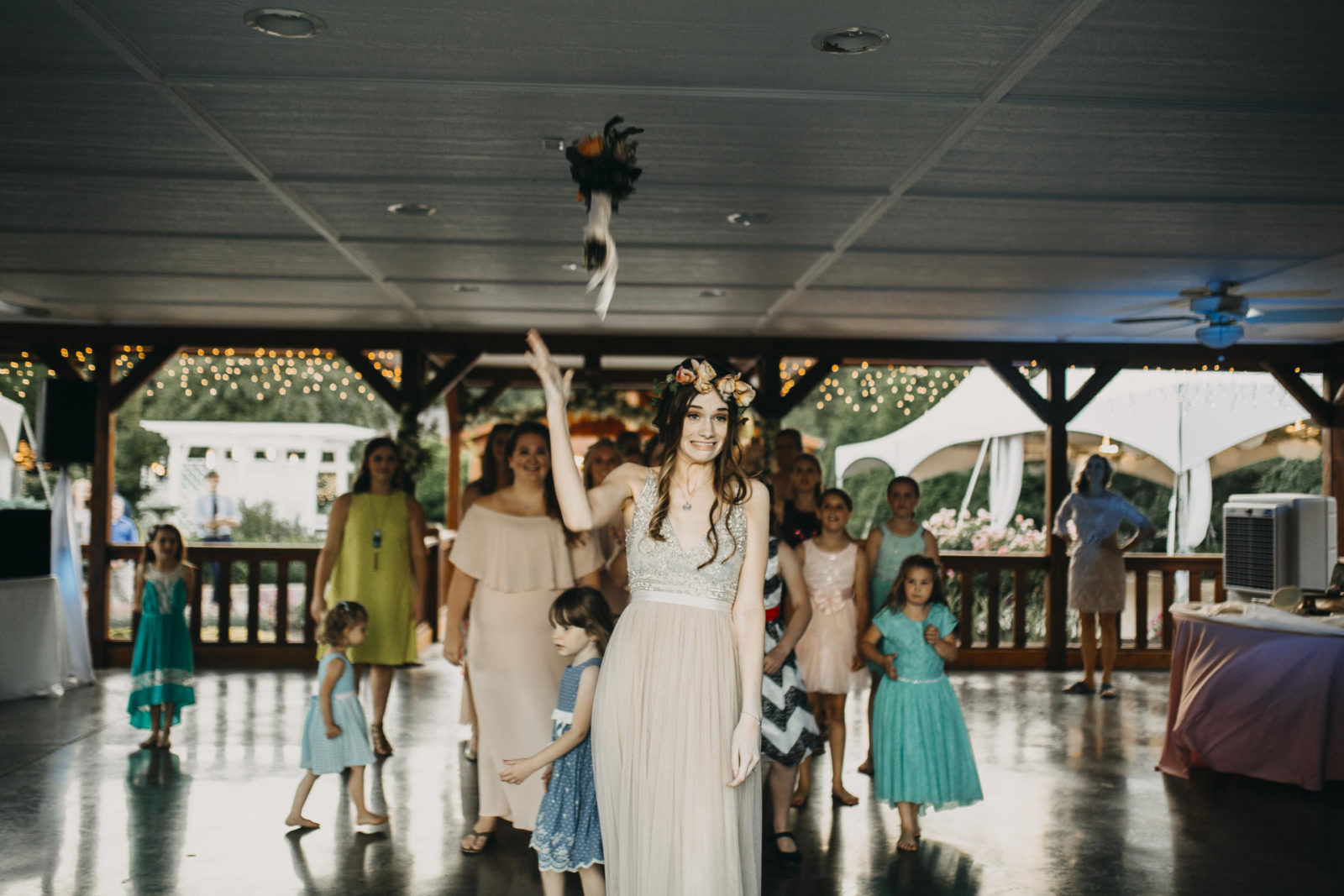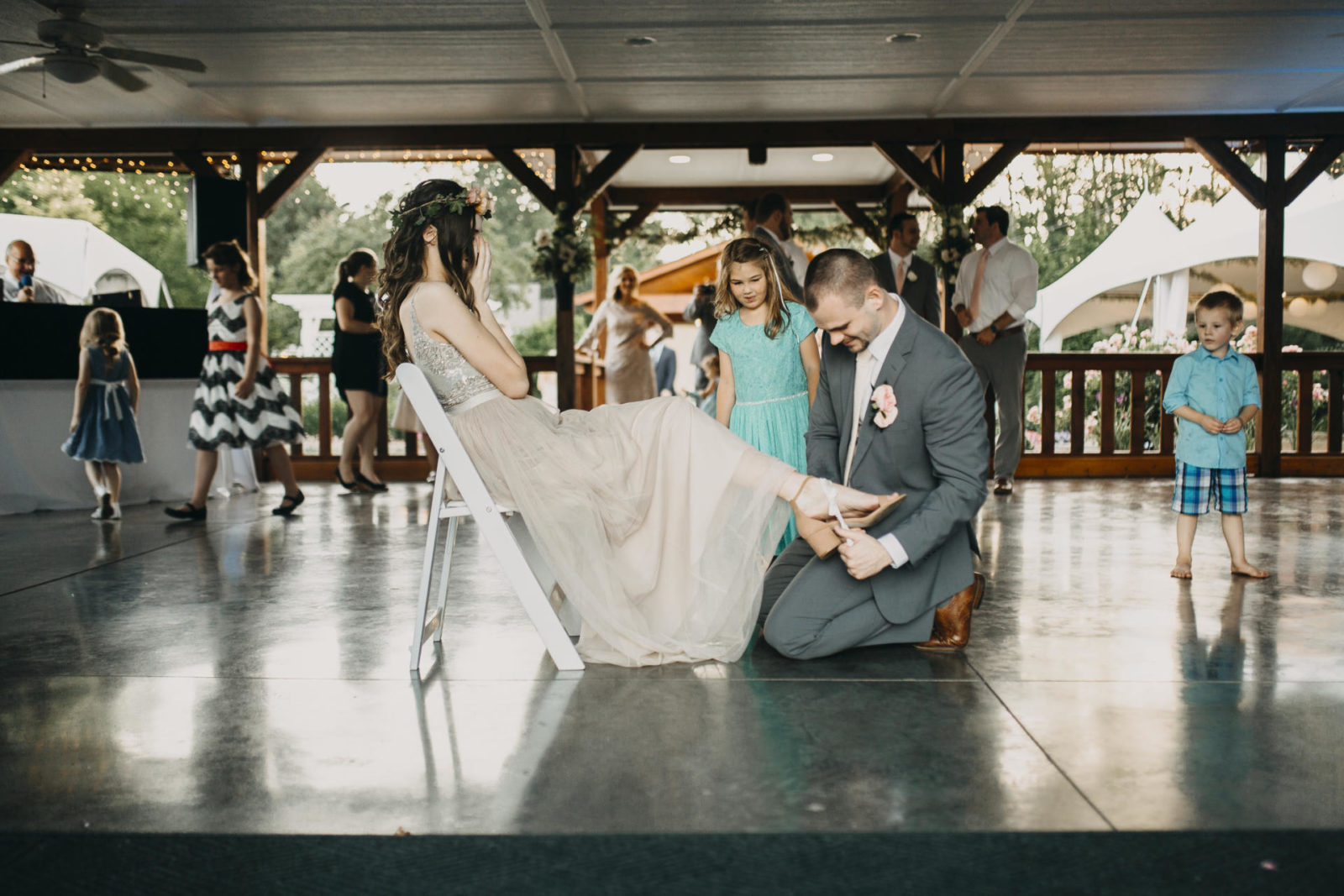 He put ice on his hands before doing this, hence my reaction.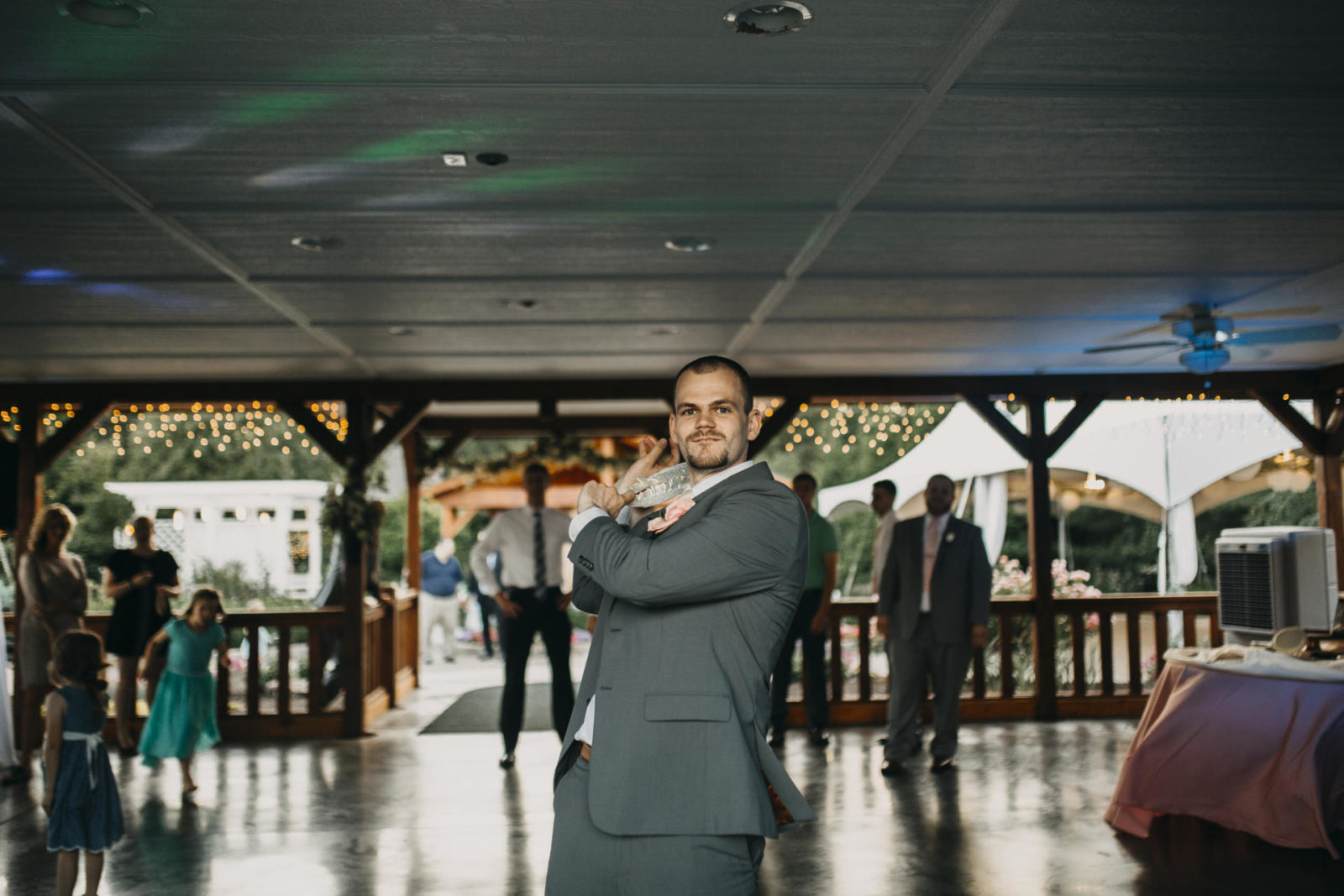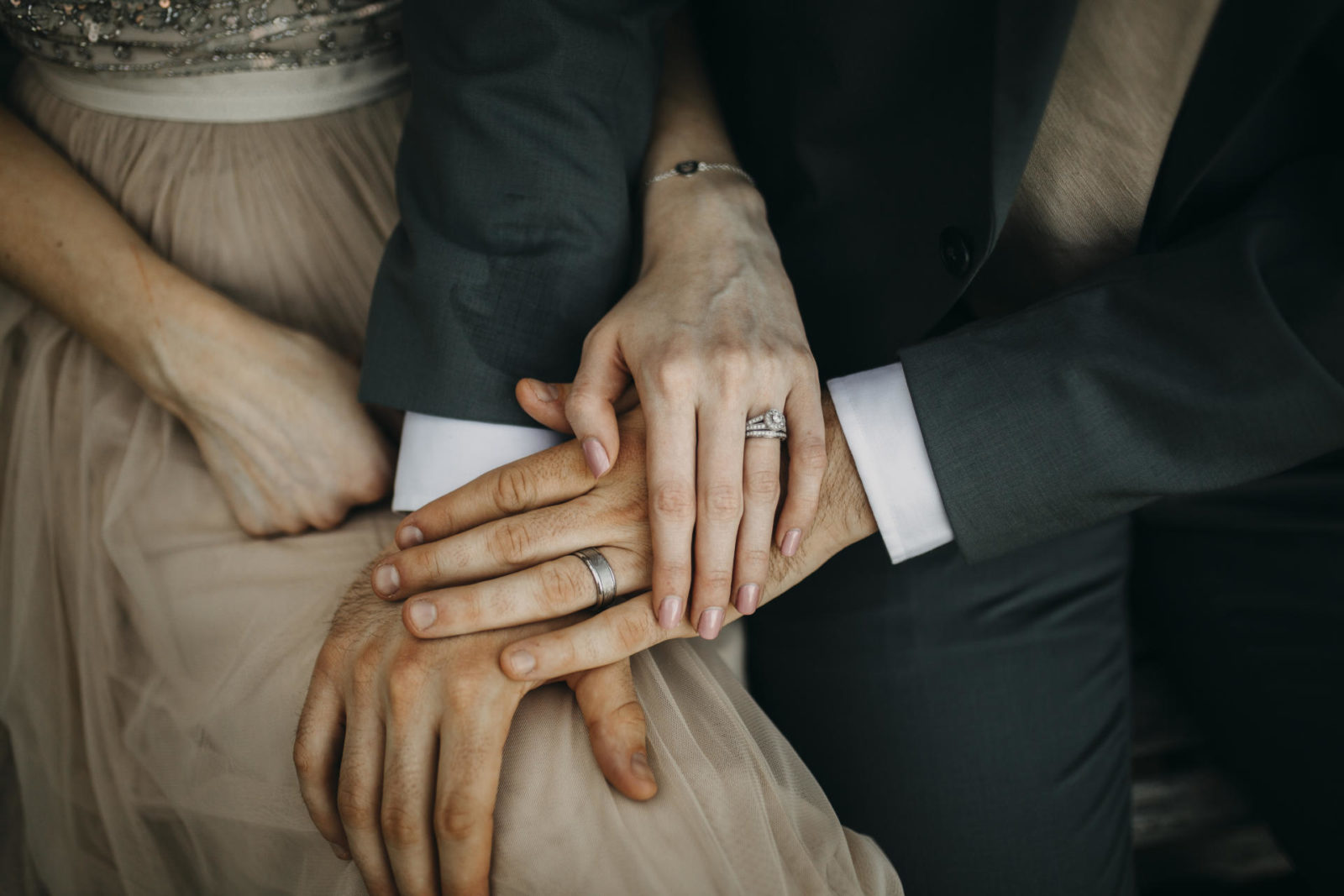 Venue: Avon Gardens // Photographer: Arianna Torres (Arianna Marie Photography) // Officiant: Lisa McCullough // DJ: Jim Lewis // Flower/Greenery Crowns + My Bouquet: Ladybird (Jackie Johnston) // Cake: Taylor Made Cakery // Bridesmaid Bouquets: I made them // Boutonnieres and Corsages: Kroger // Dress: BHLDN Brisa gown // Detachable-Train Fabric: JoAnn Fabrics // Bridesmaid Dresses: Show Me Your MuMu in Dusty Blush Crisp // Hair: Kecia Sims at Absolute Style // Makeup: Nikki Bartley //Girls' Shoes: Steve Madden // Suits: Jos A. Bank
I feel like I'm reliving the whole day every time I scroll through these photos. Justin and I got married at Avon Gardens in Avon, Indiana on June 10, 2017 at 5:30 p.m. It was a warm and sunny summer day and we couldn't have asked for better weather! The garden fit our wedding theme so perfectly, being so naturally beautiful and I couldn't get enough of the florals that scented our entire event. It was so crazy getting to see my dream day come to life. Every detail was carefully thought out and was basically my bohemian brain-child, and I couldn't be happier with how it all turned out. I highly recommend all of our vendors — they were all so talented and such a joy to work with!
BRIDE DETAILS
I wore my dream dress: the gorgeous BHLDN Brisa. I love the soft nude color, the tulle and all of the delicate detailing on the bodice. It fit like a glove and I felt so beautiful and so much like myself in it. The dress didn't come with a train, so we had a seamstress make a detachable one for me to wear during the ceremony and in some photos, which I'm really glad we ended up doing! I love how simple and delicate the dress was, and anyone who knows me knew there was no way I'd be walking down the isle in a stereotypical white dress — my goal was to be a bit different and I think I achieved that!
The jewelry I wore included a heart-shaped locket Justin gave me for our 6-month dating anniversary a few years back and my baby ring from when I was young. I kept the jewelry minimal to keep the focus on my dress and flower crown. Speaking of which, two of my favorite parts of my bridal look were my bouquet and flower crown. My florist actually surprised me with two flower crowns that day (one white, one pink), one to wear during the ceremony and one to wear after in case it started to wilt. It was so fun to get to wear two different looks! I was so obsessed with these flower crowns that I kept a wilted one on our kitchen counter for WEEKS because I didn't have it in me to throw the rest of it away!
DECOR DETAILS
I've always been all about the details, so of course this carried over to wedding planning too. Most of our decor items were from TJ MAXX, which is no surprise if you know my shopping habits. I went for an eclectic, bohemian feel with copper bottles, tons of candles, greenery, roses, cacti, dreamcatchers, colored glass, terrariums, woven placemats and wooden candle holders. One of the main decor items was the glass bottles, which we collected for several months and spray painted a couple different copper-colored textures to use as candle holders on the tables. The color palette I focused on was various blush, sage, lavender, cream, and nude shades. All of these elements created the perfect vibe I had imagined!
THAT'S ALL, FOLKS
I could go on forever and ever about this day, but we'll cut it off here. I want to give a huge thanks to those of you who followed along on with me on my wedding planning journey and took an interest in my life with Justin. We appreciate your kind words so much and we're blessed with the best family and friends! Thank you to those who helped make our dream day come to life — we're so grateful. If you have any questions or would like wedding planning advice, please don't hesitate to reach out by leaving me a comment below. 🙂
If you loved this post, read up on my previous wedding content here and on my Bridal Spotlight collaboration with IndyBride2B. Check back on Wednesday for a new post!