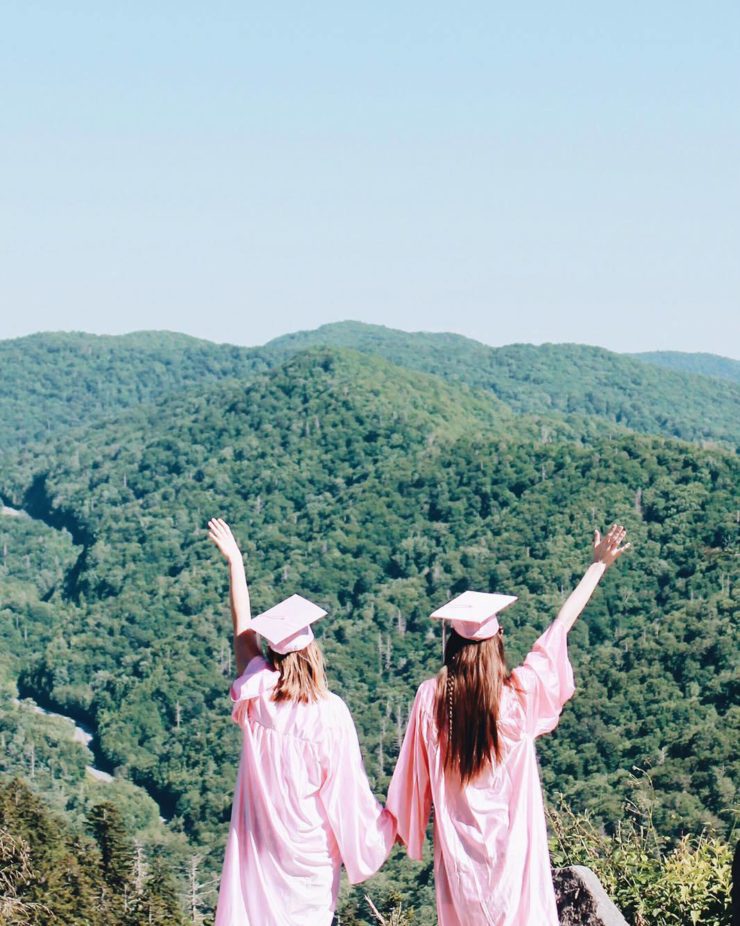 My cousin Caitlin and I celebrated our college graduation during our family reunion in the Smoky Mountains of Tennessee last week and had SO MUCH FUN! Even though we aren't the same age (a mere 18 months apart, but you know what I mean), it's pretty cool that we ended up graduating from colleges 1,000+ miles apart within the same month: myself with a public relations degree from Franklin College and Caitlin with a degree in motion picture and TV production from Palm Beach State College.


Our sweet family threw us the cutest party at the cabin we were staying at in the mountains, filled with coordinating balloons, flowers, and our own cakes!


Along with cards/letters, we were gifted such sweet keepsakes from our family members that we'll have forever, including leather-bound journals, gem bracelets, and Pandora heart bracelets — all matching, of course! I swear we'll be matching until the day we die, and that's more than fine by us! :)
Caitlin had the coolest idea a while back to purchase pink caps and gowns on Amazon for us to wear for a photo shoot during our trip. We felt very Elle Woods-esque when she graduated from Harvard. We drove around and around the Smoky Mountains, taking photos at every beautiful site we came across (which was obviously quite a few — we actually ended up at the Tennessee/North Carolina state line!), with people waving and honking at us as we passed by. We even took a picture with some random high school boy (per his request) and he said something along the lines of "this is my favorite part of our trip so far!"

I couldn't be happier with how the photos turned out! Special thanks to our cousin Doug, my mom, and my Aunt Nancy for driving us around for hours, taking countless photos of us, and turning around to search for our tassels when they accidentally fell off our caps! We're seriously blessed with the greatest family. 

We're both so proud to have earned our degrees. Some would argue that there are many "easier" (not to mention cheaper) routes that we could have taken instead of pushing through four years of additional schooling, but we both know our chosen paths and the results we've earned from them are more than worth it.

As we take the next steps in our lives, I'm so thankful that we both have such a strong support system to cheer us on along the way. Family & loved ones: thank you for giving us the tools we need to succeed, for believing in us, and always being there to celebrate our victories. WE DID IT!

OUTFIT DETAILS
My dress + shoes: Forever 21
Caitlin's dress + shoes: Target
Pink caps + gowns: Amazon

FOLLOW CAITLIN
Instagram
Pinterest