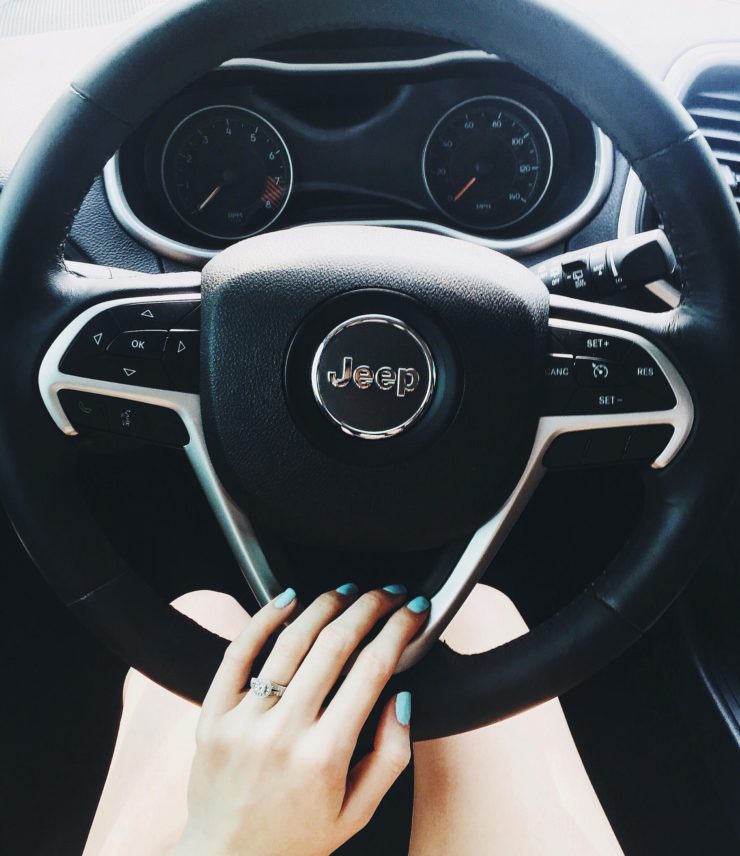 It's been awhile since I've done a little life update here on my blog, so here's a brief write-up of what I've been up to lately. First and foremost: I GOT A NEW CAR!
As a college graduation gift, my parents surprised me with a white 2015 Jeep Cherokee Trailhawk with a big red bow on it when Justin and I came home to work on wedding planning stuff on Saturday. I've been dreaming of graduating college and getting a jeep for years, and that day has come! Thank you so much, mom and dad!
For those of you interested in getting a similar vehicle, mine has black leather interior, red stitching, a double wide sunroof, Bluetooth, etc.

My life has been a bit consumed with wedding planning lately. It feels like all I'm ever doing is researching wedding stuff, thinking about wedding stuff, talking about wedding stuff, and feeling a little behind during the rare moments when I'm not doing any of those things. I'm sure those of you who are also planning your wedding right now feel the same way. Don't get me wrong, wedding planning is super fun, but it can be stressful if you let it! I'll be sharing some of my wedding planning tips soon, so look out for that!


It seems natural to me to plan a wedding a year in advance, but it seems that a lot of people plan their wedding in six months or less with ease -- which made me believe I was WAY ahead of the game, which has turned out to not be true at all! So many venues are already almost filled up for next summer! Just like apartment hunting, I felt a little blindsided by how quick-on-the-draw I had to be to land the venue and date I want. It's a learning process and I'm figuring it out as I go. :)

As for our first home, we have now lived in our apartment for about 2.5 months and we are so happy here! I love our place and it's the most perfect, comforting environment to come home to every day. We've been pretty good about cooking and most of our meals consist of food we make at home. Let me know if you'd like me to do a post on some of my favorite quick and easy (and usually vegetarian) meals to make during the week when you don't have a ton of time and are super hungry, like me!


I can't believe it's almost August! This summer has flown by and I can't decide if I love it or hate it. Justin starts his first teaching job (7th grade math) next week and I'm so excited for him! As an educator, he's had to wait a couple months after graduation to begin his career, so I couldn't be happier for him that his journey is about to begin.

What does August hold for me? I'd love to start going to blogging events and collaborating with other bloggers within the next few months. The 9-5 job + blogging balance has been a tough adjustment for me, so I'd like to get on a more frequent blogging schedule and stick to it. And finally, I'm going wedding dress shopping at my dream store (BHLDN) in Chicago at the end of the month! It will be such a fun little trip for my mom and I and I can't wait to put on a wedding dress for the first time. :) You best believe I'll be sharing my experience!

Would you like more frequent updates? Be sure to follow me on Twitter, Instagram, and Snapchat (abbysaylor) for more.

Have a great week!