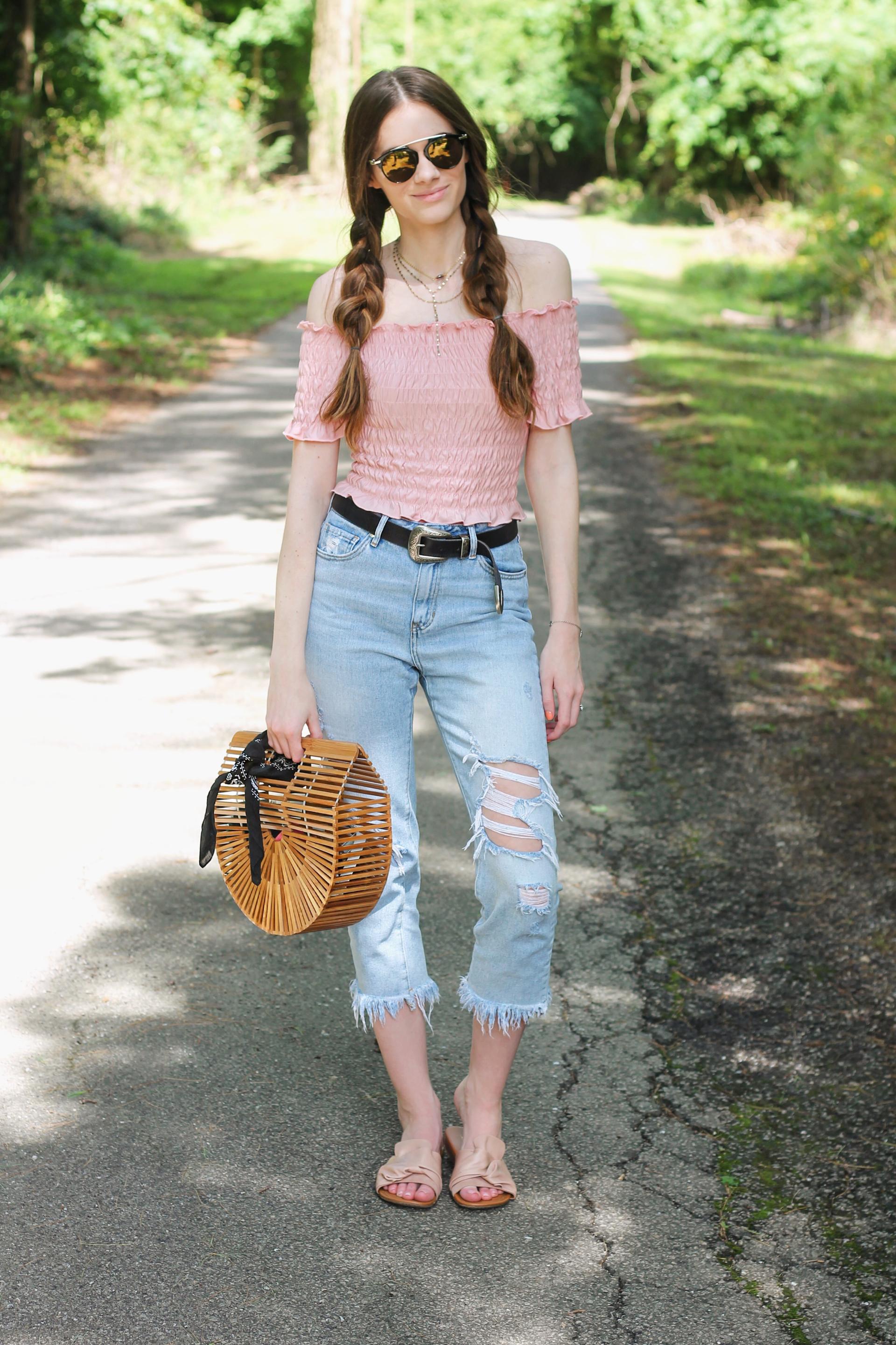 If you've spent any time on Pinterest in the last month or so, you know that these bamboo handbags have taken the fashion world by storm. I always strive to incorporate unique, textured statement pieces (I seriously talk about texture way too much) into my outfits, so I was instantly intrigued by these wooden clutches the second I saw them. After swiping this bag up for only $34.99 this weekend, I'm sharing how I style it for summer in this post!
Did any of you think this bag was as impractical as I did when you saw it? The concept of having a vented, see-through bag without straps of any kind seems a bit unrealistic for daily use, but I actually didn't mind carrying it around at all when out shopping this weekend! It added so much to my look and I loved the feeling of it. I'm considering doing a DIY on how to add straps to it if I'm successful at it, so let me know if that's something you'd like to see.
I desperately tried to find the link to this bag at the low price I purchased it at from T.J. MAXX this weekend, but I can't find it anywhere! If you'd like to try to search for it, the brand is Prezzo and the quality is amazing. I styled it with distressed high-waisted boyfriend jeans (Pacsun), a black belt (Urban Outfitters), pink off-the-shoulder crop top (Carrie Elise & Kho — my friend's online store that just opened last week, go check it out!), blush leather slides (Franco Sarto — purchased from TJ MAXX for only $34.99), layered gold necklaces (Midori Linea — use my code "ABBYSAYLOR" for 20% off!) and sunglasses (Steve Madden). This outfit was super comfy and perfect for a summer day spent outdoors. Shop the look below.
I hope you all had a great weekend! Justin and I spent ours at my parents' house celebrating my mom's birthday — that's where these pretty outdoor photos were taken! I also purchased my outfit for the Fourth of July, along with a few other fashion items that I'll be sharing on the blog soon. I've been posting more on my Instagram story lately + doing live hauls as I purchase things, so be sure you're following me if you'd like to keep up.
Thanks for reading and have a great Monday, everyone — do something that makes it fun! 🙂