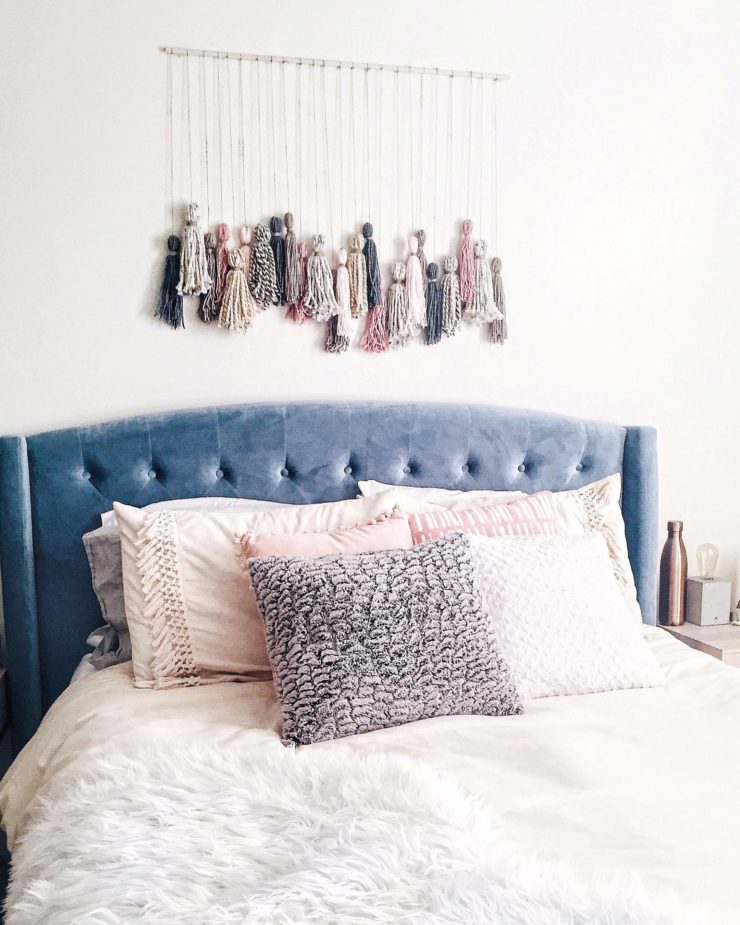 Many of you are already well aware that I'm a huge T.J. MAXX fan, and several of you have asked me where I find some of my key pieces — and 95% of the time it's none other than T.J. MAXX! I've shopped there religiously for years, so keep reading for some tips I've picked up along the way that help me swipe up the good stuff (like this blue suede headboard stunner) before they're gone!
Ask them what day their shipments come in.
If you want to snag the good stuff before anyone else does, knowing when the shipment days are will give you early access to the goldmine — then plan your shopping trips accordingly. Ask any employee, then mark you calendar!
Open a rewards card.
Registering for a TJXRewards card is something my fiancé Justin and I just did recently, but with how often we shop there, it's something we were long overdue for. If you're frequent T.J. MAXX flyers like we are, I recommend you do the same to save some money along the way — just remember to pay everything off ASAP! We don't spend money that we don't already have, and I strongly believe that's the way to go with any credit/rewards cards.
Stop by frequently — AKA stalk the store.
I'm not kidding when I say Justin and I go pretty much every weekend, and it's actually become such a fun little hobby for us. Stop by every now and then (or every five seconds) to scope out what's new. Two of my favorite finds (my pink velvet chair and my blue velvet headboard) were discovered on random, unplanned trips, so you truly never know what you'll find!
Explore new locations.
Each location has different items, especially when it comes to furniture, so be sure to shop around at different stores near you. Some locations are much better than others, so you'll want to scope each of them out and take notes.
Dig, dig, DIG.
Though some of the universal "best" stuff is front-and-center on display, plenty of equally great stuff lies within the layers. Some of my all-time favorite clothing and accessory pieces have come from the depths of the racks, so be sure to dig through so you don't miss a thing!
What has been your favorite T.J. MAXX find? How do you score the best deals when shopping? Leave me a comment and let me know! Be sure you're following me on Instagram and YouTube to stay up-to-date on my latest T.J. MAXX finds, which I pretty much always document in haul videos or in my Insta story. Thank you for reading & I hope you all had a great weekend!