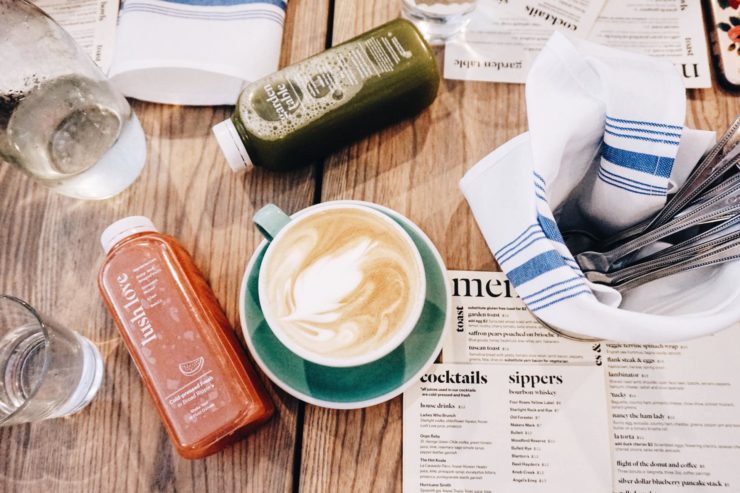 "How do I establish my legitimacy as a blogger?" is a question I asked myself when I first launched abbysaylor.com back in September 2015. How do I get people to take me seriously and how do I get brands to see me as an established entity? You'll learn the answers to these questions over time, but today I'm providing you with the information that I wish I knew from the beginning, including how to get people to view you as a "real" blogger and start following you, tips for initiating brand collaborations and what key practices an established blogger has under their belt.
Give it time. 
Though it varies for everyone, it may take a while before people start reading your blog and before brand connections start happening for you. For some it may take six months, while others need a year or two. If my memory is correct, my first larger connection happened with my wedding series collaboration that began in August of 2016, nearly a year after I started my blog. I then began working with other brands by showcasing products they send me (that I like!) in my posts, hosting giveaways, etc. It takes time for brands to start noticing you once you've started, so be patient and keep working hard! Think of your blog as a seed that needs to be watered in order to bloom and continue to thrive.
Be consistent and stay active.
I suggest setting up a posting schedule for yourself to help you remain consistent. I've found this to be the best way for me to ensure that I'm getting new content up frequently and I'm never dropping off the map for any given period of time. Remaining consistent, particularly on some type of schedule, lets readers know when they can expect new content from you and which days they should be checking out your blog. My current posting schedule is 7:30 a.m. Monday, Wednesday and Friday — in my personal opinion, I think established bloggers should post no less than once a week (from my research this appears to be a popular opinion among the masses), but I always prefer when bloggers post 3-4 times per week. Find what works for you and run with it! Outside of posting consistency, it's equally important to make sure your branding is consistent as well. Use the same, clean logo on all of your social media to help make your profiles more identifiable, personalized, professional and sleek.
Join networks and connect with other bloggers.
Search for blogger/influencer networks to join that apply to your location, content, age group etc. This is a great way to make connections with other bloggers within influencer groups, while also gaining opportunities for collaborations. This gets your name out there and helps others find your site. Follow other bloggers on Twitter, Instagram and Facebook, read their posts and interact with them because it's a great way to make friends and relate to others. Connect with bloggers in your area by going to meetups and joining Facebook or Instagram groups. The blogging community is one of the best support systems you can ever have and everyone I've connected with is so incredibly nice and motivating!
Be responsive and build relationships.
Reply to comments, respond to your social media followers and start conversations with fellow bloggers. Don't let messages go unread and let your followers know that you're approachable and within reach. You'll establish a relationship of loyalty and trust with your readers by being transparent and remaining consistent with communication. Do this by keeping up with your email inbox and all social media platforms and try to respond to all messages within 24-48 hours (I'm definitely not perfect at this!), when possible.
Not all brands will come to you, you may need to come to them.
So you've started blogging… when do brands start contacting you? You may not want to hear this, but it's different for everyone. There is no simple equation to calculate when you'll begin doing work for businesses. In order to initiate collaborations, you may need to reach out to brands on your own. Approach them will a proposal that is mutually beneficial. Connect with Etsy shop owners you've purchased from, local businesses you frequently shop at, as well as utilize any current business connections you already have. Don't be afraid to put yourself out there because this will truly get the ball rolling for you! The worst they could say is no, and simply reaching out puts your name in their mind and they will be more inclined to reach out to you in the future.
Never stop educating yourself.
As a blogger, the learning process literally never ends. The internet, social media, PR and marketing are always evolving, with new resources and methods always emerging. Do your research and stay up-to-date on all the current software and blogging tools. I suggest starting with YouTube videos, webinars and Pinterest because they're such great learning tools. Take notes and come up with ways to apply the things you've learned to your blogging strategy. Applied knowledge is real knowledge! 😉
Don't get discouraged.
Sometimes it can be discouraging to see other bloggers growing faster than you and it will make you question what you're doing wrong, but don't let it get to you. Growth happens differently for everyone and you should always remain focused on your own journey. Focus on creating the best content that you can and build positive relationships with your readers, fellow bloggers and brands. A small, supportive group of followers is more influential than a large group that you don't interact with — so don't lose value!
__________
As you may know, I have a YouTube channel (check out my vlogs here!), so let me know if you'd like me to start making blogging-related videos giving you guys advice for getting people to read your blog, working with brands + more. Obviously blogging is something I'm really passionate about and love discussing, so I'd be happy to continue the conversation on camera. I hope you found this post to be helpful and leave me a comment below letting me know your thoughts! You can catch up on my previous blogging-related posts here and watch my latest vlog that went up on Monday below.
Thank you so much for reading and I hope you all have been having a great week! Mine has been rather rough with having the worst case of the flu that I've ever had and recovering slowly with symptoms coming and going. I hope you all are feeling well and thank you so much for all of your well wishes! If you're sick with the flu, I feel your pain!