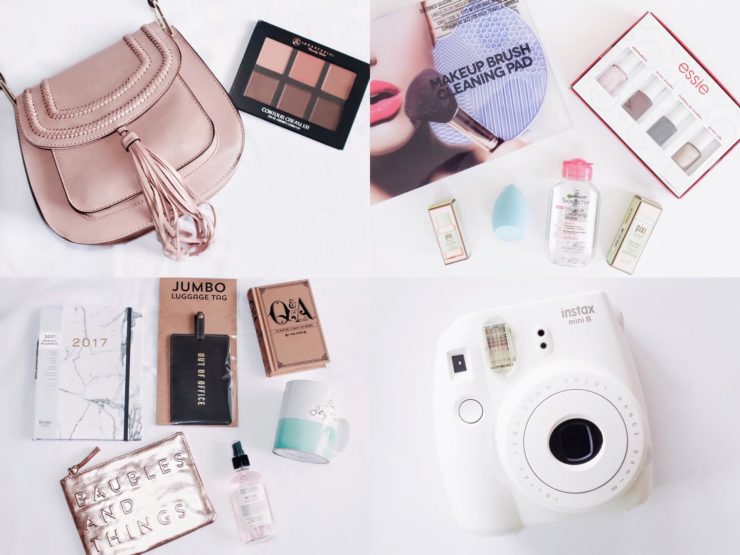 It's officially the season of Christmas shopping! Like me, many of you may be thinking about what to buy your friends and family this season… So today I'm sharing with you my 2016 holiday gift guides for girls and guys, as well as a $300 VALUE GIVEAWAY! This blog post is in collaboration with my blogger friend, Carrie of carrieelise.com — We decided to team up and give some of our favorite fashion, beauty and lifestyle items (many of which are featured in our gift guides) to one of you! Let's get into it — You won't want to miss taking advantage of today's Cyber Monday deals + entering the giveaway!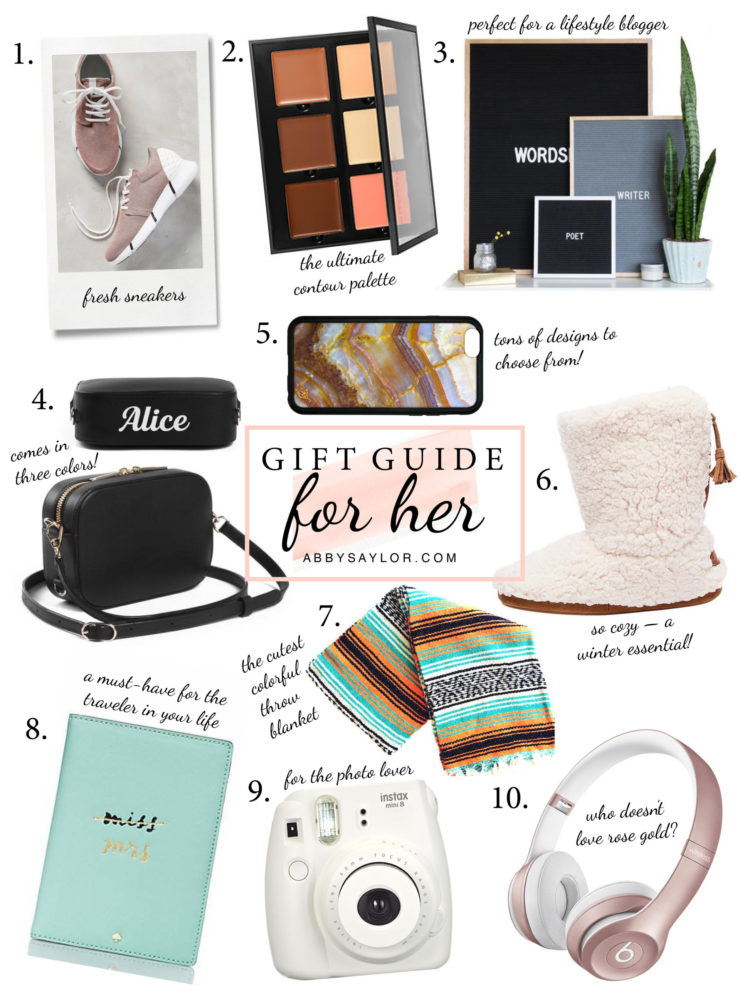 1. Elena Iachi Calu Shimmered Sneakers (Anthropologie) — How cute are these?! These sneakers are perfect for a girly or sporty girl since they can be easily dressed up and down. This mauve color is really in right now so these are bound to be a great gift this season!
2. Anastasia Beverly Hills Cream Contour Kit — Contouring and cream makeup products are "in" in the beauty industry. Anastasia Beverly Hills always has great quality products, and I love that cream products are super buildable and easily blend into the the skin, creating an effortless natural look.
3. Letter Board by Letterfolk — These letter boards are perfect for the home decor lover in your life! They come in a variety of sizes, colors and styles. With a pack of letters, she can write her favorite quote or share a new message every day! I love how versatile these are, and as no surprise to you, the lifestyle blogger in me is itching to get one of these for endless photo opportunities! 🙂
4. Pop & Suki Camera Bag — This bag is super trendy right now and for a good reason! It's totally customizable: choose a name to put on the bottom, select one of three colors (black, brown or pink) and you can even purchase additional straps: allowing you to wear the bag SIX different ways! I'm dying to own one of these!
5. Wildflower Phone Case — I've been a fan of these for years! Wildflower cases are both slim and protective, and I've never damaged a phone will having one of these cases on. They come in so many styles and are available for iPhone 5-7 Plus. I think it's fun to have a few so you can mix up your look every day!
6. Sherpa Bootie Slippers — Who doesn't love a good pair of cozy slippers? These are a gift that I always want, regardless if I already have five pairs in my closet or not. Since we tend to want to replace these somewhat often, I recommend choosing an inexpensive option like the fuzzy Sherpa ones from Target — there are so many cute options to choose from, you can't go wrong!
7. Mexican Blanket — This has been a staple throw blanket on my couch ever since I got it back in June. Not only are these blankets super cozy for winter, they also serve as the perfect home decor piece. You can choose from a variety of color combinations to find the perfect one that matches her home. Mine is pink, gray, brown, and black and I absolutely love it!
8. Wedding Belles Travel Passport Holder — Since I just received my passport, this is a top item on my Christmas wish list! This is the perfect gift for anyone you know who not only loves to travel, but also loves to customize just about everything.
9. Fujifilm Instax Mini 8 Instant Camera — This is one of my favorites! I love taking Polaroid photos of the big moments in my life. Now that we're in the age of everything being digital, it's so fun to have printed pictures to decorate with around the house. These cute cameras come in so many colors, including white, pink, blue, yellow, purple and more!
10. Beats By Dre Headphones — Did you hear these come in rose gold now?! This is the perfect gift for the music lover in your life and it's a high-quality gift that she can enjoy using every single day. Beats are great for noise cancellation while traveling as well!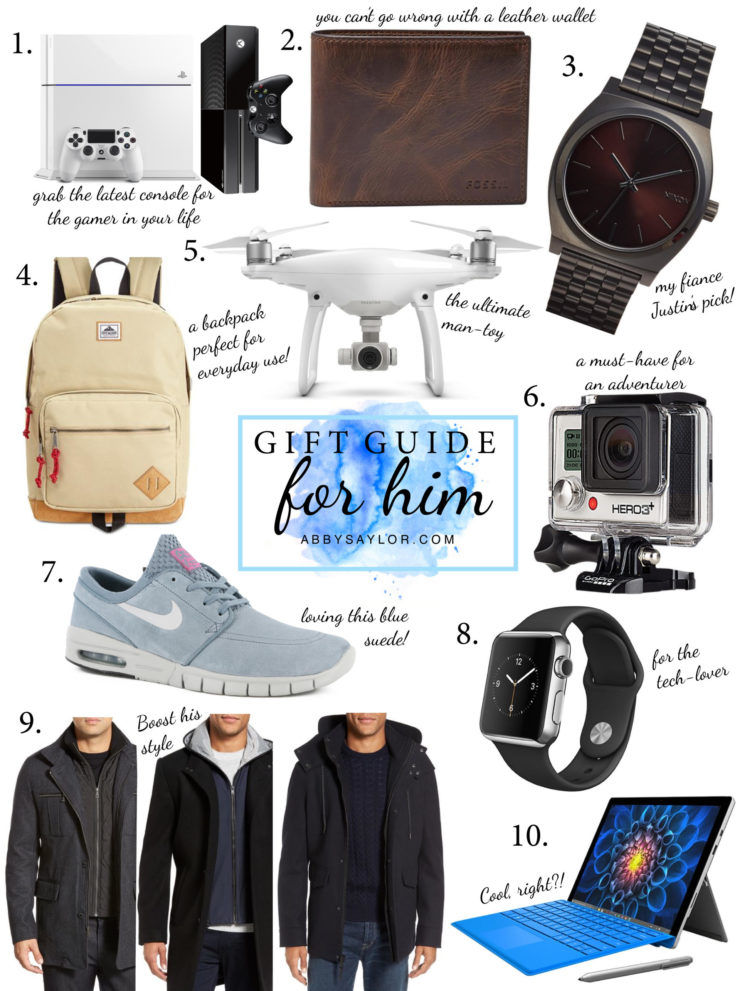 1. PlayStation 4 or Xbox One — This is an obvious one if you have a gamer in your life. Which console to go with seems to come down to preference, so be sure to ask around before investing in one of these for someone. Justin votes PS4!
2. Fossil 'Derrick' RFID Leather Bifold Wallet — A wallet is an essential everyday item that you can't go wrong with. I think picking up a nice leather wallet for someone that will last him for years and years is a thoughtful and practical gift, plus it's simple to find one that falls within your price range. This one has free shipping and I'm loving the brown leather!
3. Nixon 'The Time Teller' Stainless Steel Bracelet Watch, 37mm — Most guys seem to like watches, so I asked Justin for his opinion on a few and he chose this one! I love the sleek look of this Nixon one, making it perfect to wear to work and out-and-about on his downtime. This one sits right below $100 and would make such a great gift!
4. Steve Madden Mens Dome Backpack — Backpacks are especially great for students and travelers, though everyone could use a great quality bag for overnight trips and even daily use! I love bags that are both functional and stylish, even if the guy you're buying it for doesn't really care about "looking good." This style is one of my favorites and it comes in tan, navy, grey and black. It's currently on sale for $29.99, so go buy it while you still can! Check out my other picks below.
5. DJI Phantom 4 Drone — This is at the top of Justin's list, as well as many others' lists this Christmas! The DJI drones are incredibly impressive, soaring far into the distance while capturing amazing video. This would be a great investment for a traveler, photographer or videographer — or someone who just likes to play with helicopters and what not. Let's be honest, guys like toys. 🙂 The price begins around $400+ and ranges upwards of $1,000 depending on the model you get.
6. GoPro HERO5 — GoPros have been in the market for a while, but they just keep getting better and better! A guy who loves going on adventures, traveling and recording his journey along the way would be thrilled to have one of these along for the ride. Target offers a price of $399.99 with free shipping!
7. Nike SB Stefan Janoski Suede, Blue Graphite — I LOVE these blue suede Nikes! This shade of blue seems to look good on all men as well. Every guy could use a new pair of casual shoes, and I've always personally been a fan of Nike — the quality holds up and I definitely think you get what you pay for! Simple black is always a safe and classic option, but it could be fun to mix it up with a colored pair as well for mostly neutral outfits. 
8. Apple Watch — These seem to be a hot item this year as well, especially with the waterproof Series 2 that has come out! There are so many different band options to choose from, making something as "standard" as an Apple Watch totally customizable. It's safe to say that most iPhone-user guys would love one of these!
9. Winter Jacket — I've come to notice that some guys just don't know what kind of jacket to get that suits their body type and style (even if they think their "style" is nonexistent). A classic coat with a layered look is perfect for all occasions and is likely to last a few winter seasons. Shipping is FREE on each of the three jackets shown above! Here are the links:
10. Surface Pro 4 — Now these are just cool. Enough said.
__________
GIVEAWAY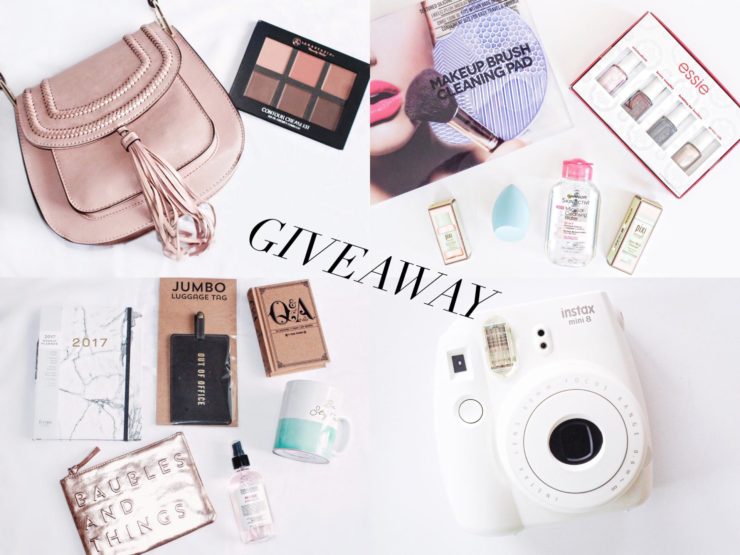 Now what you've all been wanting to hear about… the GIVEAWAY! The $300 value giveaway, including all of our favorite fashion, beauty and lifestyle items shown above, starts today and ends at 12:00 a.m. on December 6, one week from today! SO many of you have been asking about my blush Franco Sarto bag that we decided to pick up another one and include it in the giveaway, along with tons of other fun items!
How do I enter, you ask? You can enter by:
Following both of our Instagram accounts
Following both of our Twitter accounts
Bonus: Tagging a friend in both of our Instagram posts about the giveaway
Bonus: Signing up for both of our email newsletters
This giveaway is open to everyone in the continental United States. The winner will be selected at random and announced on December 6. Good luck to you all and thank you so much for supporting me and reading my blog! It means so much to me. Head over to Carrie's blog next to check out her gift guides as well — If you like my content, you'll LOVE hers too! Happy shopping!