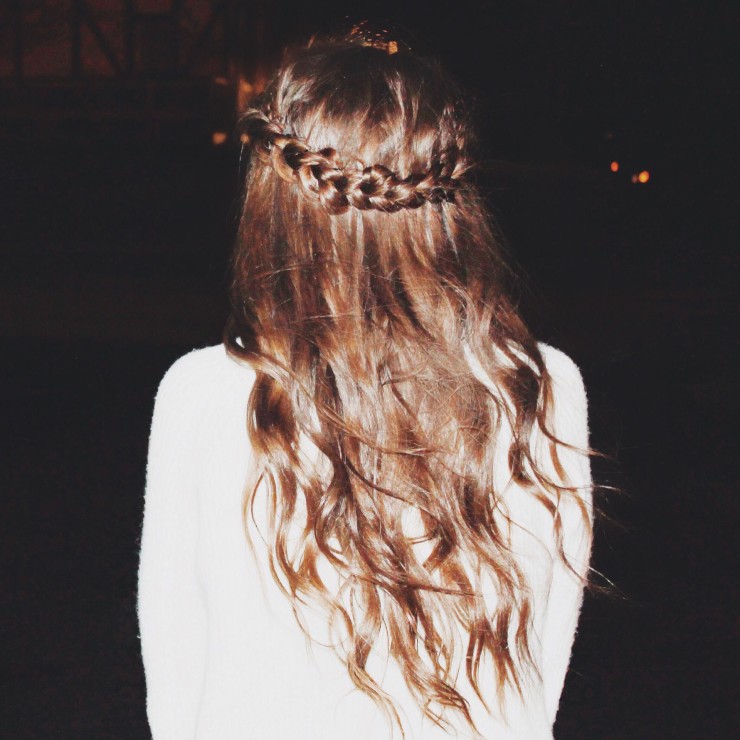 Hey guys! Today I'm sharing with you this braided hairstyle I wore last night. I absolutely love trying out new braided hairstyles, and I was able to get this one pretty easily on my first try! I love how it looks so intricate, yet effortless at the same time.

To create this braid, part your hair to the side and begin doing a dutch braid (crossing the pieces under each other) in the direction of your part. Add pieces in from both sides (like a French braid) and continue this until you're about an inch above your ear, then begin only adding hair from the top. Do this all the way around your head until you reach your starting point, then go ahead and braid your hair all the way down to the end and tie it off with an elastic. Pull the braid apart for texture. Wrap the rest of the braid across the top of your head and around the halo (differs based on hair length), tuck it in to hide the elastic, secure it with bobby pins, hairspray it, and you're good to go!
I chose to curl my hair with this look because I felt like it allowed more room for me to be messier with the braid — whether that's accidental due to lack of experience (me…), or by choice. I used a curling wand to achieve these curls.
This braid was inspired by none other than the braid queen, Amber Fillerup of Barefoot Blonde. Watch her tutorial on this braid here.
If you try out this braid, be sure to tag me @abbysaylor (and @amberfillerup of course) so I can see it!