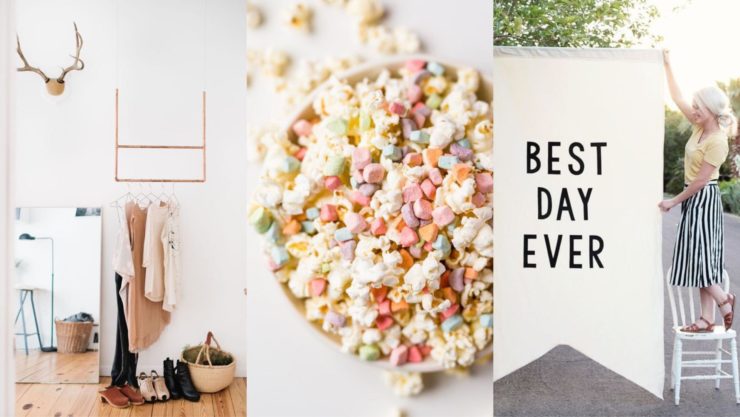 Happy Friday! After a busy work week filled with wedding planning and long days in and out of the office, I've compiled some of my recent favorite finds, ranging from gotta-try ideas I've stumbled upon online to trends I'm dying to dive in on!
CLOTHING RACKS
These are such a trend right now! I'm a definitely a fan of this one because clothing racks serve as both stylish AND 

functional

 home decor. Clothing racks can be customized in so many ways to fit your personal style as it evolves, plus it's simple to switch out as the seasons change. I love the ones with shelves, allowing you to display your current favorite shoes and accessories.
TEEPEES
Yes, teepees. It's the boho girl in me that is so drawn to these! Unlike the clothing racks, these don't have much of a functional purpose, unless you have a child or dog that could lounge in it! This would be the   cutest detail for a kid's bedroom — maybe incorporating a tribal theme or whimsical theme. They're selling these teepees lots of places now, but I stumbled across some really cute ones at Hobby Lobby if you want to check there!
MARSHMALLOW TREATS
How yummy do these look?! I've always been a 

huge

 marshmallow lover, so these treats have me drooling! Did you know you can buy a 2 lb bag of freeze dried marshmallows on Amazon — I didn't either, but now I know what my next online purchase is going to be. :)
WEDDING FINDS
I'm all about wedding planning these days! I could literally spend days scrolling through pages online gathering ideas and inspiration for our big day. I'm so intrigued by other people's details, and how they pull their bridal moment together with the most creative, unique ideas!
__________
What are your favorite finds this week? Leave me a comment — let's talk favorites! ;)