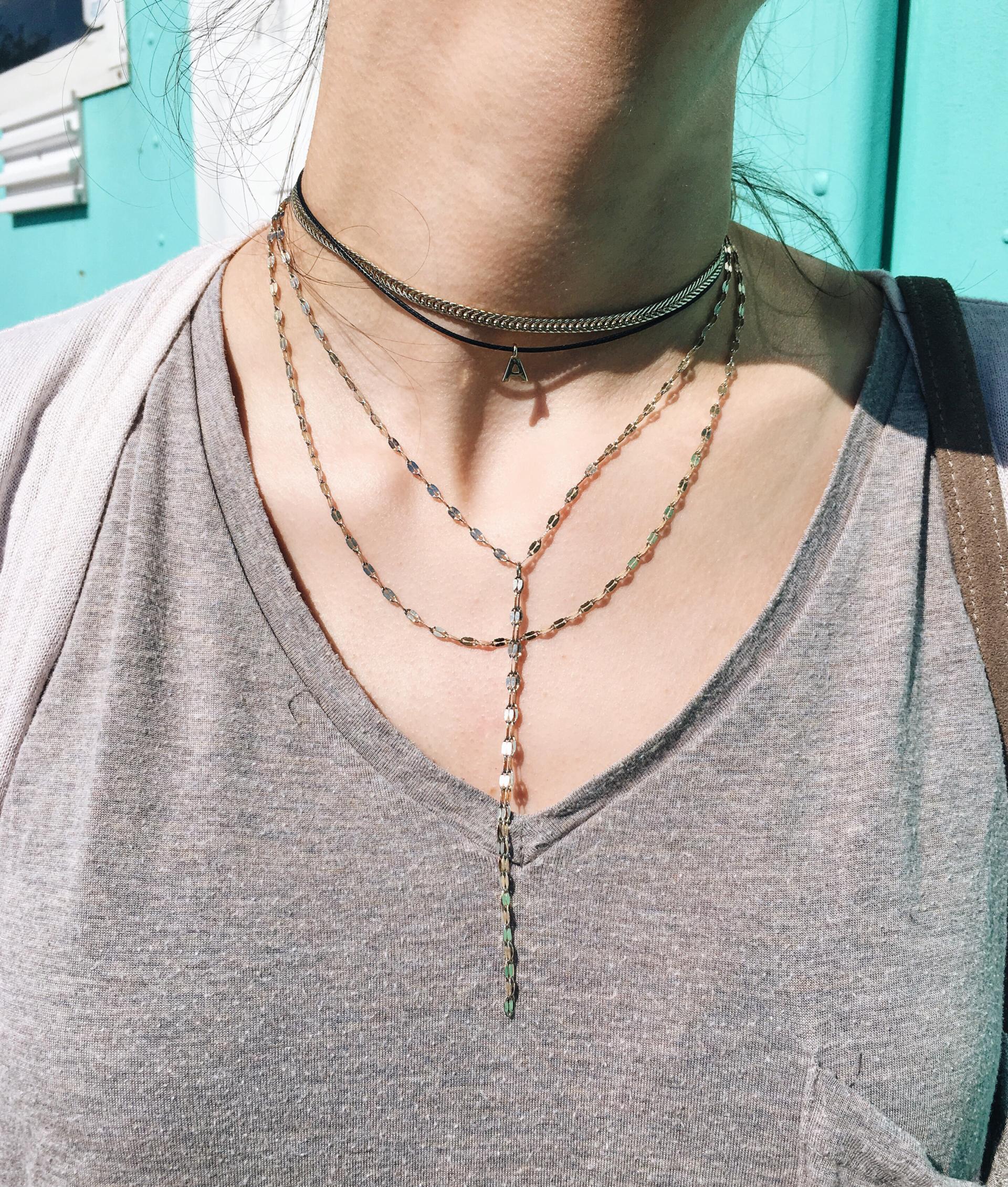 If you follow me on Instagram, you know I filled you in last week that I would be sharing my favorite everyday jewelry for layering — and this is that post! Keep reading to see where each of my go-to dainty necklaces are from, where I gather inspiration, links to shop my favorites + the various ways I layer my pieces to change up my look every day!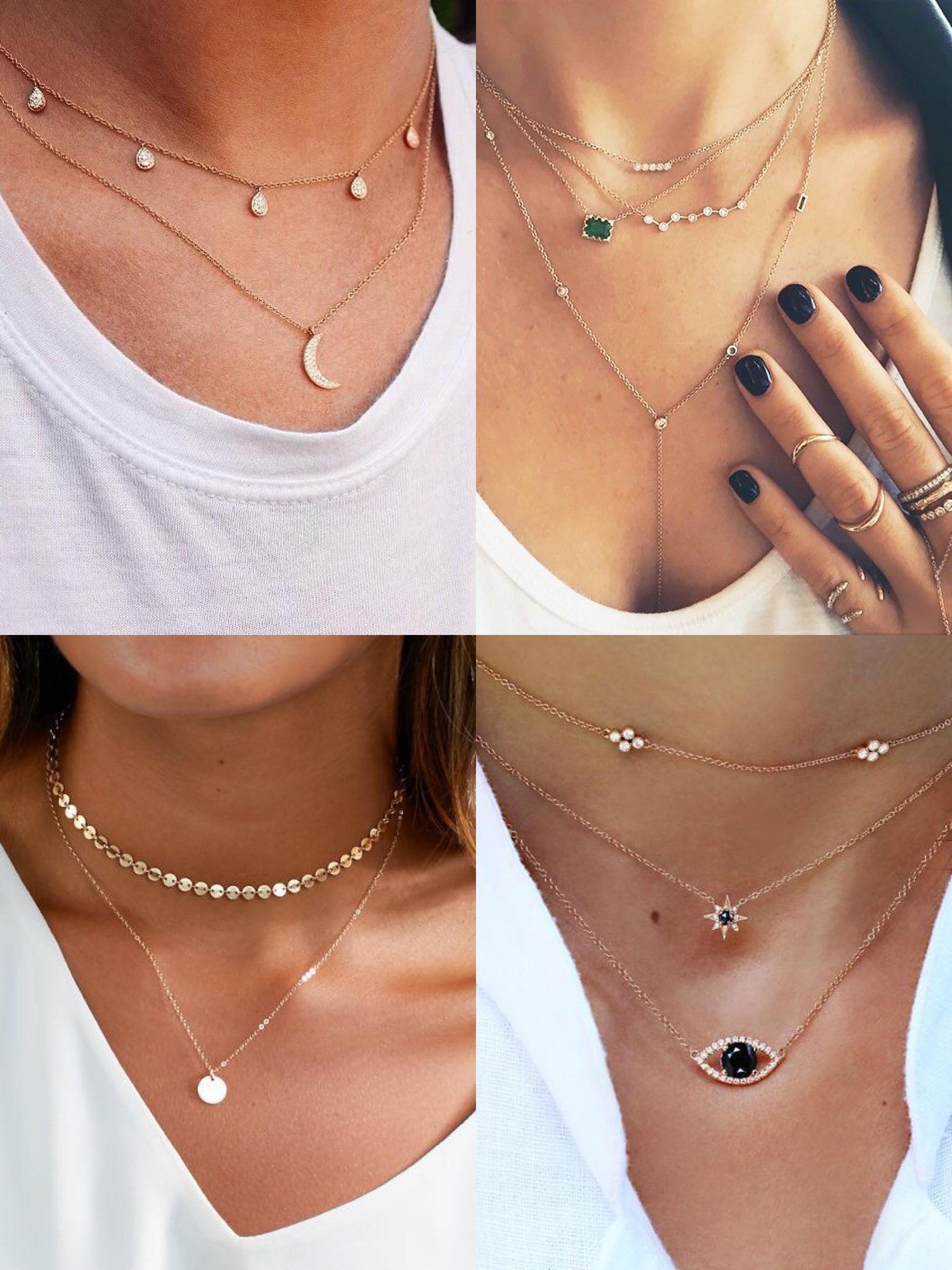 I love gathering inspiration online (hello Pinterest!) when I'm feeling stuck wearing the same combinations over and over again. Dainty pieces like these allow you to stack three or more strands without looking too busy and over-accessorized. Stick with small chains (or a couple of different sizes ranging from small to medium) to keep your daily stack balanced and minimal. Incorporate different shapes, stones and textures to spice up your layers! Below are some of my favorite combos.
INITIALS
EXPRESS + WINDSOR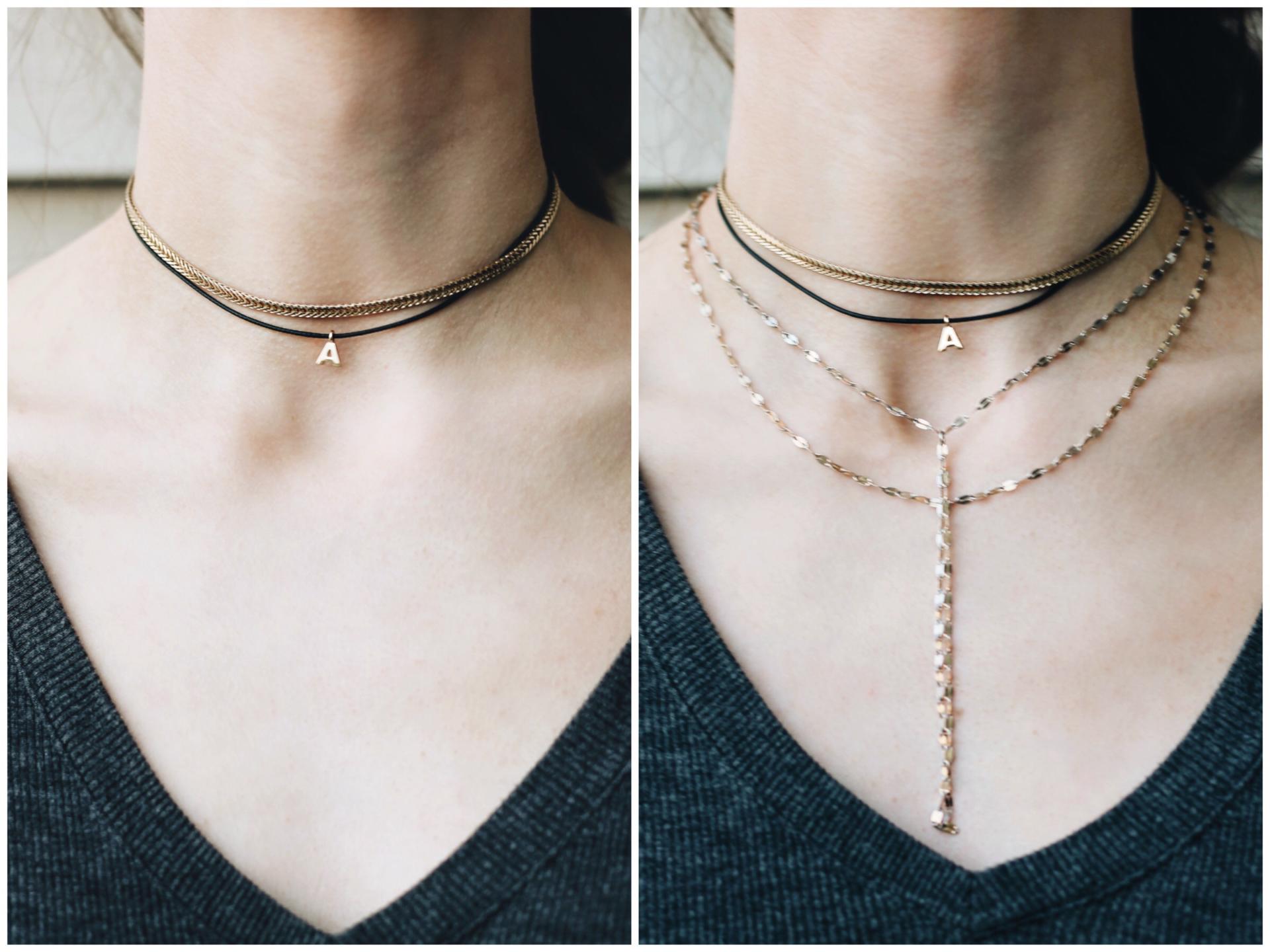 I randomly purchased a couple initial chokers from Express (my first and only time ever shopping there) one day in "J" for Justin and "A" for Abby and Armbruster, and I'm so glad I did since they've become some of my favorites. The black cord detail makes these chokers pop against my fair skin and I love that they're really easy to dress up and dress down depending on what my day holds.
GEMSTONES
MIDORI LINEA + WINDSOR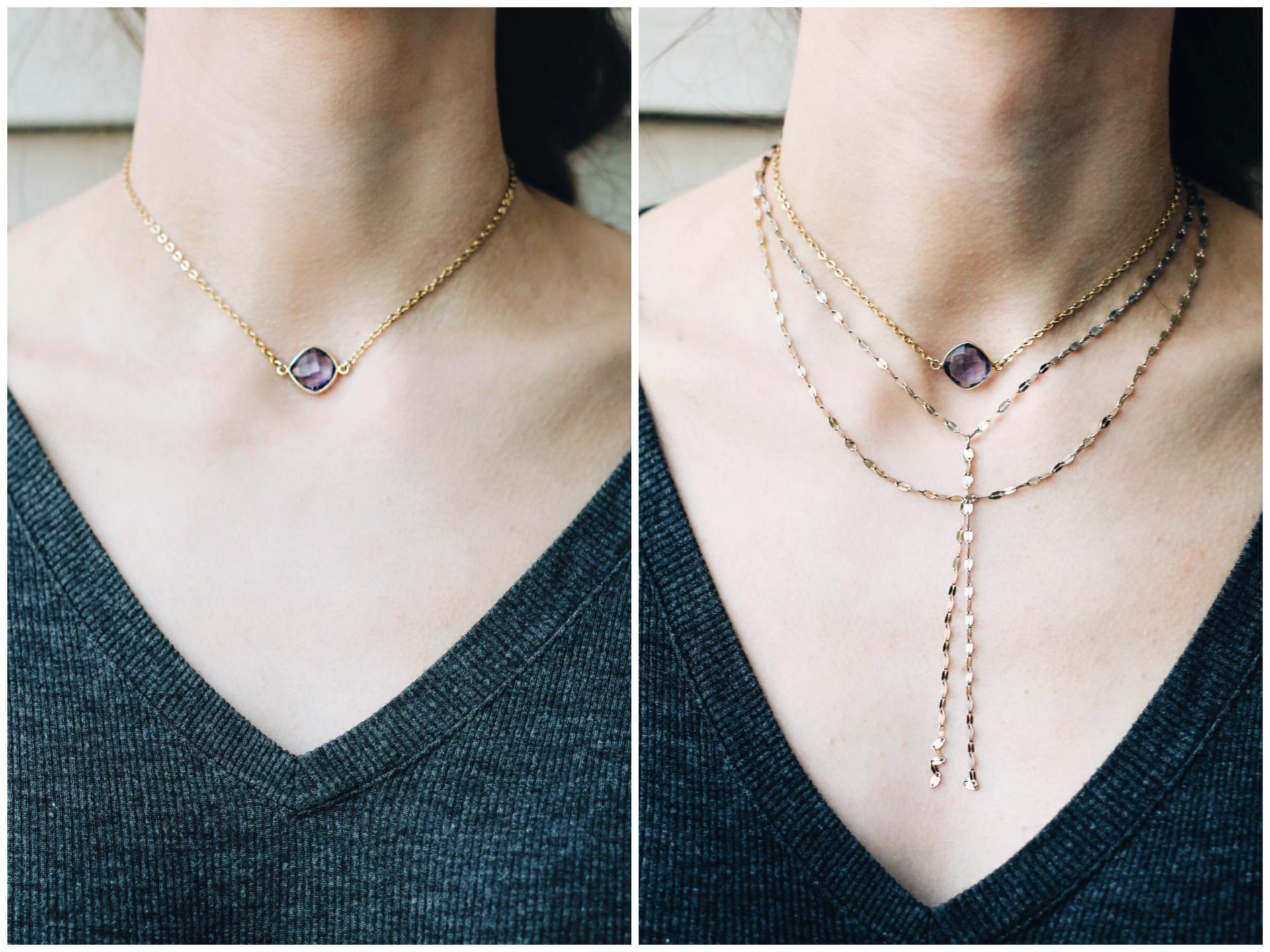 I'm a huge gemstone lover, so this Midori Linea number is to die for. I love how delicate it is and how it can add the tiniest pop of color to an outfit that is in need of something a little extra. This piece is really great to layer with other gold necklaces of different lengths to add depth and dimension, plus it's such a cool piece that you'll find people asking you about.
P.S. Use my code "ABBYSAYLOR" for 20% off your order! 
GOLD ON GOLD ON GOLD
DRY GOODS, LOVE POPPY + WINDSOR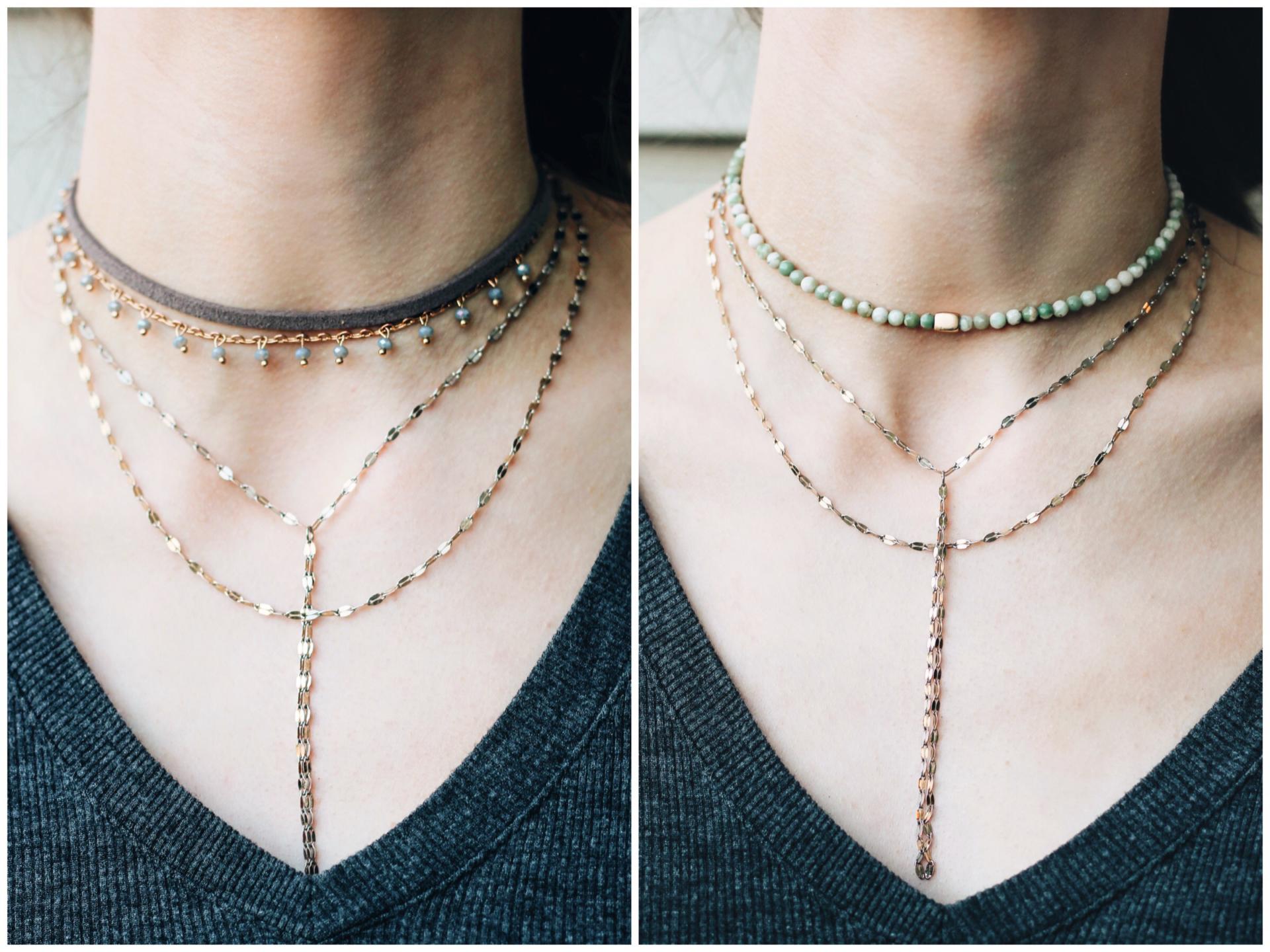 I love gold jewelry for summer! Warm tones always contrast better against my skin when I'm really wanting my simple pieces to be prominent. So many people have asked me about this gold dangling one, which is from Windsor. This necklace compliments all of my other gold necklaces SO WELL (including the blue one from Dry Goods and green one from Love Poppy pictured above) and instantly makes it look like I tried way harder than I did — work smarter, not harder ladies! 😉

What are your favorite necklaces for layering? Share some of your favorite shops in the comment section below! Personally, I'm loving Lauren Elizabeth's "Stellar" jewelry collection with Mejuri that dropped yesterday — I may ask for it for my birthday next month! Side note: for any of you who may be wondering why I missed my past two regular blog-posting days, my life is unexpectedly crazy busy right now! I'll catch you all up once it settles down a bit. Have a great Tuesday, everyone!