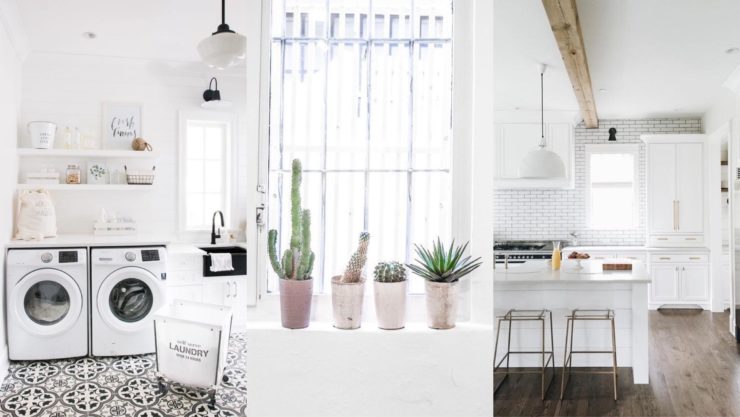 Happy Friday! In light of the weekend being mere hours away (WOO HOO!), I decided to do a fun post today sharing with you all what my dream house looks like! I'm always interested in seeing what other people's personal tastes are, especially when it comes to things like interior design.
I'd absolutely love to see your dream house too, so if you have a post up like this or you're planning to write one soon, please leave your link in the comments below so we can all check out each other's posts!

Below are some of my favorite spaces featuring what I love most: bright, open, and airy spaces with lots of white, hardwood floors, and pops of color with tons of texture.
KITCHEN + DINING ROOM
Open kitchens with white cabinets, gold hardware, hardwood floors, and long runner rugs are my favorite! 




BEDROOM
I love bedrooms that are mostly white and, of course, cozy. I love blankets and pillows as decor pieces, natural or light wood, some plants, and wall hangings.




BATHROOM
I dream of the day I get have my own a walk-in shower! Cool tile, patterned rugs, and big white cabinets pull the whole look together. 

I'm a big fan of a good pop of pink. I think it's great to mix metal colors for a good balance of warm and cool tones.
LAUNDRY ROOM
I LOVE exposed light bulbs like the one in this round fixture. The laundry room is a fun part of the house to play up with colored cabinets and/or a patterned tile floor.

LIVING ROOM
Living rooms are all about having a good color palette with comforting elements. We have a fireplace in our living room now and I love it! A couch with some cute chairs and an oversized rug complete the room.


ENTRY/MUDROOM
I thinks it's great to have a functional (and stylized) space to take your shoes off or sit your bag and keys down on when you come home. Cool wall art or a unique furniture piece makes it a focal point as well!

What does your dream house look like? Check out my Home Pinterest board for more photos. Have a great weekend!