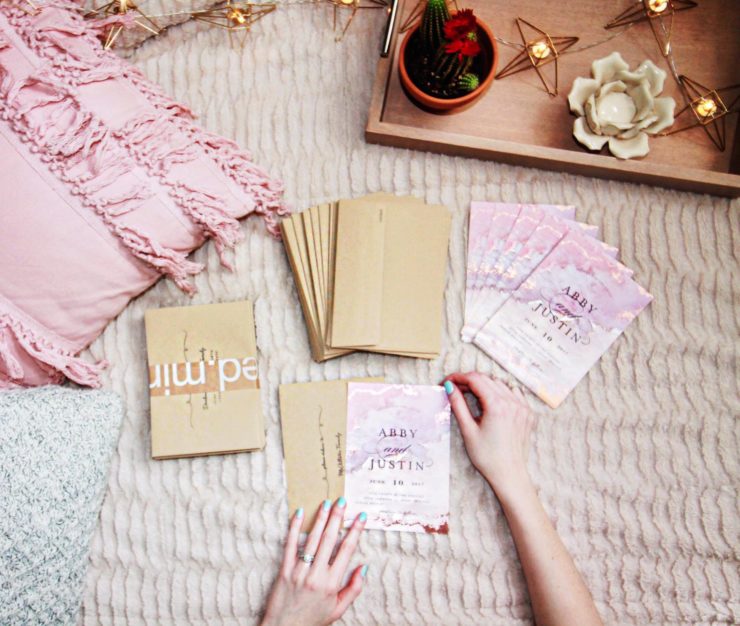 I was going to try to wait to share our wedding invitations until everyone received them in the mail, but I'm honestly just too excited. These turned out even more gorgeous than I imagined, which I didn't even think was possible. Keep reading to see all the details of our invitations from Minted, my review on the company, as well as some other invitation designs from their site that I love!
I literally screamed when I opened these. The design we chose is the Gilded Shore foil-pressed wedding invitations in the color morganite. The first thing I've heard out of my family's mouths when they saw these was, "they're so YOU!" and I completely agree.
I love the textured look — the dusty pink and grayish purple watercolor is exactly what I wanted, and the copper foil adds the prettiest shine! Justin helped me finalize our decision to choose this specific design months ago and he also helped me pick the font for the envelopes, which we both really love. We decided to go with brown envelopes again because they stand out when you come across them in your mailbox, and I'm smiling at how cute it was that the lady at the post office insisted that Justin needed the stamps with hearts on them. I'm so happy with how the invitations turned out and how effortlessly they fit our laid-back, garden, boho wedding vibe. We purchased 115 for $300.

If you saw my post a few months back on our save the dates from Minted, you'll know I'm a huge fan of the company. Minted makes the process so incredibly painless, especially with their Address Assistant feature. This allows you to share a link with your invite list (we shared ours via Facebook Messenger!) so each person can enter their own address, saving you from having to do all the hard work of typing everything out. The system then prints all the addresses on envelopes for you so you can save your hands from hours of writing. Once your invitations arrive in the mail, all you have to do is stuff the envelopes, stamp them and you're good to go!
Something else that's great about Minted is that they have so many designs to choose from, along with additional coordinating items, like save the dates, table numbers, thank you cards, etc. You can customize the designs with your own text, font, colors and photos to make them totally you. If you're not getting married just yet, they have tons of beautiful designs for parties, baby showers, birthdays, graduation… you name it!
Here are some of my other favorite wedding invitation designs:
WEDDING GUESTS: We mailed these out on Friday, so look for one of in your mailbox within the next week or so!
As for a wedding planning update, Justin and I finally selected the perfect officiant this week and nailed down our vows and the general details of the ceremony, we choose the bridesmaids and groomsmen that are walking together and the last two of my five bridesmaids ordered their dresses! The final elements are coming together and I have such an indescribable warm feeling inside thinking about how special this day is going to be.
Thank you so much for following on with me on this wedding planning journey. This has been the craziest week, hence why you're seeing the post a couple days late. You can catch up on my previous wedding posts here on my blog and on IndyBride2B, where I did a post on wedding vows this week. If you're in need of inspiration, I pin tons of photos on my wedding Pinterest board.
Look out for a fun travel-related giveaway on the blog tomorrow that I'm really excited to share with you! Enjoy the rest of your weekend — I can't say it enough how much I appreciate each and every one of you. Watch my new vlog below to see Justin and I unbox our DJI Mavic Pro, give our first impressions, learn how to fly it, send out our wedding invitations + more!