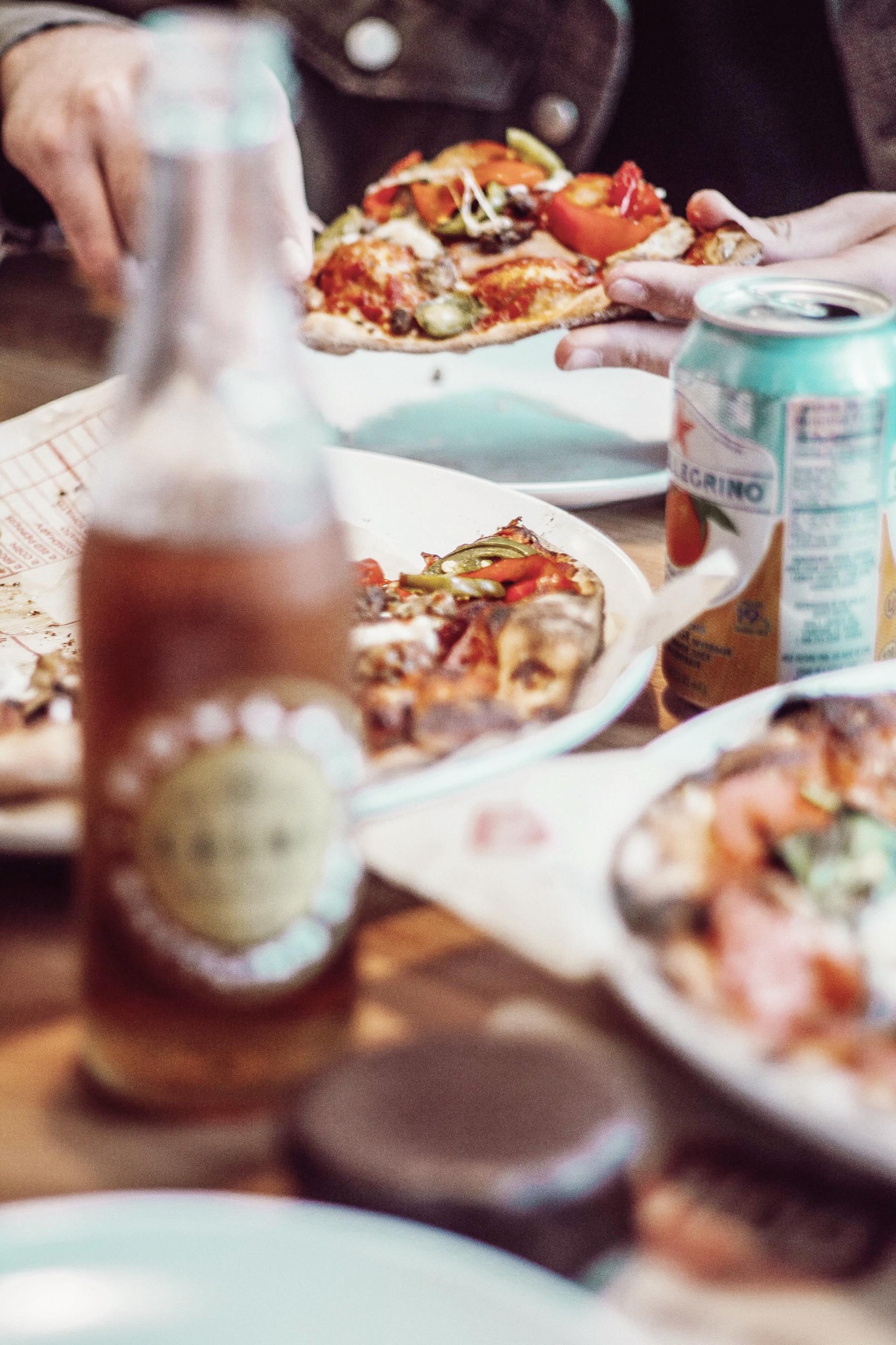 While looking for a new restaurant to try out on the north side of Indy with friends last weekend, I stumbled upon MOD Pizza, thought it looked like a yummy crowd-pleaser and decided to try it out — now we're obsessed! This restaurant has easily climbed to my top favorite lunch spots after just one meal. Keep reading for our customizable lunch experience at MOD, what we ordered + delicious-looking photos we're all probably wishing we could eat through the screen.
I think I have a future in food photography, ya'll. 😉
Justin and I went with our buddies Carrie and Gary (check out Carrie's cute store here) on Saturday hungry and ready to try something new. We instantly loved the environment when we walked in and the location is great since it's so close to the Fashion Mall at Keystone! Something that's so cool about MOD is that all their pizzas are the same price no matter how many toppings you add, which is so crazy to me. You can literally overload your pizza with every single topping on the menu or get plain cheese and it's still only $7.17. The restaurant is set up with a Chipotle style bar at the register to pick out your toppings and watch the workers place them.
The boys split a custom pizza jam-packed with every single meat available (so typical of them), and Carrie & I split one with garlic, tomato, spinach and sausage. As a huge garlic fan, I was so happy we decided to add it since the taste was so prevlanet, which I absolutely love! She and I also got bottled cream sodas and homemade ding-dongs, which were so deliciously rich! One of the workers came around and offered us free vanilla milkshake samples, and when I say samples, that's an understatement since it was basically a plastic cup full. It was soooo, so good and such a nice surprise! This was five days ago and I'm honestly still thinking about it.
The place is crazy affordable, you guys. The cream sodas were so good and so inexpensive — they were only a couple bucks, which is pretty much the same as what a standard fountain drink costs and I felt so retro drinking it (think Riverdale diner vibes). This is a great place for families and people of all ages and we loved the casual and trendy feel! It's definitely photo worthy for my fellow Instagram lovers out there!
Dying to try it out? You'll be happy to hear MOD is a chain with tons of locations, so there's likely one near you! Thanks so much for stopping by the blog today and I hope I didn't make you too hungry. 😉 Check back for a new post tomorrow!