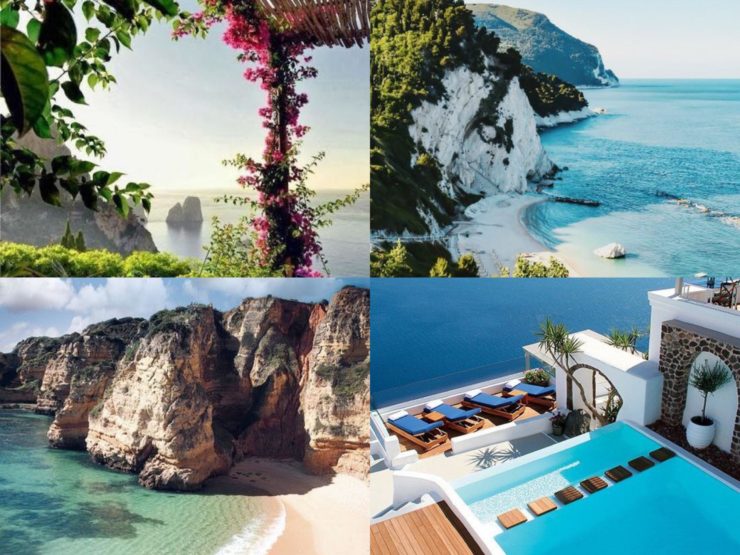 After months of researching various countries, cities and resorts, deciding where we want to go and determining the type of trip we want to have, Justin and I are thrilled to have finally booked our honeymoon this weekend! In this post I'll be sharing our destination, how we planned our trip + our tips for couples traveling on a budget.

We can't wait to travel out of the country together for the first time and explore a new place that we've never been before. A few days after our wedding, we'll be heading to…

That's right, Justin and I will be traveling to this beautiful Caribbean island in June! We'll be spending five nights at the Coconut Bay Resort, located on the southern tip of the island, shown below.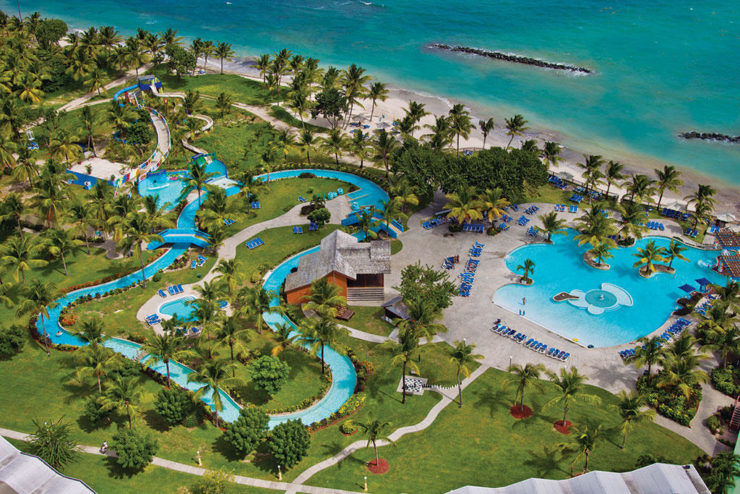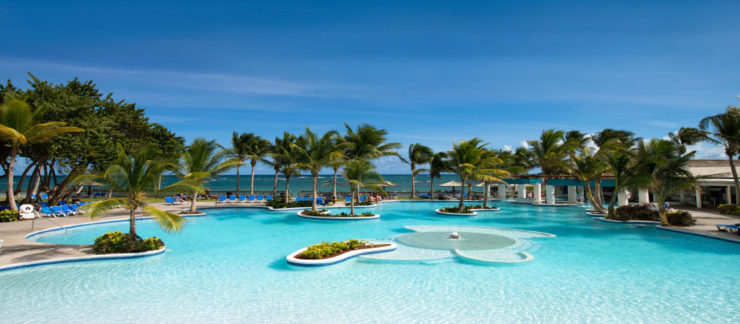 PLANNING + BUDGETING TIPS
Consider all-inclusive.
I highly suggest doing an all-inclusive trip for your honeymoon. If you're fairly inexperienced travelers like Justin and I who haven't been out of the country before, this will save you the stress of trying to add food (etc.) into your budget prior to going on the trip.
Do your research.
One struggle we had when researching resorts is that not all websites clearly state what exactly your package comes with. I'm not sure if this is their way of suckering you into spending more money, but we found some advertisements and package deals to be deceiving. Be aware of exactly what you're getting in your package to avoid spending more money than planned.
Look into airfare and flight options.
Something else you'll want to be on the lookout for is that not all all-inclusive packages include flights. Some packages that include flights will save you money, while others may be more expensive — so you'll want to do your research. Look up flights to the destination you want to go to and consider prices for flying direct and indirect. You may find that getting an airfare deal with your trip package is cheaper.
Be aware of airport-to-resort travel.
This is something we didn't think of at first, but quickly became aware of when we started researching. You'll want to make sure you have travel from the airport to the resort taken care of and maybe even paid for and arranged before you get there, depending on where you're going. Though a longer drive through the country would allow us to see more, we thought it would be beneficial to select a resort closer to the airport to be able to spend more time on the beach + save money on travel fees!
Utilize blogs and Pinterest.
People who have traveled to the area before are a huge resource! Look for blog and Pinterest posts sharing suggested tips on where to go, what to do, the best places to stay, packing lists, etc. I suggest making a Pinterest board of your own to collect all of these ideas you find to help you plan your trip and schedule your itinerary. Check out the Pinterest board I've made for our trip here.
HOW WE PLANNED IT
We looked into Sandals and Beaches, but we ended up choosing to book our trip through CheapCarribbean.com (shoutout to Carrie for your piece of help on this! 🙂 ). This is the best site we found that lets you clearly search by your specifications: the country of your choice, city you'd like to fly out of, hotel + flight or just hotel, number of rooms and adults/children, all-inclusive or not, and the dates of departure and return. It then gives you a list of all of the resort options, including the initial price, which is really helpful when narrowing down the options within your price range. We really loved this site because it provided so much information all in one place without having to hunt for it, including:
Detailed reviews
Tons of photos
Best and worst parts about each resort
Amenities
Nearby excursions and attractions
Hotel description
…and so much more!
SIGHTS TO SEE
St. Lucia has so many beautiful landmarks that we want to explore. Some of the top sites/activities include the gorgeous Pinto Mountains, Diamond Falls, the word's only drive-in volcano, ziplining through the rainforest, taking a hot mud bath in the Sulfur Springs volcano, dolphin and whale watching, snorkeling, sailing + more.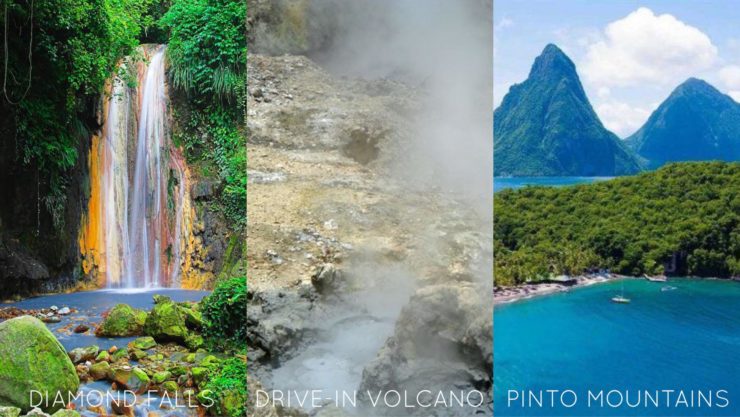 Cheap Caribbean provides excursions and activities that you can sign up for directly on the site with hotel transportation included, which is really helpful. We plan to go on the "Soufriere Experience" shown below.
Soufriere Experience
Full Day (7 Hours)
Private Tour — up to 4 guests
You dictate the duration of the stops on this private tour including a scenic drive along the west coast to the town of Soufriere, home of the world's only drive through volcano, the picturesque Botanical Gardens and Diamond Waterfalls (or just take a dip at one of the many waterfalls) Torraille Waterfall and swimming and snorkeling on Jalousie Beach. 
__________
That's a wrap-up of our upcoming trip so far! We can't wait to share our trip with you — and you best believe we'll be filming it along the way. 🙂 I plan to do posts on my packing list and honeymoon essentials, so be on the lookout for those!