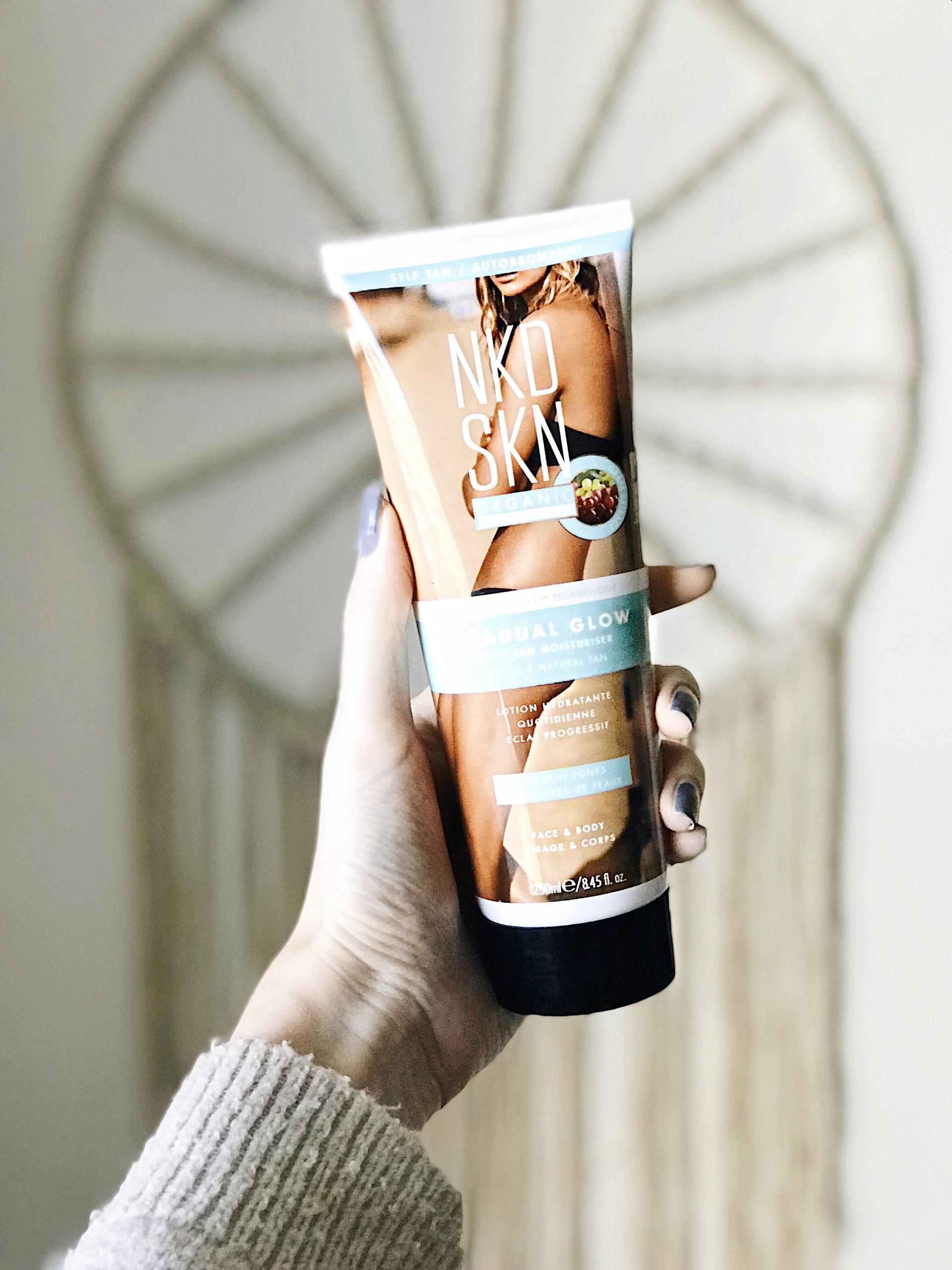 You guys, I've FINALLY mastered my self-tanning routine! No more orange ankles, streaks or tan-less body parts for me (yes, I've forgotten to do one of my arms before). Keep reading to learn why I love my holy-grail NKD SKN Gradual Glow tanning lotion so much + my game-changing techniques for maintaining an even summer glow year-round. It truly is possible.

There's something about having a glow that just makes you feel on top of your game. As a fair-skinned lady myself, I feel like a new woman with fresh, moisturized, tan skin. Living in the Midwest where summer sunshine is brief to say the least, I'd been on the hunt this year to find a self-tanner that was as easy to use as it was effective — and far from orange.
I'm a huge fan of Tarte's Brazilliance PLUS + Self-Tanner, but not a huge fan of the price. This prompted me to search for another product that did the same job, but at a guilt-free price-point… in comes NKD SKN Gradual Glow. I spotted this brand on an Ulta trip one day and decided to give it a shot since the packaging drew me in and the $15-20 price-point was right up my alley. Needless to say, I fell in love. I've come to learn that you're tanning routine is equally as important as the product your using, so let's jump into that.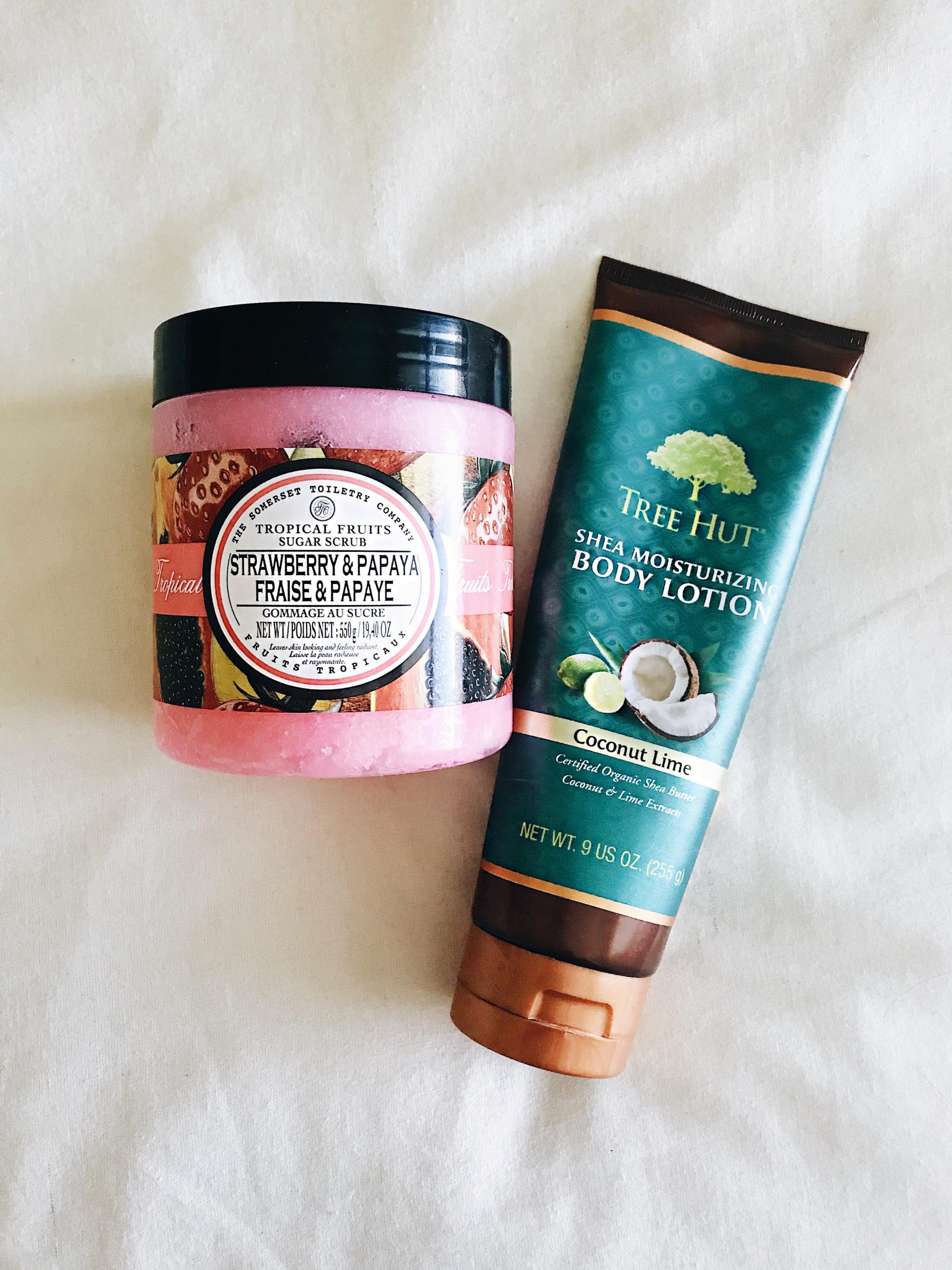 STEP 1:
EXFOLIATE + SHAVE
I notice a huge (and I really do mean huge) difference in the quality of my tan when I actually take the time to exfoliate and shave in the shower before applying the tanner. Sometimes I get lazy or find myself short on time and skip this step, but it's almost never worth it! I suggest exfoliating your whole body and shaving to create a clean, smooth canvas. Any sugar scrub will work, but I particularly love the strawberry & papaya one pictured above that I picked up at TJ MAXX. It smells SO GOOD, almost like a fruity perfume from the 90s. I know that sounds weird, but I think you'll agree when you smell it!
STEP 2:
APPLY LOTION TO TROUBLE AREAS
Apply your regular, everyday lotion to problem areas: ankles, wrists and elbows specifically. These are the areas where I previously found tanning lotions sticking, streaking and looking heavy. Applying lotion to these areas before the tanner will allow it to rub on smoothly and not cling to dry, unwanted spots. Doing this has made such a HUGE difference for me, guys! This particular NKD SKN tanner instructs not to apply lotion beforehand, but only applying a little bit of lotion to these problem areas will take your tan to the next level — I promise you!
STEP 3:
APPLY TANNER + MAINTAIN DAILY
I use a mitt to apply the tanning lotion. Specifically, my mitt is the one that came with the Tarte tanner, but you can buy similar mitts from places like Ulta or Amazon. I use a quarter-sized amount at a time to spread out in quick, circular strokes across each area on my body, typically starting on my legs and working my way up to my neck and back (which I usually have Justin help me with). The product lays so naturally on my skin and doesn't feel sticky or uncomfortable, plus it's odorless!
I'm fair-skinned and chose to use the medium shade of this product with a "caramel tint." The lotion goes on clear, so be sure you're paying attention to where you're putting it so you don't miss any spots. If you think you may have missed a spot, it's always better to go ahead and apply more than to skip it and hope for the best, at least in my experience. I also apply this tanner to my face with my hands sometimes and haven't had any negative reactions with my skin — just be sure to wash your hands immediately after! For tough areas like your hands and feet, use the remainder of product that's left on your mitt to gently fade it in. I recommend maintaining your tan by applying your everyday lotion each morning and night to keep your glow looking silky.
and just like that…

What's your favorite self-tanner? Have you tried this one? Do you have any additional techniques for a smooth, even tan? As always, thank you so much for reading and let me know if this post is helpful for you!