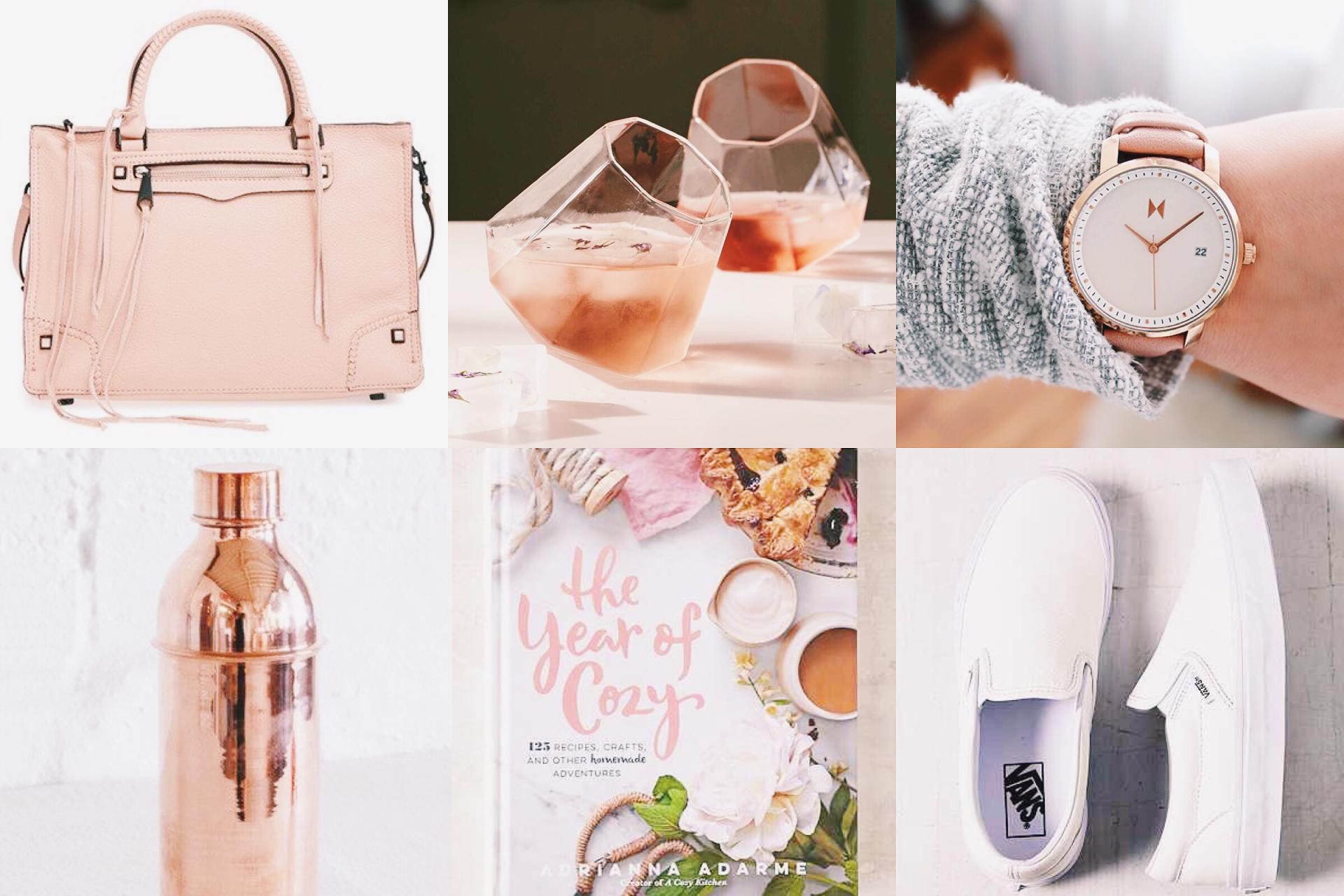 I haven't done a wish list post in a few months, but these are definitely some of my favorite posts to read. I love seeing what people are interested in and I love finding out about new products on the market. Here are some fashion and lifestyle items I'm lusting over right now!

1 // Rebecca Minkoff 'Regan' Satchel
If my obsession with blush pink isn't already obvious, this bag is a dead giveaway! I love structured bags and the color and design of this one is killer. This bag would be great for all seasons and can easily be dressed up or down depending on where you're going or what you're doing. It also zips closed, which is always a huge plus for me!
2 // Diamond Glass Set
I came across these glasses on Pinterest and I think they're so cool! Urban Outfitters always has the cutest unique home decor that most people don't typically think of buying. These would look awesome on a coffee table and they're such a conversation starter. Interesting pieces like these create style within your home decor.
3 // MVMT Rose Gold Peach Leather Watch
I'm not sure if I have ever worn a watch in my life, but I've been into them lately. Of course I love the rose gold and blush pink combo of this one! I think they look really cute styled with chunky sweaters or classic white teachers for a casual pop of color.
4 // Copper Water Bottle
This water bottle is so sleek (not to mention it fits my aesthetic to a T)! I love the effortless and unique look of it. I've been drawn to these kind of screw-top water bottles lately and I need to get my hands on one! I noticed they had cute ones at Aerie last time I was there if any of you are interested in picking one up.
5 // The Year of Cozy by Adrianna Adarme 
I'm not much of a reader (I need to change that) but I love books like these that are not only fun to read and look through, but serve as great coffee table/decor pieces when you're done with them! This one is packed full of "125 recipes, crafts, and other homemade adventures" which is right up my alley and is basically me in book form! Need.
6 // VANS Classic Slip-On: White
I have been eyeing slip-on white vans for over a year and I've yet to purchase a pair! I love how they can be dressed up or down with so many outfits. I'm a Vans girl when it comes to choosing a pair of comfy and casual shoes. I'll definitely be getting a pair for spring!
What's on your wish list? Leave me a comment and let me know!
Click here to read my last wish list post if you missed it!
Thanks for reading!