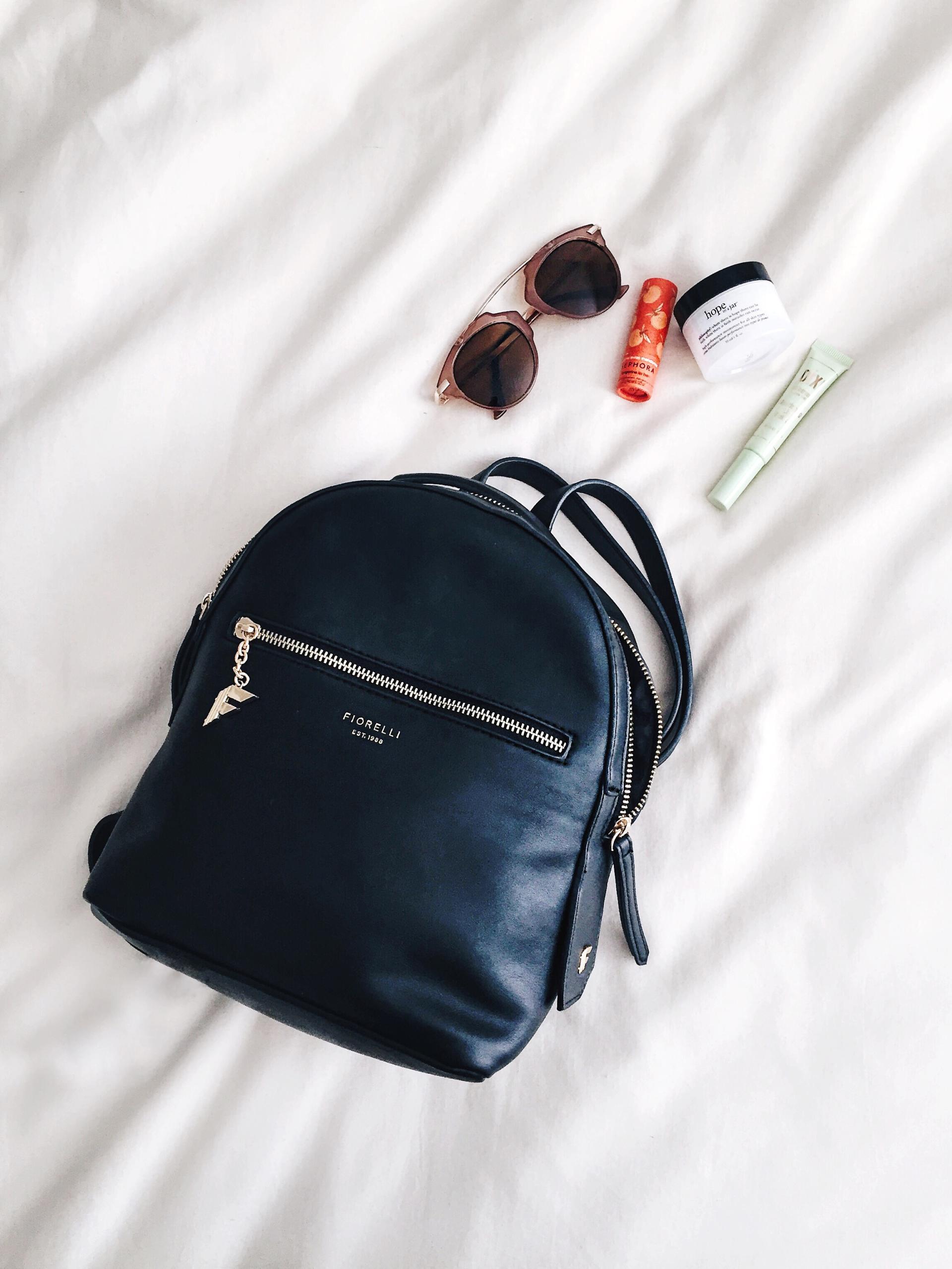 With summer upon us and spending most weekends running around doing outdoor activities, I find that it's essential to switch up the contents of my bag with a light load of my warm weather necessities. Keep reading for the products I recommend carrying with you in the summertime to keep your bag small and to help your days run smoothly!
LIP BALM
I'm a total lip balm junkie and find myself lathering it on my lips more times than I can count. I tend to have dry lips sometimes, so I'm always on the hunt for the perfect formula that will keep my lips moisturized and soft without feeling like I'm wearing too much product. Below are some of my current favorites for removing dry skin off my lips and staying hydrated, along with my all time favorite lip scrub from Lush — the "mint julips" flavor is so yummy + keeps your breath a little extra fresh! I also suggest keeping a balm around with SPF, especially on beach and pool days. Pro tip: If you're in a crunch and don't have time to pick up a lip scrub, use the corner of a wet washcloth or a toothbrush to massage off dead skin!
BODY LOTION
…an obvious essential for having silky legs all summer long! I apply mine after the shower, in the morning when I'm getting dressed and before bed. My favorites right now are Bath & Body Works ultra shea body cream in Warm Vanilla Sugar and Philosophy's body cream in Snow Angel (how festive for summer, right?! 😉 ). The Body Shop has great ones too in tons of scents! Side note: I'm wanting to try the leg bronzing and highlighting techniques I've been seeing all over YouTube — let me know what your thoughts are on it if you've tried it!

SUNGLASSES + CASE
This is an obvious necessity, but something I somehow forget sometimes due to not wanting to toss a pair in my bag in fear of lenses getting scratched. I finally tracked down my old Burberry sunglasses case this week and have found it to be so much easier for keeping a pair of unscratched shades in tote. My favorite sunglasses are the Steve Madden ones that I showed in this haul video, but below are some other styles I love!

PINK LIP COLOR
I'm always hearing about the ideal "your lips, but better" lip colors, and that's exactly what I love wearing most in the summer. I like to keep my face looking natural and fresh, and a nice warm pink color gives me the perfect look. My absolute favorite right now is the Tarteist Lip Paint in Namaste — it's so smooth and pigmented! Chapstick Total Hydration tinted lip balm in Rose Petal provides great color payoff as well without the commitment of a liquid lipstick.
FACE LOTION
I've been getting dry skin on my nose this year for the first time in my life! I don't know what has changed to cause this to happen, but as a result, I've found myself needing to carry around a moisturizing face cream when mid-day touch-ups when necessary. I love Hope in a Jar by Philosophy because it's so airy and light, making it super easy to quickly moisturize with without going overboard and making my face too oily. This one is designed for all skin types, which is great for people who are oily throughout other parts of their face like me!
HAND LOTION
If you haven't already caught on by now, I'm a lotion-obsessed freak. I apply lotion multiple times a day to keep my skin smooth, soft, subtle and glowy for summer. I've cringed at dryness my entire life. I received the Blue Jean hand cream by Blue Capri at the the Fira Boutique blogger shopping event in Broad Ripple a couple months ago and I've really been loving it! The light perfume fragrance keeps me smelling fresh all day and the formula is grease-free, preventing you from leaving oily marks on everything you touch (bleh!).

What are you summer bag essentials? As you may know, I'm pre-writing this because I'll be preparing to go on my honeymoon in a couple days when this post goes live (so I'm officially a MARRIED WOMAN as you're reading this!), so be sure to follow along on social media (Instagram, Twitter and Facebook) to see my adventures with Justin in St. Lucia this week, as well as some wedding photos before my blog post on it goes up!