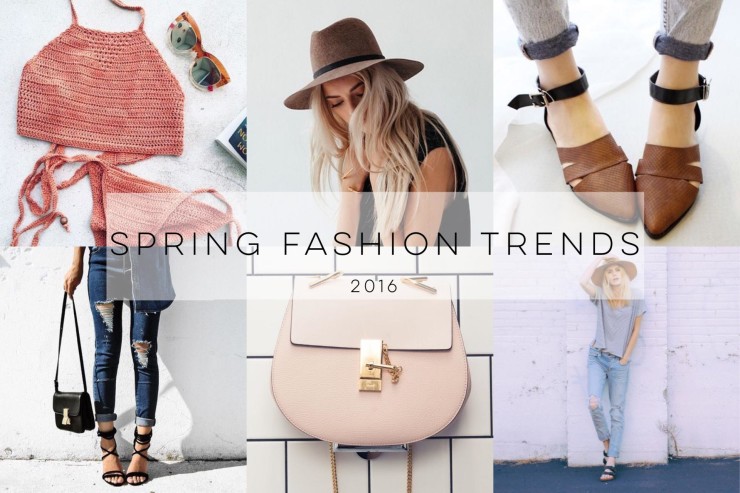 Spring has arrived and, like always, the trends for the season have evolved! I always like to pick up a couple new items each season to incorporate into my existing wardrobe to stay up-to-date on what's in style. Today I'm sharing with you this spring's trendy must-haves!

In this post I've covered everything from shoes and accessories to bathing suits and essential wardrobe pieces. And if you haven't noticed, I added a shop section to my blog this week with links to some of my favorite must-have items, including some pieces similar to these if you want to check it out! 🙂
STRAPPY LACE-UP SANDALS

These babies are everywhere! These strappy sandals can be worn with basically everything, not to mention they are super comfortable and obviously easy to walk in, making them a practical purchase for your spring wardrobe.  These shoes can be a statement for any outfit, especially if you wear a contrasting color to your skin tone — LOVE these!
RIPPED JEANS

Ripped jeans have been in for a few consecutive seasons now and are continuing to stick around this spring. Ripped jeans with holes ranging from small to very large are trendy in all denim washes, including white and black. You can mix up the look by wearing different washes with various tops, as well as cuffing them or wearing a cropped version.
PASTEL BAGS

Pastels are ALWAYS in for spring, but it looks like that's mostly being translated in bag form this year. Baby pink is the "it" color, which is awesome for me because it's my favorite right now! Pastel bags like these can serve as a pop of color for any neutral outfit, or an accent color. If pastels aren't your thing, a nice nude bag will do the trick!
SEPARATES

Two-piece outfits continue to be a trend for the warmer months. I love this look because it makes putting an outfit together so incredibly simple, yet it appears like you put a lot more thought into it than you actually did (who doesn't love that?). Separates can be both casual and dressy, depending on the accessories you choose and how you style them. You can also mix and match your separates to create tons of different looks!
HIGH-NECK HALTER SWIMSUITS

Almost every swimsuit I've come across online this season (especially Pinterest) has been this style! What I love about the halter top is that it is flattering on all body types, making it easy for everyone to fully embrace the trend. Halter swimsuit tops can also be easily transitioned into regular tops with high waited shorts or skirts when going to the beach or pool. I've noticed that crotchet suits are everywhere this season as well, which is a unique and unexpected.
FRINGE


I'm so happy fringe is back! I'm obsessed with everything boho, which fringe fits into perfectly. You can incorporate fringe into your looks by adding a fringe bag, fringe shoes, or even fridge tops, skirts, or jackets. Fringe is everywhere right now so finding a piece that works for you and your style should be pretty simple.
WIDE-BRIMMED HATS


I've yet to purchase one of these, but I'm on the lookout for one now! Adding a hat pulls your whole outfit together and instantly makes a simple tank or dress look 10 times more put together and fashion forward. Hats also work great for bad hair days or awkward times in between shampoos. They can be styled in several ways by wearing your hair down, in a braid, etc.
CAGED SHOES, ANKLE ACCENTS

This season it's all about accenting your ankles — whether it's ankle boots, sandals with ankle straps, or lace-up flats. You can add texture to your outfits by pairing simple cotton and denim pieces with suede or leather shoes. Closed-toe shoes with the rest of the foot exposed is also in this season.