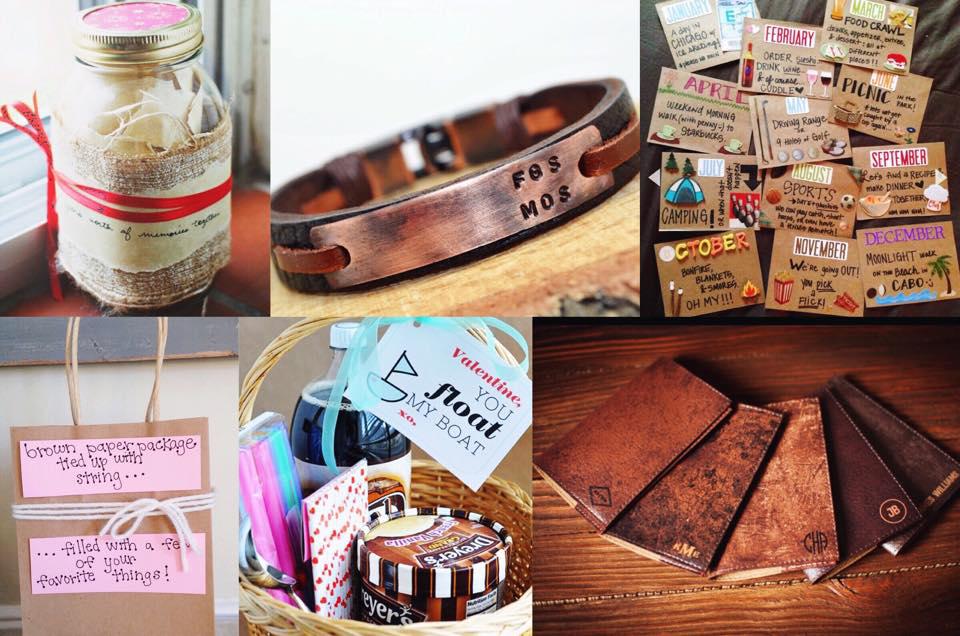 It's officially February, which means it's time to start scoping out gifts for your valentine. I always want to give something unique and unexpected, so I've gathered a few ideas for you to consider this year: some sentimental DIY projects, as well as some personalized handmade gifts. With budget in mind, these gifts range from around $10 and up!

1 // Memory Jar
This is a simple and inexpensive gift to make that holds so much meaning! All you need is a mason jar, paper, ribbon, string, and a fabric of your choice. Write something such as, "Years worth of memories together" like the one above on the label, and fill it with your favorite moments written on pieces of paper. This is a gift that lasts — allowing him to open one up each day, add new memories to it, or instead: present him with a decorate, empty jar and spend time together writing all of your memories down!
2 // Personalized Leather Bracelet
This is a sweet gift to give your significant other that will last a lifetime and will always remind him of you! Customize the bracelet with both of your initials, the coordinates of where you met or where you had your first date/kiss, or a special quote or symbol that means something to both of you. I love the look of this leather, metal plated bracelet. Purchase the one pictured above here.
3 // "Open When…" Date Envelopes
This is a thoughtful gift that you can enjoy for an entire year! Gather 12 envelopes (one for each month), come up with specific date ideas or activities to enjoy together, and decorate each envelope accordingly. Fill each envelope with an item that goes along with the date, whether it be concert tickets, a gift certificate, etc. This will give him something to look forward to each month, plus he gets 11 extra surprises he wasn't expecting!
4 // Paper Bag Filled With His Favorite Things
If you're feeling lost on what to get him, pick up a paper bag from the store or from around your house, add the cute phrase, "Brown paper package tied up with string… filled with a few of your favorite things!" and do just that — fill it with stuff you know he loves! Grab his favorite candy, snacks, movie, a video game he's been wanting, etc. It will definitely be something he'll appreciate!
5 // Date Night Basket
This one not only serves as a gift, but also a fun activity for you to do together on Valentines Day! Fill a basket with 2 cups, root beer, ice cream, straws, some candy, and a movie to watch for a cute root beer float movie night! All he really wants for Valentine's Day is to spend time with you, so this is a fun way to surprise him and enjoy a tasty treat together.
6 // Monogrammed Leather Passport Cover
If the two of you plan to travel together, this is a super thoughtful gift. Choose a leather color and customize the passport cover with his initials. This is a unique gift that he won't expect, but one he'll cherish forever because it will remind him of you and your fun times together: visiting new places and making memories. Purchase the one pictured above here.
What are you getting your special someone for Valentines Day?