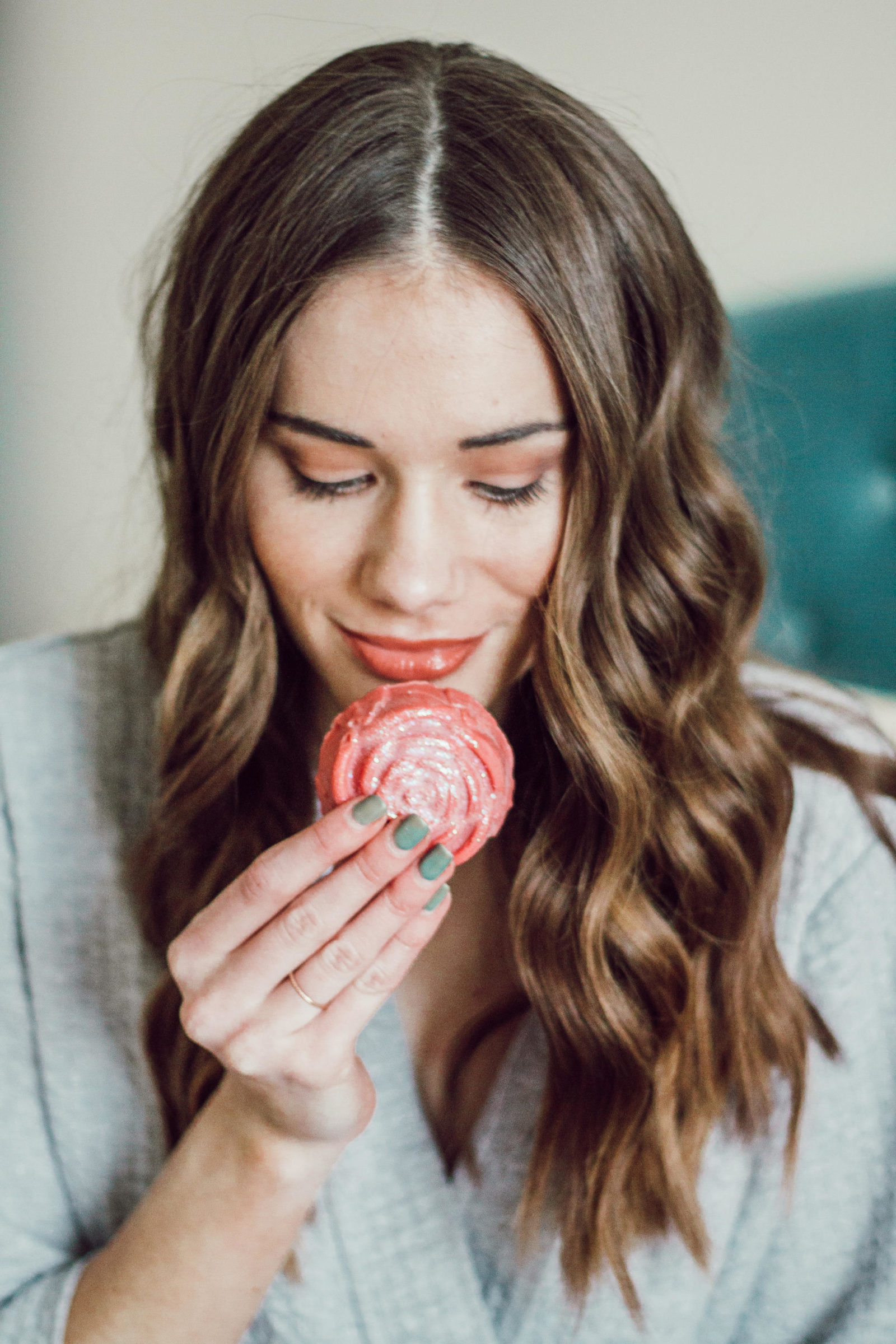 Happy Valentine's Day, everyone! V-day is one of my favorite holidays thanks to all the pink tones, sweet treats (I have the biggest sweet tooth and would voluntarily eat cake and candy for most meals), treating yourself and those you love, so why not embrace it? Today's post is a step-by-step pampering guide to treat yourself this Valentine's Day!
As you may have seen me mention on Instagram, one of the girls Justin coaches on his swim team (he's a middle school math teacher + coaches soccer and swimming for those wondering) gave us these soaps as a gift and I thought they were too cute not to share! This pink one smells exactly like Starburst and they're sparkly and come in fun shapes, which is so cute. So if you're local and looking for new soaps to try, check out Creekview Farms. With my parents owning two small businesses while I was growing up, I love and encourage shopping small!
Back to the pampering guide — when I have some time to myself and am in need of a relaxing evening, here are my go-to's for feeling like my most fresh and best self.

1: Light a candle — I always like to have a candle lit in the bathroom that I later transfer to the bedroom and I continue my pamper routine. I don't have one specific scent I always use, but I find anything floral like rose or lavender to be super soothing. If you're more of an essential oils person, do that instead!
2: Gather and use fresh soaps, a new razor and sugar scrub — Extra time spent in the shower focused on upkeep and relaxation is always my first step. This is the best way for me to "wash off the day" and destress, and using new products makes it fun. I'll be using these colorful soaps this week in addition to a sugar scrub (I get all my best ones at TJ Maxx!) and a razor for soft, clean skin.
3: Apply self-tanner/lotion — Depending on how much time I have and how I'm feeling, I'll either apply self-tanner or lotion when I get out of the shower to moisturize my skin and keep it looking healthy and nourished. Lately I've been using Warm Vanilla Sugar by Bath & Body Works (a long-time favorite) and NKD SKN Gradual Glow self-tanner (you can read my full review on it here).
4: Apply heat-styling products and dry hair — I don't know about you guys, but I can't go to sleep with wet hair. I used ton do it all the time when I was younger and I just can't anymore! I like to use products that protect my hair and leave it feeling silky soft, which lately has been TRESemme Thermal Creations Heat Tamer Spray, MONAT Blow Out Cream and It's a 10 Miracle Leave-In Conditioner (my #1 fave for silky hair!).
5: Use a lip scrub + balm — My lips can get pretty dry sometimes, especially in the winter with this roller coaster of varying temperatures we've been having. I use my Lush Lip Scrub in Mint Julips to scrub off any dead skin, then apply a generous layer of Vaseline all over, including the outer edge of my lips for moisture that lasts all night long.
6: Touch up nail polish — Last but not least, I like to touch up my nail polish on my toes since we all know the shower likes to eat it off over time. I usually stick with Essie or China Glaze, and right now I'm wearing a gunmetal one by Essie.
…and that's all!
I hope you all have a great Valentine's Day! What are your plans? Justin has a swim meet tonight and won't be home until late, so we celebrated yesterday by exchanging gifts, eating sweets and spending the evening together — so you best believe I'll be doing my pamper routine tonight! I always like looking back on past holiday's posts, so you can peek my previous V-day ones here. Have a great day & check back on Friday for another new post!