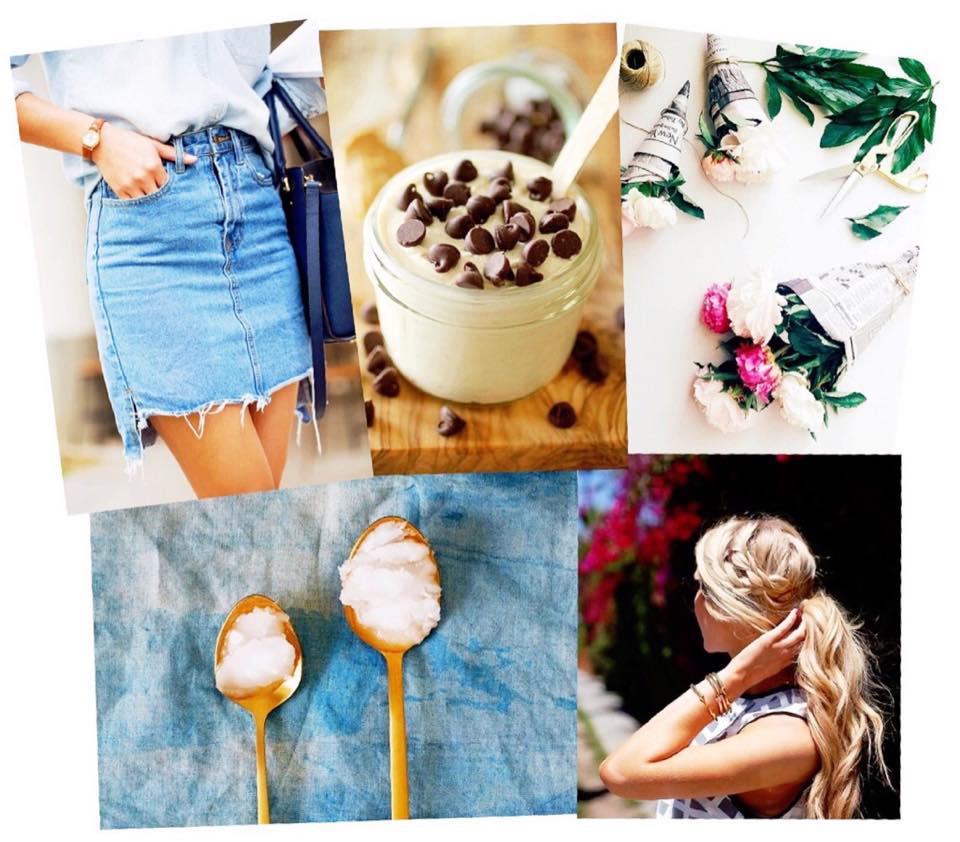 It's Monday, which means I'm back giving you some ideas for things to try this week! This post includes ideas and inspiration I've gathered from Pinterest and various other outlets that I would like to share with you. Let me know if you try any of these out!

Denim skirt.
I never thought I would say this, but… denim skirts are back! I'm starting to like the high-waisted medium-length skirt look with a blouse tucked into it. If you're not quite ready to fully buy-in to the trend and commit to it, hit up your local consignment store and pick up an inexpensive skirt to test out this week!
1-minute cookie dough greek yogurt.
I stumbled upon this on Pinterest and I'm dying over how delicious it looks! Combine low fat Greek yogurt, peanut flour, honey/sweetener, vanilla extract, and almond extract and chocolate chips (optional) for a delicious and healthy cookie dough flavored treat! It can be prepared in a matter of minutes and it's good for you — what's better than that? Click here to read the full recipe and instructions on dashingdish.com.
DIY flowers wrapped in newspaper.
I think this looks so cute. It's as simple as it sounds — cut up chunks of leftover newspaper, wrap it around your favorite flowers, secure it with string or ribbon, and you have yourself an adorable gift or piece of home decor! This is such a simple, but creative way to hold your flowers together while giving them a bit of unique flair.
Coconut oil.
If you've never used coconut oil, now's the time to start! There are an incredible number of beneficial ways that coconut oil can be used, including: calming your acne, removing makeup, conditioning your hair, relieving sore throats, soothing heartburn, cleaning your makeup brushes, and SO much more. Click here to read the full article on 15 ways you can use coconut oil.
Textured ponytail.
This style is perfect for second day hair! Begin with textured, leftover curls or waves and part your hair to the side. Form a loose, messy braid toward the front of your hair and bring it backward. Pull the braid apart to add more texture and volume. Form your hair into a ponytail and secure it with an elastic. Use a texturizing hairspray to finish off the look — LOVING this!
Which of these ideas are you most excited to try out? Be sure to follow me on Pinterest for more inspiration!
Click here to read my Things To Try posts from previous weeks.