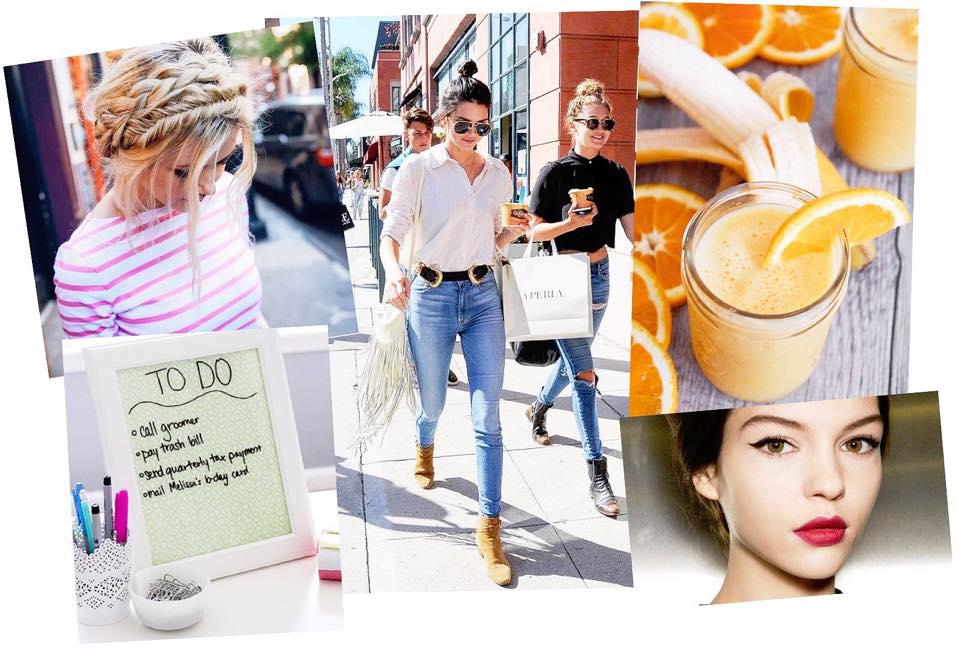 It's Monday — so I'm back giving you some inspiration for new things to try this week. Be sure to let me know which ones you plan on doing!

Braided crown hairstyle.
This is a really cute way to wear your hair up and out of your face without doing the typical top knot or basic ponytail. Part your hair and separate it into two sections. Hold each section upwards as you braid it, cross it over the top of your head and pin it into place. Be sure to pull apart the braid for a more loose, messy, and effortless vibe.
"Off-duty model" look. 
If you're aiming for an effortlessly fashionable look, this is the way to go. The "off-duty model" look is quite popular on photo based sites like Pinterest and Tumblr. Many of these outfits that I've seen often consist of high-waisted skinny jeans, a loose blouse, t-shirt, or tank top tucked in or knotted, paired with ankle boots or some sort of other structured shoes. It's simple, while still being figure flattering. Click here to get more inspiration for this look.
Vegan "Orange Julius" smoothie.
I saw this on Pinterest and I'm super excited to try it! Combine orange juice, almond milk, and a couple bananas for your own at-home Orange Julius smoothie that's also vegan! This would make for a delicious breakfast or a refreshing mid-day snack. Literally, my mouth is watering just thinking about it. Click here to read the full recipe with exact ingredients and instructions!
DIY framed dry-erase board.
Not only is this an effective way to write down things you need to get done, but it also serves as cute and unique desk decor! Use a picture frame of your choice, insert a piece of fabric or colored/patterned paper (the possibilities are endless) and seal it up. Use dry erase markers on the glass front to write down reminders. This also makes a great gift because you can make so many different combinations!
Berry lips.
Since the fall season isn't quite in full swing yet (and by that I mean I'm still using the air conditioning in my car and I'm sweating in my cardigan by the time it hits noon), berry is the perfect lip color transition. I love it with neutral outfits as a pop of color.
Which of these ideas are you most excited to try out this week?