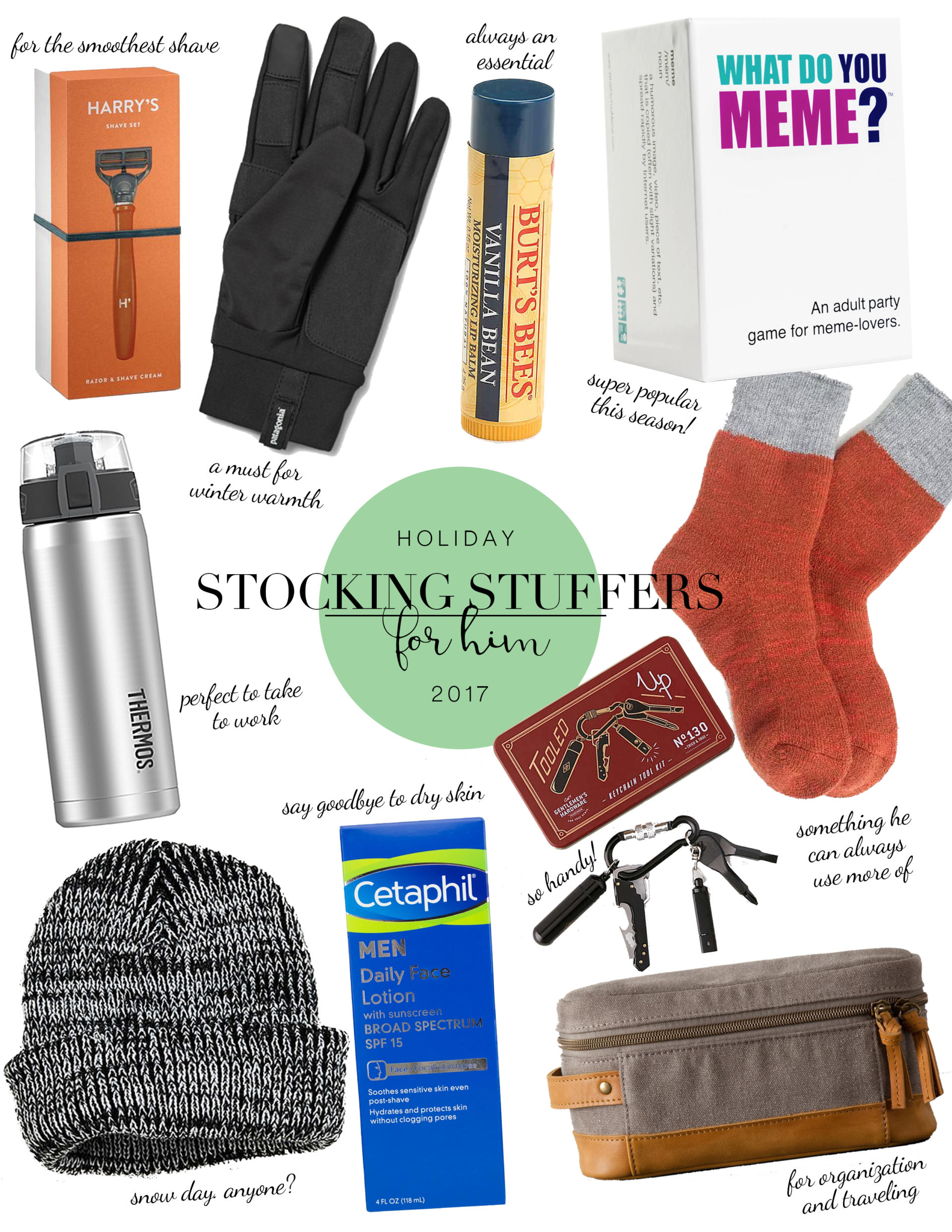 IT'S BLACK FRIDAY! I'm sure I'm not alone in saying the most difficult part of gift giving for many of us is what to get the men in our lives. For me, stocking stuffers are an opportunity to collect and gift items that guys likely need, but may not buy themselves or something they use daily that runs out fairly quickly. Keep reading for my top stocking stuffer picks for men this year!
1. Hat — Is he a hat guy? Get him a baseball cap to wear on the weekends or a knit hat for staying warm all winter long. I especially recommend knit hats for buzz haircut guys like my husband! Tight knit hats can mess up medium length hair on guys, so consider the fit when selecting the right one.
2. Face Lotion — This is something he likely needs for dry skin, but doesn't know what to buy. Pick one geared toward men or one that's odorless for quick application before bed or running out the door. Justin sometimes uses my Hope in a Jar lotion by Philosophy, which has worked great for both of us. I linked it below!
3. Gloves — He likely needs a pair of gloves close by for window scraping, snow shoveling and just being warm while out and about. Justin likes the waterproof ones, but consider getting him smart gloves for device usage, wool, or water-resistant ones depending on what he needs them for most.
4. Chapstick — This is another classic gift that everyone needs. My husband is a Burt's Bees fan, but cater the kind you buy to the guy you're buying for based on what flavors her likes and what kind of formula he needs. 
5. Thermos — If he's a coffee drinker, he's sure to get some good use out of a thermos. Justin typically takes coffee with him to work, so a fresh thermos always comes in handy. You can get a really great one for under $25!
6. Meme Card Game — You know those guys that share 20 memes a day on Facebook? This is for them. I've seen some meme games advertised on social media and they look so fun! This is a great game for college students or people who host a lot of game nights with friends.
7. Toiletry Bag — To help him get organized, gift him a toiletry bag for storing his razors, deodorant, shaving cream, toothbrush, toothpaste, etc. I love the taupe one below with brown leather from Chip and Joanna Gaine's line at Target this year, Hearth & Hand — the quality is amazing! Alternatively, you can order one from Etsy with custom initials.
8. Socks — I included this in my stocking stuffers post for girls too, but seriously, socks are a necessity! Justin has a pair of thick, wool-ish ankle ones he likes to wear in the winter (that I maybe steal on a regular basis), so I definitely recommend something similar. Below are some of my favorite picks.
9. Took Kit Keychain —  This is ideal for men that typically carry around pocket knives. This tool kit keychain has just about anything he may need in a crunch since it serves so many purposes.
10. Travel Razor Shave Set — Tame his scruff with a small, easy to store shave set for traveling and easy storage at home. Razors can be expensive and something many of us probably put off buying, so receiving one as a gift is a huge YES in my book!

What are your favorite stocking stuffers to gift your spouse, dad, brother, etc.? Feel free to share in the comments & good luck shopping! 🙂