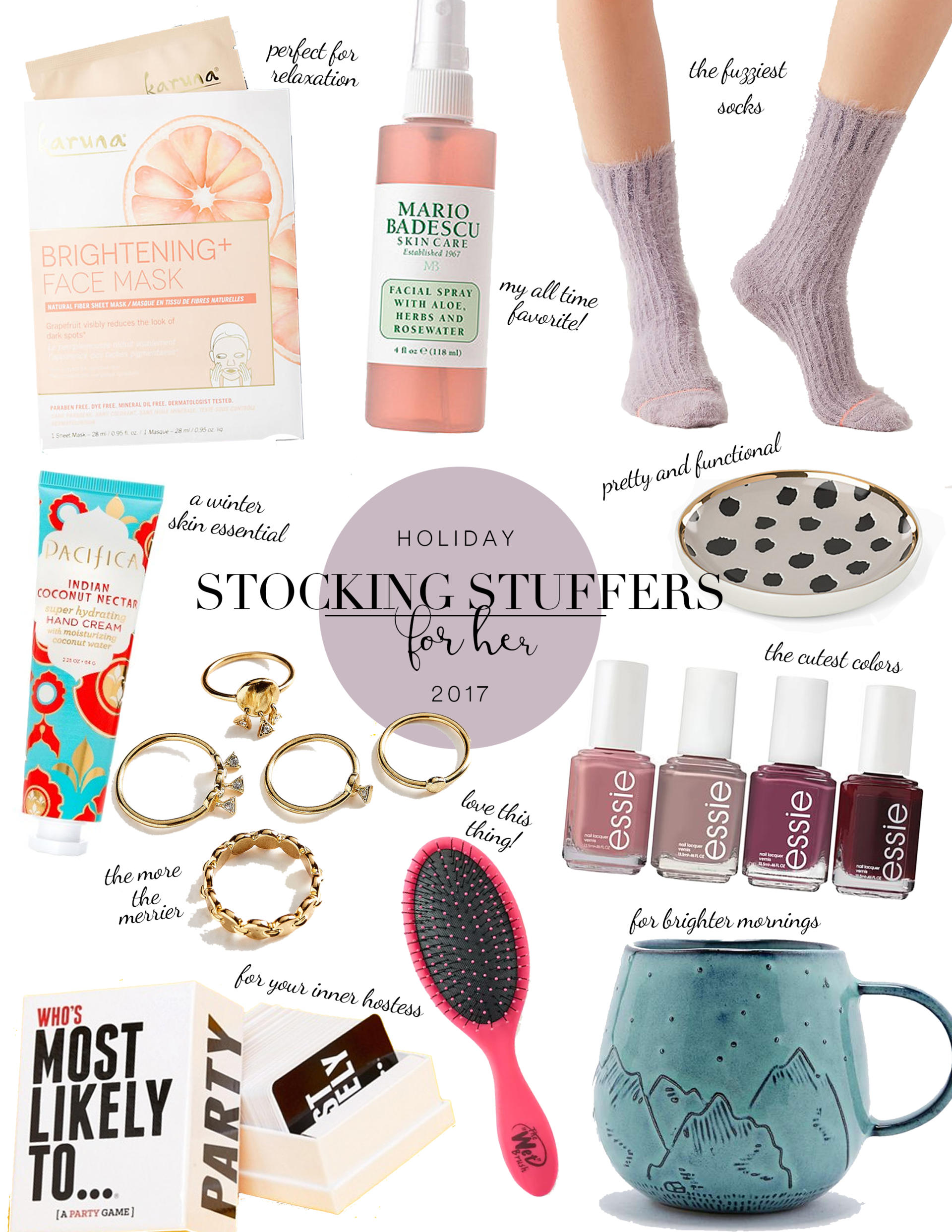 Happy Thanksgiving! With Black Friday beginning late tonight, Christmas shopping is about to commence. Today's stocking stuffer gift guide is geared toward the ladies in your life and those of you looking for items to put on your Christmas wish list this year.
1. Mug — You can never have too many mugs! Getting her one with her initials on it or one with something on it she loves is a cute gift that's totally customized to her.
2. Face Masks — I never buy myself these, so getting this as a gift would be so fun! It's nice to have a pamper night every once in a while, so throwing a couple of these in a stocking with some other spa stuff would make a great gift.
3. Nail Polish Set — It's always exciting to add new nail polish colors to your collection! Choose a winter-themed set for nails that are on trend with the latest styles she'll be wearing. It's nice to throw a glitter one in the mix for New Years too!
4. Who's Most Likely To Game — I've never been to much of a game girl, but this one looks really fun! This is a unique, unexpected gift that would be great to have on hand when friends and family come over. 
5. Wet Brush — If you haven't jumped onto the Wet Brush bandwagon, get up here! The tiny bristles are ideal for detangling wet and dry hair, and they come in so many different colors and patterns. I have a travel size one that's so great to throw in your bag when running around or traveling for quick touch ups.
6. Hand Cream — I always keep a hand cream in my purse when on-the-go, especially during the chilly winter since overly dry hands with no lotion in sight is my actual nightmare. I currently have a black cherry one from Bath & Body works in my bag, but below are some other good ones!
7. Jewelry Dish — I sometimes find myself leaving my jewelry in random parts of the house after taking it, so having a dish like these helps keep you organized — and it's just really pretty! 
8. Facial Spray — I love facial sprays. Whether it's a makeup-setting one or just designed to spritz for hydration, these babies instantly make your face feel ten times fresher. There are tons of these at TJ Maxx at super affordable prices!
9. Ring Set — Stackable rings are something I always want, but hardly ever buy myself for some reason. You can get inexpensive sets from places like Forever 21 and Urban Outfitters that she can mix and match with different outfits. Remember to keep sizing in mind when selecting a set that will fit her.
10. Socks — Socks are such a cliche gift, but let's be honest… we all want them! This is a simple gift that's guaranteed to go to good use, plus who doesn't want to cozy up in soft cozy clothing in the winter? Choose a pair in one of her favorite colors that she'll be sure to wear.
What's your favorite thing to receive in a stocking? If you enjoyed this post, check out my previous stocking stuffer posts & be on the lookout for more this week! I plan to go Black Friday shopping tonight/tomorrow, so be sure you're following along on my Instagram stories. Happy shopping!