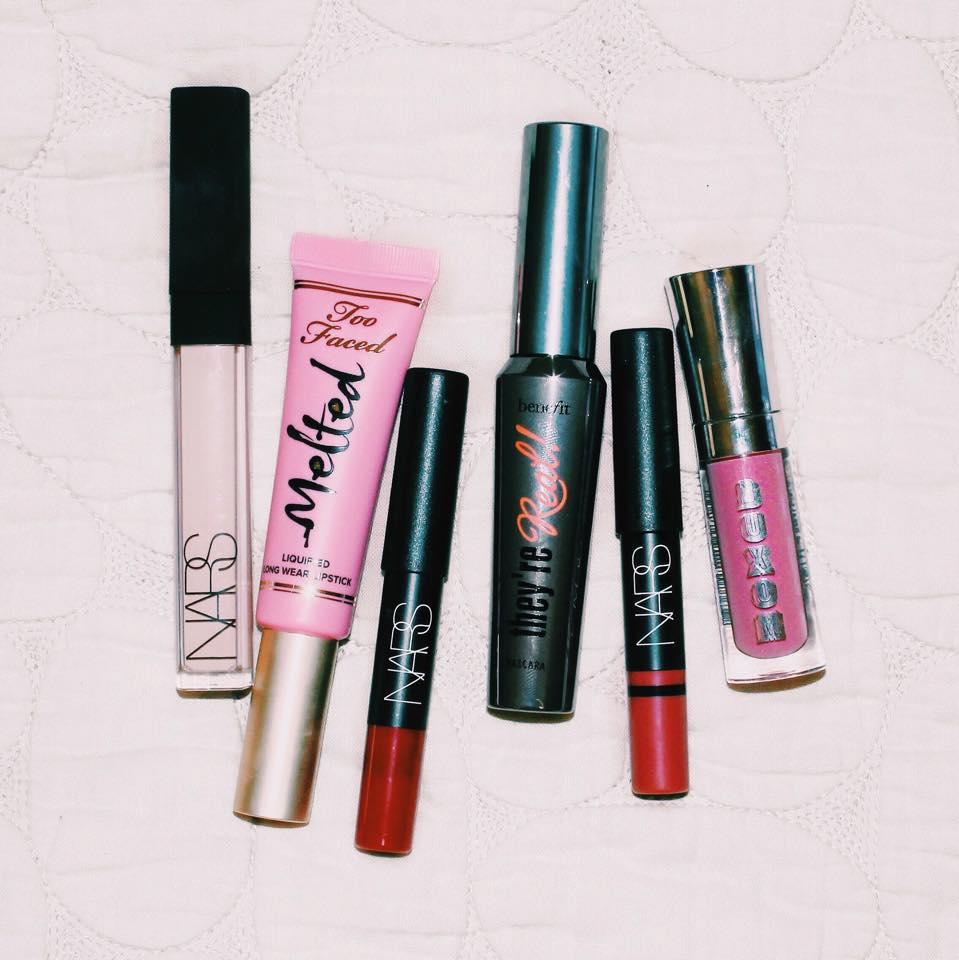 I've never been one to splurge too much on high-end beauty products (within reason of course), but I bit the bullet and finally purchased some products that I've been dying to try. (click on product names to shop)

PRODUCTS:
Nars Radiant Creamy Concealer (shade: Vanilla)
All the Sephora ladies (not to mention countless YouTubers) raved about this concealer and how it's the best one in the market. There is a wide range of shades and it certainly does its job and does it well. The sleek Nars design has me grabbing for this concealer every time. Applying it with a sponge is my personal favorite method of application for that "maybe she has her own personal makeup artist but probably not" look.
Too Faced Melted Liquified Long Wear Lipstick (shade: Melted Peony)
I'm most impressed with this product of the bunch. I've never been too much of a lip-product wearer (I'm always eating, drinking, and touching my face so it's never been a good idea for me in the past), but this product is seriously a must-buy! The sponge application is fantastic (not to mention fun) and glides on evenly. They weren't joking when they named it "long wear" because 1 meal and 16 oz of liquid later, my lips still look perfectly pigmented. I can't wait to pick up wine shades for the fall!
Nars Velvet Matte Lip Pencil (shade: Cruella)
As a September baby (WOO HOO!), this was my free gift for the month along with the Nars satin lip pencil below. I haven't tried either of these products yet, but a night out for my birthday just might be the ideal time.
Benefit They're Real! Mascara
So far, this product is good, but nothing too spectacular or above-average. I would personally consider this to be more of a lengthening mascara vs. a volumizing one, though it definitely does the trick of giving you super black eyelashes. I would certainly repurchase this one, but it's not the holy grail of all mascaras. A+ for packaging though.
Nars Satin Lip Pencil (shade: Rikugien)
I'll be trying this one soon – great color, especially for my fair skin tone.
Buxom Full-On Lip Polish (shade: Sophia)
First I have to address the smell – I just spent the last 10 minutes sniffing it repeatedly to try to pinpoint the exact scent it resembles (there's a visual for you). It smells like a slightly perfume version of a bakery item in the absolute best way possible, similar to warm vanilla sugar + something else delicious and edible. This product is amazing, not sticky whatsoever, and goes marvelously over my Too Faced long wear lipstick. I received this one via point redemption at Sephora and I strongly suggest you do the same!