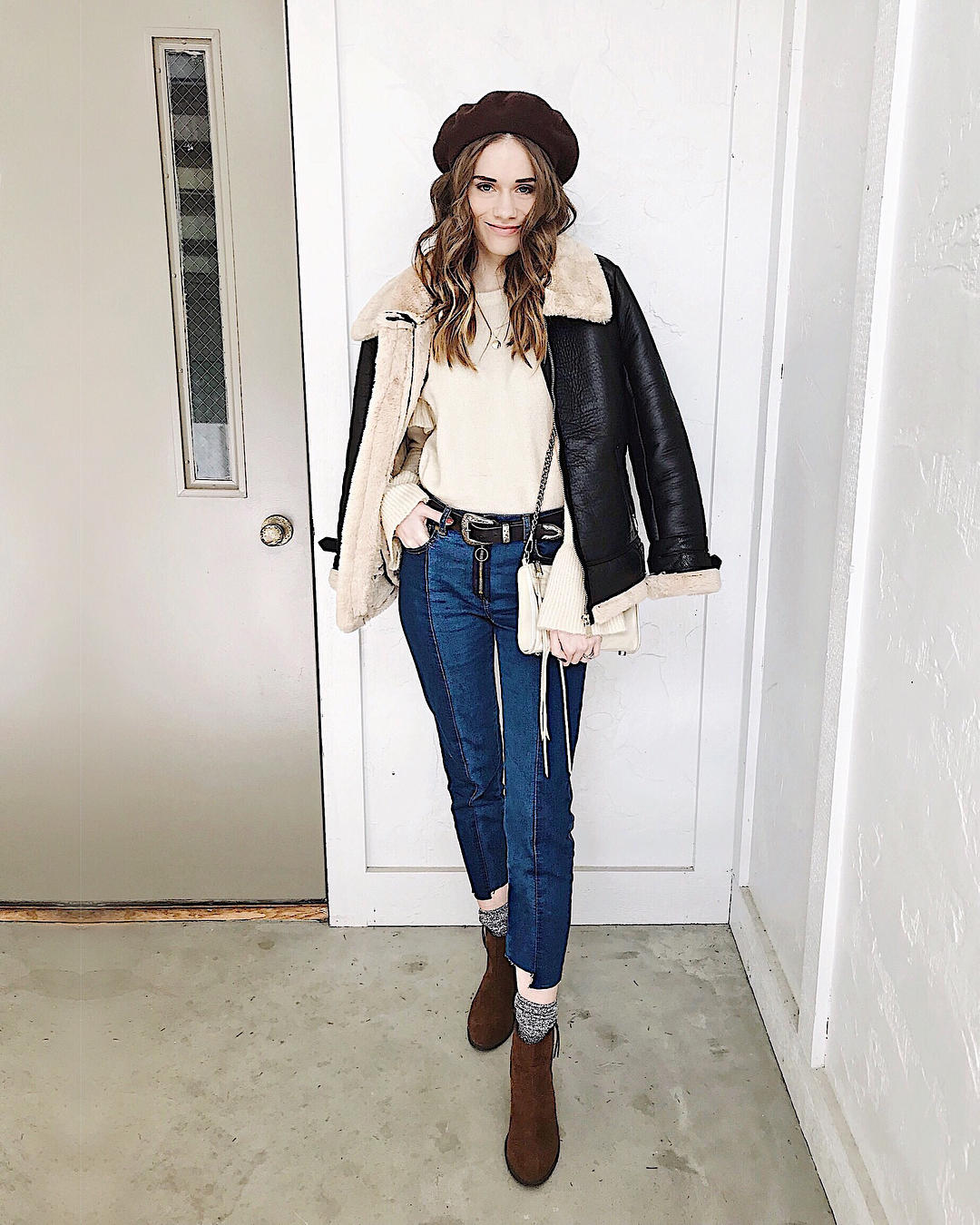 HAPPY NEW YEAR! I'm absolutely floored that 2018 is already here! With 2017 being the year of our marriage, it's crazy to think a year I had looked forward to my entire life has already come and gone. With making a career change, getting married, traveling out of the country for the first time, starting up a couple business ventures and earning so many cool opportunities with my blog, this year has been all over the map, but definitely one for the books. Keep reading for a recap of 2017 and a glance at the new year!
Here are some highlights of 2017.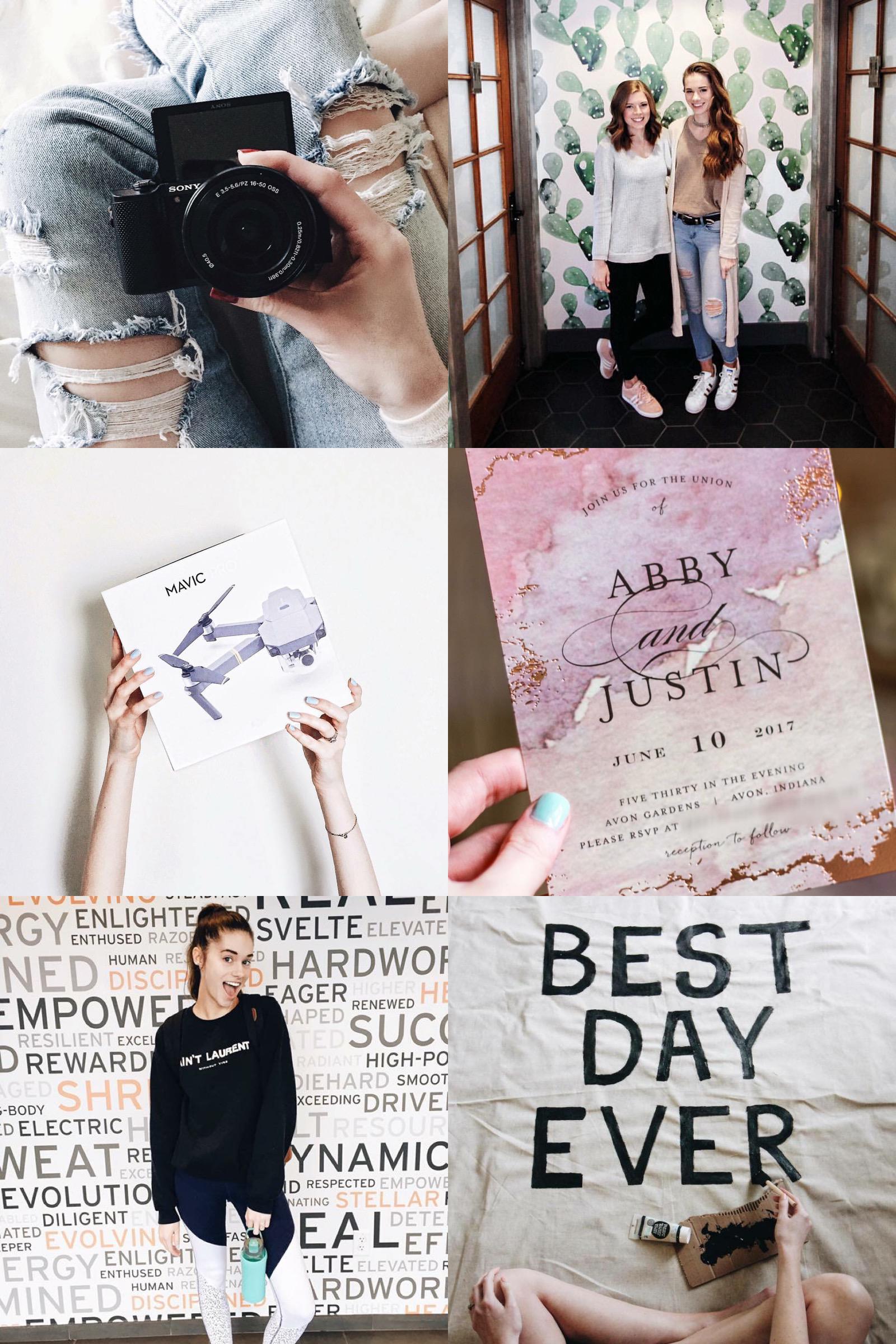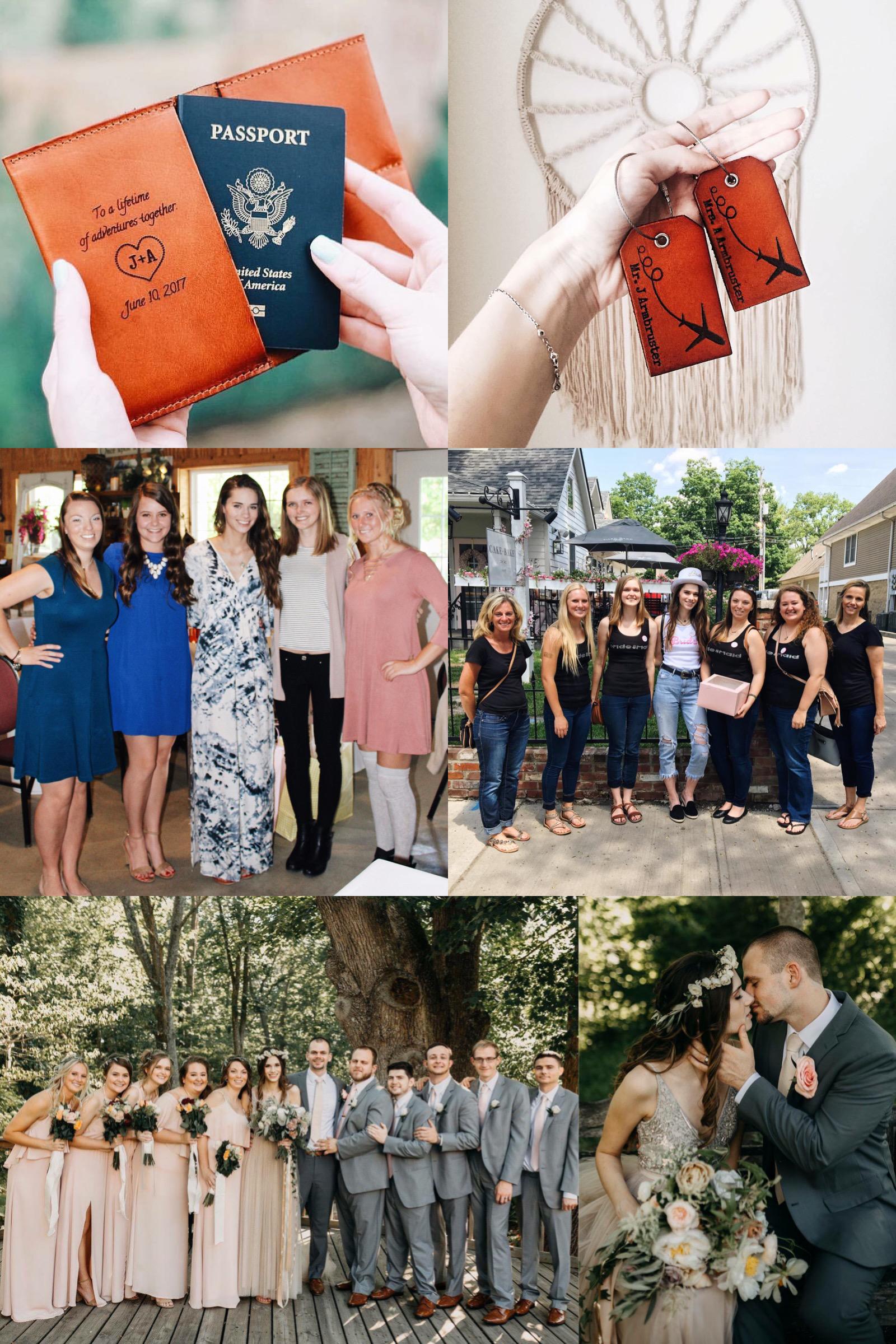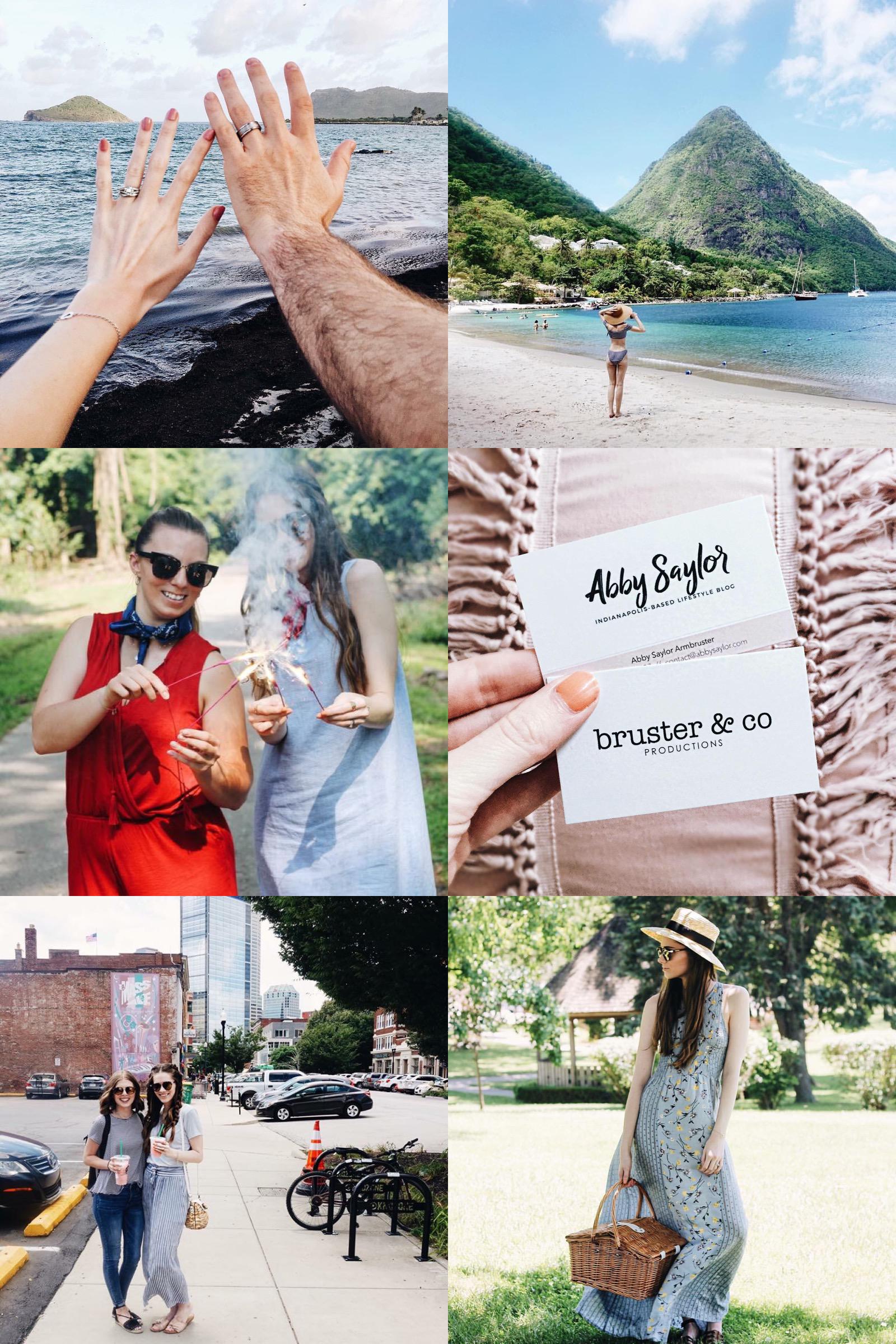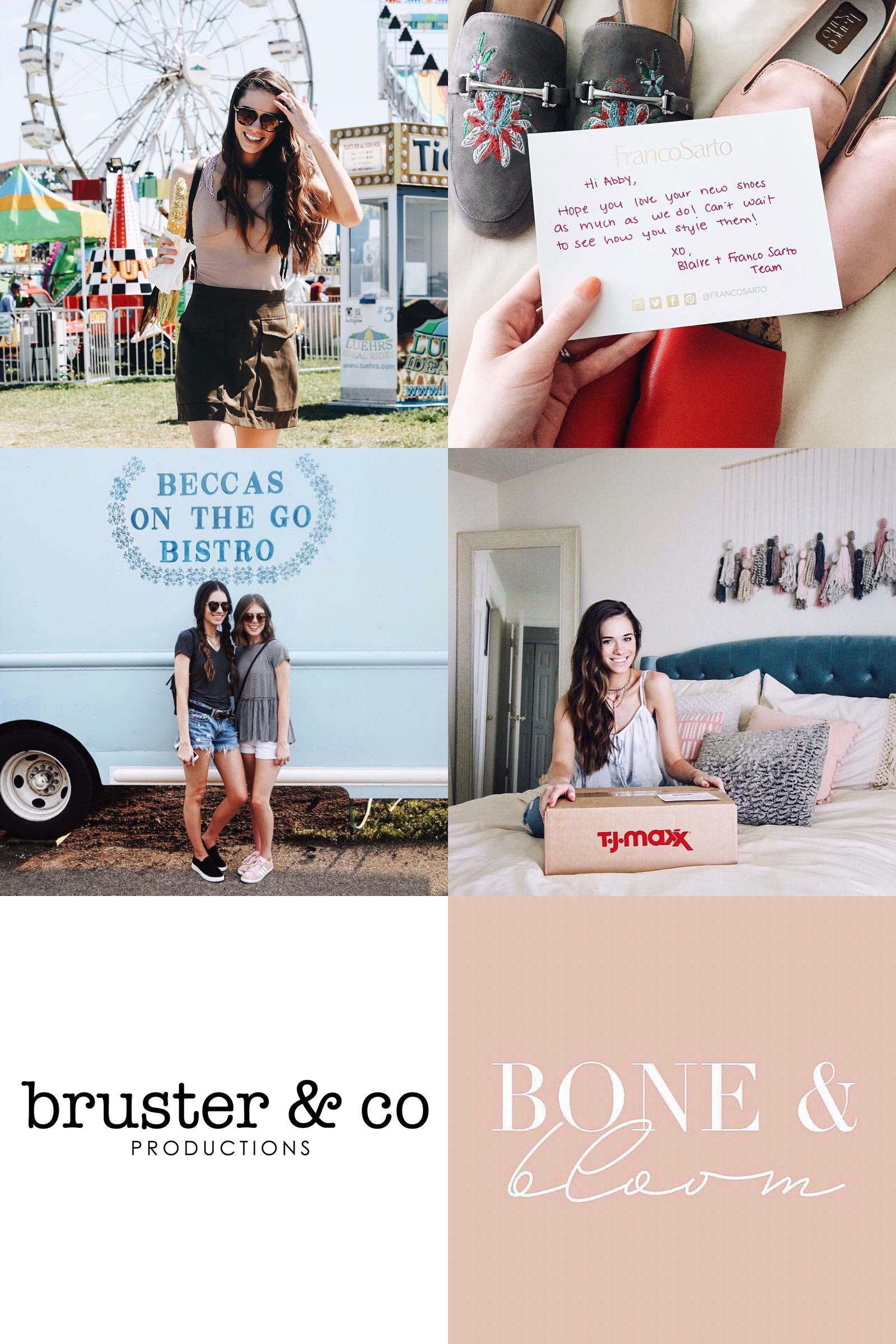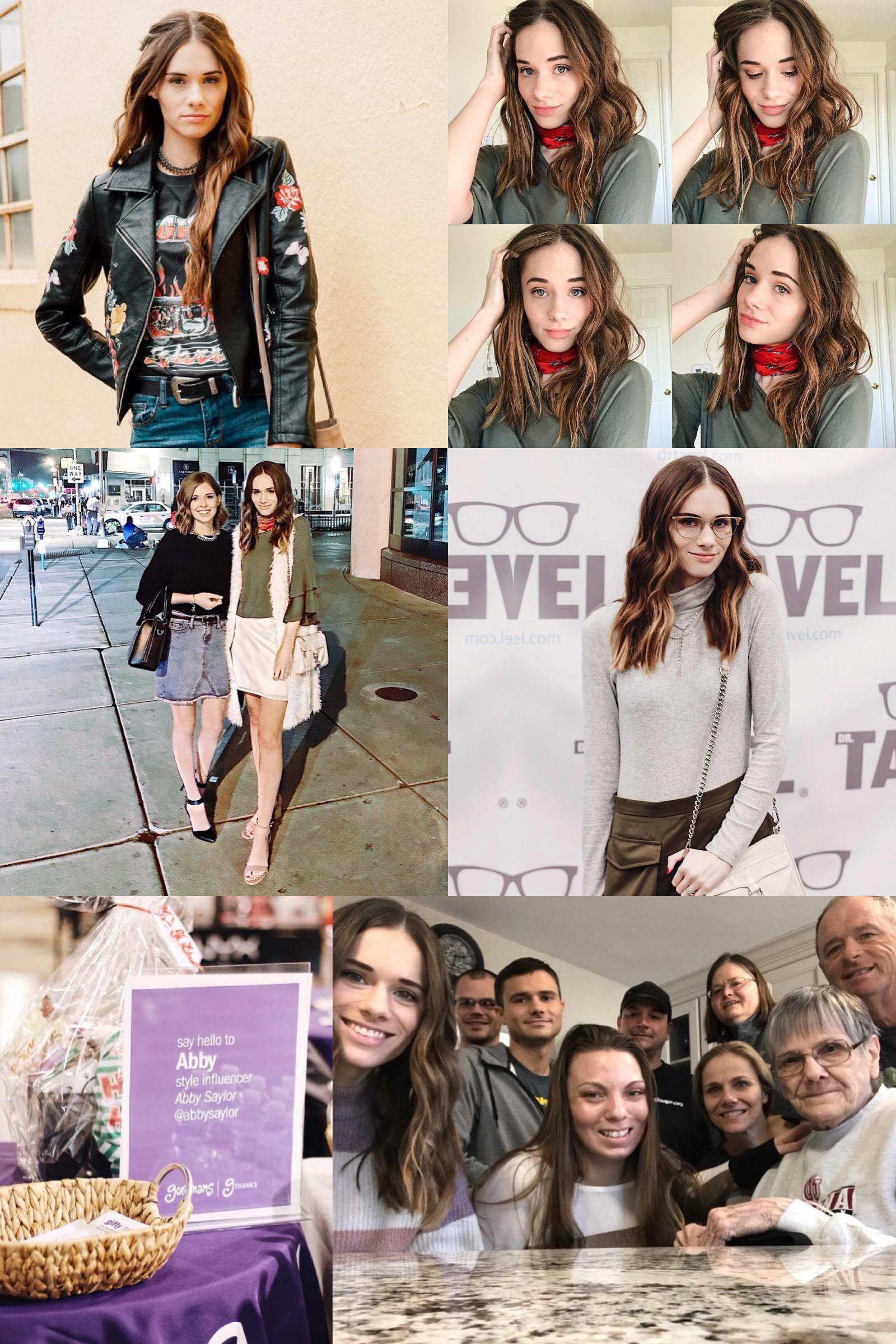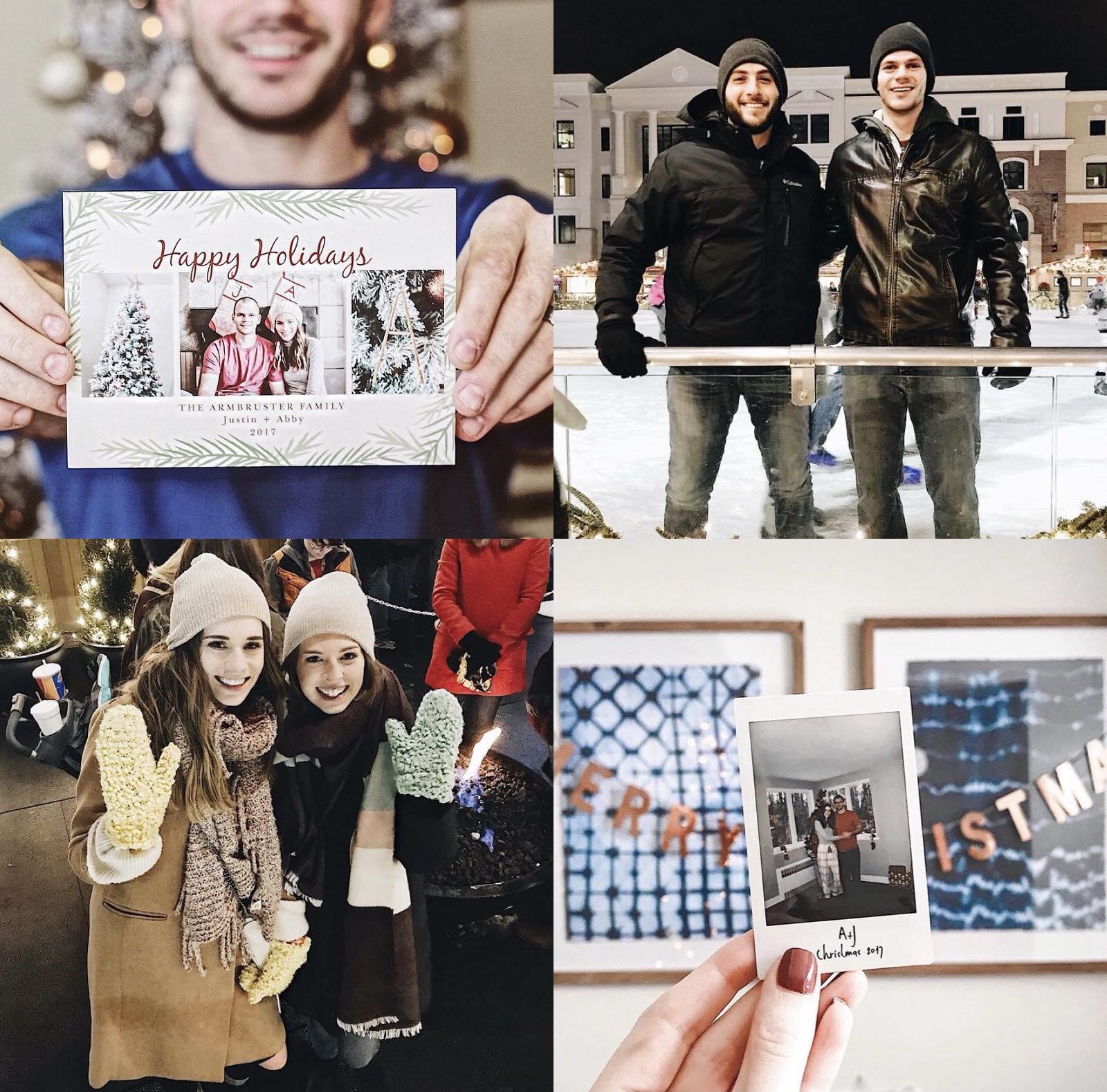 January 24: I posted my first vlog on YouTube. Though I haven't consistently prioritized keeping up with it, I'm glad I tried something new that I can always pick back up — and may pick up again in the new year!
February 3: Justin and I celebrated our three year dating anniversary.
May 20: Justin turned 24.
May 21: This day marked one year that we've lived in our apartment.
June 10: We got MARRIED!
June 14-19: We honeymooned in beautiful St. Lucia.
July/August: We launched mine and my husband's aerial videography/photography business, Bruster & Co, and my creative shop: Bone & Bloom.
August 30: I left my old job to pursue new opportunities, which was an incredibly positive change for me.
September 1: I celebrated the two year anniversary of my blog.
September 3: I saw John Mayer in concert for the second time, this time with my friend Carrie. He crossed "Seeing 'In Your Atmosphere' performed live" off my bucket list!
September 6: I turned 24.
September 22: I finally got my hair cut for the first time in a year and went with the shortest style I've had in years
September 26: I was a digital style feature for Indy's Pattern Magazine and I was featured as one of ALIVE Magazine's five favorite fashion and lifestyle Instagrammers in the Midwest.
November 16: I attended/covered Dr. Tavel's Ultra Limited Launch party.
November 18: I attended my five year high school reunion and had so much fun with my friends.
November 28: I worked my first event as a featured blogger with Gordmans.
December 4: We sent out our first Christmas card.
December 16: We celebrated our two year engagement anniversary.
December 17: I finally returned to my old dance studio to watch their Nutcracker performance, which I had been meaning to go back to for years.
December 25: Justin and I celebrated our first Christmas together as a married couple!
…and so much more!
HOW WOULD I DESCRIBE THIS YEAR?
If I had to describe the highlights of this year in two words, it would be the year of marriage and the blog. This year mostly consisted of planning and achieving the perfect wedding of my dreams, beginning our married life together, building my blog and getting to experience so many cool opportunities because of it.
To recap, here are some amazing brands I got to work with in 2017:
Serena & Lily
Smile Brilliant
JORD Watches
Biovene
Bramble & Beene
Shred415
Franco Sarto
Midori Linea
TJ Maxx
KM Lash Designs
Dr. Tavel
Gordmans
Basic Invite
To all of you who've stuck around and supported me here on my blog, whether it be catching up on my posts every few weeks, sharing my content or passing my information along, THANK YOU! My blog took big steps this year and I'm so grateful for how far I've come.
WHAT'S THE BEST THING I DID THIS YEAR?
The two things I'm most proud of this year are 1) stepping out of my comfort zone and 2) getting a new job. A few of the many ways I stepped out of my comfort zone this year were trying new things with my blog like filming/posting videos and hosting events. These were things I initially felt a little intimidated by, but I'm so glad that I did them because the results were so rewarding! I love surprising myself with what I can accomplish with a little blind ambition.
As mentioned, the second best thing was quitting my job to pursue opportunities that didn't make me drag my feet to work in the morning, which was long overdue. This was a big risk for me considering I hadn't nailed a replacement job when I quit, which again put me out of my comfort zone. I faced a mentally and emotionally rough couple months feeling unsure of when and where I'd nail my next main source of income, balancing freelance work while searching for my next full-time fit. I've been incredibly blessed to have smooth transitions throughout my life, so this rough patch was difficult and eye-opening for me — but I couldn't be happier with where I've landed. I'm proud of the risks I took and challenging trials I pushed through in 2017, because again, the end result has been so sweet and worth every moment of heartache.
WHAT ARE MY TOP 5 MOMENTS?
Our beautiful wedding and honeymoon — seriously, a dream come true!
Seeing John Mayer perform "In Your Atmosphere" live, a moment I'd dreamt about for years and years.
Every blogging opportunity I've earned — if I had to pick just one, getting a digital style feature in Pattern Magazine was pretty dang awesome.
Cutting my hair — though hair isn't important whatsoever, I haven't had my hair this short since I was about 15 and I'm super happy every single day that I did it. I think it suits me well!
Taking business jumps, AKA starting Bruster & Co and Bone & Bloom, quitting my job, pursuing freelance work and nailing my current position.
2018 GOALS
Blog Growth
As my biggest passion, I want to continue working hard to grow my blog, obtain new opportunities and try new things. I'm very proud of how far I've come this past year and I can't wait to see where I am a year from this very moment. I never want to look back on my life and think "well, if I would have worked just a little harder…" — I always want to be confident knowing I put my all into everything I've done, and that often means pushing myself outside of my comfort zone, taking risks and exploring the unknown. More specifically, I'd like to work with a minimum of 1-2 brands per month, increase my income, try something totally new with my blog and offer a product or service outside of my current Bone & Bloom services.
Personal Growth
As an ISFJ Virgo (word on the street is that Beyonce is also an ISFJ Virgo, so call me Queen B), my everyday life, intentional or not, is focused on self-awareness and being critical of myself. I'm my own toughest critic, and though I see this as a huge benefit at times, I do think I deserve to give myself a break here and there. I want to be easier on myself this year, analyze less and be more present. My internal wheels are always turning, gathering data and brainstorming, and I'm always at least a day ahead of myself. With that being said, I'd like to feel at peace with myself and what I've accomplished each day in 2018. I want to pat myself on the back more than I do now, allow myself to take breaks and unplug. Noted: I can do it all (at least I hope so), but not in one day!
__________
I can't wait to see where I go in 2018 and I'm excited to take each and every one of you along for the ride. Thanks again for letting me and my blog be a part of your life by keeping up and reading along. Let's vow to be our best selves in 2018, step out of our comfort zones, take risks, be easy on ourselves and chase after what we want most!