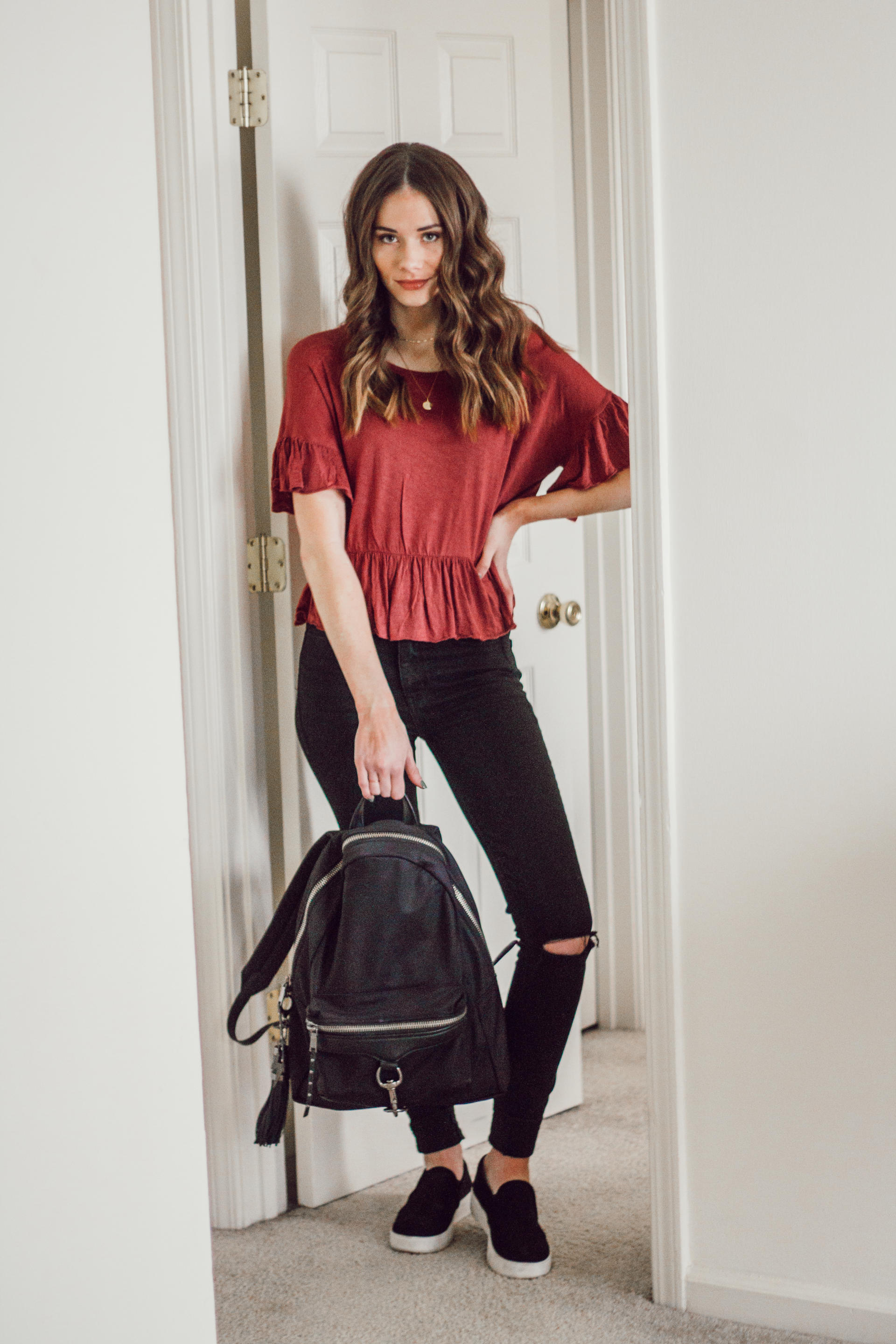 Hi everyone! I hope you had a great weekend! Today's post is a review of the Rebecca Minkoff Always On M.A.B. Backpack with a VIDEO included showing you guys the bag, the features of it and if I think it's worth the price.
I want to start by saying I'm really happy with this bag. I love the versatility of it and how it can easily be used for work in a professional environment, as well as travel. Rebecca Minkoff is one of my favorite designer brands, and since I carry the RM mini MAC bag every single day, sticking with the brand for this purchase felt so right. This particular bag with the charging cable included is $225.
This bag is made of nylon, which I really love because it stays clean, is easy to take care of, doesn't crack or wear down like leather and is totally wipeable. I feel like I don't have to be as careful with nylon as I would have to be with other types of fabric since it's so manageable, so I really love that about it.
As for the exterior, there's leather on the front pocket, grab strap on top, zipper pulls and straps. These leather details dress up the bag a bit and are such great quality. I love the fabric combo! The zippers are super nice as well and are that heavy kind you find on designer bags.
I'm really happy with the number and size of pockets this bag features. The front pocket is perfect for anything you want to be able to quickly grab (chargers, passport, wallet, etc.), the interior zipper pocket is great for personal items and the smaller pocket slips are perfect for organization, like computer accessories and beauty items.
This bag has a laptop sleeve inside, which was a requirement for me since I purchased this bag to carry with me every single day to and from work downtown. It feels secure and I like the button strap option that helps to hold my laptop in place and prevent it from slipping out. This strap is leather too, which is a awesome little detail.
This backpack has a suitcase sleeve on the back so you can slide it onto the handle for hands-free mobility. I love this option since my hands are typically full when I'm traveling and it helps save your back from extra weight when quickly moving through the airport.
Lastly, this particular bag (listed "With Charge" online) came with a charging tassel, allowing you to charge your phone on the go! RM also sells these tassel in a bunch of colors separately if you'd like to buy one to put on a bag you already own. I love the extra flair it adds to the bag, along with the cute lightning bolt and RM charms that go along with it.
Click play to get an up close view of the bag + hear me talk about it a bit more!
I can't recommend this bag enough! If you're loving it too, defiantly check out Rebecca Minkoff's website and browse their options — this bag come in other colors as well, including pink!
Are you interested in this bag? Do you own any Rebecca Minkoff items? As you can tell, I definitely recommend this backpack and  I see myself using it for a long time. Thanks so much for reading & watching! Subscribe to my YouTube channel (I post new videos every Monday!) and check back here for another new blog post on Wednesday!