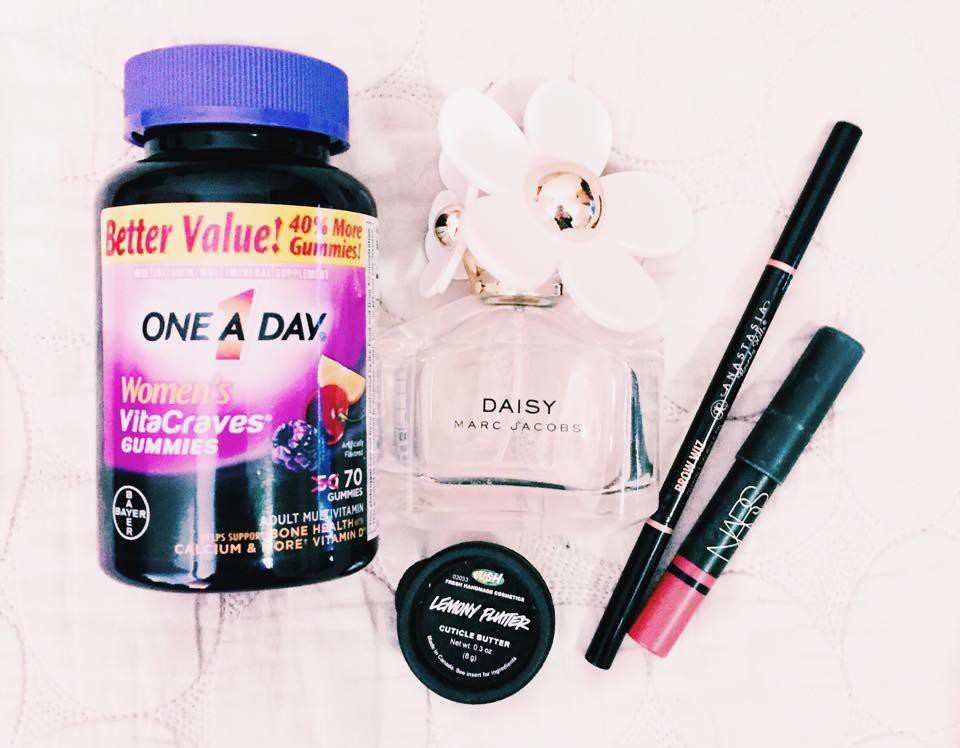 I love switching up my routine, testing out new products and figuring out what my staple items are. As usual, I started using some new products this past month and here are some of my favorites that I wanted to share with you!

I've been taking the Women's One a Day VitaCraves gummy vitamins consistently for several months now, and it's become such a vital part of my daily routine. I don't always each as often or as healthy as I should with my crazy college and work schedule, so I love feeling more assured that I'm getting some of the nutrients I need with my daily vitamin. They taste pretty good and who doesn't want to eat a gummy everyday?!
I'm not lying when I say I've worn Daisy by Marc Jacobs perfume every single day in October. It's almost completely gone! It's definitely my favorite scent I've ever owned, and I'm really torn if I want to immediately repurchase it when I run out or if I want to try out one of Marc Jacob's many other amazing perfumes that I have yet to own. What is your favorite Marc Jacob's scent?
I received Lush's Lemony Flutter Cuticle Butter in a gift box from my friend Kassie for my birthday back in September. With the cold coming in and my skin drying out a bit, I love applying this to my cuticles to soften and moisturize them. This prevents those painful and annoying hangnails and leaves my manicure looking better for longer!
I purchased the Anastasia Brow Wiz pencil a few weeks ago and I've been liking it! I use it in combination with my e.l.f. eyebrow kit and I really like how these two products work together. I finish off my eyebrows with Anastasia's brow gel and I'm ready to go! For those of you who may be wondering, I use the shade chocolate with my medium brown hair and fairly dark eyebrows.
Finally, my favorite lip product in October has been Nars Satin Lip Pencil in the shade Rikugien. I'm not much of a bold lip color girl (but I'm working on it), so I love a nice, warm pink color. This one is so perfect and possibly the most moisturizing lip product I've ever used! It's definitely that staple "my lips but better" color for me. You can't feel it on your lips at all and it has pretty good lasting power. I'm dying to get more shades!
October went by so incredibly quickly, but I had a great month! With the second-to-last semester of my final year of college coming to a close, I'm trying to enjoy the present while the future and the next chapter of my life lingers ahead — I'm too excited! My work load has started to pile up a bit more than usual this past month, but I'm motivated to continue working hard and remain focused. What products were you loving this past month?
ALSO, thank you for all the sweet responses I've had in regards to my previous post, "My Love Story" — I really enjoyed writing it and sharing my inner thoughts with you all, and I was so happy to receive such positive and supportive feedback. (P.S. Justin almost cried reading it… or maybe he did… we'll never know!)