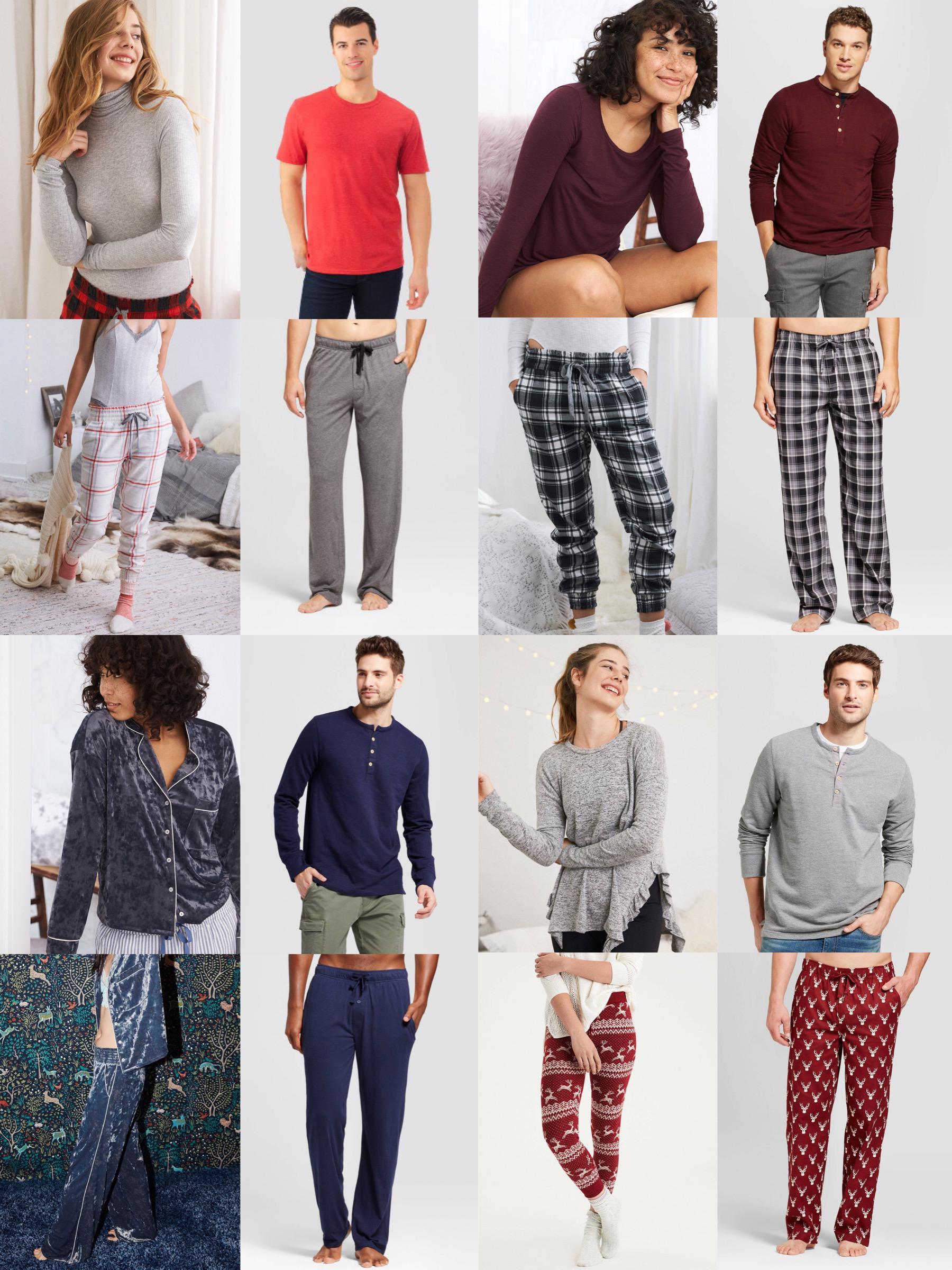 Justin and I have worn matching Christmas pajamas every year we've been together, making 2017 our fourth year and our first Christmas as a married couple! There are reindeer onesies, Santa suits and elf sets everywhere you turn, but if that's not your thing and you're aiming for a non-cheesy option that's laid-back and casual… I've got you covered. Keep reading for my top matching Christmas pajama picks for couples this year!
First and foremost, If you haven't done matching pajamas with your family or significant other before, I suggest giving it a try this year because it's such a fun way to get into the holiday spirit! To give you some history, my husband and I wore Ninja Turtles PJs our first year as a joke (I'm laughing too), red and black buffalo check our second year, and grey and white stripes our third.
What is "non-cheesy" about matching pajamas, you ask? Great question. These sets aren't exact matches, but are coordinating in the sense that they incorporate similar colors and patterns for an overall unified look. You didn't think matching Christmas pajamas could get that technical, did you? 😉  Let's get into it.
RED + GREY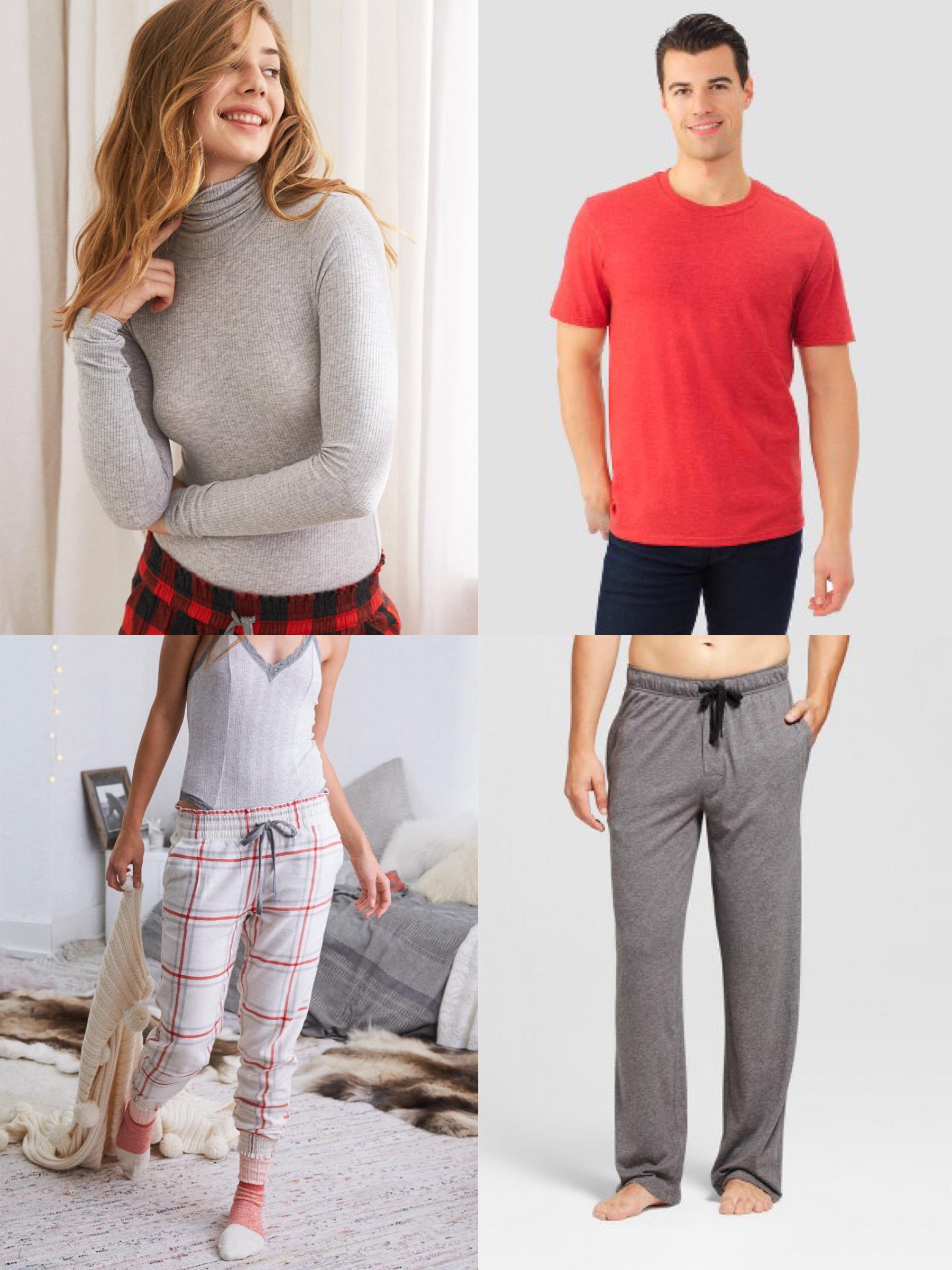 This year we're going for more of a coordinating rather than matching look to mix it up, so this is the set we bought. I'll be wearing this grey turtleneck bodysuit with these white, red and plaid PJ joggers from Aerie. I couldn't find a match for these pants for men, so Justin will be wearing grey pants with a red tee to match my colors. I love how simplistic and festive this set is!
REINDEER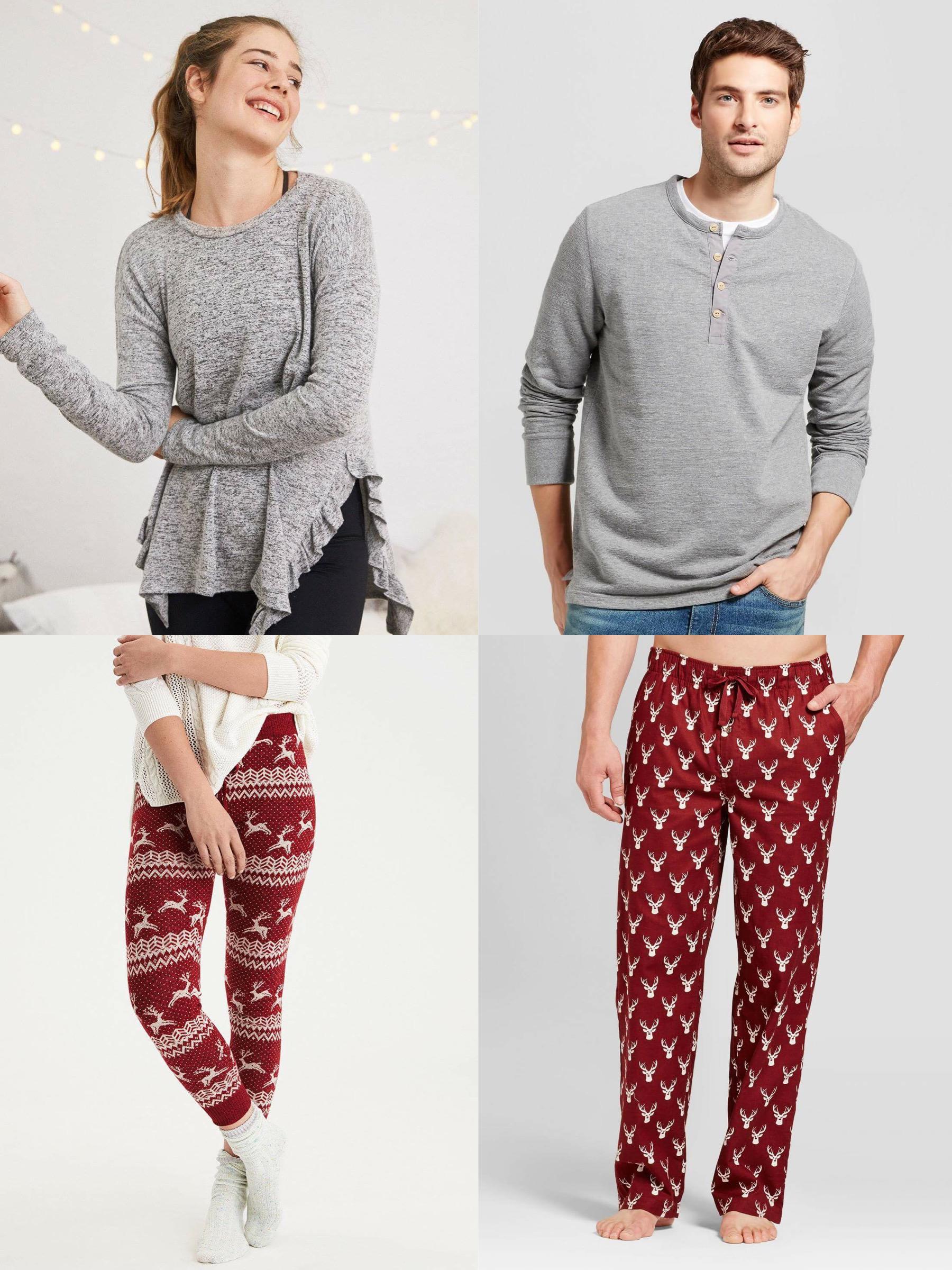 I love this one and probably would have had a tough time choosing between this set and the one we got if I would have found these sooner — who knows, we may get these too. 🙂 Again, this isn't an exact match, but they look so good together as a set! The women's set is from Aerie and the men's is from Target as are all the sets in this post. I love the cute reindeer detail! I couldn't find an image link like the ones shown below, so click here for the women's pants.

BLACK + WHITE PLAID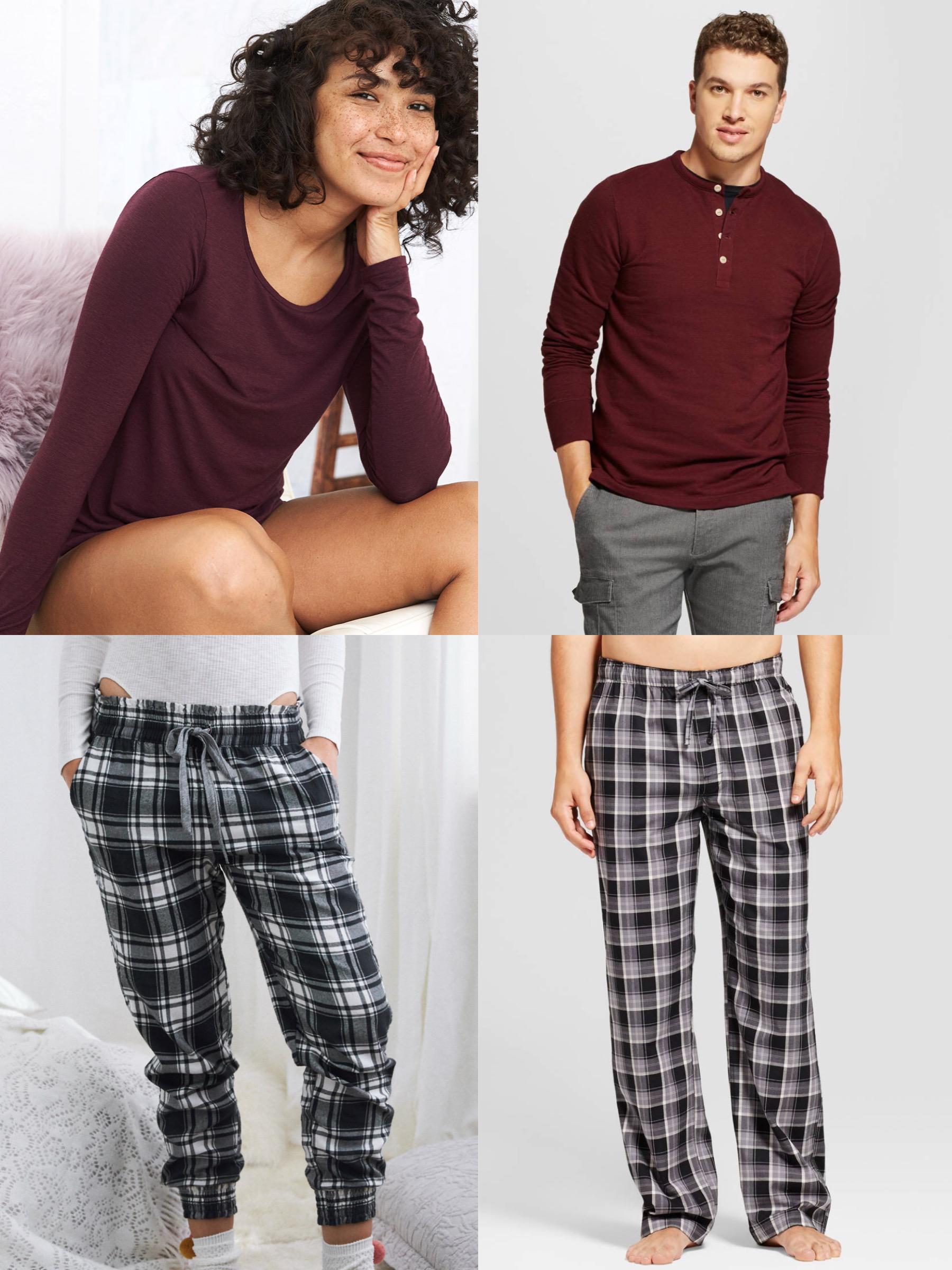 If bright colors aren't your thing, this muted set is pretty laid back. If you saw my Instagram story from last week, you know this is another set I considered buying. If you're into darker colors, this burgundy and black/white plaid combo would be cute and relevant to wear year-round!
BLUE ON BLUE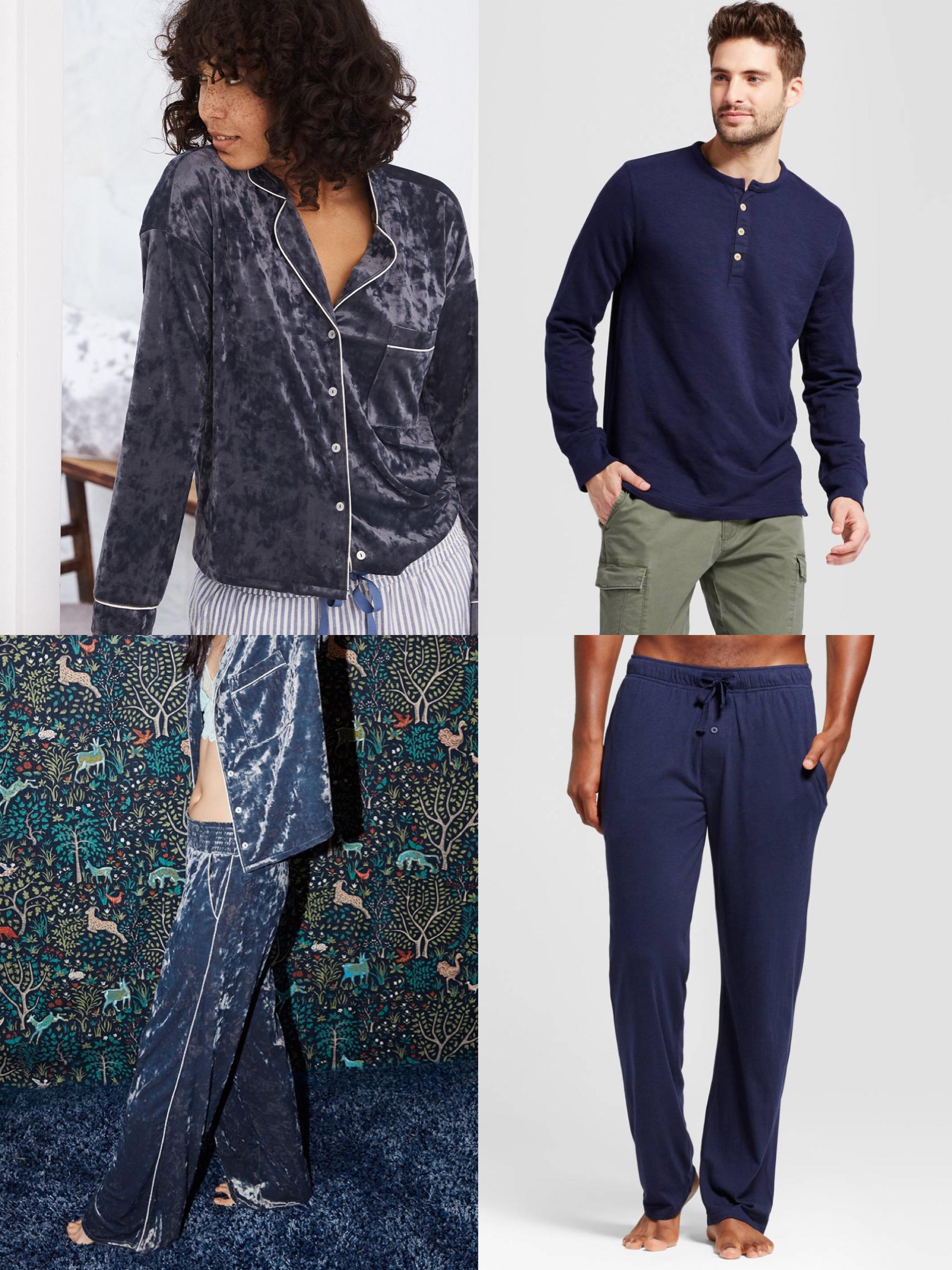 Not into the standard, Christmas-y red and green? This one's for you! Find a pajama set you like in a solid color and get a coordinating set for your other half! The is a simple way to match without throwing any patterns into the mix.

Do you plan to wear matching Christmas pajamas with someone this year? Let me know! I hope you like these picks and this post inspires you when buying your Christmas sleepwear this year. Thanks for stopping by — check back here for another new post in a couple days and be sure you're following me on social media to stay up-to-date on some events and collaborations I have coming up!