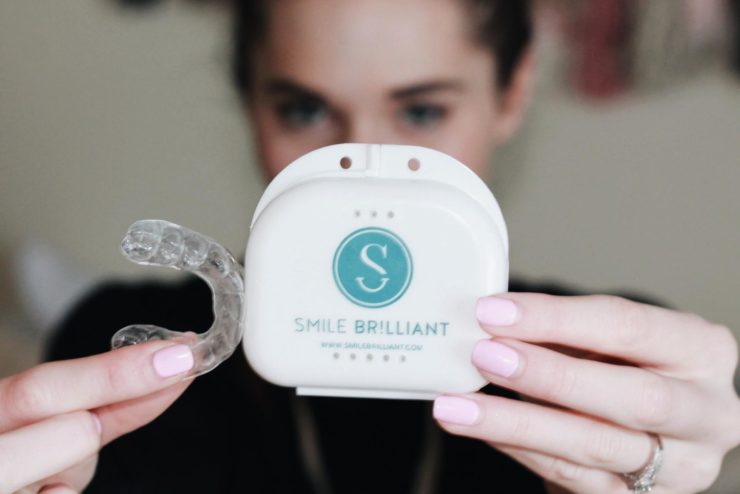 Happy Friday! Today I'm walking you through my go-to nightly beauty routine that helps me relax and decompress, including the at-home teeth whitening product Justin and I have been using for the past couple months. I decided to give some of my favorite brands some love this week, so keep reading to see my favorite products for winding down before bed, as well as a Smile Brilliant review and GIVEAWAY!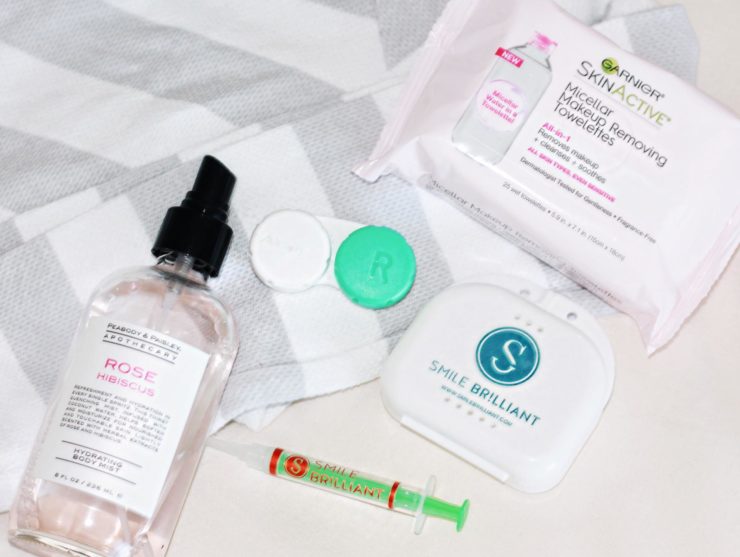 I always start off my night routine by removing my makeup and my contacts. My face always feel so oily by the end of the day, so this process always makes me feel relaxed and fresh again. My favorite makeup remover wipes lately have been Aveeno Positively Radiant and Garnier SkinActive Micellar — both are awesome! The Aveeno ones smell so good and the Garnier ones are super gentle. I then use Garnier Micellar Water on a cotton round as final sweep to get all traces of makeup off my face. I finish off with a few spritzes of rose water spray (I love this one too!) before climbing into bed.
Justin and I have a game plan to look our absolute best for our wedding and honeymoon (we plan to workout this spring up until our wedding, but we'll see 😉 ), and teeth whitening has been on that list. Justin and I whiten our teeth together every other night with Smile Brilliant, an in-home custom teeth whitening system. We typically put in our trays around 9 or 9:30 p.m., and leave them in for 45 minutes. We usually spend this time finishing up what we need to get done for the next day (which in my case is editing blog posts or videos) + sometimes squeezing in an episode or two of Friends or Criminal Minds!
What I love so much about this teeth whitening product is that the trays are so effortless and comfortable! Justin and I have tried other whitening systems in the past and didn't realize how much of a hassle it was until we tried Smile Brilliant's. Since the trays fit snuggly on your teeth via the impressions you create and mail in, you can easily talk, be mobile and go about your routine without any discomfort.
The kit comes with desensitizing gel in case you ever experience sensitivity, which is a great feature. I haven't had any sensitivity whatsoever, but Justin did one time and said the desensitizing gel did its job.
What I love so much about this kit is that you can see a visible difference in the shade of your teeth each time you take the trays out, which is so crazy to me! It's so cool to see exactly what the product is doing to your teeth, even after only a few uses. Another huge benefit is that I get to whiten my teeth from home, rather than having to go to the dreaded dentist (ugh) and fork out a ton of money. It's difficult to capture an accurate before and after photo because of lighting changes, but we both can truly see a difference in our teeth.
We're loving our results and we definitely recommend this product to anyone out there wanting to get a whiter smile, especially for your wedding like us! For me, this is a self-care activity that I enjoy doing, just like self-tanning, painting my nails and exfoliating — it's fun to do little things to pamper yourself, see results and feel your best!
What teeth whitening products have you tried and what has worked for you?
If you're interested in trying Smile Brilliant, click to explore the 7 things to know before buying teeth whitening and watch a detailed Smile Brilliant review video. Click here to enter my GIVEAWAY to win a free kit for yourself or a friend/family member that may be interested! Enter super quickly by simply submitting your first name and email address. The giveaway will be open for two weeks and will end on Friday, Feb. 24. You can also use my 5% off coupon code: abbysaylor5.
Thank you for reading! I hope you all had a great week & if you're subscribed to my email list, look for a newsletter from me in your inbox this weekend!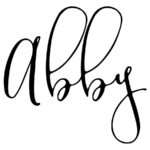 *Thank you Smile Brilliant for sponsoring this post!