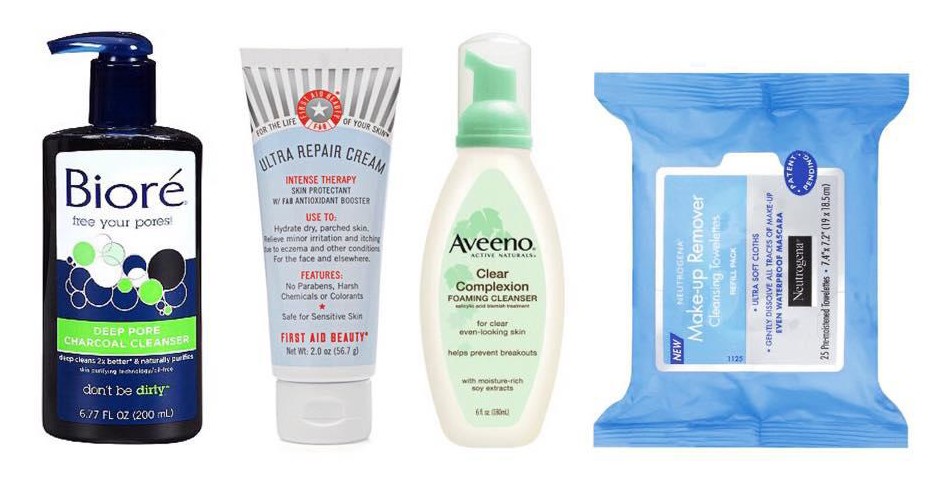 My skincare routine changes (and sometimes disappears) constantly, but I've recently found some products that I really love that I've been sticking to for the past month or so. So if you're looking for new skincare products to try out or new ways to change up your routine, here are some suggestions!

First, I begin by removing all of my makeup at the end of the day with a makeup remover wipe. I switch up the brand I use all the time since I find them to all be fairly the same. Currently I'm using Neutrogena Cleansing Towelettes. These wipes contain the right amount of moisture and are soft and gentle on my skin.
Next I use Aveeno Clear Complexion Foaming Cleanser. This is a gentle cleanser that leaves my face feeling clean without stripping my skin too much. A little goes a long way with this product and I find that I only need about one or two pumps per use to completely wash off my face and leave it feeling fresh.
After that, about every other day I use Biore Deep Pore Charcoal Cleanser. This face wash leaves your skin feeling tingly and it's amazing how clean it makes you feel! It has a somewhat peppermint smell and it does a great job of removing excess oil from your face. I recently bought a bottle of this for my boyfriend as well and we're both really loving it!
If my face is feeling a bit dry, I then apply First Aid Beauty Ultra Repair Cream. This cream is formulated to treat extremely dry skin. You only need the tiniest amount to spread over any problem areas. I typically apply it on my nose because that's really the only place my skin ever gets dry — although it work great on your hands and arms as well!
What's your skin type and what kind of skincare products do you use?!