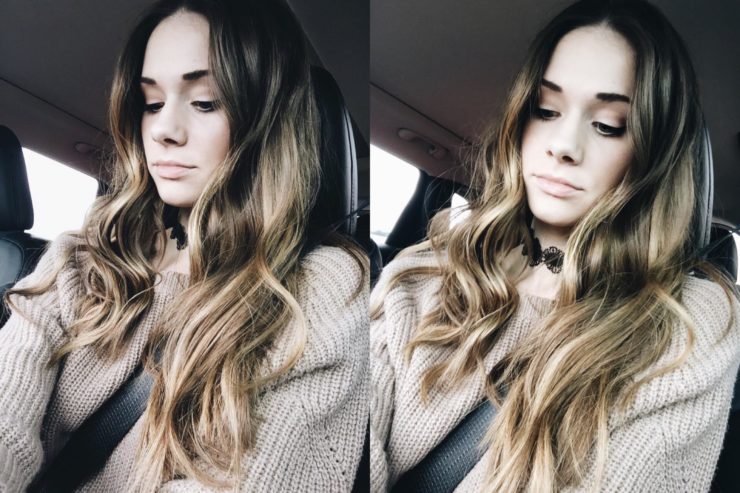 Happy Tuesday! Guess who got her hair colored for the first time EVER this weekend + chopped off 7 inches after not getting a haircut for 2 years?! Guilty.
I trekked an hour south to visit my hometown stylist, Kecia, at Absolute Style in Greensburg, Indiana on Saturday itching for a bit of a change in my look. She gave me a much needed chop and added some balayage-esque highlights to give my hair some depth and oomph for fall. I'm loving it! Here's the before photo of my borderline Rapunzel mane: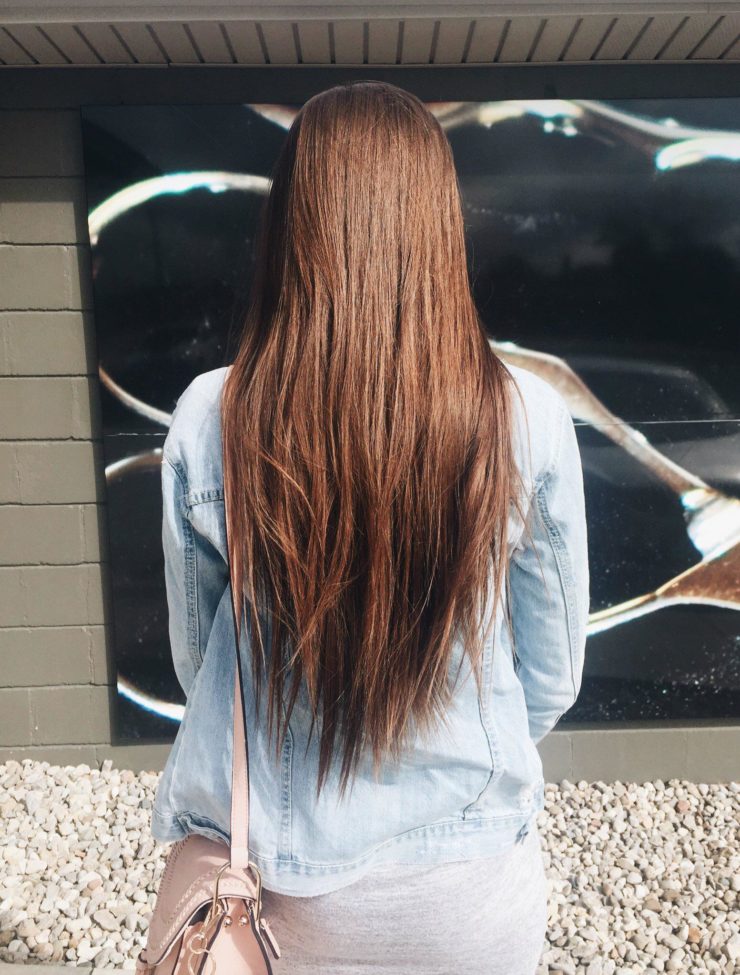 In addition to my new 'do,' I wanted to share my updated everyday makeup with you all. I've finally found some staple products that give me a fresh look that I'm always happy with. 
FOUNDATION: N7 Beautifully Matte: cool vanilla // CONCEALER: Maybelline Fit Me: fair // POWDER: Revlon PhotoReady // BROWS: Anastasia Brow Wiz: chocolate // EYELINER: Loreal Linear Intense // EYESHADOW: Tartelette 2 In Bloom // MASCARA: Pur Big Look // BRONZER: E.L.F. Duo // BLUSH (out of stock): Kat Von D: bonnie and clyde // HIGHLIGHT: Becca Shimmering Skin Perfector Poured: pearl
My go-to Tarte eyeshadow palette (a birthday gift from Justin) allows me to create different looks each day depending on what I'm doing or what I'm in the mood for. If you have this palette, my favorite combo lately has been Charmer on the inner half, Flower Child on the outer half, Rebel in the crease blended with Sidecar, and a mix of Charmer and Funny Girl dusted over the brow area.

The N7 foundation in combination with the Revlon powder has been KILLER! I originally tried this foundation with a Pixi powder and wasn't happy with the results — at first I didn't know if it was an issue with the foundation or the powder, but after switching to a new powder, I realized it was the Pixi powder that was leaving me hanging! While the Pixi powder may work for some, I have pretty oily skin, so I need a heavy duty powder that's going to work in my favor... and the Revlon one does the trick! :)

I finally bit the bullet and picked up my first Becca highlighter last month (courtesy of a birthday gift card from my boy Justin again — he's killing it) and I can confidently say it's worth the hype! My highlight is visible not only hours later, but also in simple iPhone pictures, which is pretty impressive if you ask me. Well, at least I'm impressed.

Another standout for me is the Pur mascara. I've been using a sample size of this for months and it's still going strong. It makes my lashes so long, full and dark without any clumping. If you're looking for a new high-end mascara to try, I definitely recommend this one!

What are the key products in your everyday makeup routine? Let's chat: leave me a comment letting me know what you're loving, as well as products you're excited to try next!

Thanks for reading!