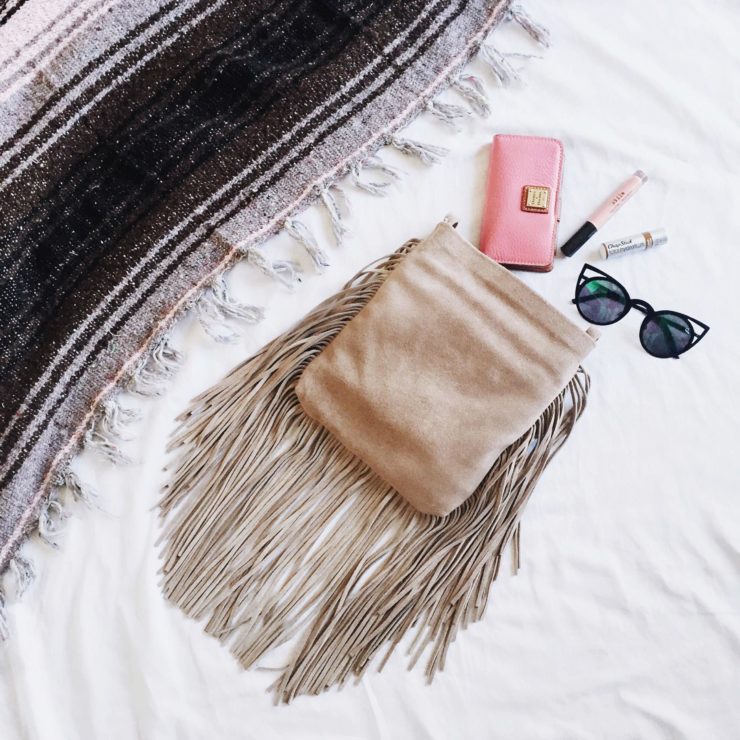 Hey guys! I hope you all had a great weekend! It's been a minute since I've shared some of my recent fashion and beauty favorites, so choosing to highlight my current bag this week that I'm obsessed with was an easy choice. In addition to that I'm also going over my everyday on-the-go essentials: my small, convenient, must-have products for when I'm out and about!
First and foremost, I purchased this gorgeous Lost & Found tan, suede fringe bag from TJ MAXX on sale for about $60, and it was originally over $100. Who doesn't love a good deal? Justin and I turned around and drove an extra 20 minutes (almost making him late for work) just to go back and buy this purse! No, I'm not kidding. Here are some similar styles:
Lip balm is always a necessity. There's nothing worse than being out with dry lips and having nothing on you to relieve it. I buy a different kind of lip balm every time I run out, but my current one has been one of my absolute favorites: Chapstick Total Hydration 3-in-1 in coconut. It comes in a bunch of different flavors and I highly recommend it!
Sunglasses are an obvious must. I purchased this Quay Australia pair over a year ago and I literally haven't worn another pair since! I'm shocked that I'm not sick of them yet and I always get compliments when I wear them. Check out my review on them here. I'm craving a rose gold pair next, so let me know if you have any recommendations!
I like to keep an everyday neutral shade of liquid lipstick in my bag. As the day passes, sometimes I feel like I need to brighten up my look or add some color to my face depending on what my plans are. My pinky-nude shade pictured above is Stila Stay All Day Liquid Lipstick in the shade bellissima. 
Another essential of mine is hand cream. I can't stand it when my hands feel dry, so I always keep a small bottle of lotion with me. I'm always trying out different brands and scents, and I'm really loving the one I picked up over the weekend: The Body Shop mango hand cream. It smells like peach ring candy and it leaves my hands feeling silky smooth and not oily!
And finally, one item that I'm always so happy to have with me is blotting sheets. My skin gets oily throughout the day no matter what I'm doing, so giving my oily spots a quick dab makes such a difference. The sheets soak up all the excess moisture, making my makeup/skin looks 10x fresher! I always use the E.L.F. Mattifying Blotting Papers.
__________
What are your on-the-go essentials? Leave me a comment and let me know! 🙂 I hope you all have a great week!